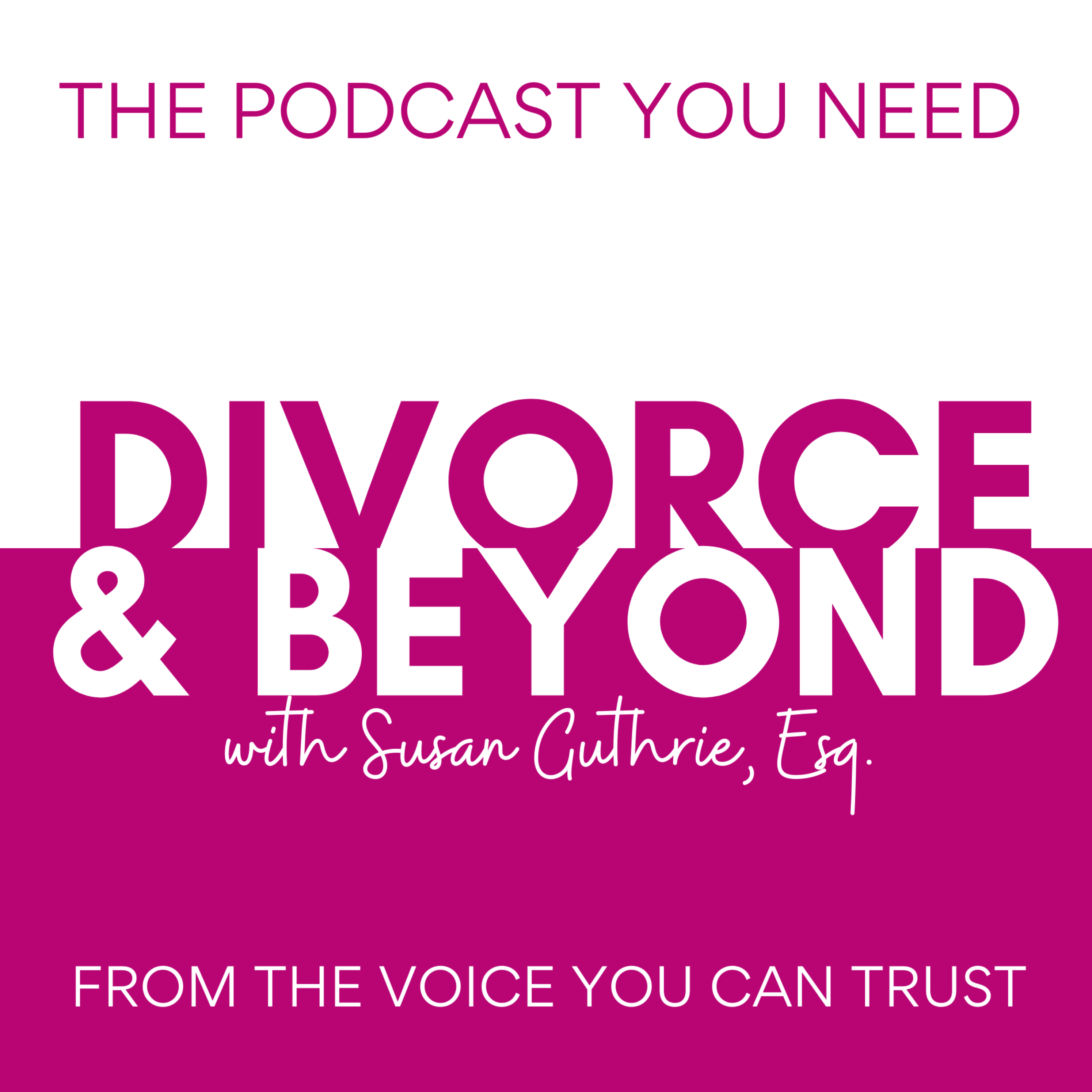 Nationally recognized family law attorney, mediator and award-winning podcaster, Susan Guthrie is at it again! After guiding countless numbers of people through the perilous world of divorce—and speaking to a podcast audience of over 4 million listeners—she's bringing you the "The Divorce & Beyond Podcast" to help you thrive in your life BEYOND divorce!
Episodes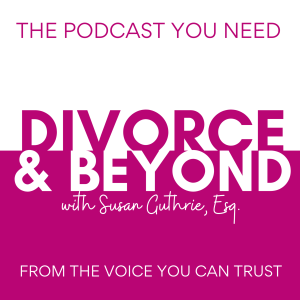 Monday Nov 07, 2022
Monday Nov 07, 2022
In this week's episode, Susan Guthrie, Esq., welcomes best-selling author Natasha Sizlo to the show! Together, they discuss Natasha's journey to Paris searching for her soulmate and how that helped her to find true love, friendship, and more. 
Natasha Sizlo is the author of All Signs Point to Paris: A Memoir of Love, Loss, and Destiny. She is a former journalist and a well-known realtor at the firm The Agency. Yes, the real estate firm from The Real Housewives of Beverly Hills and Million Dollar Listing Los Angeles, where Natasha has appeared on many episodes.  You will also be seeing her on the brand new Netflix show, Buying Beverly Hills which premiered on November 4th! 
In addition to talking about Natasha's book, this conversation explores the topics of friendship, family, manifestation, going for it, and finding your soulmate. Natasha's journey will make you laugh, cry, and inspire you.
Topics and Golden Nuggets include 
A reminder to be open to new experiences or possibilities.

Awakening to the love of friendship and the support of friends and other women.

The power of

thinking

about what you want your life to look like.

"It's so easy to forget about all the love that we have in our lives. Not all of it is obvious and not all of it is loud. It's quiet, it's in the corners, and it's in the tiny spaces." 

Natasha talks about reclaiming the magic of childhood and believing that anything

is

possible. 
About this week's special guest: Natasha Sizlo
Natasha Sizlo is a writer based in Los Angeles. She grew up in California and has a B.A. from the University of California, Santa Barbara. Natasha started her career writing for magazines including Variety, Cosmopolitan, Shape Magazine, Santa Barbara Magazine, and Ray Gun among others. In 1998, she moved to Detour Magazine where she worked as Senior Editor managing an editorial team and working as a staff writer covering celebrity, fashion, and tech. After Detour, she continued writing for fashion brands and blogs, composing press releases and online copy, and eventually transitioning to real estate where she currently works at The Agency (Yes, the real estate firm from The Real Housewives of Beverly Hills and Million Dollar Listing Los Angeles, where Natasha has appeared on many episodes). Her astrologer told her that her Point of Destiny is to tell a story, so now she's doing that.
Get Natasha's Book:  All Signs Point To Paris: A Memoir of Love, Loss, and Destiny
Natasha's website: https://natashasizlo.com/

Natasha on Facebook: https://www.facebook.com/02Novembre1968
Natasha on Instagram: https://www.instagram.com/natashasizlo/
Natasha Sizlo, Estates Agent: https://www.theagencyre.com/agent/natasha-sizlo
Also mentioned in this episode:

Moms Moving On Method - Apply Today for Michelle Dempsey-Multack's Training for Divorce Coaches Program
If you want to see the video version of the podcast episodes they are available on The Divorce & Beyond YouTube Channel!  Make sure to LIKE and SUBSCRIBE so you don't miss a single episode!
******************************************************************
THANK YOU TO OUR SPONSOR: Tami Wollensak, Certified Divorce Lending Professional
Keeping the house in a divorce or deciding to let it go is a big decision that should not be rushed. Tami Wollensak is a certified divorce lending professional who specializes in presenting marital home options for those who are contemplating or going through a divorce.
Your home is your largest asset and planning properly can help you avoid issues. In fact, Tami helps you separate business decisions from emotional decisions and helps you determine if keeping the house is possible or even in your best interest.
If you or someone you know could benefit from a complimentary divorce mortgage planning consult, visit TakeorLeavethehouse.com.  Mention you heard about Tami on The Divorce & Beyond Podcast. 
Tami Wollensak, CDLP™, Sr. Mortgage Loan Originator, NMLS ID: 1963450 Oak Leaf Community Mortgage, Equal Housing Lender. Federal Deposit Insurance Corporation
****************************************************************
SPONSORSHIP OPPORTUNITIES ARE AVAILABLE!  https://divorcebeyond.com/Sponsorship-Info
****************************************************************
MEET OUR CREATOR AND HOST:
SUSAN GUTHRIE®, ESQ., the creator and host of The Divorce and Beyond® Podcast, is nationally recognized as one of the top family law and divorce mediation attorneys in the country.  Susan is the Vice Chair of the American Bar Association Section of Dispute Resolution and is a sought-after keynote speaker, business and practice consultant, coach and trainer. You can find out more about Susan and her services here:  https://neon.page/susanguthrie
Internationally renowned as one of the leading experts in online mediation, Susan created her Learn to Mediate Online® program and has trained more than 25,000 professionals in how to transition their practice online.  Susan recently partnered with legal and mediation legend, Forrest "Woody" Mosten to create the Mosten Guthrie Academy which provides gold standard, fully online training for mediation and collaborative professionals at all stages of their career.  
Follow Susan Guthrie and THE DIVORCE AND BEYOND PODCAST on social media for updates and inside tips and information:
Susan on LinkedIn: https://www.linkedin.com/in/susaneguthrie/
Susan on Instagram @susanguthrieesq
*********************************************************************
We'd really appreciate it if you would give us a 5 Star Rating and tell us what you like about the show in a review - your feedback really matters to us! 
You can get in touch with Susan at divorceandbeyondpod@gmail.com. 
Don't forget to visit the webpage www.divorceandbeyondpod.com and sign up for the free NEWSLETTER to receive a special welcome video from Susan and more!!
*********************************************************************
DISCLAIMER:  THE COMMENTARY AND OPINIONS AVAILABLE ON THIS PODCAST ARE FOR INFORMATIONAL AND ENTERTAINMENT PURPOSES ONLY AND NOT FOR THE PURPOSE OF PROVIDING LEGAL ADVICE.  YOU SHOULD CONTACT AN ATTORNEY IN YOUR STATE TO OBTAIN LEGAL ADVICE WITH RESPECT TO ANY PARTICULAR ISSUE OR PROBLEM
Comments
(1)
To leave or reply to comments, please download free Podbean or