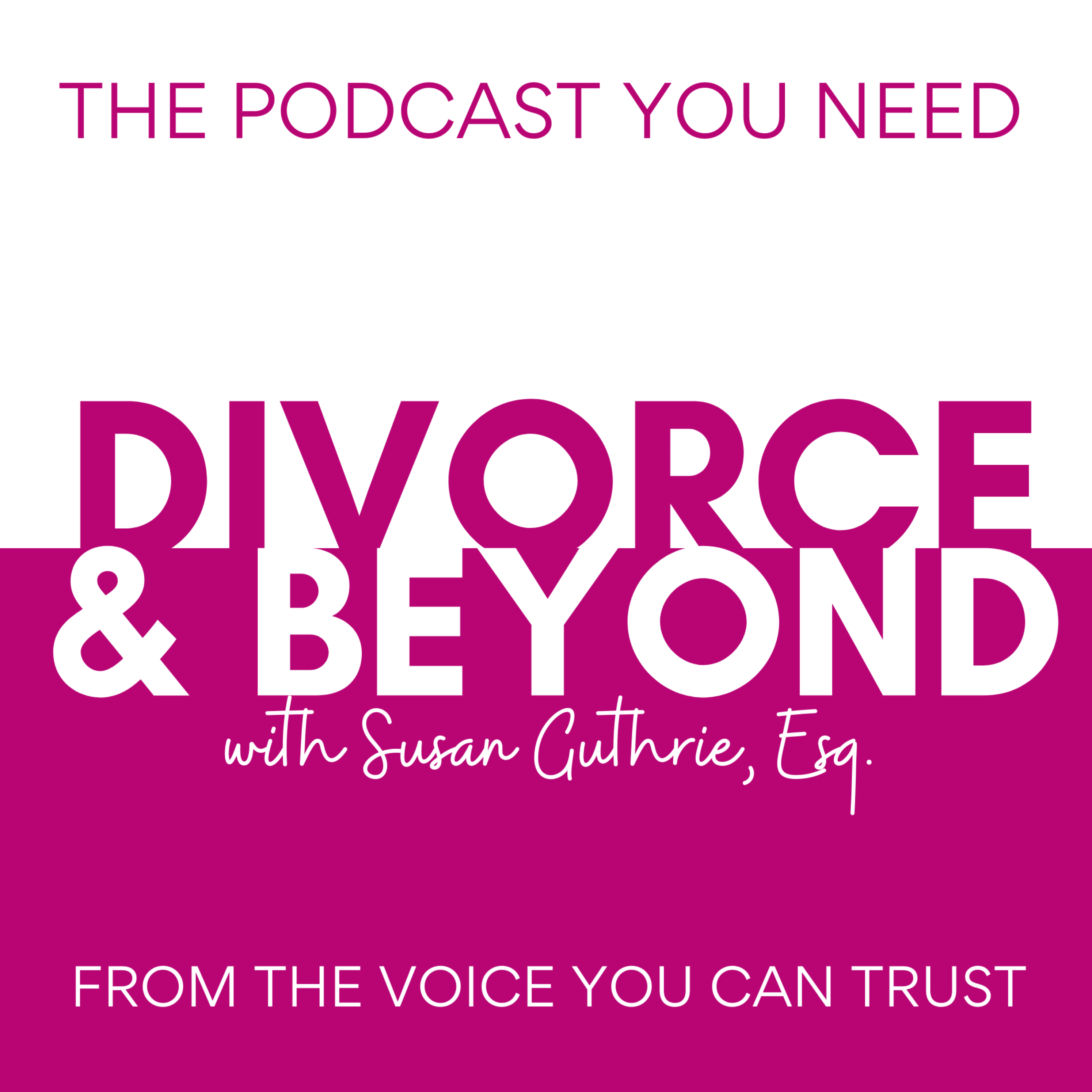 GAL – AMC – OMG! Demystifying the Role of a Guardian ad Litem or Attorney for the Minor Child Part Two with Leading Attorney, Beth McCormack #191
Jul 29th, 2021 by divorceandbeyond
In Part Two of this special two-part episode, Susan Guthrie continues her conversaiton with leading family law attorney Beth McCormack, who helps to demystify the roles of Guardian ad Litems and Attorneys for the Children in contested custody cases.
Divorce is hard enough but when parenting and custody issues are contested, things get much more complicated and crowded!  You will often find that you have more professionals appointed in your case such as a GAL or Attorney for the Child.  In fact, sometimes you may have both but what exactly do they do?  How do they help your children and how do you work with them?  Attorney Beth McCormack, one of the leading attorneys in the country who is often appointed by the court in the role of a GAL or AMC explains the reasons why the court may appoint these professionals in your case, what the important differences between the roles are and importantly, Beth preps you to help you get ready to work with the professionals in your case.  There is so much important information in this episode, we broke it into a special two-part series so that we could make sure you are ready for your GAL or AMC and that there is no need for OMG!
More Information About This Week's Special Guest: 
Beth F. McCormack focuses on highly complex family law matters with vast experience in complex litigation, as well as mediation and collaborative law. Beth also represents children, when appointed by the court, which makes her unparalleled in her ability to navigate complex parenting issues. Beth appreciates the sensitivity surrounding high net-worth, high-profile, and child-related matters, with each requiring a very different skill set.
Ms. McCormack's practice is founded on compassion and empathy. She sees it as her responsibility to be aware of each person's needs, seeking the most appropriate solution for each client.
Ms. McCormack's vast family law experience enables her to handle and settle complex and sophisticated issues many families face. She is an unwavering advocate for the best interests of children, and easily navigates families through the highly emotional nature of any divorce. 
As one of the most influential attorneys in Chicago, Ms. McCormack has naturally become a mentor to many professionals in the legal community. Her peers consistently nominate her as a Best Lawyer, Super Lawyer, and Leading Lawyer. Most recently, Beth was named top 50 women Super Lawyers. Her work ethic and community involvement have earned her accolades within the legal community, and beyond.
Ms. McCormack has a monthly column in the Chicago Daily Law Bulletin, where she educates other lawyers on best practices and writes for many other publications as well. 
Follow Beth on Instagram at @bethfmccormack
Get in touch with Beth McCormack:
W: https://www.beermannlaw.com
E:  bfmccormack@beermannlaw.com
T:  312-621-9700
**********************************************************************
Listen to Beth's prior episode on Divorce & Beyond:  Lessons From a Billion Dollar Divorce Attorney
***********************************************************************
SUSAN GUTHRIE®, ESQ., the creator and host of The Divorce and Beyond® Podcast, is nationally recognized as one of the top family law and divorce mediation attorneys in the country.  Susan is a member of the Executive Council of the American Bar Association Section of Dispute Resolution and is the Founder of Divorce in a Better Way® which provides a curated selection of resources and information for those facing divorce and other life changes. 
Internationally renownded as one of the leading experts in online mediation, Susan created her Learn to Mediate Online® program and has trained more than 18,000 professionals in how to transition their practice online.  Susan recently partnered with legal and mediation legend, Forrest "Woody" Mosten to create the Mosten Guthrie Academy which provides gold standard, fully online training for mediation and collaborative professionals at all stages of their career.  
*****************************************************************************
THANK YOU TO OUR SPONSOR:
Thriving in divorce and beyond means not having to worry about the safety of your children when it comes to co-parenting. With alcohol abuse on the rise, many co-parents are turning to the system committed to providing proof, protection, and peace of mind. Soberlink's alcohol monitoring system is the most convenient, reliable, and reasonable way for a parent to provide evidence that they are not drinking during parenting time. Soberlink's real-time alerts, facial recognition, and tamper detection ensure the integrity of each test, so you can be confident your kids are with a sober parent. With Soberlink, judges rest assured that your child is safe, attorneys get court-admissible evidence of sobriety, and both parents have empowerment and peace of mind. Pull back the curtain on the mysteries of parenting time and trust The Experts in Remote Alcohol Monitoring Technology™ to keep you informed and your kids safe and secure. For an exclusive $50 off your device and to download the addiction and children resource page that I developed with Soberlink, visit www.Soberlink.com/Susan  
***************************************************************************************************
CHECK OUT THE NEW RESOURCE PAGE ON THE WEBSITE WITH DIVORCE & BEYOND RECOMMENDED READING!  
Remember, knowledge is power and we have the books that will help educate you and support you in all areas of divorce including finance, parenting, healing, conflict resolution and MORE!  Check it out now on the website:  www.divorceandbeyondpod.com/beyond-reading
***************************************
JOIN US IN THE DIVORCE & BEYOND MEMBERS ONLY COMMUNITY!
D & B Members Only will receive a number of benefits including:
Ad and Interruption Free Podcast Archive
BONUS Members Only Podcast Episodes monthly
Downloadable Worksheets, Spreadsheets and Other Forms 
Access to the "Ask Susan Anything" Forum where you can ask your questions and learn from the answers to others.
*****************************************************************************
SPONSORSHIP OPPORTUNITIES AVAILABLE!
If you would like to sponsor the show please reach out to us at  divorceandbeyondpod@gmail.com for pricing and details!!!
*********************************************************************
Remember to follow Susan Guthrie and THE DIVORCE AND BEYOND PODCAST on social media for updates and inside tips and information:
Susan Guthrie on Facebook @susanguthrieesq
Susan on Instagram @susanguthrieesq
Susan on Twitter @guthrielaw
Divorce & Beyond Podcast on Instagram @divorceandbeyond
Divorce & Beyond Podcast on Twitter @DivorceBeyond
If you want to see the video version of the podcast episodes they are available on The Divorce & Beyond YouTube Channel!  Make sure to LIKE and SUBSCRIBE so you don't miss a single episode!
Finally, we'd really appreciate it if you would  give us a 5 Star Rating and tell us what you like about the show in a review - your feedback really matters to us! 
You can get in touch with Susan at divorceandbeyondpod@gmail.com. 
Don't forget to visit the webpage www.divorceandbeyondpod.com and sign up for the free NEWSLETTER to receive a special welcome video from Susan and more!!
*****************************************************************************
DISCLAIMER:  THE COMMENTARY AND OPINIONS AVAILABLE ON THIS PODCAST ARE FOR INFORMATIONAL AND ENTERTAINMENT PURPOSES ONLY AND NOT FOR THE PURPOSE OF PROVIDING LEGAL ADVICE.  YOU SHOULD CONTACT AN ATTORNEY IN YOUR STATE TO OBTAIN LEGAL ADVICE WITH RESPECT TO ANY PARTICULAR ISSUE OR PROBLEM
Share
|
Download