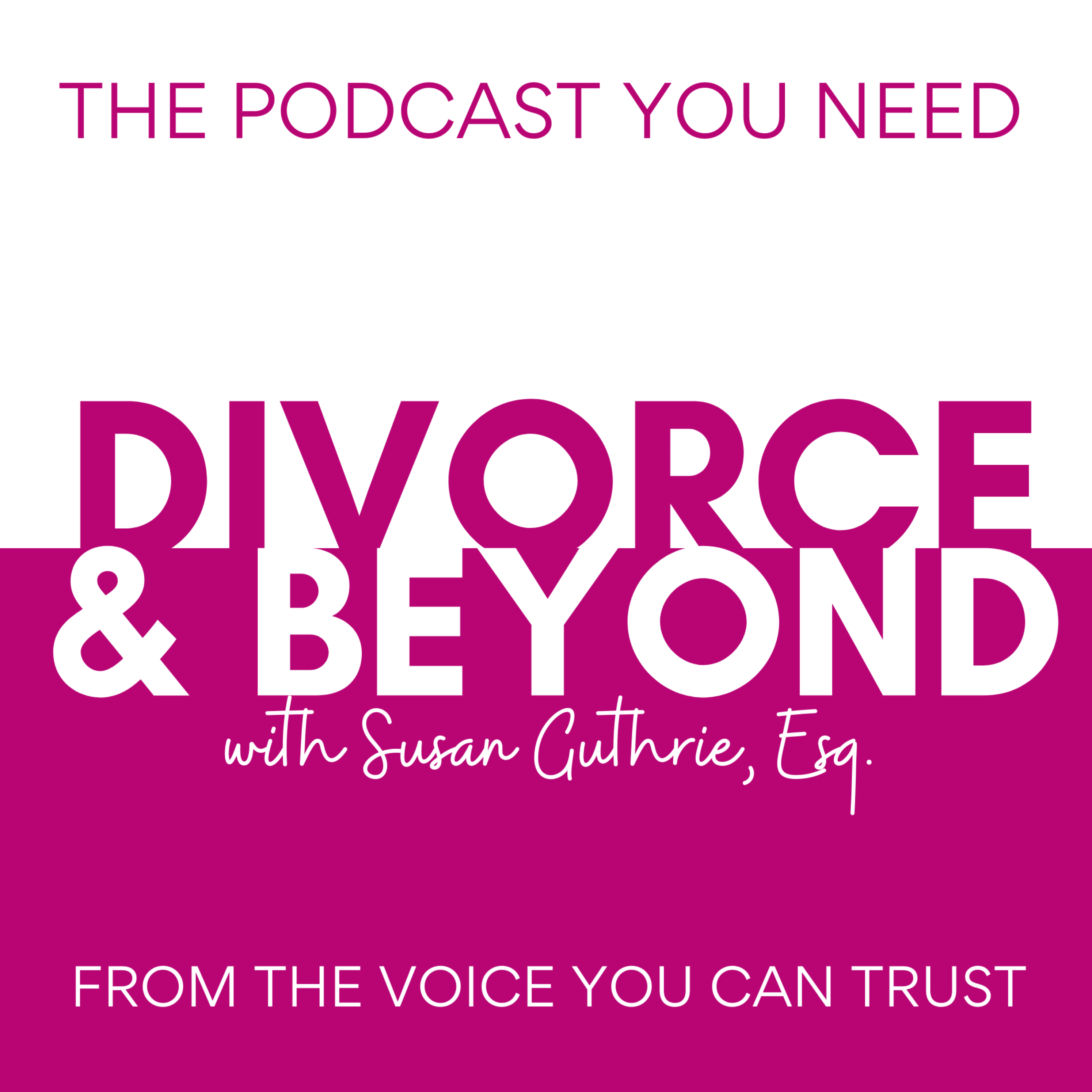 Nationally recognized family law attorney, mediator and award-winning podcaster, Susan Guthrie is at it again! After guiding countless numbers of people through the perilous world of divorce—and speaking to a podcast audience of over 4 million listeners—she's bringing you the "The Divorce & Beyond Podcast" to help you thrive in your life BEYOND divorce!
Episodes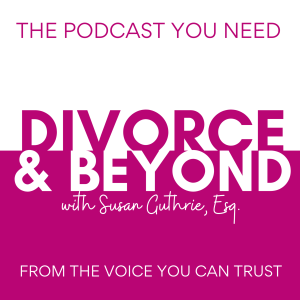 Monday Aug 22, 2022
Monday Aug 22, 2022
America's Favorite Parenting Expert is back on the show! Christina McGhee re-joins host Susan Guthrie on The Divorce & Beyond podcast. Together they discuss the top tips for managing a difficult co-parent! 

Parenting even under the best of circumstances is challenging. When you add into the mix a co-parent who is uncooperative or high conflict, it's downright exhausting. So, what can you do?  Christina has some wonderful tips about how to maneuver a co-parenting situation where your co-parent is non-existent or uncooperative.
Christina shares ways to work through the feelings of hopelessness and exhaustion. Plus, she talks about how to get to a place of being in control of yourself and your emotions so you can be an empowered, consistent, engaging, and confident parent to your children. 
Christina McGhee is a speaker and divorce parenting expert who believes divorce doesn't have to equal devastation for families.  She is also the author of the highly acclaimed book, "Parenting Apart: How separated and divorced parents can raise happy and secure kids."

Some topics that Christina and Susan discuss:
What Christina means when she says "When there's no "Co" in Co-parenting…"

Instead of staying focused on fixing the co-parent, lean into

your

co-parenting values and work on yourself

Radical acceptance: Adjust your expectations and accept things the way they are…for now. "It may not get easier, but how you manage it makes a difference." 

Ask yourself: How is your response going to impact your children?

Talk about the problem, not the person. "Making the other parent look small will never make you look big."

Don't forget about the

power of one

! 
Tune into this episode to hear tips and strategies that will keep your children at the center of your divorce and to learn how to cope with a difficult co-parent!
About this week's special guest: Christina McGhee
Christina McGhee is a speaker and divorce parenting expert who believes divorce doesn't have to equal devastation for families.  
While splitting up is undeniably hard, with the right kind of information and support, she thinks parents can be children's absolute best resource as life changes.  
As a coach with 20+ years of experience, Christina is dedicated to providing parents with the tools and practical support they need to get it right for their kids. 
She is also the author of the highly acclaimed book, Parenting Apart: How separated and divorced parents can raise happy and secure kids.  
As a child of divorce and as a bonus mom (aka step-mom), Christina gets plenty of opportunities to practice what she preaches. 
Together she and her husband have four "adultish" children (2 bonus, 2 bio), an ever-growing community of rescue dogs/cats, and an obscene number of chickens. You can nd out more about her at divorceandchildren.com 
Website: www.divorceandchildren.com 
Co-Parenting Specialist (CoPS) Certification Training with Mosten Guthrie Academy:  https://mostenguthrie.com/co-parenting-specialist
Parenting Apart: How Separated and Divorced Parents Can Raise Happy and Secure Kids:
Instagram: http://instagram.com/divorceandchildren
Facebook: https://www.facebook.com/divorceandchildren
Also mentioned in this episode:
Rainbows For All Children
If you want to see the video version of the podcast episodes they are available on The Divorce & Beyond YouTube Channel!  Make sure to LIKE and SUBSCRIBE so you don't miss a single episode!
THANK YOU TO OUR SPONSOR: Divide & Thrive Divorce Planner
Divorce is hard. Divide & Thrive makes planning for one EASY.
The #1 regret I hear from people who've gone through a divorce is that they didn't PREPARE in advance. There is no do-over in divorce, so planning early in the process is a GAME CHANGER.
Divide & Thrive's divorce planner takes the guesswork out of what to do. Their planner has helped THOUSANDS of people throughout the U.S. AND Canada save TIME and MONEY during divorce, and have PEACE OF MIND.
Their PROGRAM guides you through HOW to set divorce goals, tackle your BUDGET with easy-to-use financial planning tools, STREAMLINES your essential document collection, and SIMPLIFIES asset cataloging. 
Recommended by divorce attorneys, mediators, AND financial advisors, the easy-to-use planner helps you address the emotional AND business sides of divorce, and create your best next chapter.
Check out www.divideandthrive.net for reviews and a peek inside the planner. Use the code SUSAN22 for 20% off!
*******************************************************************
MEET OUR CREATOR AND HOST:
SUSAN GUTHRIE®, ESQ., the creator and host of The Divorce and Beyond® Podcast, is nationally recognized as one of the top family law and divorce mediation attorneys in the country.  Susan is a member of the Executive Council of the American Bar Association Section of Dispute Resolution and is the Founder of Divorce in a Better Way® which provides a curated selection of resources and information for those facing divorce and other life changes. 
Internationally renowned as one of the leading experts in online mediation, Susan created her Learn to Mediate Online® program and has trained more than 18,000 professionals in how to transition their practice online.  Susan recently partnered with legal and mediation legend, Forrest "Woody" Mosten to create the Mosten Guthrie Academy which provides gold standard, fully online training for mediation and collaborative professionals at all stages of their career.  
Follow Susan Guthrie and THE DIVORCE AND BEYOND PODCAST on social media for updates and inside tips and information:
Susan Guthrie on Facebook @susanguthrieesq
Susan on Instagram @susanguthrieesq
Susan on Twitter @guthrielaw
*********************************************************************
SPONSORSHIP OPPORTUNITIES ARE AVAILABLE!
If you would like to sponsor the show please reach out to us at  divorceandbeyondpod@gmail.com for pricing and details!!!
*********************************************************************
We'd really appreciate it if you would give us a 5 Star Rating and tell us what you like about the show in a review - your feedback really matters to us! 
You can get in touch with Susan at divorceandbeyondpod@gmail.com. 
Don't forget to visit the webpage www.divorceandbeyondpod.com and sign up for the free NEWSLETTER to receive a special welcome video from Susan and more!!
*********************************************************************
DISCLAIMER:  THE COMMENTARY AND OPINIONS AVAILABLE ON THIS PODCAST ARE FOR INFORMATIONAL AND ENTERTAINMENT PURPOSES ONLY AND NOT FOR THE PURPOSE OF PROVIDING LEGAL ADVICE.  YOU SHOULD CONTACT AN ATTORNEY IN YOUR STATE TO OBTAIN LEGAL ADVICE WITH RESPECT TO ANY PARTICULAR ISSUE OR PROBLEM