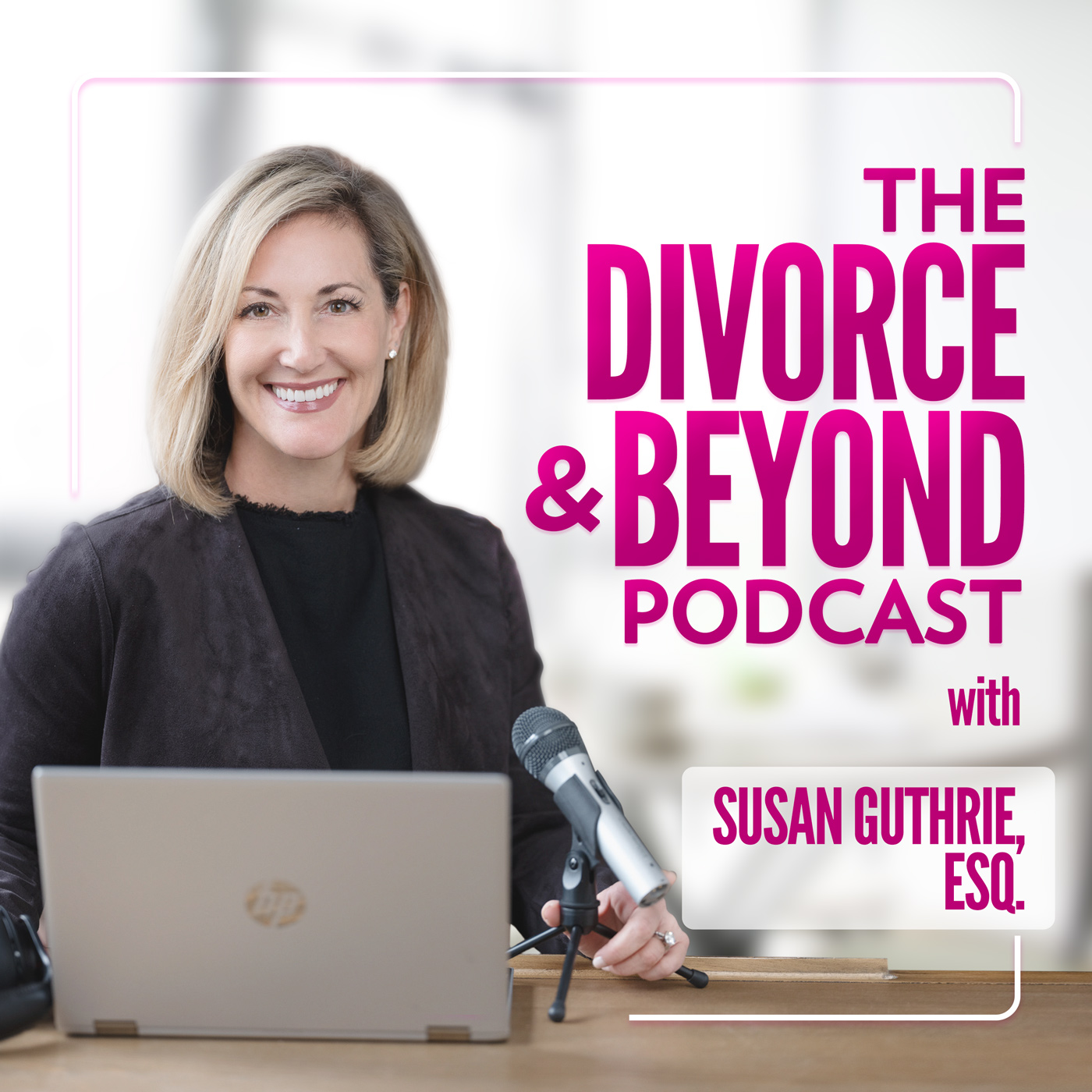 In this episode Susan Guthrie is honored to speak with a pioneer in the field of family and divorce mediation and truly the leading name in the business, Forrest "Woody" Mosten, who shares his experience and expertise to help listeners have a successful mediation process.
Divorce mediation continues to grow in popularity as an avenue to work through the issues of a divorce, but there are still questions in many people's minds about how it all works and whether mediation can be a successful process for their case. This week's guest, Forrest "Woody" Mosten has been mediating family matters since 1979 as one of the pioneers in the field. He has written all the leading books on mediation, collaborative divorce, unbundled legal services and teaches and trains students around the world in the practice. He is truly a legend in the field and he brings his decades of experience and expertise to the fore to answer some of the most frequently asked questions about mediation and his tips to help YOU have a successful mediation process!
Some Highlights From the Episode
Woody shares:
Why even high conflict cases should consider mediation.
Why you might want to hire a your mediator BEFORE your attorney.
What it means to be "divorced obsessed."
What the first three questions you should ask a potential attorney are.
What other professionals you might want to consider for your "divorce team."
and MUCH, MUCH MORE!
This is your opportunity to hear from the best of the best so be sure to download and listen to this episode today!
More About This Week's Very Special Guest: Forrest "Woody" Mosten has been in private mediation practice since 1979. Mr. Mosten is in constant demand as a master trainer for basic courses, advanced courses, individual supervision for practicing mediators, conflict resolution professionals, and training other conflict resolution trainers. He is popular presenter at conferences throughout the world.
In addition to his work as a neutral, Mr. Mosten maintains an active practice as a family lawyer representing clients in divorce, pre-marital agreements, and complex issues in property, support, and parenting issues after divorce. The California State Bar has recognized Mr. Mosten as a Certified Family Law Specialist. Mr. Mosten does not accept engagements that involve court appearances. He practices with a collaborative and problem solving model and has trained Collaborative Lawyers throughout the world and serves as a negotiation and mediation consultant for other family litigators. Mr. Mosten has been named Super Lawyer by Los Angeles Lawyer Magazine and as one of the top 25 Family Mediators in California by the Los Angeles Daily Journal.
Mr. Mosten has been given two major awards by the American Bar Association: A Lifetime Achievement Award for Innovations in Legal Access by the ABA Section of Delivery of Legal Services; and the Lawyer as Problem Solver Award by the ABA Section on Dispute Resolution.
His innovations in mediation and legal access have been reported in the Los Angeles Times, the Wall Street Journal, USA Today, Business Week, The New York Times, the Los Angeles Daily Journal, the Chicago Tribune, the ABA Journal and many other publications throughout the world.
You can reach Mr. Mosten through his website at www.mostenmediation.com or by calling him at (858) 999-0009.
Mr. Mosten's books can be purchased through his website mostenmediation.com or on Amazon.
The two books mentioned in this episode are:
Collaborative Divorce Handbook: Helping Families Without Going to Court
The Complete Guide to Mediation: The Cutting-Edge Approach to Family Law Practice
Susan and Woody's Upcoming Professional Trainings Mentioned in the Episode:
Advanced Mediation Training: November 12 - 14, 2020
40-Hour Family & Divorce Basic Mediation Training: January 26 - February 4, 2021
**********************
SUSAN GUTHRIE, ESQ., the creator and host of The Divorce and Beyond Podcast, is nationally recognized as one of the top family law and divorce mediation attorneys in the country. She is one of the Co-Chair's of the American Bar Association's DR Section Mediation Committee and is the Founder of Divorce in a Better Way which provides a curated selection of resources and information for those facing divorce and other life changes. Susan has created a website of curated resources for those facing divorce. Find out more at www.divorceinabetterway.com.
*****************************************************************************
THE LEARN TO MEDIATE ONLINE ACADEMY: www.learntomediateonline.com
LEARN TO MEDIATE ONLINE: THE LEARN TO MEDIATE ONLINE TRAINING PROGRAM IS NOW AVAILABLE AS AN ONLINE COURSE!! As one of the leading online mediation experts in the country, Susan Guthrie has created a simple and efficient online training program that allows mediation professionals to quickly and easily add an online platform to their practice! The two hour online program covers the basics of conducting mediations through an online platform like Zoom, and reviews the ethical and practical considerations that arise in this format. You even receive a copy of, and the right to use, Susan's Online Mediation Guidelines and Ground Rules to make your online mediations even easier for mediator and clients alike! More than 15,000 professionals have benefited from one of Susan's trainings! You can find the program at https://learntomediateonline.teachable.com/p/learn-to-mediate-online-training-program or just go to the website www.learntomediateonline.com!
Also available at the LTMO ACADEMY: Social Media Musts for Professionals and DIY Website Builder!
**********************************************
THANK YOU TO OUR SPONSORS!
dtour.life is an easy to navigate system that finally brings much needed technology to an inefficient system. Spouses and family law professionals can now collect the endless data, manage the piles of documents, explore various settlements, detail budgets and most importantly, collaborate with the entire team with a single click. And we built this from the ground up with industry best practices and the most advanced security and encryption technology available. Be sure to check it out today!
SPECIAL OFFER: Sign up for the FREE TRIAL here: https://www.dtour.life/sign-up and then use special code "SUSAN20" to receive 20% off the cost of a subscription!
FAYR, the BEST Co-Parenting App on the Market! What makes FAYR different? At FAYR it's not just about efficiency and ease (though they love those). They also help you create a better co-parenting experience by providing tools for: constructive communication, argument diffusion, and emotional support. For information on our FAYR, the ONLY co-parenting app recommended by Susan Guthrie and The Divorce and Beyond Podcast, visit their website at www.fayr.com. Don't forget to use the code "SUSANG18" for 20% off!!
*****************************************************************************
SPONSORSHIP OPPORTUNITIES AVAILABLE!
If you would like to sponsor the show please reach out to us at divorceandbeyondpod@gmail.com for pricing and details!!!
*********************************************************************
Remember to follow Susan Guthrie and THE DIVORCE AND BEYOND PODCAST on social media for updates and inside tips and information:
Susan Guthrie on Facebook
Susan on Instagram
Susan on Twitter
Divorce & Beyond Podcast on Instagram
Divorce & Beyond Podcast on Twitter
If you want to see the video version of the podcast episodes they are available on The Divorce & Beyond YouTube Channel! Make sure to LIKE and SUBSCRIBE so you don't miss a single episode!
Finally, we'd really appreciate it if you would give us a 5 Star Rating and tell us what you like about the show in a review - your feedback really matters to us!
You can also get in touch with Susan at divorceandbeyondpod@gmail.com.
Don't forget to visit the webpage www.divorceandbeyondpod.com and sign up for the free NEWSLETTER to receive a special welcome video from Susan and more!!
*****************************************************************************
DISCLAIMER: THE COMMENTARY AND OPINIONS AVAILABLE ON THIS PODCAST ARE FOR INFORMATIONAL AND ENTERTAINMENT PURPOSES ONLY AND NOT FOR THE PURPOSE OF PROVIDING LEGAL ADVICE. YOU SHOULD CONTACT AN ATTORNEY IN YOUR STATE TO OBTAIN LEGAL ADVICE WITH RESPECT TO ANY PARTICULAR ISSUE OR PROBLEM