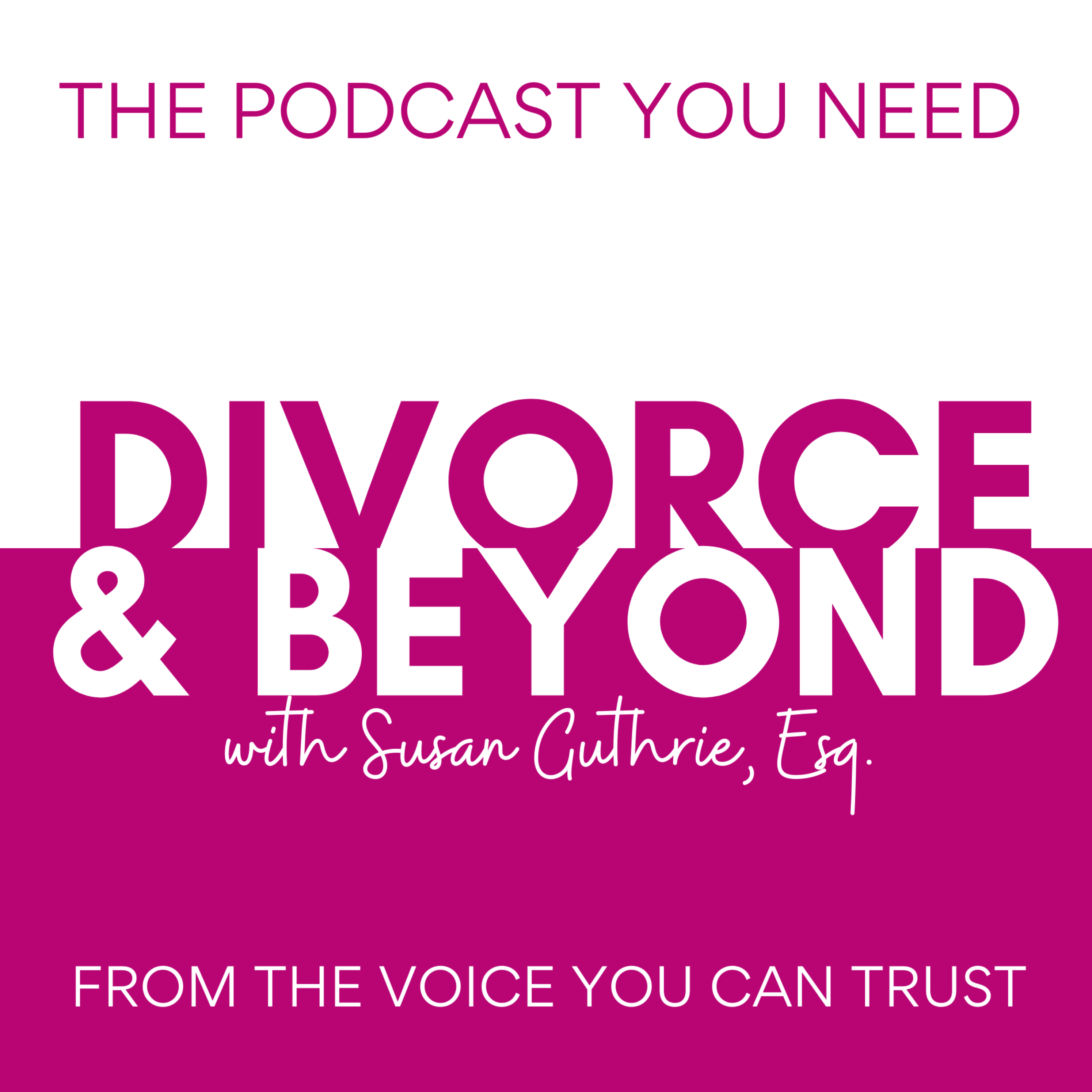 Nationally recognized family law attorney, mediator and award-winning podcaster, Susan Guthrie is at it again! After guiding countless numbers of people through the perilous world of divorce—and speaking to a podcast audience of over 4 million listeners—she's bringing you the "The Divorce & Beyond Podcast" to help you thrive in your life BEYOND divorce!
Episodes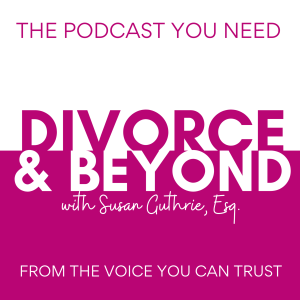 Monday Apr 24, 2023
Monday Apr 24, 2023
Susan Guthrie, Esq. welcomes returning guest, billion-dollar divorce attorney Beth McCormack as she shares scenarios from cases that show how to do divorce right!  This episode is enlightening!  
Beth takes her role in supporting her clients seriously. She focuses on the entire family unit and is a proponent of collaborative divorce. Rather than hearing an episode that shares the benefits of collaborative divorce,  Susan invited Beth to share examples from the many cases she has handled, offering concrete ways in which going collaborative has helped families navigate divorce with thoughtfulness and compassion. 
Topics and Golden Nuggets include:
What a collaborative approach to divorce entails

The various members of the collaborative divorce team

Beth shares two stories from high-conflict or complex cases which we resolved through collaborative divorce
****************************************
About this week's special guest:  Beth McCormack
Beth is an equity partner at Beermann LLC here in Chicago, and her practice focuses on:
highly complex family law matters with vast experience in complex litigation,

mediation and collaborative law.

Beth also represents children, when appointed by the court,

Beth appreciates the sensitivity surrounding high net-worth, high-profile, and child-related matters, with each requiring a very different skill set.
As one of the most influential attorneys in Chicago, Ms. McCormack has naturally become a mentor to many professionals in the legal community. Her peers consistently nominate her as a Best Lawyer, Super Lawyer, and Leading Lawyer. Most recently, Beth was named top 50 women Super Lawyers. Her work ethic and community involvement have earned her accolades within the legal community, and beyond,
Find our more about Beth:  https://www.beermannlaw.com
Email:  BMcCormack@beermannlaw.com
Instagram:  @bethfmccormack
Check out Beth's previous appearances on Divorce and Beyond:

Lessons from a Billion Dollar Divorce Attorney
GAL  AMC  OMG – Demystifying the Role of Guardian ad Litem and Attorney for the Minor Children Part One and Part Two


Mentioned in this episode:
Download a free copy of Susan's newest e-book: Building the Practice of Your Dreams. You'll enjoy one full month of tips for building a successful practice! Access the e-book today! 
*****************************************
Thriving in divorce and beyond means not having to worry about the safety of your children when it comes to co-parenting. With alcohol abuse on the rise, many co-parents are turning to the system committed to providing proof, protection, and peace of mind. Soberlink's alcohol monitoring system is the most convenient, reliable, and reasonable way for a parent to provide evidence that they are not drinking during parenting time.
Soberlink's real-time alerts, facial recognition, and tamper detection ensure the integrity of each test, so you can be confident your kids are with a sober parent. With Soberlink, judges rest assured that your child is safe, attorneys get court-admissible evidence of sobriety, and both parents have empowerment and peace of mind. 
Pull back the curtain on the mysteries of parenting time and trust The Experts in Remote Alcohol Monitoring Technology™ to keep you informed and your kids safe and secure. To download the addiction and children resource page that I developed with Soberlink, visit www.Soberlink.com/Susan  
___________
HOLLIS HARDIMAN, CDFA
Merit Financial Advisors
Hollis Hardiman is a certified divorce financial analyst and wealth manager who can provide guidance and support throughout the divorce process.  Hollis is highly trained and experienced in analyzing all aspects of divorce finance, including property division, spousal and child support, estate planning, and investment tax considerations. She works closely with you and your legal team to ensure you receive a fair settlement considering your financial needs and goals
Regardless of where you are in the divorce process, Hollis can provide the insights and tools to make informed decisions and secure your financial future. 
Schedule your complimentary consultation with Hollis by emailing hhardiman@meritfa.com. Be sure to tell her you heard about her on Divorce & Beyond!
*********************************************************************
SPONSORSHIP OPPORTUNITIES ARE AVAILABLE!  https://divorcebeyond.com/Sponsorship-Info
*******************************************************************
MEET OUR CREATOR AND HOST:
SUSAN GUTHRIE®, ESQ., the creator and host of The Divorce and Beyond® Podcast, is nationally recognized as one of the top family law and divorce mediation attorneys in the country.  Susan is the Vice Chair of the American Bar Association Section of Dispute Resolution and is a sought-after keynote speaker, business and practice consultant, coach and trainer. You can find out more about Susan and her services here:  https://neon.page/susanguthrie
Internationally renowned as one of the leading experts in online mediation, Susan created her Learn to Mediate Online® program and has trained more than 25,000 professionals in how to transition their practice online.  Susan recently partnered with legal and mediation legend, Forrest "Woody" Mosten to create the Mosten Guthrie Academy which provides gold-standard, fully online training for mediation and collaborative professionals at all stages of their careers.  
Follow Susan Guthrie and THE DIVORCE AND BEYOND PODCAST on social media for updates and inside tips and information:
Susan on LinkedIn: https://www.linkedin.com/in/susaneguthrie/
Susan on Instagram @susanguthrieesq
*********************************************************************
We'd really appreciate it if you would give us a 5 Star Rating and tell us what you like about the show in a review - your feedback really matters to us! 
You can get in touch with Susan at divorceandbeyondpod@gmail.com. 
Don't forget to visit the webpage www.divorceandbeyondpod.com and sign up for the free NEWSLETTER to receive a special welcome video from Susan and more!!
*********************************************************************
DISCLAIMER:  THE COMMENTARY AND OPINIONS AVAILABLE ON THIS PODCAST ARE FOR INFORMATIONAL AND ENTERTAINMENT PURPOSES ONLY AND NOT FOR THE PURPOSE OF PROVIDING LEGAL ADVICE.  YOU SHOULD CONTACT AN ATTORNEY IN YOUR STATE TO OBTAIN LEGAL ADVICE WITH RESPECT TO ANY PARTICULAR ISSUE OR PROBLEM.