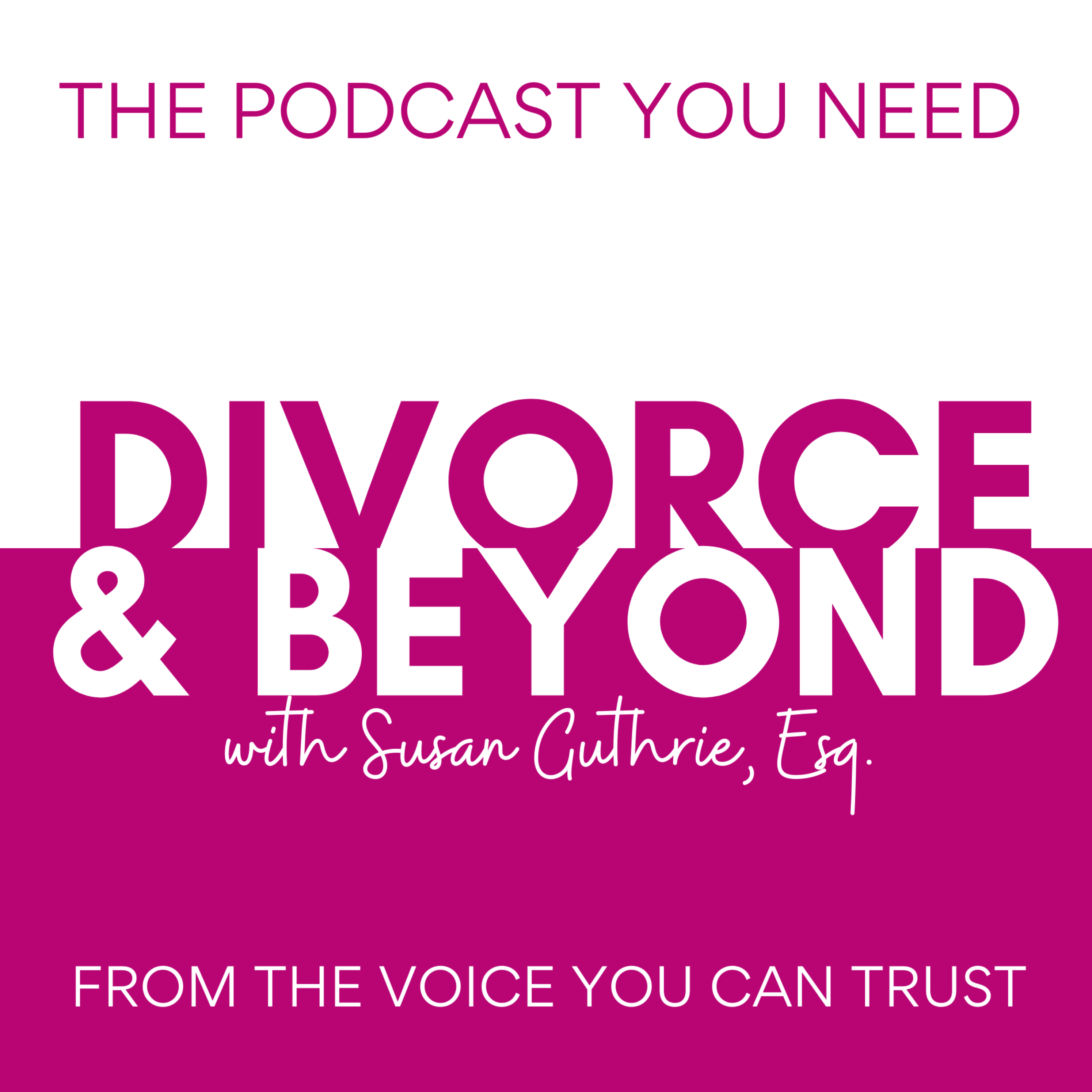 Nationally recognized family law attorney, mediator and award-winning podcaster, Susan Guthrie is at it again! After guiding countless numbers of people through the perilous world of divorce—and speaking to a podcast audience of over 4 million listeners—she's bringing you the "The Divorce & Beyond Podcast" to help you thrive in your life BEYOND divorce!
Episodes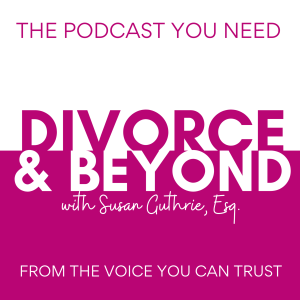 Monday Sep 04, 2023
Monday Sep 04, 2023
America's Favorite Dating Expert, Bela Gandi, returns to the podcast this week! Susan Guthrie welcomes Bela as she shares the three hottest topics in dating right now! 
This podcast episode gives listeners a refreshing take on today's latest dating dynamics - from dating #beigeflags to video dating and everything in between. Bela offers an encouraging perspective about how to approach love with an open heart (and mind), value your time, and prioritize genuine connections over superficial victories.

Bela Gandhi is the founder of Smart Dating Academy and is a nationally acclaimed dating and relationship expert.  You've seen her on Good Morning America, TODAY, Kelly Clarkson, Steve Harvey, and many more news and media outlets. She has a viral TEDx about love and elevator people. Once you watch it, you will know that Bela is the very best of elevator people. She has been a guest with us many times before, and we're thrilled that she's here with us again today to talk all about hot topics in dating. 
Topics and Golden Nuggets include:
Bela explains beige flags and addresses whether or not a beige flag can turn into a red flag

Keep an open mind and cast your net out wide, "Love always comes in an unexpected package."

Why Bela says "butterflies" aren't typically a good thing in dating. 

Back to school, back to love?

Go on a video date first because your time is your most precious commodity.  Video dating is an amazing pre-qualifier!

Practice being grateful and gracious when a matchmaking setup is not a fit

The Barbie movie, The Ken Effect, and dating

"We're not a date to win. We're on a date to connect."
****************************************
About this week's special guest: Bela Gandhi
Bela Gandhi of Smart Dating Academy is a nationally acclaimed dating & relationship expert.  SDA offers the best tips to start to date smarter to help you find real and lasting love.  Bela is a sought-after correspondent and works with all major networks including Good Morning America, Steve Harvey, NBC, Harry Connick Junior, Kelly Clarkson, ABC, FOX, CNN, JET, Essence, Forbes, WGN, and more.
Bela's website, Smart Dating Academy:  http://www.smartdatingacademy.com

Also mentioned in this episode:
Susan on Smart Dating Academy Podcast, The Unexpected #1 Relationship Killer: 46% of Divorced Couples Agree!
Dealing with School Zones from Two Homes with Parenting Expert Christina McGhee
*****************************************
Thriving in divorce and beyond means not having to worry about the safety of your children when it comes to co-parenting. With alcohol abuse on the rise, many co-parents are turning to the system committed to providing proof, protection, and peace of mind. Soberlink's alcohol monitoring system is the most convenient, reliable, and reasonable way for a parent to provide evidence that they are not drinking during parenting time.
Soberlink's real-time alerts, facial recognition, and tamper detection ensure the integrity of each test, so you can be confident your kids are with a sober parent. With Soberlink, judges rest assured that your child is safe, attorneys get court-admissible evidence of sobriety, and both parents have empowerment and peace of mind. 
Pull back the curtain on the mysteries of parenting time and trust The Experts in Remote Alcohol Monitoring Technology™ to keep you informed and your kids safe and secure. To download the addiction and children resource page that I developed with Soberlink, visit www.Soberlink.com/Susan
________________________
After a long day at work helping people to navigate divorce, I like to unwind with a little binge-watching, and currently, Amazon's Prime Video is my channel of choice.  
If you want to try out Prime Video for free, I've got a 30-day trial for you!  Just go to https://divorcebeyond.com/Prime-Video for your free trial.   
*********************************************************************
SPONSORSHIP OPPORTUNITIES ARE AVAILABLE!  https://divorcebeyond.com/Sponsorship-Info
*******************************************************************
MEET OUR CREATOR AND HOST:
SUSAN GUTHRIE®, ESQ., the creator and host of The Divorce and Beyond® Podcast, is nationally recognized as one of the top family law and divorce mediation attorneys in the country.  Susan is the Vice Chair of the American Bar Association Section of Dispute Resolution and is a sought-after keynote speaker, business and practice consultant, coach and trainer. You can find out more about Susan and her services here:  https://neon.page/susanguthrie
Internationally renowned as one of the leading experts in online mediation, Susan created her Learn to Mediate Online® program and has trained more than 25,000 professionals in how to transition their practice online.  Susan recently partnered with legal and mediation legend, Forrest "Woody" Mosten to create the Mosten Guthrie Academy which provides gold-standard, fully online training for mediation and collaborative professionals at all stages of their careers.  
Follow Susan Guthrie and THE DIVORCE AND BEYOND PODCAST on social media for updates and inside tips and information:
Susan on LinkedIn: https://www.linkedin.com/in/susaneguthrie/
Susan on Instagram @susanguthrieesq
*********************************************************************
We'd really appreciate it if you would give us a 5 Star Rating and tell us what you like about the show in a review - your feedback really matters to us! 
You can get in touch with Susan at divorceandbeyondpod@gmail.com. 
Don't forget to visit the webpage www.divorceandbeyondpod.com and sign up for the free NEWSLETTER to receive a special welcome video from Susan and more!!
*********************************************************************
DISCLAIMER:  THE COMMENTARY AND OPINIONS AVAILABLE ON THIS PODCAST ARE FOR INFORMATIONAL AND ENTERTAINMENT PURPOSES ONLY AND NOT FOR THE PURPOSE OF PROVIDING LEGAL ADVICE.  YOU SHOULD CONTACT AN ATTORNEY IN YOUR STATE TO OBTAIN LEGAL ADVICE WITH RESPECT TO ANY PARTICULAR ISSUE OR PROBLEM.