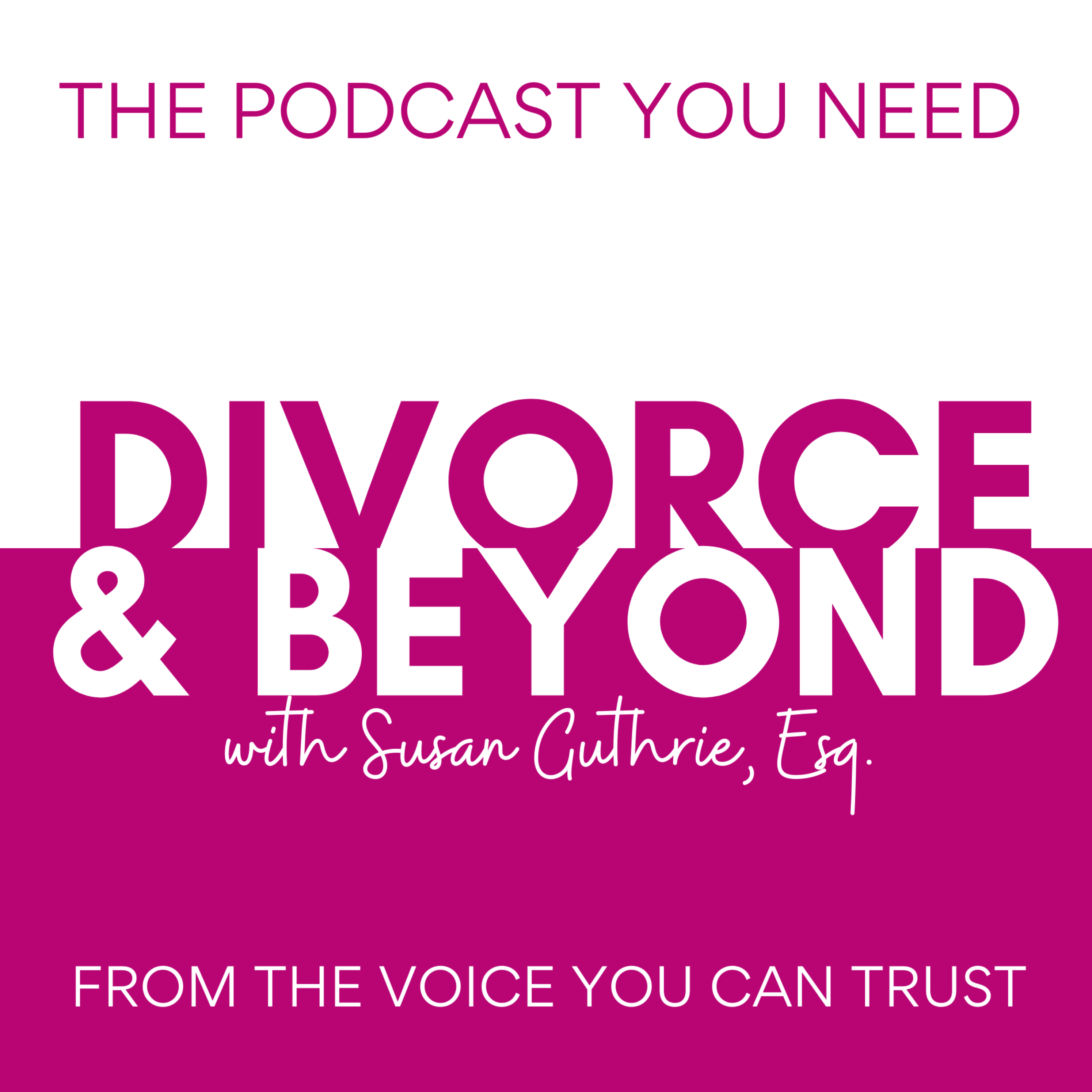 Nationally recognized family law attorney, mediator and award-winning podcaster, Susan Guthrie is at it again! After guiding countless numbers of people through the perilous world of divorce—and speaking to a podcast audience of over 4 million listeners—she's bringing you the "The Divorce & Beyond Podcast" to help you thrive in your life BEYOND divorce!
Episodes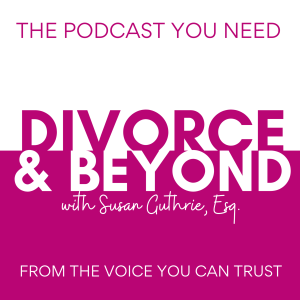 Friday May 06, 2022
Friday May 06, 2022
You loved Laura Friedman Williams when she first joined us in June 2021 to celebrate the launch of her first book "Available: A Memoir of Sex and Dating After A Marriage Ends" and so many listeners found comfort and hope in her candid recount of her journey to finding her inner woman again after her long-term marriage ended with her husband's affair.
Well she's back and better than ever althought the last year has had some highs and lows as she has navigated the finalization of her divorce, the moving out of the marital home and the purchase and renovation of her very own new home.  In her unique and special way, Laura shares an update on her personal journey that is, as always, deeply personal and revealing.  You will find much to relate to, laugh about and cry too as we catch up with Laura today as the book officially launches in the United States.  Tune in and find out why after all she has been through, Laura says she feels today "that anything is possible."
If you did not have the opportunity to listen to Laura's original, very special two-part episode, you don't want to miss them:
Some Times Too Much is Just Enough Part One
Some Times Too Much is Just Enough Part Two
More about Laura Friedman Williams:
Laura Friedman Williams is a native New Yorker whose writing credits consist of countless PTA newsletters and program notes for talent shows and school auctions, as well as ghostwritten bar mitzvah speeches for many of her friends. Her wit and wisdom have not yet made it to a larger audience, but her years spent raising children and running events at her children's schools have kept her writing steady and sharp. She credits her degree in English from Washington University and the ten formative years she spent in book publishing – first in Subsidiary Rights at Warner Books (now Grand Central Publishing) and then at Henry Holt & Company, then as a book scout and finally as a literary agent – for giving her a deep love and respect for the written word. She credits the break-up of her marriage for finally giving her the subject matter about which she both needed and wanted to write. She lives in downtown Manhattan with her three children.
Laura's Medium Blog:  https://laurafriedmanwilliams.medium.com/
Follow Laura on Social:
IG:  @laurafriedmanwilliams
FB:  @laura-friedman-williams
Twitter:  @LauraFWinNYC
GET THE BOOK!  https://amzn.to/3P3tmLK
*****************************************************************************
MEET OUR CREATOR AND HOST:
SUSAN GUTHRIE®, ESQ., the creator and host of The Divorce and Beyond® Podcast, is nationally recognized as one of the top family law and divorce mediation attorneys in the country.  Susan is a member of the Executive Council of the American Bar Association Section of Dispute Resolution and is the Founder of Divorce in a Better Way® which provides a curated selection of resources and information for those facing divorce and other life changes. 
Internationally renowned as one of the leading experts in online mediation, Susan created her Learn to Mediate Online® program and has trained more than 20,000 professionals in how to transition their practice online.  Susan recently partnered with legal and mediation legend, Forrest "Woody" Mosten to create the Mosten Guthrie Academy which provides gold standard, fully online training for mediation and collaborative professionals at all stages of their career.  
******************************************************************************
Remember to follow Susan Guthrie and THE DIVORCE AND BEYOND PODCAST on social media for updates and inside tips and information:
Susan Guthrie on Facebook @susanguthrieesq
Susan on Instagram @susanguthrieesq @divorceandbeyond
Susan on Twitter @guthrielaw
If you want to see the video version of the podcast episodes they are available on The Divorce & Beyond YouTube Channel!  Make sure to LIKE and SUBSCRIBE so you don't miss a single episode!
Finally, we'd really appreciate it if you would  give us a 5 Star Rating and tell us what you like about the show in a review - your feedback really matters to us! Here's a link to the show on Apple Podcasts: https://podcasts.apple.com/us/podcast/the-divorce-and-beyond-podcast-with-susan-guthrie-esq/id1490881800
You can get in touch with Susan at divorceandbeyondpod@gmail.com. 
Don't forget to visit the webpage www.divorceandbeyondpod.com and sign up for the free NEWSLETTER to receive a special welcome video from Susan and more!!
********************************************************************
SPONSORSHIP OPPORTUNITIES AVAILABLE!
If you would like to sponsor the show please reach out to us at  divorceandbeyondpod@gmail.com for pricing and details!!!
*********************************************************************
DISCLAIMER:  THE COMMENTARY AND OPINIONS AVAILABLE ON THIS PODCAST ARE FOR INFORMATIONAL AND ENTERTAINMENT PURPOSES ONLY AND NOT FOR THE PURPOSE OF PROVIDING LEGAL ADVICE.  YOU SHOULD CONTACT AN ATTORNEY IN YOUR STATE TO OBTAIN LEGAL ADVICE WITH RESPECT TO ANY PARTICULAR ISSUE OR PROBLEM.