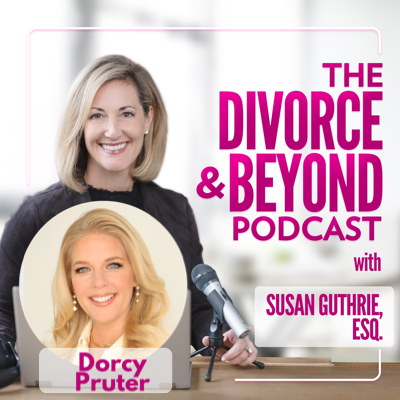 Avoiding the Void: Facing the Future and Thriving After Divorce with Shannon McGorry on The Divorce & Beyond Podcast with Susan Guthrie, Esq. #127
Jun 15th, 2020 by divorceandbeyond
For so many people going through divorce or difficult change, the future can suddenly look like a big, black void.  The life you saw and planned is no longer available and you have no idea how things will unfold as you go forward.  This can create a great deal of fear that often keeps people stuck in the trauma of the divorce long after the legal process is over.  In this episode, Host Susan Guthrie speaks with Certified Coach, Shannon McGorry, who helps people chart their path beyond divorce to create a future that is in keeping with their interests and values.  Things that sometimes get set aside in the give and take of a relationship and the turmoil of it's breakdown.  Having been through it herself, Shannon knows the uncertainly that the drastic change of divorce can bring and she also knows how to help you through the loss and the way to turn to the future so that you can thrive after your divorce.  
Some highlights from this episode:
Divorce does not define you.  You get to choose how you are going to live your next chapter (6:30)
Why Shannon's therapist told her she shouldn't stay in ugly too long. (7:00)
How fear shows up in divorce as fear of the loss, fear of the process and fear of the outcome. (7:45)
What are the two tracks to follow to start taking action? (10:20)
Why do you need to get in touch with and define your values in order to create your new future. (14:25)
What does Shannon's "categories of life" exercise do to help you unhit the pause button on your life. (19:15)
What exactly does Shannon mean by becoming empowered and why is it SO important for moving forward after your divorce?  (25:35)
How can you regain your power when the divorce is not something that you chose or want? (27:05)
Shannon knows the fear you are feeling and also the steps you can take to move through that fear or avoid it entirely so that you CAN thrive into your new future - Don't miss this episode! 
More about this week's Special Guest:  Shannon McGorry is a Certified Professional Coach specializing in Divorce and Life Empowerment.
Expertise, Prioritization, Clarity, and Accountability are the principles of Shannon's practice. Shannon empowers her clients to show up confident, well informed, and educated as they make decisions and take consistent, intentional action in support of their future reality.
Shannon obtained her coaching certification through the Institute for Professional Excellence in Coaching, and she graduated Magna Cum Laude from Siena College with a Bachelor of Arts in Economics.
She is a woman of faith, a mom of two daughters, a yoga enthusiast, a huge fan of the beach, of being outside, and of laughter.
Shannon is available for private coaching, workshops, and speaking engagements via her website, http://www.lovestrengthandgrace.com.
Shannon's Special Gift for Listeners of The Divorce & Beyond Podcast:  A very special 15-minute audio with 4 tips to start the shift in your thinking!  You can access Shannon's gift here: https://lovestrengthandgrace.lpages.co/audio-training-whats-next-creating-a-powerful-shift-in-focus-after-divorce/
****************************************************************************
WANT TO BE A GUEST ON THE DIVORCE & BEYOND PODCAST?  You can apply on the website: https://divorceandbeyondpod.com/want-to-be-a-guest%3F
********************************************************************
 SUSAN GUTHRIE, ESQ., the creator and host of The Divorce and Beyond Podcast, is nationally recognized as one of the top family law and divorce mediation attorneys in the country.  She is one of the Co-Chair's of the American Bar Association's DR Section Mediation Committee and is the Founder of Divorce in a Better Way which provides a curated selection of resources and information for those facing divorce and other life changes.  Susan also provides legal coaching and divorce mediation services to select clients around the world through an online platform.  Find out more at www.divorceinabetterway.com.
****************************************************************************
For Mediation Professionals:  As one of the country's leading experts in online mediation, Susan is now sharing her expertise and knowledge and offering her ONLINE MEDIATION TRAINING PROGRAM which will show you how to implement an online platform into to your existing practice in just two short one-hour online sessions!  Increase your potential client base, convenience and income by learning the ethical and practical considerations to know when mediating online!  Find out more at www.learntomediateonline.com and mention you are a listener of the Divorce and Beyond Podcast to get $50 off the cost of the 1:1 training!  
Susan's Family Mediation Training Webinar:  To find out more about Susan's BRAND NEW Divorce & Family Mediation Primer that will help you set up your family mediation practice, go to the website www.learntomediateonline.com!
This webinar is focused specifically on the fundamentals of setting up a mediation process for parties facing divorce and other family law issues. Susan Guthrie, one of the leading family law and mediation attorneys in the country, shares her practice tips for providing a superior mediation experience to clients while also meeting your needs as a practitioner. 
The program will cover suggestions regarding:
Establishing Processes and procedures 
Effective Consultations
Efficient fact and data gathering 
Document preparation
Establishing Fees and Packages
Streamlined Use of an Agenda
Mediation format both online and in-person 
and MORE!
Efficiency, client satisfaction, technology and troubleshooting will be reviewed with an eye to making practitioners aware of technology that can be implemented to assist both mediator and clients. 
All live webinars will include a live Q & A with Susan at the end of the webinar for those who wish to stay online.  
Best of all?  Each participant will receive a sample Consultation Checklist and Mediation Agenda for use in their own practice. 
This fast-paced webinar program will be conducted in one two-hour session and the LIVE Q & A will follow.
Join us for the first webinar on:
WEDNESDAY, JUNE 17TH AT 9 AM PT / 12 PM ET
***************************************************************************
THIS WEEK'S SPONSOR INFORMATION: 
Gabrielle Hartley, the Creator of the Better Apart Method:  Leading divorce lawyer, coach and mediator, Gabrielle Hartley's book book "Better Apart: The Radically Positive Way to Separate" is a runaway best-seller and now she has created the Better Apart Master Class, available for download online, which provides powerful tools to help you get clear, feel better and reclaim your life!  For a limited time you will receive a mini consultation with Gabrielle herself when you sign up for the Master Class.  Listeners of the podcast receive $25 off the price of the Master Class with code "BEYOND25"!!!
Susan's Family Mediation Training Webinar:  To find out more about Susan's BRAND NEW Divorce & Family Mediation Primer go to the website www.learntomediateonline.com!
If you would like to sponsor the show please reach out to us at  divorceandbeyondpod@gmail.com for pricing and details!!!
********************************************************************
Don't forget to check out the Divorce & Beyond Podcast website at www.divorceandbeyondpod.com where you can find all of our episodes, links to sponsors and special offers and SIGN UP FOR THE FREE NEWSLETTER and Receive a Special Welcome Video from Susan!
Remember to follow Susan Guthrie and THE DIVORCE AND BEYOND PODCAST on social media for updates and inside tips and information:
Susan Guthrie on Facebook @Susan Guthrie
Susan on Instagram @susanguthrieesq
Susan on Twitter @guthrielaw
Divorce & Beyond Podcast on Instagram @divorceandbeyond
Divorce & Beyond on Twitter @DivorceBeyond
If you want to see the video version of the podcast episodes they are available on The Divorce & Beyond YouTube Channel!  Make sure to LIKE and SUBSCRIBE so you don't miss a single episode!
Finally, we'd really appreciate it if you would  give us a 5 Star Rating and tell us what you like about the show in a review - your feedback really matters to us!  You can also get in touch with Susan at divorceandbeyondpod@gmail.com.
****************************************************************************
DISCLAIMER:  THE COMMENTARY AND OPINIONS AVAILABLE ON THIS PODCAST ARE FOR INFORMATIONAL AND ENTERTAINMENT PURPOSES ONLY AND NOT FOR THE PURPOSE OF PROVIDING LEGAL ADVICE.  YOU SHOULD CONTACT AN ATTORNEY IN YOUR STATE TO OBTAIN LEGAL ADVICE WITH RESPECT TO ANY PARTICULAR ISSUE OR PROBLEM.
Share
|
Download