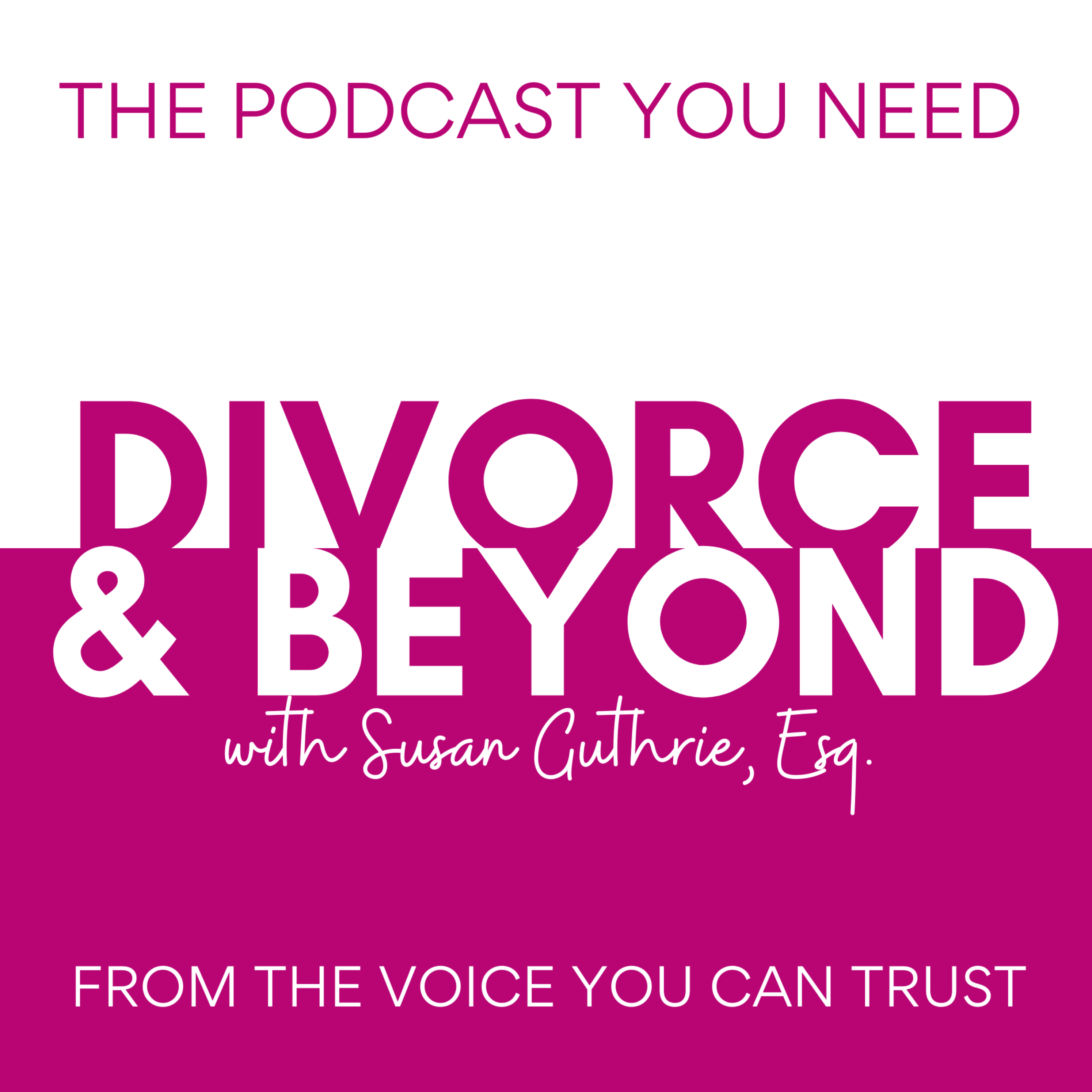 Nationally recognized family law attorney, mediator and award-winning podcaster, Susan Guthrie is at it again! After guiding countless numbers of people through the perilous world of divorce—and speaking to a podcast audience of over 4 million listeners—she's bringing you the "The Divorce & Beyond Podcast" to help you thrive in your life BEYOND divorce!
Episodes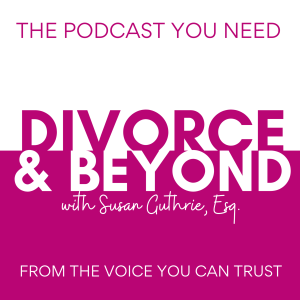 Monday Feb 06, 2023
Monday Feb 06, 2023
This week on The Divorce & Beyond podcast, Susan Guthrie, Esq., welcomes back Michelle Dempsey-Multack to discuss their thoughts on empowerment versus bashing and the impact of a victim mentality.
Michelle Dempsey-Multack is back on the show!  We know Michelle from her other Guest Appearances on Divorce and Beyond and especially because she is the creator and Host of the Moms Moving On Podcast, the best-selling author of Mom's Moving On, AND now the creator of the Moms Moving On Method Coaching Training Program.
Michelle joins Susan for a conversation about two of today's most notable music artists who recently released what may be referred to as "breakup songs."  In January, Shakira released "BZRP Music Sessions #53" and Miley Cyrus released "Flowers". Together, Susan and Michelle explore how the songs and situations may be similar in some ways but different in others and the lessons and insights that we all can learn to apply to our own lives and situations!
Topics and Golden Nuggets include:
Inside Shakira's sweet revenge against ex Gerard Pique - do two wrongs make a right?

Miley's "Flowers" - is there power in the ability to reclaim your own narrative?

Exploring the difference between what you put out there in the world as a co-parent versus being a childless couple

"Everyone sings about heartbreak, but it hits differently when kids are involved."
****************************************
About this week's special guest: Michelle Dempsey-Multack
Michelle Dempsey-Multack MS, CDS, is a writer, mom, coach, certified divorce specialist (CDS), speaker, and genuine girl power enthusiast. She graduated from Hofstra University with a degree in journalism and communication and then earned a double master's degree in education from Adelphi University. She hosts the weekly podcast Moms Moving On and writes regularly for Parents, Scary Mommy, and others. A former New Yorker, she now lives in Miami with her husband, daughter, and stepdaughter.
Website:  https://www.momsmovingon.com
Instagram: https://www.instagram.com/themichelledempsey
Get the Book: https://amzn.to/3uaT6fF
Mentioned in this episode:
Audible: Did you know that you can now listen to The Divorce & Beyond podcast on your favorite audiobook platform, Audible?  If you are like me and love your audiobooks along with your podcasts, this is a great time to check out Audible memberships – they have two levels: 
Audible Plus and Audible Premium Plus 
You can get a free trial of Audible Plus and if you decide to subscribe to Audible Premium Plus you will also get up to two free audiobooks!   
Check it out today and it makes a great gift too: Audible Gift Memberships 
Mosten Guthrie Academy: 
The  Mosten Guthrie Academy has a full slate of mediation and collaborative training and study groups scheduled for 2023! In fact, our first advanced training is on February 15th!
Visit MostenGuthrie.com to check out all the different ways that you can study and train with us in the coming year and join the Mosten Guthrie family. 
As a special for Divorce and Beyond listeners, if you put in the code DB50  when you register, you'll get $50 off the cost of a training or study group.
**********************************************************
THANK YOU TO OUR SPONSORS: 
Are you considering or going through a divorce and have lots of questions, but not a lot of resources? Join Your Divorce Squad's Ultimate Divorce Webinar on Friday, February 3rd!   In one hour you'll go from "I don't know?" to "I've got this!". 
Meet Your Squad: divorce prep specialist Alex Beattie, parenting plan expert Samantha Boss, divorce recovery coach Leah Marie Mazur, and financial coach Eboney Byrne. 
These four sought-after divorce coaches have teamed up to make helping women save time and money during divorce easy and affordable! 
During the webinar you'll be able to ask each coach questions, learn mistakes to avoid, get tips and tools to make your divorce journey easier, gain clarity, and more. Space is limited, so sign up today! 
Learn about the event and register at www.yourdivorcesquad.net.  
Susan recently launched a new podcast called the Make Money Mediating Podcast!  In this new podcast she shares not only her own tips and insights into building a successful business or businesses, but Susan welcomes some of the top experts in all related fields to share their wisdom to help you build your dream business and achieve success however you define that. 
Tune in, listen and let Susan know what you think – you can find the podcast on all your favorite podcast outlets including Apple Podcasts, Spotify, Audible, Stitcher, and more.
You can also simply visit the website to listen: MakeMoneyMediating.Podbean.com
*********************************************************************
SPONSORSHIP OPPORTUNITIES ARE AVAILABLE!  https://divorcebeyond.com/Sponsorship-Info
*******************************************************************
MEET OUR CREATOR AND HOST:
SUSAN GUTHRIE®, ESQ., the creator and host of The Divorce and Beyond® Podcast, is nationally recognized as one of the top family law and divorce mediation attorneys in the country.  Susan is the Vice Chair of the American Bar Association Section of Dispute Resolution and is a sought-after keynote speaker, business and practice consultant, coach and trainer. You can find out more about Susan and her services here:  https://neon.page/susanguthrie
Internationally renowned as one of the leading experts in online mediation, Susan created her Learn to Mediate Online® program and has trained more than 25,000 professionals in how to transition their practice online.  Susan recently partnered with legal and mediation legend, Forrest "Woody" Mosten to create the Mosten Guthrie Academy which provides gold-standard, fully online training for mediation and collaborative professionals at all stages of their careers.  
Follow Susan Guthrie and THE DIVORCE AND BEYOND PODCAST on social media for updates and inside tips and information:
Susan on LinkedIn: https://www.linkedin.com/in/susaneguthrie/
Susan on Instagram @susanguthrieesq
*********************************************************************
We'd really appreciate it if you would give us a 5 Star Rating and tell us what you like about the show in a review - your feedback really matters to us! 
You can get in touch with Susan at divorceandbeyondpod@gmail.com. 
Don't forget to visit the webpage www.divorceandbeyondpod.com and sign up for the free NEWSLETTER to receive a special welcome video from Susan and more!!
*********************************************************************
DISCLAIMER:  THE COMMENTARY AND OPINIONS AVAILABLE ON THIS PODCAST ARE FOR INFORMATIONAL AND ENTERTAINMENT PURPOSES ONLY AND NOT FOR THE PURPOSE OF PROVIDING LEGAL ADVICE.  YOU SHOULD CONTACT AN ATTORNEY IN YOUR STATE TO OBTAIN LEGAL ADVICE WITH RESPECT TO ANY PARTICULAR ISSUE OR PROBLEM.