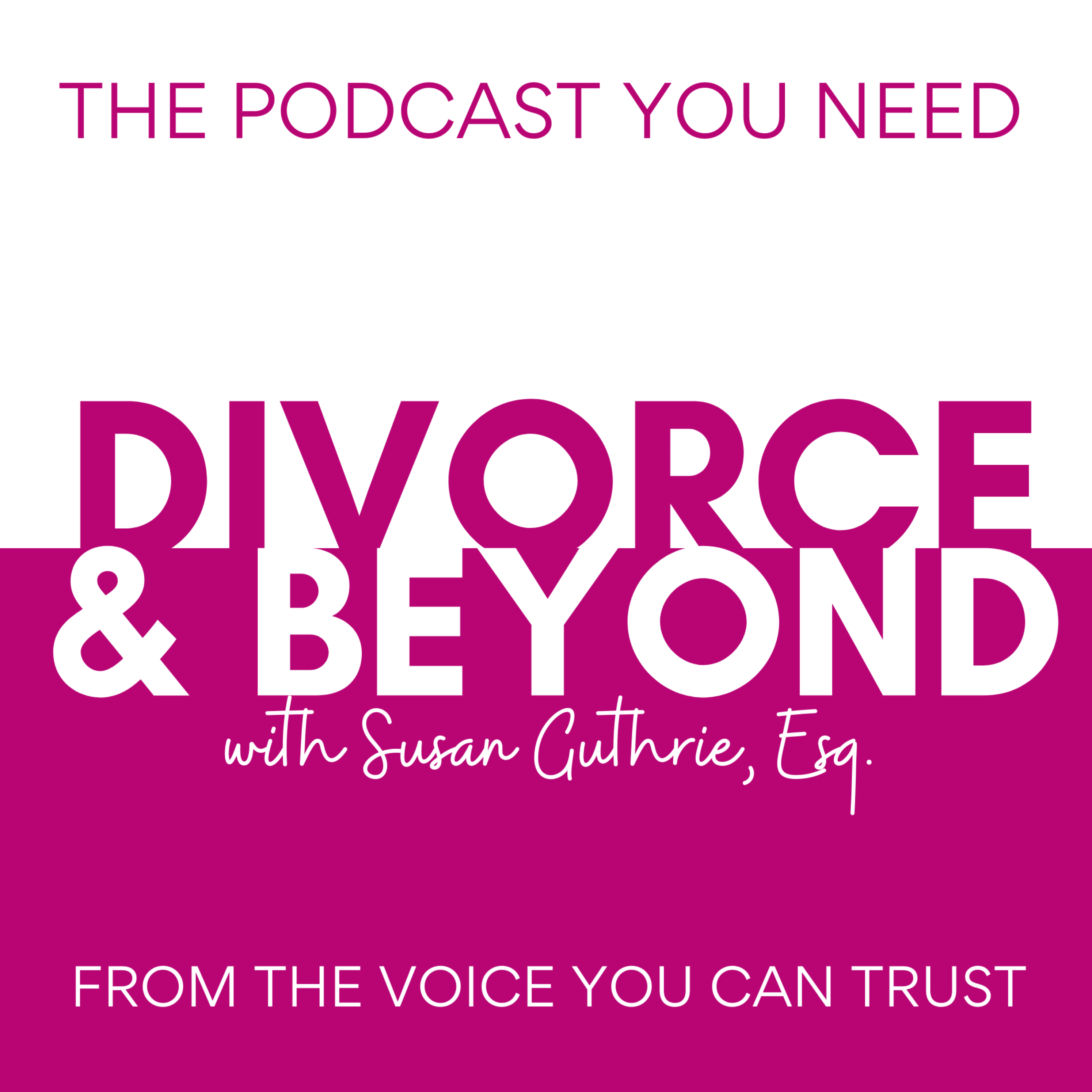 Nationally recognized family law attorney, mediator and award-winning podcaster, Susan Guthrie is at it again! After guiding countless numbers of people through the perilous world of divorce—and speaking to a podcast audience of over 4 million listeners—she's bringing you the "The Divorce & Beyond Podcast" to help you thrive in your life BEYOND divorce!
Episodes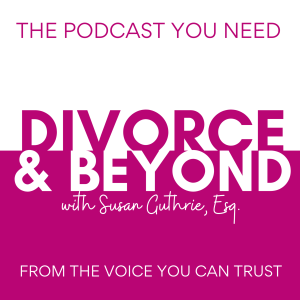 Monday Jul 11, 2022
Monday Jul 11, 2022
On this week's episode, Host, Susan Guthrie sits down to chat with Attorney Tracy Moore-Grant, the co-founder of The Amicable Divorce Network, to discuss what an "amicable" divorce really is and what you need to know to have one!
Most everyone says that they want to have an "amicable divorce" but what does that really mean?  Do you have to be the best of friends to have an amicable divorce?  Can your divorce be complicated but still amicable?
Tracy Moore-Grant has the answers to these questions and many more and believe us, she is the right person to ask!  Tracy is one of the co-founders of The Amicable Divorce Network, a curated and vetted community of divorce professionals who are dedicated to helping people to divorce amicably.  Tracy herself is an experienced divorce attorney who has a reputation among her colleagues as "the Divorce Whisperer" and for years has been brought into litigation cases that have gone sideways, gotten out of control and more to help them resolve quickly and set aside the conflict that is weighing everyone down.  
Some Golden Nuggets you will find in this episode:
3 things to consider to know if you can have an amicable divorce.
What you need to ask attorney in the consult to help you have an amicable divorce (Free Checklist on website:  www.divorceamicably.com.)
Why you need to understand that the path you choose for your divorce has a great deal to do with whether it will be amicable or not.
Why considering where you want to be at the end of your divorce can help you choose your process.
The fact is, your future after divorce is greatly impacted by whether or not your divorce is amicable - this episode is simply a MUST!
Get Tracy's FREE Resource:  Meeting with a Divorce Attorney? Don't forget this checklist! - Divorce Amicably
About this week's special guest Tracy Moore-Grant and The Amicable Divorce Network:
Tracy Ann Moore-Grant has represented clients and practiced exclusively in the area of family law since 2002 and is a founding partner of the law firm, Patterson Moore Butler. She focuses her practice on all areas related to family law but has transitioned her practice to being a non-litigation attorney and mediator helping parties resolve issues outside of the court system. Her passion for helping parties divorce well lead to her founding the Amicable Divorce Network. The network connects professionals who are vetted for having a resolution mindset with parties seeking low conflict divorce.  Ms. Moore-Grant is passionate about helping families navigate the difficult process of divorce in a respectful and family focused manner and resolving their differences outside the courtroom. 
Ms. Moore-Grant is a registered mediator with both the Georgia Office of Dispute Resolution and 9th District ADR and the State of Alaska for both family law and domestic violence cases as a mediator and arbitrator. She is a step-mother, baker, and schnauzer lover. She is also a Board Member for Mentor Me of North Georgia, contributing writer to My Forsyth Magazine, Mock Trial Coach for Alliance Academy, and teaches Constitutional Law at Lanier Tech. She has achieved an AV Preeminent Judicial Rating from Martindale Hubble, was named a Woman of Forsyth by the Forsyth County News, and has been listed as a Top 10 Female Family Law Attorney in Georgia since 2016. Her firm, Patterson Moore Butler received a Best of Forsyth award in 2022. In 2020, Tracy Ann was awarded the Georgia Legal Award for Distinguished Leadership for founding the Amicable Divorce Network, recognizing its positive impact on Georgia family law and families. Ms. Moore-Grant has been a guest on many podcasts and has authored many articles on the topic of amicable divorce.
Professionals seeking to join the Amicable Divorce Network click here:  www.amicabledivorcenetwork.com
If you are seeking a vetted Amicable Divorce Network Professional click here:  www.divorceamicably.com
Follow the Amicable Divorce Network on Instagram at @amicabledivorcenetwork
Watch the video version of the episode on The Divorce & Beyond Podcast YouTube Channel here:  https://youtu.be/g0fIu_Pg8Mg
Don't forget to Like and SUBSCRIBE!!
******************************************************************************************************
THANK YOU TO OUR SPONSOR:
Thriving in divorce and beyond means not having to worry about the safety of your children when it comes to co-parenting. With alcohol abuse on the rise, many co-parents are turning to the system committed to providing proof, protection, and peace of mind. Soberlink's alcohol monitoring system is the most convenient, reliable, and reasonable way for a parent to provide evidence that they are not drinking during parenting time. Soberlink's real-time alerts, facial recognition, and tamper detection ensure the integrity of each test, so you can be confident your kids are with a sober parent. With Soberlink, judges rest assured that your child is safe, attorneys get court-admissible evidence of sobriety, and both parents have empowerment and peace of mind. Pull back the curtain on the mysteries of parenting time and trust The Experts in Remote Alcohol Monitoring Technology™ to keep you informed and your kids safe and secure. To download the addiction and children resource page that I developed with Soberlink, visit www.Soberlink.com/Susan  
*******************************************************************
MEET OUR CREATOR AND HOST:
SUSAN GUTHRIE®, ESQ., the creator and host of The Divorce and Beyond® Podcast, is nationally recognized as one of the top family law and divorce mediation attorneys in the country.  Susan is a member of the Executive Council of the American Bar Association Section of Dispute Resolution and is the Founder of Divorce in a Better Way® which provides a curated selection of resources and information for those facing divorce and other life changes. 
Internationally renowned as one of the leading experts in online mediation, Susan created her Learn to Mediate Online® program and has trained more than 18,000 professionals in how to transition their practice online.  Susan recently partnered with legal and mediation legend, Forrest "Woody" Mosten to create the Mosten Guthrie Academy which provides gold standard, fully online training for mediation and collaborative professionals at all stages of their career.  
*****************************************************************************
SPONSORSHIP OPPORTUNITIES AVAILABLE!
If you would like to sponsor the show please reach out to us at  divorceandbeyondpod@gmail.com for pricing and details!!!
*********************************************************************
Remember to follow Susan Guthrie and THE DIVORCE AND BEYOND PODCAST on social media for updates and inside tips and information:
Susan Guthrie on Facebook @susanguthrieesq
Susan on Instagram @susanguthrieesq
Susan on Twitter @guthrielaw
If you want to see the video version of the podcast episodes they are available on The Divorce & Beyond YouTube Channel!  Make sure to LIKE and SUBSCRIBE so you don't miss a single episode!
Finally, we'd really appreciate it if you would  give us a 5 Star Rating and tell us what you like about the show in a review - your feedback really matters to us! 
You can get in touch with Susan at divorceandbeyondpod@gmail.com. 
Don't forget to visit the webpage www.divorceandbeyondpod.com and sign up for the free NEWSLETTER to receive a special welcome video from Susan and more!!
*****************************************************************************
DISCLAIMER:  THE COMMENTARY AND OPINIONS AVAILABLE ON THIS PODCAST ARE FOR INFORMATIONAL AND ENTERTAINMENT PURPOSES ONLY AND NOT FOR THE PURPOSE OF PROVIDING LEGAL ADVICE.  YOU SHOULD CONTACT AN ATTORNEY IN YOUR STATE TO OBTAIN LEGAL ADVICE WITH RESPECT TO ANY PARTICULAR ISSUE OR PROBLEM