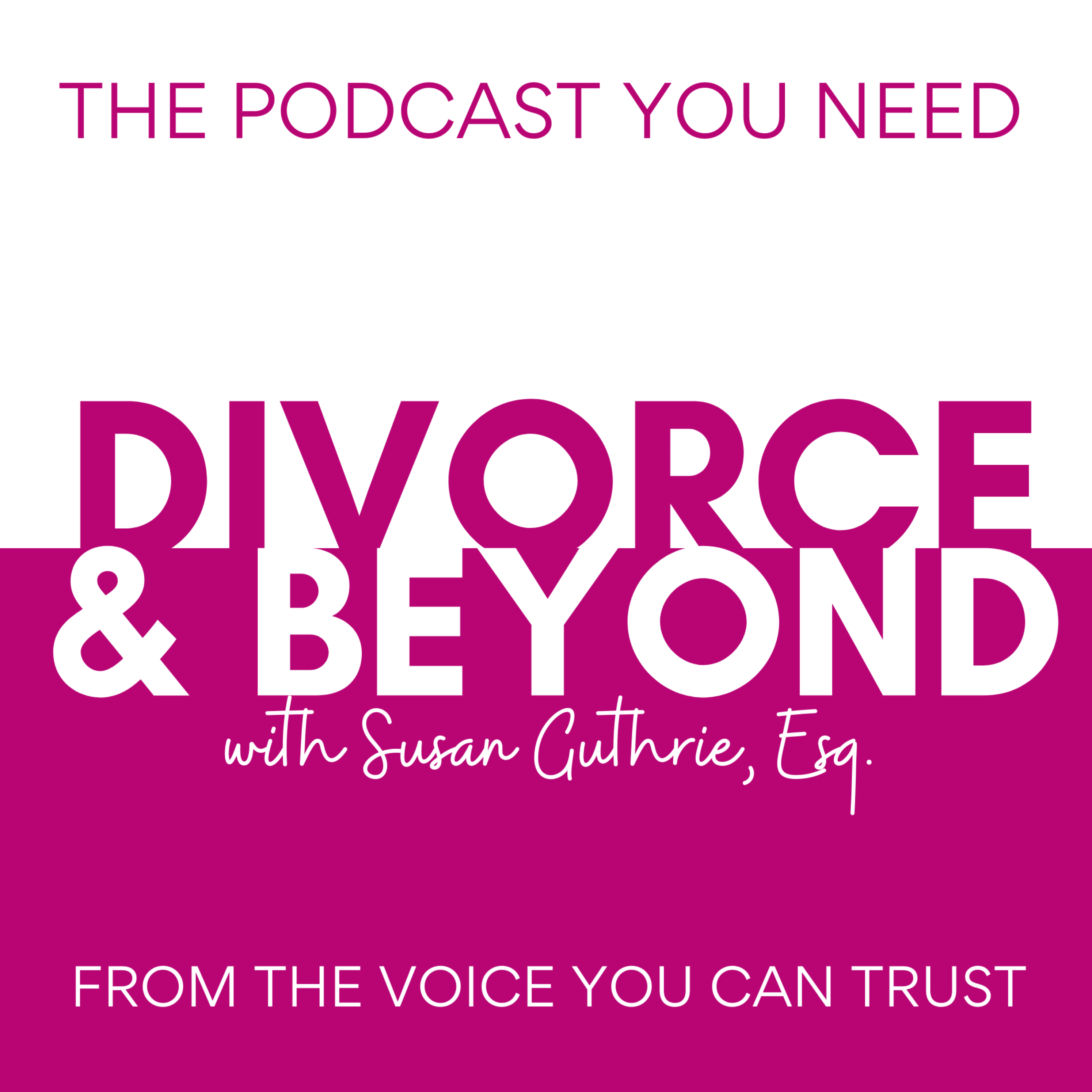 Celebrating the Launch of Moms Moving On with Author, Michelle Dempsey-Multack on Divorce & Beyond #226
Mar 14th, 2022 by divorceandbeyond
It's a big day in The Divorce & Beyond Family because our very favorite Mom Moving On, Michelle Dempsey-Multack, is launching her first book, entitled (what else) Moms Moving On: Real-Life Advice on Conquering Divorce, Co-Parenting Through Conflict, and Becoming Your Best Self!
This book is the BFF every woman needs on her bedside table to hold her hand and walk her through the ups and downs of the journey through divorce and very definitely into their lives BEYOND.  Michelle is a child of divorce, a mother who has been through divorce, a new wife and step-mother after divorce and she has a unique gift for distilling all of her experience and wisdom down into real, relatable and instantly usable advice, insights and tips.  Divorce is hard but with Michelle by your side, it's a little bit easier every day.
In this episode we give you some highlights and takeaways from the book in two areas, co-parenting during and after divorce and self-care and empowerment so that you can thrive.
We discuss:
Parenting in Pieces: How to Survive Your Time Without Your Kids
Ex-Bashing: Will You Get Over Hating Your Ex?
Co-Parenting Life Hacks: Consistency in Two Homes
One Step Forward/Three Steps Back
Parenting Plan Secrets No One Has Told You About
Sassy, Classy and a Little Bad-Assy: Being Your Best Self After Divorce
These are actual chapter headings from the book and represent just a small part of the fantastic advice in the pages of the book so tune in, hear these tips directly from Michelle and then hit up Amazon or your local bookseller on March 15th and get your copy of MOMS MOVING ON!
To join us for the Moms Moving On Book Launch on March 15th, go to www.momsmovingon.com and pre-order your copy today and receive FREE admission to the virtual event with some of our favorite divorce experts including:  BELA GANDHI, DR. ELIZABETH COHEN, KATE ANTHONY, WENDY STERLING and of course, SUSAN GUTHRIE!
We can't wait to see you there!
More About Michelle Dempsey-Multack:
Michelle Dempsey-Multack MS, CDS, is a writer, mom, coach, certified divorce specialist (CDS), speaker, and genuine girl power enthusiast. She graduated from Hofstra University with a degree in journalism and communication and then earned a double masters degree in education from Adelphi University. She hosts the weekly podcast Moms Moving On, and writes regularly for Parents, Scary Mommy, and others. A former New Yorker, she now lives in Miami with her husband, daughter, and stepdaughter.
Find out more about Michelle:
Website:  https://www.momsmovingon.com
Instagram: https://www.instagram.com/themichelledempsey
Get the Book: https://amzn.to/3uaT6fF
*****************************************************************************
MEET OUR CREATOR AND HOST:
SUSAN GUTHRIE®, ESQ., the creator and host of The Divorce and Beyond® Podcast, is nationally recognized as one of the top family law and divorce mediation attorneys in the country.  Susan is a member of the Executive Council of the American Bar Association Section of Dispute Resolution and is the Founder of Divorce in a Better Way® which provides a curated selection of resources and information for those facing divorce and other life changes. 
Internationally renowned as one of the leading experts in online mediation, Susan created her Learn to Mediate Online® program and has trained more than 20,000 professionals in how to transition their practice online.  Susan recently partnered with legal and mediation legend, Forrest "Woody" Mosten to create the Mosten Guthrie Academy which provides gold standard, fully online training for mediation and collaborative professionals at all stages of their career.  
******************************************************************************
At Mosten Guthrie we are delighted to say that Michelle is one of our inaugural Certified Co-Parenting Specialists and you can be one too!
Mosten Guthrie Academy Co-Parenting Specialist Training Program!  Lead Trainer: Christina McGhee (yes, THAT Christina McGhee that you love on Divorce & Beyond!)
The first of its kind, this Intensive Co-parenting Training Program is designed to do exactly that. It helps family law practitioners move beyond focusing on how time is spent between households and center their work with co-parents on the needs of children as they navigate the realities of post-divorce parenting.
Regardless of where you are on the spectrum of experience, this innovative program will help you make the shift while gaining valuable skills and tools you can start using in your practice right away.
Our next training is in May, 2022 - JOIN US! https://mostenguthrie.com/co-parenting-specialist/
*********************************************
Remember to follow Susan Guthrie and THE DIVORCE AND BEYOND PODCAST on social media for updates and inside tips and information:
Susan Guthrie on Facebook @susanguthrieesq
Susan on Instagram @susanguthrieesq @divorceandbeyond
Susan on Twitter @guthrielaw
If you want to see the video version of the podcast episodes they are available on The Divorce & Beyond YouTube Channel!  Make sure to LIKE and SUBSCRIBE so you don't miss a single episode!
Finally, we'd really appreciate it if you would  give us a 5 Star Rating and tell us what you like about the show in a review - your feedback really matters to us! Here's a link to the show on Apple Podcasts: https://podcasts.apple.com/us/podcast/the-divorce-and-beyond-podcast-with-susan-guthrie-esq/id1490881800
You can get in touch with Susan at divorceandbeyondpod@gmail.com. 
Don't forget to visit the webpage www.divorceandbeyondpod.com and sign up for the free NEWSLETTER to receive a special welcome video from Susan and more!!
********************************************************************
THANK YOU TO OUR SPONSOR:
Thriving in divorce and beyond means not having to worry about the safety of your children when it comes to co-parenting. With alcohol abuse on the rise, many co-parents are turning to the system committed to providing proof, protection, and peace of mind. Soberlink's alcohol monitoring system is the most convenient, reliable, and reasonable way for a parent to provide evidence that they are not drinking during parenting time. Soberlink's real-time alerts, facial recognition, and tamper detection ensure the integrity of each test, so you can be confident your kids are with a sober parent. With Soberlink, judges rest assured that your child is safe, attorneys get court-admissible evidence of sobriety, and both parents have empowerment and peace of mind. Pull back the curtain on the mysteries of parenting time and trust The Experts in Remote Alcohol Monitoring Technology™ to keep you informed and your kids safe and secure. To download the addiction and children resource page that I developed with Soberlink, visit www.Soberlink.com/Susan  
*******************************************************************
SPONSORSHIP OPPORTUNITIES AVAILABLE!
If you would like to sponsor the show please reach out to us at  divorceandbeyondpod@gmail.com for pricing and details!!!
*********************************************************************
DISCLAIMER:  THE COMMENTARY AND OPINIONS AVAILABLE ON THIS PODCAST ARE FOR INFORMATIONAL AND ENTERTAINMENT PURPOSES ONLY AND NOT FOR THE PURPOSE OF PROVIDING LEGAL ADVICE.  YOU SHOULD CONTACT AN ATTORNEY IN YOUR STATE TO OBTAIN LEGAL ADVICE WITH RESPECT TO ANY PARTICULAR ISSUE OR PROBLEM
Share
|
Download