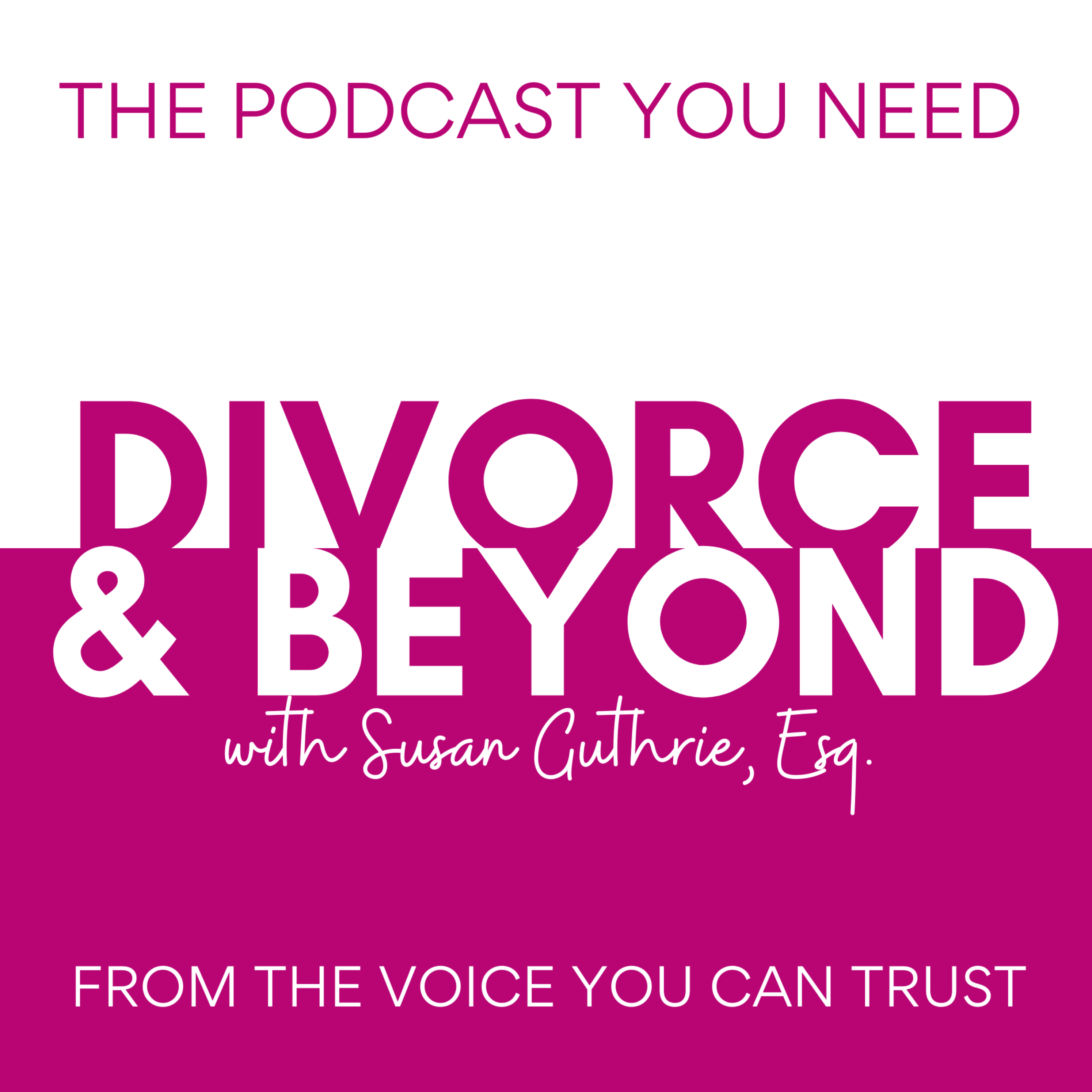 Nationally recognized family law attorney, mediator and award-winning podcaster, Susan Guthrie is at it again! After guiding countless numbers of people through the perilous world of divorce—and speaking to a podcast audience of over 4 million listeners—she's bringing you the "The Divorce & Beyond Podcast" to help you thrive in your life BEYOND divorce!
Episodes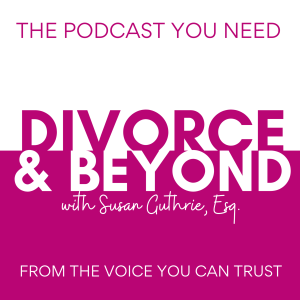 Monday Dec 05, 2022
Monday Dec 05, 2022
Today on The Divorce & Beyond podcast, host Susan Guthrie, Esq. welcomes leading attorney Monica Mazzei! Together they explore how pre-nuptial agreements can help partners prepare for their marriage and beyond. 
In this episode, Susan Guthrie and her guest, Monica Mazzei focus not on divorce, but instead on marriage and partnerships. They encourage you to think about how a pre-martial agreement can be a collaboration and bring you together, rather than used as a plan for what happens if you part. 
Monica Mazzei is a Certified Family Law Specialist representing clients in the Bay Area, with a concentration in San Francisco and Silicon Valley, as well as Los Angeles. She represents high-net-worth clients throughout the litigation process and in mediation.
Topics and Golden Nuggets include: 
Conscious coupling is very different from conscious uncoupling

Why the stigma around having a pre-marital agreement is waning 

Monica shares insights on the ideal time to start the conversation about a prenup

What happens during pre-marital agreement planning 

"Nobody wants to talk about money, divorce, or death. But these are the things you need to talk about."

Prenups should be a collaborative and transparent process, and agreements should be balanced and fair

In the event of a divorce, prenups lead to less cost, less time, and less stress because you already worked through these issues

"This is your opportunity to ask for what you want while you still like each other. Try doing this ten years from now when you can't stand each other, it's a lot harder."
About this week's special guest: Monica Mazzei
Monica Mazzei is a Certified Family Law Specialist representing clients in the Bay Area, with a concentration in San Francisco and Silicon Valley, as well as Los Angeles. She represents high-net-worth clients throughout the litigation process and in mediation. Monica has been named a California Super Lawyer from 2015-2019 and has been recognized in the international Chambers High Net Worth 2017-2019 guide for Family/Matrimonial Law.
Monica specializes in dissolution actions involving complicated valuation and financial matters, complex community property and support issues, including international issues, and dissolutions involving hedge funds, private equity, venture capital, and privately held businesses. Monica drafts and negotiates cohabitation agreements, and pre-marital and post-marital agreements for her clients.
Monica also mediates pre-marital agreements. As a mediator, Monica helps to identify the thoughts and concerns of both parties in a non-confrontational setting. Mediation helps clients discuss difficult topics which allow Monica to create a financial structure that works for both parties.
Monica takes a modern approach to the practice of family law – addressing various needs for her clients related and unrelated to their family law cases. Monica has relationships with top professionals in the Bay Area such as forensic accountants, mental health professionals, real estate agents, financial advisors, and business valuation experts. She also works closely with estate planning attorneys to come up with creative solutions for her clients and ensure their agreements reflect their current objectives.
Monica is a frequent lecturer and speaker on family law matters and a staunch advocate against domestic abuse in her pro bono work.
Monica Mazzei - Sideman Bancroft, LLP: https://www.sideman.com/professionals/monica-mazzei/
Monica on LinkedIn: https://www.linkedin.com/in/monica-mazzei-5029432/
Email Monica: mmazzei@sideman.com
Mentioned in this episode:

Audible: Did you know that you can now listen to The Divorce & Beyond podcast on your favorite audiobook platform, Audible?  If you are like me and love your audiobooks along with your podcasts, this is a great time to check out Audible memberships – they have two levels: 
Audible Plus and Audible Premium Plus 
You can get a free trial of Audible Plus and if you decide to subscribe to Audible Premium Plus you will also get up to two free audiobooks!   
Check it out today and it makes a great gift too: Audible Gift Memberships 
THANK YOU TO OUR SPONSOR:  SOBERLINK
Soberlink has teamed up with divorce and family law experts to bring you the information you didn't know that can provide peace of mind during the holidays.
For those of you who still haven't heard about Soberlink, it is the solution for you if you are going through a divorce and custody case involving alcohol. Whether you are falsely accused of alcohol use or are concerned about your child's safety because of your other parents' alcohol use, Soberlink can help.
Soberlink works hard to keep children safe. Offering a remote alcohol monitoring system that is the gold standard because of its technology. It includes a high-tech breathalyzer device with facial recognition that allows you to receive real-time updates from monitored co-parents anytime, anywhere allowing for swift intervention for improved child safety.  They have helped hundreds of thousands of people document proof of sobriety in real-time for peace of mind in child custody cases. 
Don't miss out on Soberlink's Free Guide for the upcoming Holiday Season.
Request your free guide today at www.soberlink.com/susan
*********************************************************************
SPONSORSHIP OPPORTUNITIES ARE AVAILABLE!  https://divorcebeyond.com/Sponsorship-Info
*******************************************************************
MEET OUR CREATOR AND HOST:
SUSAN GUTHRIE®, ESQ., the creator and host of The Divorce and Beyond® Podcast, is nationally recognized as one of the top family law and divorce mediation attorneys in the country.  Susan is the Vice Chair of the American Bar Association Section of Dispute Resolution and is a sought-after keynote speaker, business and practice consultant, coach and trainer. You can find out more about Susan and her services here:  https://neon.page/susanguthrie
Internationally renowned as one of the leading experts in online mediation, Susan created her Learn to Mediate Online® program and has trained more than 25,000 professionals in how to transition their practice online.  Susan recently partnered with legal and mediation legend, Forrest "Woody" Mosten to create the Mosten Guthrie Academy which provides gold-standard, fully online training for mediation and collaborative professionals at all stages of their careers.  
Follow Susan Guthrie and THE DIVORCE AND BEYOND PODCAST on social media for updates and inside tips and information:
Susan on LinkedIn: https://www.linkedin.com/in/susaneguthrie/
Susan on Instagram @susanguthrieesq
*********************************************************************
We'd really appreciate it if you would give us a 5 Star Rating and tell us what you like about the show in a review - your feedback really matters to us! 
You can get in touch with Susan at divorceandbeyondpod@gmail.com. 
Don't forget to visit the webpage www.divorceandbeyondpod.com and sign up for the free NEWSLETTER to receive a special welcome video from Susan and more!!
*********************************************************************
DISCLAIMER:  THE COMMENTARY AND OPINIONS AVAILABLE ON THIS PODCAST ARE FOR INFORMATIONAL AND ENTERTAINMENT PURPOSES ONLY AND NOT FOR THE PURPOSE OF PROVIDING LEGAL ADVICE.  YOU SHOULD CONTACT AN ATTORNEY IN YOUR STATE TO OBTAIN LEGAL ADVICE WITH RESPECT TO ANY PARTICULAR ISSUE OR PROBLEM.