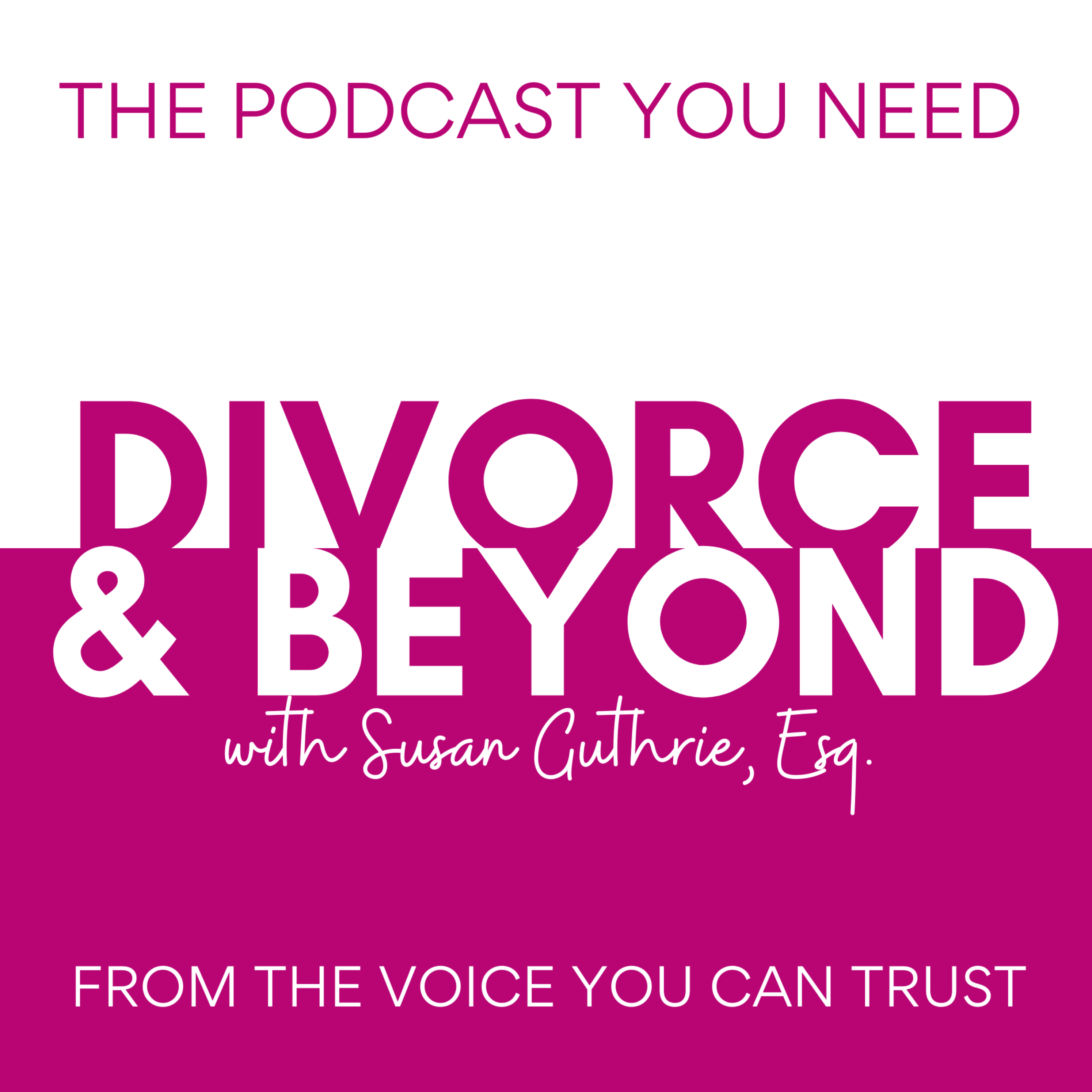 Nationally recognized family law attorney, mediator and award-winning podcaster, Susan Guthrie is at it again! After guiding countless numbers of people through the perilous world of divorce—and speaking to a podcast audience of over 4 million listeners—she's bringing you the "The Divorce & Beyond Podcast" to help you thrive in your life BEYOND divorce!
Episodes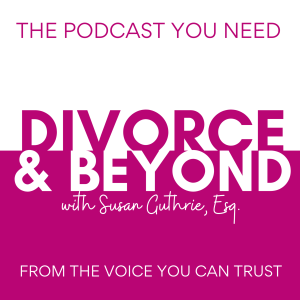 Thursday Aug 11, 2022
Thursday Aug 11, 2022
In a Special Bonus Mini-sode, host Susan Guthrie is joined by returning guest Molly Dare Hillenbrand, the dynamic founder of HillenBRAND Media and the host of "On Air with Molly Dare."  They discuss Molly's recent viral TikTok post with well over 1.5 million views that caused a media sensation nationwide with features in the New York Post and on NewsNationLive among others!
In a post captioned "Dating in Your 40s be like . . . " that must be seen to be believed (click here to watch!) Molly used a audio thread from a voicemail from "Dimitri" to highlight the sometimes treacherous waters of dating for women.  Although Molly's TikTok videos are always popular (follow her at @mollydareofficial) this one went almost instantly viral with more than 1.5 million views and over 17,000 comments.   While many of the comments were supportive and commiserated with the sometimes "narcissistic" dating pool out there, there was also a flood of misogynistic backlash and vitriol.  Molly has since posted more videos in response and shares some of the lessons learned along the way so tune in and check this one out - you won't believe your ears!  Trust us, if you are in a relationship, after listening to this episode, you will turn to your partner and say "thank you!"
About our special guest: Molly Dare Hillenbrand
Known for her powerhouse PR skills, Molly Dare Hillenbrand founded hillenBRAND Media in 2017, promoting entrepreneurs, business owners and media personalities through filmed social media segments, on-camera interviews, and podcast episodes of On Air with Molly Dare.

Molly is also known for her work both in front of, and behind, the camera. She has hosted and produced multiple nationwide segments for the 'Eye On' channel, providing viewers with insight happenings  in their city, while simultaneously giving brands exposure to viewers across the country.
Molly's incredible work ethic has kept her at the top of her field year after year most recently being featured on the cover of Formidable Woman Magazine and a sought after guest on numerous podcasts.

Undoubtedly, Molly's most important role in life (and biggest passion!) is being a single mom to her two talented and beautiful daughters, Carolyn and Sophie, and her three super cute and snuggly dogs. 
Website:  www.mollydare.com
Instagram: @mollydare
TikTok: @mollydareofficial
Also mentioned in this episode:
Molly's First Episode on Divorce & Beyond: If I Had Only Known Then What I Know Now: Reflections on Divorce from Molly Dare Hillenbrand
Susan's Episode on Molly's Podcast: A Story of Pivoting and the Gift of Divorce with Susan Guthrie on On Air With Molly Dare
Molly's Spotlight Series with Susan:  One on One with Chicago's Susan Guthrie
If you want to see the video version of the podcast episodes they are available on The Divorce & Beyond YouTube Channel!  Make sure to LIKE and SUBSCRIBE so you don't miss a single episode!
*******************************************************************
MEET OUR CREATOR AND HOST:
SUSAN GUTHRIE®, ESQ., the creator and host of The Divorce and Beyond® Podcast, is nationally recognized as one of the top family law and divorce mediation attorneys in the country.  Susan is a member of the Executive Council of the American Bar Association Section of Dispute Resolution and is the Founder of Divorce in a Better Way® which provides a curated selection of resources and information for those facing divorce and other life changes. 
Internationally renowned as one of the leading experts in online mediation, Susan created her Learn to Mediate Online® program and has trained more than 18,000 professionals in how to transition their practice online.  Susan recently partnered with legal and mediation legend, Forrest "Woody" Mosten to create the Mosten Guthrie Academy which provides gold standard, fully online training for mediation and collaborative professionals at all stages of their career.  
Follow Susan Guthrie and THE DIVORCE AND BEYOND PODCAST on social media for updates and inside tips and information:
Susan Guthrie on Facebook @susanguthrieesq
Susan on Instagram @susanguthrieesq
Susan on Twitter @guthrielaw
*********************************************************************
SPONSORSHIP OPPORTUNITIES ARE AVAILABLE!
If you would like to sponsor the show please reach out to us at  divorceandbeyondpod@gmail.com for pricing and details!!!
*********************************************************************
We'd really appreciate it if you would give us a 5 Star Rating and tell us what you like about the show in a review - your feedback really matters to us! 
You can get in touch with Susan at divorceandbeyondpod@gmail.com. 
Don't forget to visit the webpage www.divorceandbeyondpod.com and sign up for the free NEWSLETTER to receive a special welcome video from Susan and more!!
*********************************************************************
DISCLAIMER:  THE COMMENTARY AND OPINIONS AVAILABLE ON THIS PODCAST ARE FOR INFORMATIONAL AND ENTERTAINMENT PURPOSES ONLY AND NOT FOR THE PURPOSE OF PROVIDING LEGAL ADVICE.  YOU SHOULD CONTACT AN ATTORNEY IN YOUR STATE TO OBTAIN LEGAL ADVICE WITH RESPECT TO ANY PARTICULAR ISSUE OR PROBLEM