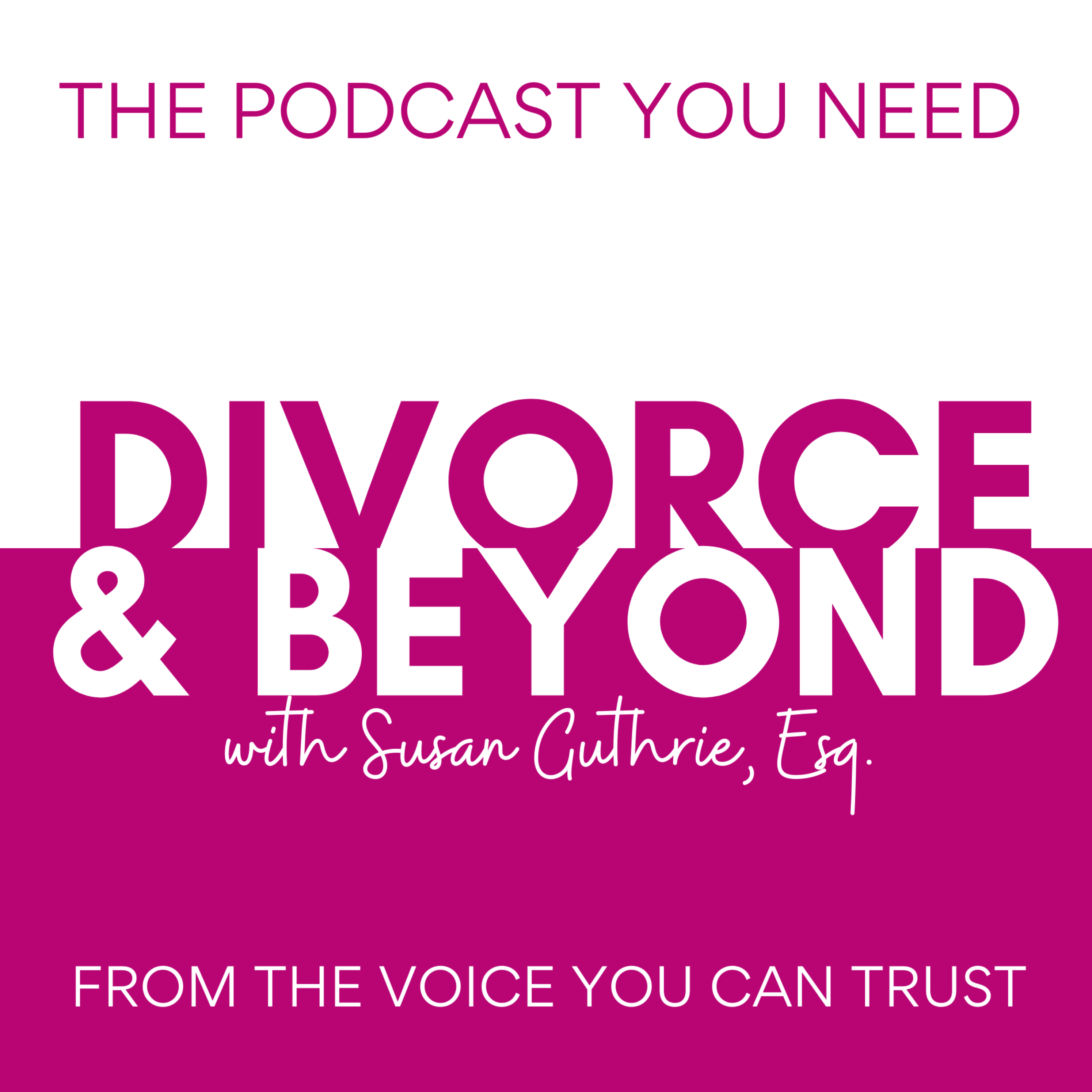 Nationally recognized family law attorney, mediator and award-winning podcaster, Susan Guthrie is at it again! After guiding countless numbers of people through the perilous world of divorce—and speaking to a podcast audience of over 4 million listeners—she's bringing you the "The Divorce & Beyond Podcast" to help you thrive in your life BEYOND divorce!
Episodes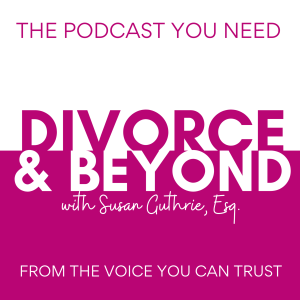 Monday Dec 06, 2021
Monday Dec 06, 2021
In this week's episode, Host, Susan Guthrie, chats with her friend and colleague, Attorney Claire Samuels, a former top divorce litigator who is now the go-to mediator in her area to help resolve cases both from the start, as well as just before the case goes to trial.  Claire is the pro who knows that it's NEVER too late to MEDIATE!
So often, in the heat of the moment when the decision to divorce is fresh, and the negative emotions, hurt and lack of trust are at the forefront of people's minds, they choose to litigate their divorce.  They want war.  They want their pound of flesh and they don't believe that they can get a fair settlement without a battle.  They lawyer up and a couple of years, tens of thousands of dollars (if not more) and untold drama and trauma, they find themselves months or weeks away from their trial.  They can't believe they have to go through the horror of a trial but what other option is there?
Enter Attorney Claire Samuels a master mediator who routinely helps clients (and their attorneys) settle their cases "at the courtroom door!"  The fact is, Claire has all the skills, talent and expertise needed to bring even the most difficult cases to a conclusion without having to go through those courtroom doors.  She practiced for years as a litigator at a the top family law firm in her area so she knows what happens in court rooms, she knows the law and she has the ability to help clients take a fresh and realistic look at their case so that they can arrive at reasonable settlements and dump the litigation!
At any time, from the day you decide to divorce to the courtroom door for trial, you can leave litigation and agree to mediate your divorce so listen to this episode because it's never too late to mediate!
**********************
More Information About This Week's Special Guest:  Attorney Claire Samuels
Claire Samuels is the founder of Claire Samuels Law, PLLC - a family law and divorce mediation firm in Charlotte, NC. After litigating high conflict cases for over a decade, Claire started her firm with the idea of being a "peaceful warrior" and offering her clients A Becoming Divorce. A holistic approach to divorce that provides advocacy aligned with core values, empowers clients to make decisions from a place of strength, promotes healing and minimizes trauma. Claire understood the fear and uncertainty inherent in most divorce cases and knew her clients needed more than just expert legal advice. So, she pulled together a powerhouse group of women dedicated to supporting her clients throughout the process and beyond. Claire and her Curated Community work with clients and show them how they can use their divorce as a catalyst for transformation and create a solid foundation to start their best life.
For More Information on Claire:
Website:  https://www.clairesamuelslaw.com
Email: claire@clairesamuelslaw.com
Social Media Handles 

Facebook: Claire Samuels Law, PLLC-@clairesamuelslaw 

Instagram:  @clairesamuelslaw 

LinkedIn: Claire Samuels 

************************************************************************************
MEET OUR CREATOR AND HOST:
SUSAN GUTHRIE®, ESQ., the creator and host of The Divorce and Beyond® Podcast, is nationally recognized as one of the top family law and divorce mediation attorneys in the country.  Susan is a member of the Executive Council of the American Bar Association Section of Dispute Resolution and is the Founder of Divorce in a Better Way® which provides a curated selection of resources and information for those facing divorce and other life changes. 
Internationally renowned as one of the leading experts in online mediation, Susan created her Learn to Mediate Online® program and has trained more than 18,000 professionals in how to transition their practice online.  Susan recently partnered with legal and mediation legend, Forrest "Woody" Mosten to create the Mosten Guthrie Academy which provides gold standard, fully online training for mediation and collaborative professionals at all stages of their career.  
*****************************************************************************
THANK YOU TO OUR SPONSOR:
Thriving in divorce and beyond means not having to worry about the safety of your children when it comes to co-parenting. With alcohol abuse on the rise, many co-parents are turning to the system committed to providing proof, protection, and peace of mind. Soberlink's alcohol monitoring system is the most convenient, reliable, and reasonable way for a parent to provide evidence that they are not drinking during parenting time. Soberlink's real-time alerts, facial recognition, and tamper detection ensure the integrity of each test, so you can be confident your kids are with a sober parent. With Soberlink, judges rest assured that your child is safe, attorneys get court-admissible evidence of sobriety, and both parents have empowerment and peace of mind. Pull back the curtain on the mysteries of parenting time and trust The Experts in Remote Alcohol Monitoring Technology™ to keep you informed and your kids safe and secure. To download the addiction and children resource page that I developed with Soberlink, visit www.Soberlink.com/Susan  
***************************************************************************************************
Get Kate Anthony's Ultimate Divorce Survival Program!  (use CODE "SUSAN" and get $50 off!!!)
THE DIVORCE SURVIVAL PROGRAM WILL HELP YOU:
Process the emotional fallout of your divorce so you don't go into mediation bitter or resentful
Understand the difference between litigation, mediation and Collaborative Divorce – and identify which is right for you
Tell your husband you want a divorce in a way that doesn't keep you stuck in a circular conversation for the next three months
Tell your kids you're getting a divorce in a way that won't completely break them
Understand how your divorce will impact your friends and family — and what conversations are appropriate to have with each
Create appropriate and healthy boundaries with your ex
Learn about dating after divorce and how that will affect you, your kids, and yes, your ex
and more! 
All in a self-paced, self-guided program, housed on a password-protected e-learning platform for your privacy and security.
Get more information and JOIN here:  https://kateanthony.com/getting-divorced/  Don't forget to use Code "SUSAN" to get $50 off!
***************************************
CHECK OUT THE NEW RESOURCE PAGE ON THE WEBSITE WITH DIVORCE & BEYOND RECOMMENDED READING!  
Remember, knowledge is power and we have the books that will help educate you and support you in all areas of divorce including finance, parenting, healing, conflict resolution and MORE!  Check it out now on the website:  www.divorceandbeyondpod.com/beyond-reading
***************************************
JOIN US IN THE DIVORCE & BEYOND MEMBERS ONLY COMMUNITY!
D & B Members Only will receive a number of benefits including:
Ad and Interruption Free Podcast Archive
BONUS Members Only Podcast Episodes monthly
Downloadable Worksheets, Spreadsheets and Other Forms 
Access to the "Ask Susan Anything" Forum where you can ask your questions and learn from the answers to others.
*****************************************************************************
SPONSORSHIP OPPORTUNITIES AVAILABLE!
If you would like to sponsor the show please reach out to us at  divorceandbeyondpod@gmail.com for pricing and details!!!
*********************************************************************
Remember to follow Susan Guthrie and THE DIVORCE AND BEYOND PODCAST on social media for updates and inside tips and information:
Susan Guthrie on Facebook @susanguthrieesq
Susan on Instagram @susanguthrieesq
Susan on Twitter @guthrielaw
If you want to see the video version of the podcast episodes they are available on The Divorce & Beyond YouTube Channel!  Make sure to LIKE and SUBSCRIBE so you don't miss a single episode!
Finally, we'd really appreciate it if you would  give us a 5 Star Rating and tell us what you like about the show in a review - your feedback really matters to us! 
You can get in touch with Susan at divorceandbeyondpod@gmail.com. 
Don't forget to visit the webpage www.divorceandbeyondpod.com and sign up for the free NEWSLETTER to receive a special welcome video from Susan and more!!
*****************************************************************************
DISCLAIMER:  THE COMMENTARY AND OPINIONS AVAILABLE ON THIS PODCAST ARE FOR INFORMATIONAL AND ENTERTAINMENT PURPOSES ONLY AND NOT FOR THE PURPOSE OF PROVIDING LEGAL ADVICE.  YOU SHOULD CONTACT AN ATTORNEY IN YOUR STATE TO OBTAIN LEGAL ADVICE WITH RESPECT TO ANY PARTICULAR ISSUE OR PROBLEM