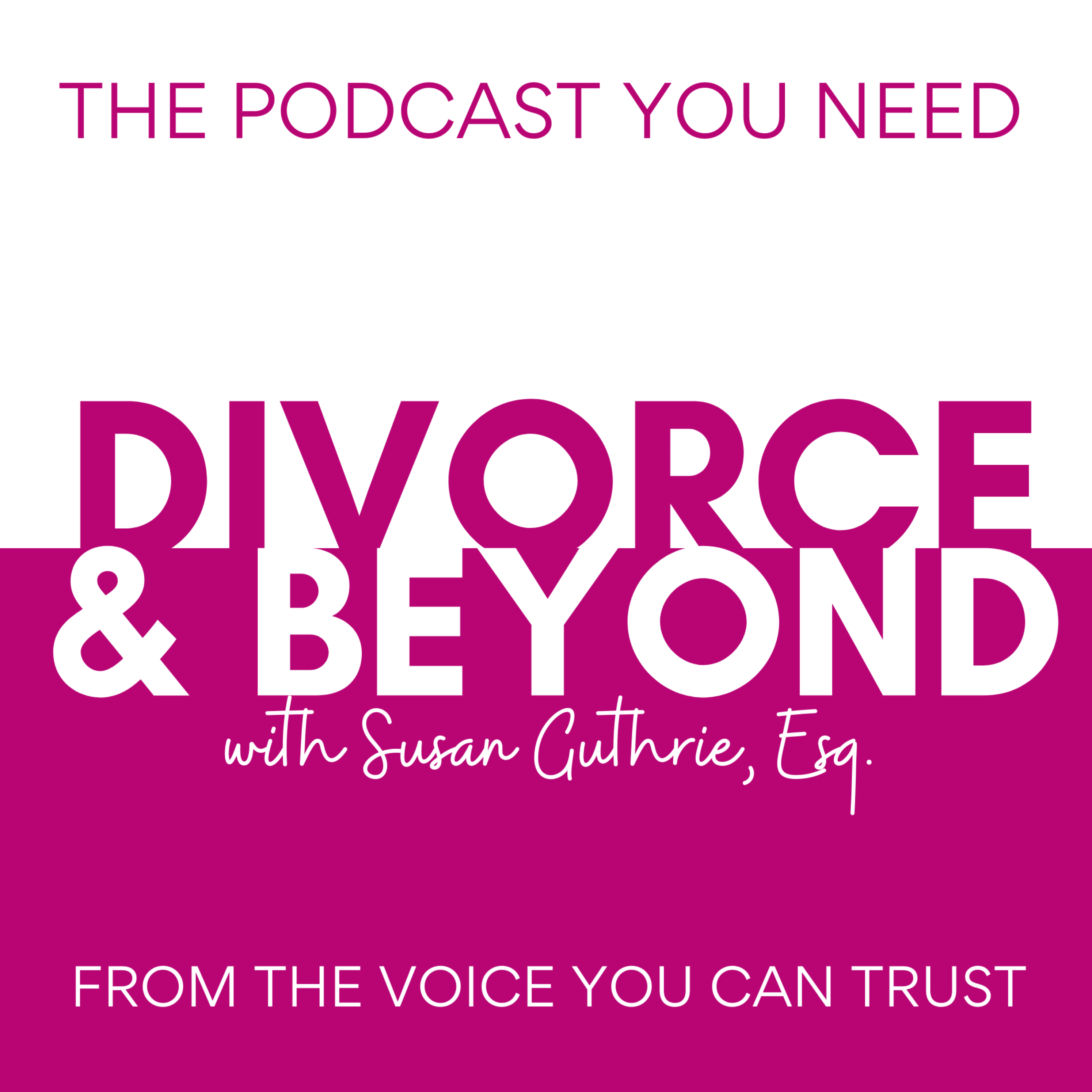 Nationally recognized family law attorney, mediator and award-winning podcaster, Susan Guthrie is at it again! After guiding countless numbers of people through the perilous world of divorce—and speaking to a podcast audience of over 4 million listeners—she's bringing you the "The Divorce & Beyond Podcast" to help you thrive in your life BEYOND divorce!
Episodes
Monday Jan 27, 2020
Monday Jan 27, 2020
In this episode, Susan Guthrie, top family law attorney and mediator, and the former host of Breaking Free: A Modern Divorce Podcast, chats with MBA, Author and the Host of the #1 Divorce Finance Podcast, Shawn Leamon to bring you his insider tips and advice for protecting your money and finances in divorce.
There are very few topics in divorce that raise more fear than MONEY.  The minute divorce looms on the horizon, people start to worry about who will get what, who will have to pay what and how they will be able to live financially once the divorce happens.
How much alimony/child support will I have to pay/will I receive?
Can I afford to keep the house?
What about my retirement, will I have enough to live on?
On and on it goes and the fear can be paralyzing.  Shawn Leamon is the expert who can help you start to fight the fear and he does it by educating you on what you can do to protect your finances in divorce.  Shawn hosts the #1 divorce finance podcast, Divorce and Your Money, and he works with clients around the world to help them face their fear by educating them on the financial issues they face and helping them to make solid decisions for their future and that of their family.  Divorce is scary but having the right financial adviser can make all the difference so listen to this episode to get Shawn's top tips now!
Here are some highlights from the episode:
4:45  Why is there so much fear around finances in divorce and what can you do about it?
5:50  What is "ostrich syndrome" in divorce and how can it hurt you?
14:00 Why you need to quantify your "marital pie" before you can start slicing it up between you and your spouse.
22:00  Why creating a timeline of your relationship can be so helpful to your divorce process AND how it can save you a ton of money.
26:30  How to keep your spouse from spying on you and keep your communications with your divorce team private.
32:00  Why going to court sucks and why it's financially important to avoid it if you can.
Shawn Leamon is an MBA, Certified Divorce Financial Analyst, and host of the #1 divorce financial podcast, Divorce and Your Money. He is also the author of Divorce and Your Money: How to Avoid Costly Divorce Mistakes (2020), a no-nonsense, user-friendly guide that provides a complete plan for facing the tough decisions during divorce.


Shawn's work has been seen in Time, USA Today, Yahoo! Finance, Nasdaq, San Francisco Chronicle, and many other publications across the United States. His website, DivorceAndYourMoney.com has over 1 million viewers and his podcast has over 500,000 downloads.

Born and raised in Dallas, Texas, he received his Bachelor of Arts in both Economics and Philosophy from Dartmouth College. He holds a Master of Business Administration from Spain's IE Business School, where he focused on international finance and venture capital. Before launching his own firm, Shawn worked as a credit research analyst at J.P. Morgan and subsequently helped manage $1.1 billion in client assets at Bernstein Global Wealth Management.

In his personal life, Shawn loves to push his physical and mental limits as an ultra-endurance athlete. An avid traveler, Shawn spends time between his offices in Dallas, New York City and Hanover, New Hampshire, and can often be found wandering the globe, having visited over 25 countries.
You can find out more about Shawn Leamon, his services, book and podcast on his website:  www.divorceandyourmoney.com
For more information on dtour.life, the simple solution to collecting and organizing all of your divorce information, documents and forms in one place mentioned by Susan in this episode, visit their website at www.dtourlife.com!
********************************************************************
SUSAN GUTHRIE, ESQ., the creator and host of The Divorce and Beyond Podcast, is nationally recognized as one of the top family law and divorce mediation attorneys in the country.  She is one of the Co-Chair's of the American Bar Association's DR Section Mediation Committee and is the Founder of Divorce in a Better Way which provides a curated selection of resources and information for those facing divorce and other life changes.  Susan also provides legal coaching and divorce mediation services to select clients around the world through an online platform.  Find out more at www.divorceinabetterway.com.
*****************************************************************************
THIS WEEK'S SPONSOR INFORMATION:
HELLO DIVORCE: Hello Divorce is a first-of-it's-kind DIY divorce website that allows individuals in California to complete the necessary forms for divorce as well as provides invaluable help with informative videos, articles, affordable legal advice and services all in an online platform and easy to use app!  Listeners of The Divorce & Beyond Podcast can use the discount code "DIVORCEBEYOND" to receive $50 off the cost of any service or subscription!  Find out more at www.hellodivorce.com.
LEARN TO MEDIATE ONLINE:  As one of the leading online mediation experts in the country, Susan Guthrie has created a simple and efficient online training program that allows mediation professionals to quickly and easily add an online platform to their practice!  The two hour online program covers the basics of conducting mediations through an online platform like Zoom, and reviews the ethical and practical considerations that arise in this format.  You even receive a copy of, and the right to use, Susan's Online Mediation Guidelines and Ground Rules to make your online mediations even easier for mediator and clients alike!  Learn more at www.learntomediateonline.com or reach out to Susan directly at susan@learntomediateonline.com.  Listeners of The Divorce & Beyond Podcast receive $50 off the cost of the one-on-one training so be sure to mention that you heard about it here!
If you would like to sponsor the show please reach out to us at  divorceandbeyondpod@gmail.com for pricing and details!!!
*********************************************************************
Remember to follow Susan Guthrie and THE DIVORCE AND BEYOND PODCAST on social media for updates and inside tips and information:
Susan Guthrie on Facebook
Susan on Instagram
Susan on Twitter
Divorce & Beyond Podcast on Instagram
Divorce & Beyond Podcast on Twitter
If you want to see the video version of the podcast episodes they are available on The Divorce & Beyond YouTube Channel!  Make sure to LIKE and SUBSCRIBE so you don't miss a single episode!
Finally, we'd really appreciate it if you would  give us a 5 Star Rating and tell us what you like about the show in a review - your feedback really matters to us! 
You can also get in touch with Susan at divorceandbeyondpod@gmail.com.
*****************************************************************************
DISCLAIMER:  THE COMMENTARY AND OPINIONS AVAILABLE ON THIS PODCAST ARE FOR INFORMATIONAL AND ENTERTAINMENT PURPOSES ONLY AND NOT FOR THE PURPOSE OF PROVIDING LEGAL ADVICE.  YOU SHOULD CONTACT AN ATTORNEY IN YOUR STATE TO OBTAIN LEGAL ADVICE WITH RESPECT TO ANY PARTICULAR ISSUE OR PROBLEM.