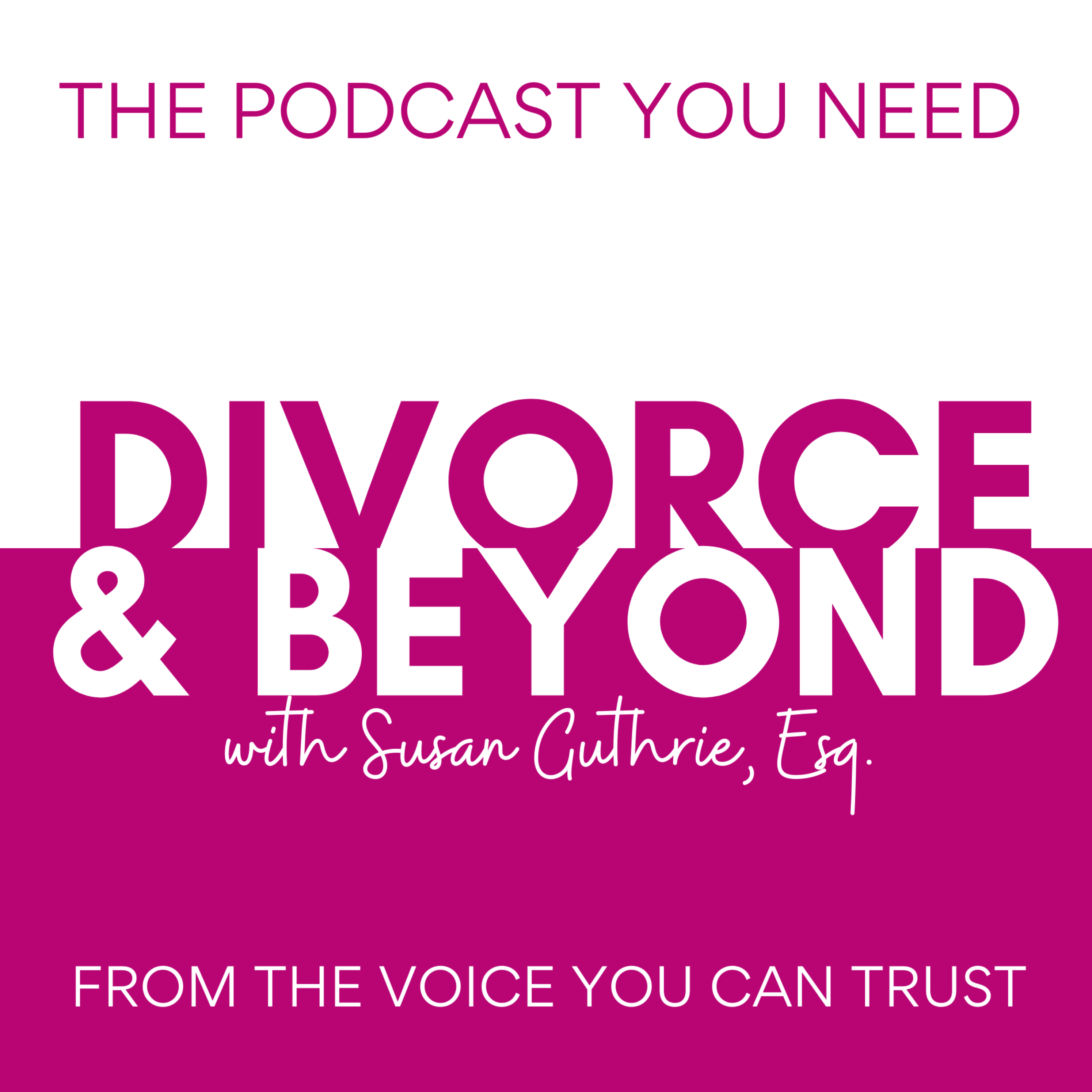 Nationally recognized family law attorney, mediator and award-winning podcaster, Susan Guthrie is at it again! After guiding countless numbers of people through the perilous world of divorce—and speaking to a podcast audience of over 4 million listeners—she's bringing you the "The Divorce & Beyond Podcast" to help you thrive in your life BEYOND divorce!
Episodes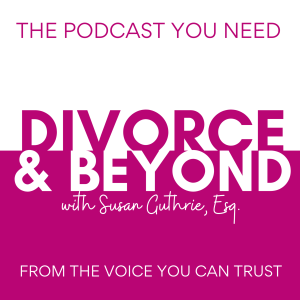 Thursday May 19, 2022
Thursday May 19, 2022
Ready to dive into the next installment of our Bonus Divorce & Beyond Headlines Round Up Monthly episode? 
This month, Host and Top Divorce Attorney, Susan Guthrie is joined by one of our favorite guests, Attorney Beth McCormack, whose experience with these high profile divorces will give us a peek inside the inner workings behind the headlines.  Susan and Beth review some of the top stories from recent headlines and news about divorce, parenting, relationships and more and share some insights and lessons that you can learn from and use in your journey though divorce and BEYOND! 
Get a behind the scenes look at some celebrity splits, high profile break ups and the stories behind the headlines from the Voice You Can Trust.
In this month's Headline Round-up Susan and Beth discuss:
Listen in and you will never look at the Headlines and Divorce the same way again!
*****************************************
More about our Special Guest:  Beth McCormack
Beth is an equity partner at Beermann LLC here in Chicago and her practice focuses on:
highly complex family law matters with vast experience in complex litigation,
mediation and collaborative law.
Beth also represents children, when appointed by the court,
Beth appreciates the sensitivity surrounding high net-worth, high-profile, and child-related matters, with each requiring a very different skill set.
As one of the most influential attorneys in Chicago, Ms. McCormack has naturally become a mentor to many professionals in the legal community. Her peers consistently nominate her as a Best Lawyer, Super Lawyer, and Leading Lawyer. Most recently, Beth was named top 50 women Super Lawyers. Her work ethic and community involvement have earned her accolades within the legal community, and beyond,
Find our more about Beth:  https://www.beermannlaw.com
Email:  BMcCormack@beermannlaw.com
Instagram:  @bethfmccormack
****************************************************************************
Listen to Beth's Other Appearances on Divorce & Beyond!
Lessons from a Billion Dollar Divorce Attorney and
GAL  AMC  OMG – Demystifying the Role of Guardian ad Litem and Attorney for the Minor Children Part One and Part Two
*************************************************************************************
MEET OUR CREATOR AND HOST:
SUSAN GUTHRIE®, ESQ., the creator and host of The Divorce and Beyond® Podcast, is nationally recognized as one of the top family law and divorce mediation attorneys in the country.  Susan is a member of the Executive Council of the American Bar Association Section of Dispute Resolution and is the Founder of Divorce in a Better Way® which provides a curated selection of resources and information for those facing divorce and other life changes. 
Internationally renowned as one of the leading experts in online mediation, Susan created her Learn to Mediate Online® program and has trained more than 20,000 professionals in how to transition their practice online.  Susan recently partnered with legal and mediation legend, Forrest "Woody" Mosten to create the Mosten Guthrie Academy which provides gold standard, fully online training for mediation and collaborative professionals at all stages of their career.  
******************************************************************************************
Remember to follow Susan Guthrie and THE DIVORCE AND BEYOND PODCAST on social media for updates and inside tips and information:
Susan Guthrie on Facebook @susanguthrieesq
Susan on Instagram @susanguthrieesq
Susan on Twitter @guthrielaw
**********
If you want to see the video version of the podcast episodes they are available on The Divorce & Beyond YouTube Channel!  Make sure to LIKE and SUBSCRIBE so you don't miss a single episode!
***********
Finally, we'd really appreciate it if you would  give us a 5 Star Rating and tell us what you like about the show in a review - your feedback really matters to us! 
You can get in touch with Susan at divorceandbeyondpod@gmail.com. 
Don't forget to visit the webpage www.divorceandbeyondpod.com and sign up for the free NEWSLETTER to receive a special welcome video from Susan and more!!
*****************************************************************************
DISCLAIMER:  THE COMMENTARY AND OPINIONS AVAILABLE ON THIS PODCAST ARE FOR INFORMATIONAL AND ENTERTAINMENT PURPOSES ONLY AND NOT FOR THE PURPOSE OF PROVIDING LEGAL ADVICE.  YOU SHOULD CONTACT AN ATTORNEY IN YOUR STATE TO OBTAIN LEGAL ADVICE WITH RESPECT TO ANY PARTICULAR ISSUE OR PROBLEM