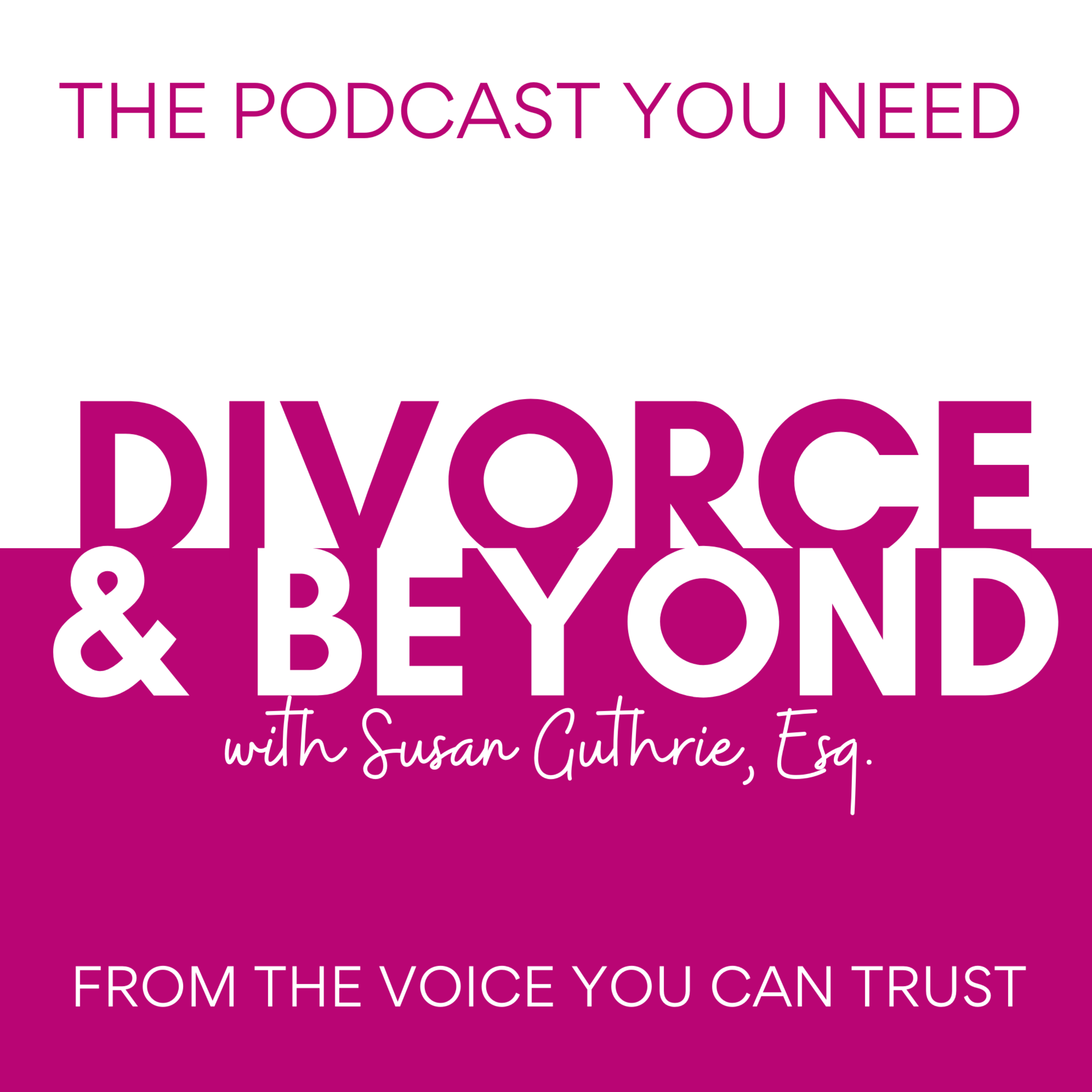 "Divorce & Co-Parenting in the Face of COVID-19″: A Special Bonus Episode of The Divorce & Beyond Podcast with Susan Guthrie, Esq.
Mar 14th, 2020 by divorceandbeyond
In this bonus episode, Susan Guthrie, addresses some of the challenges that the current COVID-19 Pandemic raises for families and individuals who are facing divorce and BEYOND.
We are facing a rapidly changing world as the COVID-19 Pandemic causes change, upheaval and disruption in our lives. One area that has been greatly impacted is the effect of the situation on families going through divorce and co-parenting in the face of the ongoing challenges presented. In this special bonus episode, Attorney Susan Guthrie covers the main topics that affect divorce and co-parenting and offers suggestions and tips for meeting those challenges in the near and long term. The issues raised in this episode affect millions of individuals and families and will help you all to navigate the difficult days ahead.
Be safe, be well and be kind to yourself and to others.
Much love,
Susan
Some Highlights from this episode:
What can you do if the courts are closed?
How can you handle changes in your schedule and your children's schedule due to closings?
What happens if someone gets sick?
What will happen if someone loses their job or is laid off?
Will there be an impact on the division of your assets and liabilities as economy is affected?
How can you manage being confined in the same house with your ex and family?
Why healthy boundaries and self-care are even more important today.
SUSAN GUTHRIE, ESQ., the creator and host of The Divorce and Beyond Podcast, is nationally recognized as one of the top family law and divorce mediation attorneys in the country.  She is one of the Co-Chair's of the American Bar Association's DR Section Mediation Committee and is the Founder of Divorce in a Better Way which provides a curated selection of resources and information for those facing divorce and other life changes.  Susan also provides legal coaching and divorce mediation services to select clients around the world through an online platform.  Find out more at www.divorceinabetterway.com.
*****************************************************************************
Susan's Online Mediation Training Program for Professionals:
LEARN TO MEDIATE ONLINE:  As one of the leading online mediation experts in the country, Susan Guthrie has created a simple and efficient online training program that allows mediation professionals to quickly and easily add an online platform to their practice!  The two hour online program covers the basics of conducting mediations through an online platform like Zoom, and reviews the ethical and practical considerations that arise in this format.  You even receive a copy of, and the right to use, Susan's Online Mediation Guidelines and Ground Rules to make your online mediations even easier for mediator and clients alike!  Learn more at www.learntomediateonline.com or reach out to Susan directly at susan@learntomediateonline.com.  Listeners of The Divorce & Beyond Podcast receive $50 off the cost of the one-on-one training so be sure to mention that you heard about it here!
 FAYR, the BEST Co-Parenting App on the Market!   What makes FAYR different?  At FAYR it's not just about efficiency and ease (though they love those).  They also help you create a better co-parenting experience by providing tools for: constructive communication, argument diffusion, and emotional support.  For information on our FAYR, the ONLY co-parenting app recommended by Susan Guthrie and The Divorce and Beyond Podcast,  visit their website at www.fayr.com.  Don't forget to use the code "SUSANG18" for 20% off!!
*****************************************************************************
SPONSORSHIP OPPORTUNITIES AVAILABLE!
If you would like to sponsor the show please reach out to us at  divorceandbeyondpod@gmail.com for pricing and details!!!
*********************************************************************
Remember to follow Susan Guthrie and THE DIVORCE AND BEYOND PODCAST on social media for updates and inside tips and information:
Susan Guthrie on Facebook
Susan on Instagram
Susan on Twitter
Divorce & Beyond Podcast on Instagram
Divorce & Beyond Podcast on Twitter
If you want to see the video version of the podcast episodes they are available on The Divorce & Beyond YouTube Channel!  Make sure to LIKE and SUBSCRIBE so you don't miss a single episode!
Finally, we'd really appreciate it if you would  give us a 5 Star Rating and tell us what you like about the show in a review - your feedback really matters to us! 
You can also get in touch with Susan at divorceandbeyondpod@gmail.com. 
Don't forget to visit the webpage www.divorceandbeyondpod.com and sign up for the free NEWSLETTER to receive a special welcome video from Susan and more!!
*****************************************************************************
DISCLAIMER:  THE COMMENTARY AND OPINIONS AVAILABLE ON THIS PODCAST ARE FOR INFORMATIONAL AND ENTERTAINMENT PURPOSES ONLY AND NOT FOR THE PURPOSE OF PROVIDING LEGAL ADVICE.  YOU SHOULD CONTACT AN ATTORNEY IN YOUR STATE TO OBTAIN LEGAL ADVICE WITH RESPECT TO ANY PARTICULAR ISSUE OR PROBLEM.
Share
|
Download