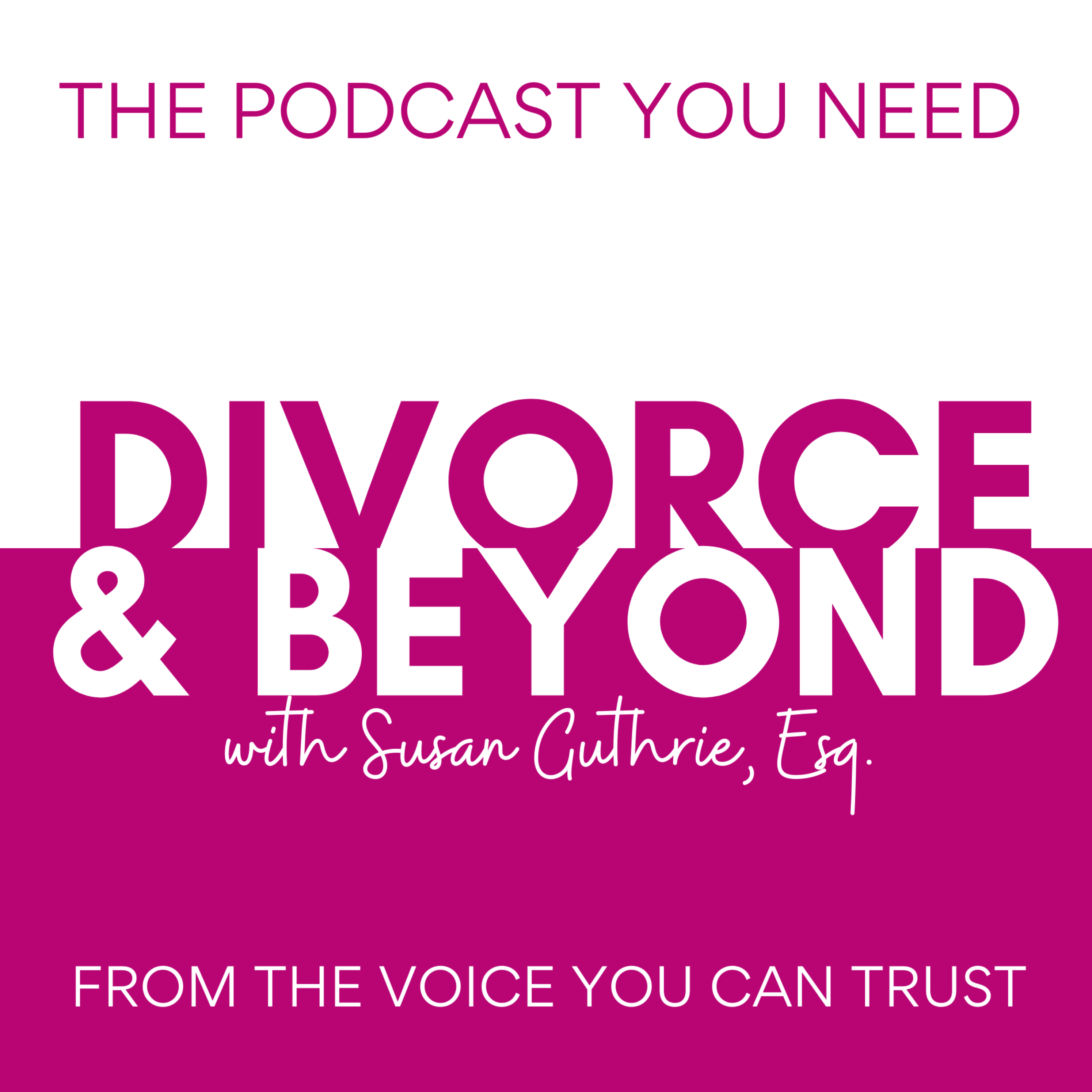 Nationally recognized family law attorney, mediator and award-winning podcaster, Susan Guthrie is at it again! After guiding countless numbers of people through the perilous world of divorce—and speaking to a podcast audience of over 4 million listeners—she's bringing you the "The Divorce & Beyond Podcast" to help you thrive in your life BEYOND divorce!
Episodes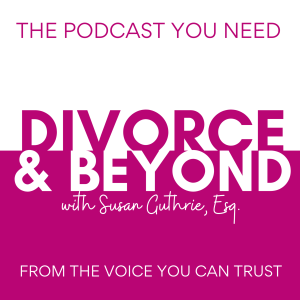 Monday May 23, 2022
Monday May 23, 2022
This week our Host, Susan Guthrie is joined by Dr. Christine Cocchiola, and expert in Intimate Partner Violence (IPV) for an important two-part episode that delves into some of the most insidious forms of abuse: coercive control and post-separation abuse.
Abuse between intimate partners comes in many forms.  All are destructive, but some are so insidious and pervasive that they are incredibly common, yet vastly unknown by the public and often, in fact, by the victims themselves.  With physical violence and abuse, it is very easy to identify that behavior is abusive, but when it comes to coercive control and emotional abuse, it is much harder to identify.  Dr. Christine Cocchiola, a survivor herself, is dedicated to educating, supporting and advocating for others suffering in this horrible cycle of abuse.  In this episode, you will learn the signs to look for when coercive control is an issue, strategies to extricate yourself and what we as a society need to do to protect victims and stop abusers.
Return on Thursday for Part Two where Dr. Cocchiola discusses the increasing awareness of another form of IPV, Post-Separation Abuse, which is increasingly in the headlines with the ongoing high profile cases of Kim Kardashion and Kanye West and the Johnny Depp and Amber Heard trial.
About this week's special guest:
Dr. Christine Marie Cocchiola, a Coercive Control Advocate, Educator, Researcher, & Survivor has been dedicated to the field of intimate partner violence since her late teens, beginning her career at a local umbrella agency where she continues to volunteer. Dr. Cocchiola is a tenured professor at a Connecticut Community College and an adjunct instructor at NYU, teaching in the Social Work field for over 20 years. Her expertise is in the areas of intimate partner violence including child abuse and trauma, developing and presenting workshops on these topics, both nationally and internationally. She is a Founding Member of the International Coercive Control Conference and on the Board of the National Coalition Against Domestic.  Dr. Cocchiola has a small private practice serving individuals and families.
Additional Resources from Dr. Christine Cocchiola:
Ms. Magazine quoted: https://msmagazine.com/2021/10/29/maid-netflix-review-emotional-abuse-coercive-control-domestic-violence/

Co-authored an article on Psychology Today:
https://www.psychologytoday.com/us/blog/invisible-chains/202201/its-post-separation-legal-abuse-not-high-conflict-divorce 

Co-authored an article on Domestic Shelters.org:
https://www.domesticshelters.org/articles/children-and-domestic-violence/post-separation-abuse-harms-children
Follow Dr. Cocchiola on Social:
Linkedin: dr.christinemariecocchiola
Twitter: @cmchiola dr.christinemariecocchiola
Facebook: coercivecontrolisipv
Instagram: coercivecontrolisipv
Find our more about Dr. Christine Cocchiola and her Protective Parenting Program:  https://www.dr.cocchiola.com and https://www.protectiveparentingprogram.com
**********************
THANK YOU TO OUR SPONSOR:
dtour.life is an easy to navigate system that finally brings much needed technology to an inefficient system. Spouses and family law professionals can now collect the endless data, manage the piles of documents, explore various settlements, detail budgets and most importantly, collaborate with the entire team with a single click. And we built this from the ground up with industry best practices and the most advanced security and encryption technology available.
For more information and a special trial, visit: https://www.dtour.life/mostenguthrie
*******************************************************************
MEET OUR CREATOR AND HOST:
SUSAN GUTHRIE®, ESQ., the creator and host of The Divorce and Beyond® Podcast, is nationally recognized as one of the top family law and divorce mediation attorneys in the country.  Susan is a member of the Executive Council of the American Bar Association Section of Dispute Resolution and is the Founder of Divorce in a Better Way® which provides a curated selection of resources and information for those facing divorce and other life changes. 
Internationally renowned as one of the leading experts in online mediation, Susan created her Learn to Mediate Online® program and has trained more than 18,000 professionals in how to transition their practice online.  Susan recently partnered with legal and mediation legend, Forrest "Woody" Mosten to create the Mosten Guthrie Academy which provides gold standard, fully online training for mediation and collaborative professionals at all stages of their career.  
*****************************************************************************
SPONSORSHIP OPPORTUNITIES AVAILABLE!
If you would like to sponsor the show please reach out to us at  divorceandbeyondpod@gmail.com for pricing and details!!!
*********************************************************************
Remember to follow Susan Guthrie and THE DIVORCE AND BEYOND PODCAST on social media for updates and inside tips and information:
Susan Guthrie on Facebook @susanguthrieesq
Susan on Instagram @susanguthrieesq
Susan on Twitter @guthrielaw
If you want to see the video version of the podcast episodes they are available on The Divorce & Beyond YouTube Channel!  Make sure to LIKE and SUBSCRIBE so you don't miss a single episode!
Finally, we'd really appreciate it if you would  give us a 5 Star Rating and tell us what you like about the show in a review - your feedback really matters to us! 
You can get in touch with Susan at divorceandbeyondpod@gmail.com. 
Don't forget to visit the webpage www.divorceandbeyondpod.com and sign up for the free NEWSLETTER to receive a special welcome video from Susan and more!!
*****************************************************************************
DISCLAIMER:  THE COMMENTARY AND OPINIONS AVAILABLE ON THIS PODCAST ARE FOR INFORMATIONAL AND ENTERTAINMENT PURPOSES ONLY AND NOT FOR THE PURPOSE OF PROVIDING LEGAL ADVICE.  YOU SHOULD CONTACT AN ATTORNEY IN YOUR STATE TO OBTAIN LEGAL ADVICE WITH RESPECT TO ANY PARTICULAR ISSUE OR PROBLEM