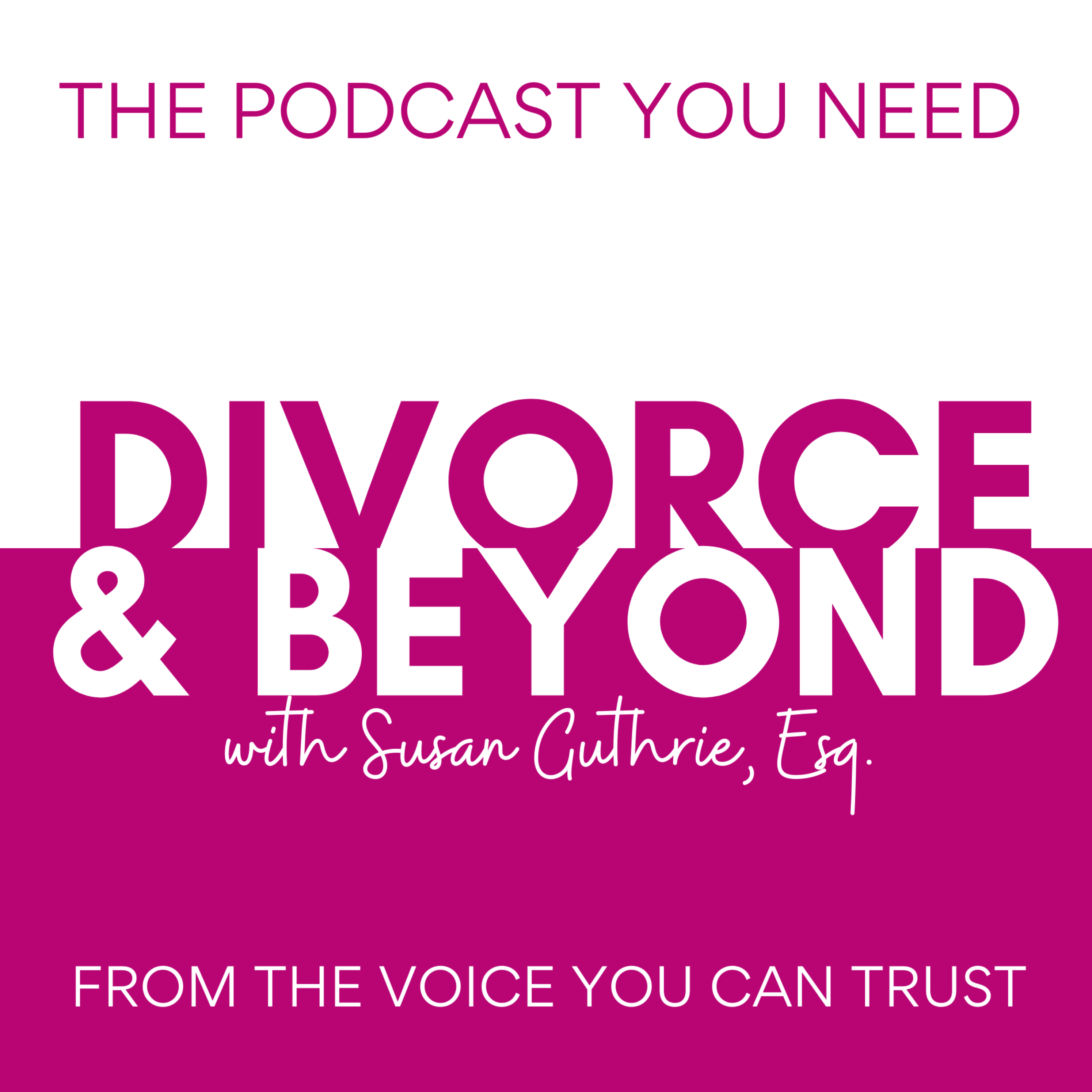 Nationally recognized family law attorney, mediator and award-winning podcaster, Susan Guthrie is at it again! After guiding countless numbers of people through the perilous world of divorce—and speaking to a podcast audience of over 4 million listeners—she's bringing you the "The Divorce & Beyond Podcast" to help you thrive in your life BEYOND divorce!
Episodes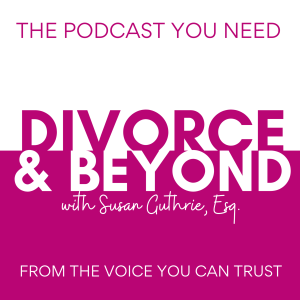 Monday Oct 30, 2023
Monday Oct 30, 2023
In this week's episode, Susan Guthrie is joined again by the insightful Kate Anthony, host of The Divorce Survival Guide podcast and author of the upcoming book, "The D-Word: Making the Ultimate Decision About Your Marriage." Kate shares her journey of becoming a domestic violence victim's advocate and the crucial insights she's gained.
The conversation delves into the alarming gap in domestic violence awareness and training within the divorce industry. Plus, Kate shares the significance of effective documentation for victims, offering invaluable tips on compiling such evidence. 
Kate Anthony's dedication to helping women trapped in relationships scarred by domestic violence shines through. Tune in for an empowering discussion on breaking free from the cycle by raising awareness and taking action.
Topics and Golden Nuggets include

The scarcity of training about domestic violence in the divorce industry.

We explore the need for more experts who comprehend and can testify in court about domestic violence within divorce law.

Kate emphasizes the importance of effective documentation for victims and practical tips on compiling evidence of abuse.

The vital role a divorce coach plays in offering assistance and support throughout your divorce journey.
****************************************
About this week's special guest: Kate Anthony
Kate Anthony is the author of The D Word: Making the Ultimate Decision About Your Marriage, host of the critically acclaimed and New York Times recommended podcast The Divorce Survival Guide Podcast, and the creator of the groundbreaking online coaching program, Should I Stay or Should I Go? which helps women make the most difficult decision of their lives using coaching tools, relationship education, geeky neuroscience, community support, and deep self-work. 
No stranger to the camera, Kate spent the first 30 years of her life as an actor, with a career that began with five years on Sesame Street and concluded with five years on Grey's Anatomy. 
Kate empowers women to find their strength, passion, and confidence even in the most disempowering of circumstances and helps them move forward with concrete plans, putting their children at the center (not in the middle) of all decisions. 
Kate spent 3 years and over 500 hours training in various coaching modalities with two of the top coach training organizations in the world. Additionally, Kate is certified as a Domestic Violence Victim's Advocate by the state of California, as a Co-Parenting Specialist by the Mosten Guthrie Academy, and as a High Conflict Divorce Coach by Tina Swithin's High Conflict Divorce Coaching Certification Program, and is widely known as an expert in communication, co-parenting, divorce, and emotional intelligence. 
In addition to her private practice, Kate spent three years coaching Fortune 500 executives in communication, presentation skills, and emotional intelligence. Kate lives in Los Angeles with her son, whom she lovingly co-parents with her ex-husband.
Website:  http://kateanthony.com
Pre-order Kate's upcoming book, The D-Word: Making the Ultimate Decision About Your Marriage:  https://kateanthony.com/dword/
Instagram: https://www.instagram.com/thedivorcesurvivalguide/
Facebook: https://www.facebook.com/YourDivorceSurvivalGuide
*****************************************
Episodes and Resources mentioned in this episode:
Tina Swithen's Documentation Workshop
Why Does He Do That, Lundy Bancroft
Busting the Top 5 Myths of Domestic Abuse with Amy Polacko

*****************************************
Thriving in divorce and beyond means not having to worry about the safety of your children when it comes to co-parenting. With alcohol abuse on the rise, many co-parents are turning to the system committed to providing proof, protection, and peace of mind. Soberlink's alcohol monitoring system is the most convenient, reliable, and reasonable way for a parent to provide evidence that they are not drinking during parenting time.
Soberlink's real-time alerts, facial recognition, and tamper detection ensure the integrity of each test, so you can be confident your kids are with a sober parent. With Soberlink, judges rest assured that your child is safe, attorneys get court-admissible evidence of sobriety, and both parents have empowerment and peace of mind. 
Pull back the curtain on the mysteries of parenting time and trust The Experts in Remote Alcohol Monitoring Technology™ to keep you informed and your kids safe and secure. To download the addiction and children resource page that I developed with Soberlink, visit www.Soberlink.com/Susan 

________________________
The Divorce Coalition promotes awareness of both domestic violence and domestic violence recovery. We are here to inspire healing and change. We are the voice of many. The Divorce Coalition comprises all your favorite podcasters, bloggers, influencers, and more. We joined together to raise awareness and provide information and resources to fight the epidemic of domestic abuse in our world. 
Founded by Beverly Price of Her Empowered Divorce, Kate Anthony of the Divorce Survival Guide, and Susan Guthrie of Divorce & Beyond. We have gathered together our friends and colleagues to amplify our voices to reach as many people as possible.
Visit the coalition webpage at www.divorcecoalition.com to find resources, including the many podcast episodes and blog articles that are on the topic from all our members, as well as many other ways to help donate and find assistance. Together, we can make a difference, and we can let domestic violence survivors know that they are not alone.
Visit the website at www. DivorceCoalition.com. Follow us on Instagram and Facebook @divorcecoalitionpage
________________________
Have you discovered the "Her Empowered Divorce podcast" with Beverly Price yet? With over 30 years as a leading women's divorce and empowerment coach, Beverly is the empowering divorce coach who guides women on their journey before, during and after divorce to eliminate pain, overwhelm, and anger, make fewer mistakes and create more knowledge, skill and happiness than she experienced herself. She interviews industry leading guests who bring helpful insights and actionable tips to help you through the challenging times of your divorce. No matter where you are in this journey, "Her Empowered Divorce" is here for you. Listen to the fascinating episodes of "Her Empowered Divorce" at https://www.herempowereddivorce.com and be empowered!🌟

*********************************************************************
SPONSORSHIP OPPORTUNITIES ARE AVAILABLE!  https://divorcebeyond.com/Sponsorship-Info
*******************************************************************
MEET OUR CREATOR AND HOST:
SUSAN GUTHRIE®, ESQ., the creator and host of The Divorce and Beyond® Podcast, is nationally recognized as one of the top family law and divorce mediation attorneys in the country.  Susan is the Vice Chair of the American Bar Association Section of Dispute Resolution and is a sought-after keynote speaker, business and practice consultant, coach and trainer. You can find out more about Susan and her services here:  https://neon.page/susanguthrie
Internationally renowned as one of the leading experts in online mediation, Susan created her Learn to Mediate Online® program and has trained more than 25,000 professionals in how to transition their practice online.  Susan recently partnered with legal and mediation legend, Forrest "Woody" Mosten to create the Mosten Guthrie Academy which provides gold-standard, fully online training for mediation and collaborative professionals at all stages of their careers.  
Follow Susan Guthrie and THE DIVORCE AND BEYOND PODCAST on social media for updates and inside tips and information:
Susan on LinkedIn: https://www.linkedin.com/in/susaneguthrie/
Susan on Instagram @susanguthrieesq
*********************************************************************
We'd really appreciate it if you would give us a 5 Star Rating and tell us what you like about the show in a review - your feedback really matters to us! 
You can get in touch with Susan at divorceandbeyondpod@gmail.com. 
Don't forget to visit the webpage www.divorceandbeyondpod.com and sign up for the free NEWSLETTER to receive a special welcome video from Susan and more!!
*********************************************************************
DISCLAIMER:  THE COMMENTARY AND OPINIONS AVAILABLE ON THIS PODCAST ARE FOR INFORMATIONAL AND ENTERTAINMENT PURPOSES ONLY AND NOT FOR THE PURPOSE OF PROVIDING LEGAL ADVICE.  YOU SHOULD CONTACT AN ATTORNEY IN YOUR STATE TO OBTAIN LEGAL ADVICE WITH RESPECT TO ANY PARTICULAR ISSUE OR PROBLEM.