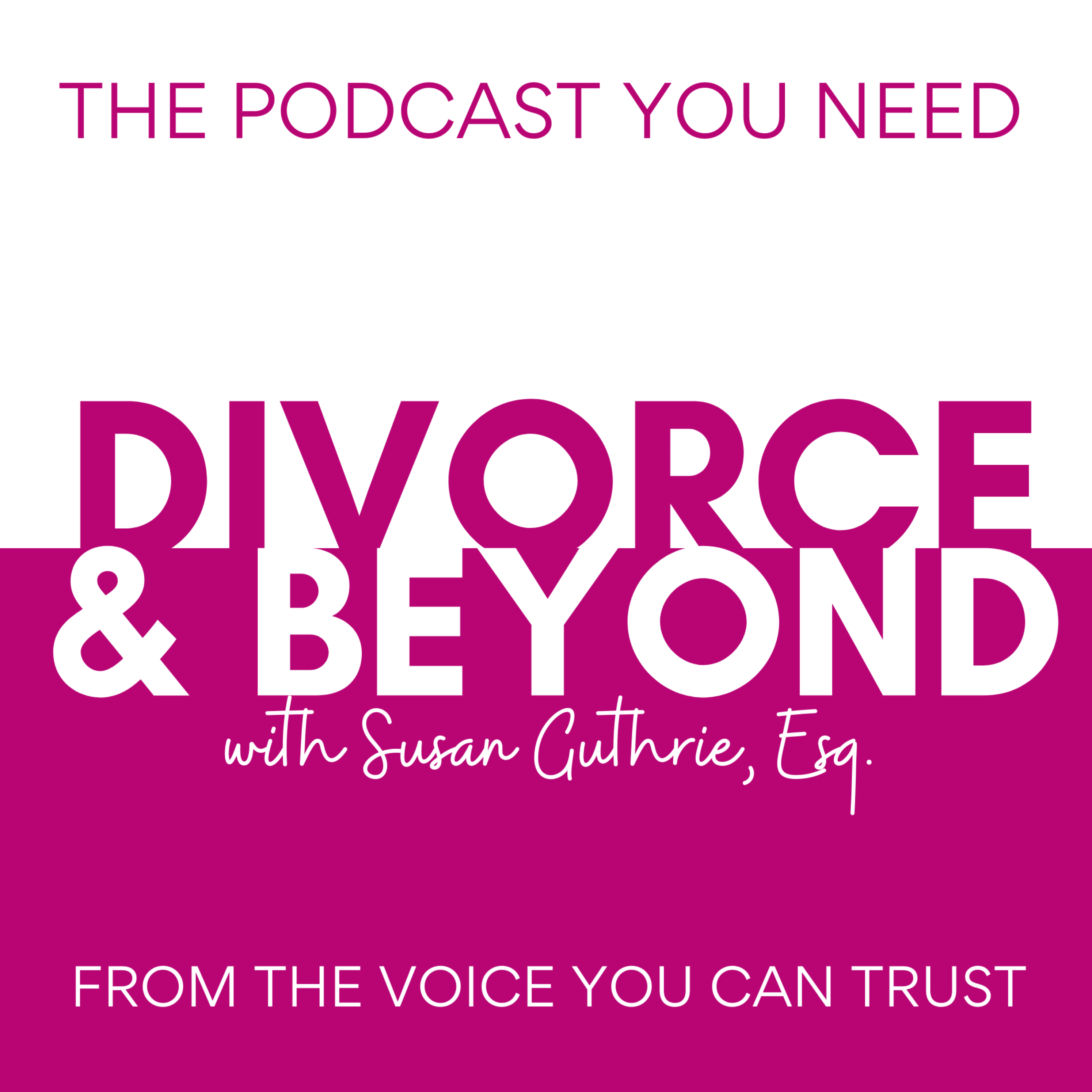 Nationally recognized family law attorney, mediator and award-winning podcaster, Susan Guthrie is at it again! After guiding countless numbers of people through the perilous world of divorce—and speaking to a podcast audience of over 4 million listeners—she's bringing you the "The Divorce & Beyond Podcast" to help you thrive in your life BEYOND divorce!
Episodes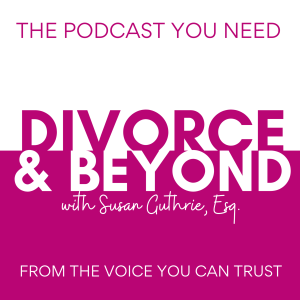 Thursday May 05, 2022
Thursday May 05, 2022
This week on Divorce & Beyond, Host, Susan Guthrie speaks with documentary filmmaker, Ginger Gentile, a child of a high conflict divorce herself, about the truly heart-breaking cases of parental alienation and estrangement that cause a parent to lose contact with their child and even more heartbreaking, for a child to lose a loving parent.  Alienation is a form of child abuse wherein on parent manipulates a child in order to damage that child's feelings for their other parent and can cause irreperable harm to that child.  However, it remains an intractible problem for alienated parents to repair and that courts are ill-equipped to deal with.  Ginger's latest film, Erasing Family, is a look within the dynamics of alienation through the eyes of the children involved and their parents, step-parents and siblings.  Notably, there is hope there too as some of the children have re-established relationships with their alienated parent after years of separation.
Parental alienation affects more than 22,000 families in the U.S. alone.  If you or someone you know is experiencing this tragic loss, please listen to this episode.  Ginger shares some helpful insights and tips for managing the unmanageable!
For another episode on the topic of alienation please listen to:
Parental Alienation Solutions that WORK!  with Special Guest, Dorcy Pruter
More About Ginger Gentile:
Ginger Gentile is on a mission to save children from the trauma of high-conflict divorce. Her first film on this topic, ERASING DAD, was filmed in Argentina and resulted in joint-custody legislation being enacted. Her latest film, ERASING FAMILY, currently streaming on all major platforms, exposes the trauma children suffer when a loving parent is erased from their lives, a problem that affects 22 million families in the US alone.  
In her time serving as the Executive Director of the National Parents Organization in 2019 she added six new state affiliates and garnered national press attention for the Shared Parenting Report Card. Now, she is coaching parents suffering from parental alienation to help them reunite with their erased children GingerGentile.com/consulting 
Her program for replicating the success of reunited families will soon be a podcast, course and book.
 To find out more about Ginger Gentile and her film, Erasing Family, visit:  https://erasingfamily.org
To inquire about working with Ginger:  https://gingergentile.com/consulting
Follow Ginger on Social!
FB Erasing Family 
IG @ErasingFamily 
Tw @ErasingFamily
TicTok @erasingfamily
Facebook.com/gingergentile
*****************************************************************************
MEET OUR CREATOR AND HOST:
SUSAN GUTHRIE®, ESQ., the creator and host of The Divorce and Beyond® Podcast, is nationally recognized as one of the top family law and divorce mediation attorneys in the country.  Susan is a member of the Executive Council of the American Bar Association Section of Dispute Resolution and is the Founder of Divorce in a Better Way® which provides a curated selection of resources and information for those facing divorce and other life changes. 
Internationally renowned as one of the leading experts in online mediation, Susan created her Learn to Mediate Online® program and has trained more than 20,000 professionals in how to transition their practice online.  Susan recently partnered with legal and mediation legend, Forrest "Woody" Mosten to create the Mosten Guthrie Academy which provides gold standard, fully online training for mediation and collaborative professionals at all stages of their career.  
******************************************************************************
Remember to follow Susan Guthrie and THE DIVORCE AND BEYOND PODCAST on social media for updates and inside tips and information:
Susan Guthrie on Facebook @susanguthrieesq
Susan on Instagram @susanguthrieesq @divorceandbeyond
Susan on Twitter @guthrielaw
If you want to see the video version of the podcast episodes they are available on The Divorce & Beyond YouTube Channel!  Make sure to LIKE and SUBSCRIBE so you don't miss a single episode!
Finally, we'd really appreciate it if you would  give us a 5 Star Rating and tell us what you like about the show in a review - your feedback really matters to us! Here's a link to the show on Apple Podcasts: https://podcasts.apple.com/us/podcast/the-divorce-and-beyond-podcast-with-susan-guthrie-esq/id1490881800
You can get in touch with Susan at divorceandbeyondpod@gmail.com. 
Don't forget to visit the webpage www.divorceandbeyondpod.com and sign up for the free NEWSLETTER to receive a special welcome video from Susan and more!!
********************************************************************
THANK YOU TO OUR SPONSOR:
*******************************************************************
SPONSORSHIP OPPORTUNITIES AVAILABLE!
If you would like to sponsor the show please reach out to us at  divorceandbeyondpod@gmail.com for pricing and details!!!
*********************************************************************
DISCLAIMER:  THE COMMENTARY AND OPINIONS AVAILABLE ON THIS PODCAST ARE FOR INFORMATIONAL AND ENTERTAINMENT PURPOSES ONLY AND NOT FOR THE PURPOSE OF PROVIDING LEGAL ADVICE.  YOU SHOULD CONTACT AN ATTORNEY IN YOUR STATE TO OBTAIN LEGAL ADVICE WITH RESPECT TO ANY PARTICULAR ISSUE OR PROBLEM.