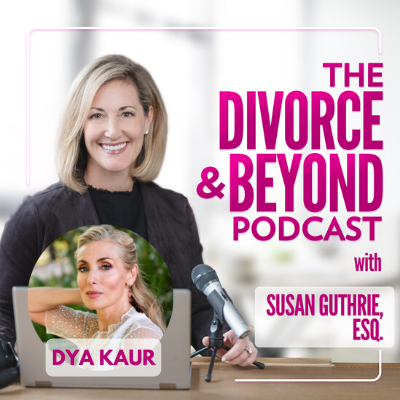 Everything You Need is Within You: Healing from Trauma with Kundalini Yoga Expert, Dya Kaur on the Divorce & Beyond Podcast with Susan Guthrie, Esq. #121
May 4th, 2020 by divorceandbeyond
We often look for peace and happiness from external sources but that path leads to disappointment.  In fact, that is often a path to further hurt and trauma.  On this episode of The Divorce & Beyond Podcast, Susan Guthrie speaks with Kundalini Yoga Expert, Dya Kaur about the inward path to healing and your new future through yoga, meditation and yes, even a little bit of sex.
Trauma informs our lives in so many ways and can stay in our soul for years after the incident or experience that hurt us.  Divorce is often one of the most traumatic experiences that we can undergo and so many individuals have enormous difficulty in moving past that hurt.  Leading Kundalini Yoga expert, Dya Kaur of Wanderlust Yoga in Los Angeles, joins Susan on this episode, which was taped in person in California, to share her wisdom and insights from years of teaching the technology of kundalini yoga, meditation, and spiritual life coaching to help people to move past their trauma to heal, live fully and embrace a new future. 
Some Highlights from this Episode:
Learn how the technology of kundalini yoga and meditation give us access to our true nature.
What is kundalini yoga? How is it different from other yoga forms?
How does being more neutral empower us in a painful situation?
How does elevating our own consciousness help elevate our circumstances?
Why is the experience of a kundalini class more impactful than a more intellectual self help approach?
Why is giving yourself authority so important to self transformation?
Living life dragged down by the emotional storms of your past will only rob you of your future.  It's time to deal with, and heal from, that old trauma and move forward into your healthy, happy and beautiful new life.  Listen to this episode now!
Note:  This show was taped at the beginning of the year.  The advent of COVID delayed it's release so I am excited to announce that Dya's podcast, Sexual Alchemy with Dya Kaur, is now available!  We apologize that the dates referenced in the episode have now passed.
Libby ( Dya Kaur) Hudson Lydecker was given her spiritual name by the master of kundalini yoga, Yogi Bhajan  in 1998 meaning "Princess of wisdom, compassion and strength." Dya Kaur has been teaching kundalini yoga to adults and children for over 13 years. Her passion is empowering people to live their happiest and most enlightened lives through the technology of kundalini yoga and meditation. She is a Spiritual Life coach and runs transformational yoga retreats in inspiring locations. She is honored to be one of the leaders of Guru Singh's Teacher Training which is the largest kundalini teacher training in the world. She teaches group classes at Yoga West in LOS ANGELES and Wanderlust in  Hollywood and is available for private kundalini or coaching sessions in person or remotely by appointment. "I don't believe in miracles, I rely on them." Yogi Bhajan.
You can contact Dya through her website:  www.dyakauryoga.com
You can listen to Dya's new podcast, Sexual Alchemy with Dya Kaur, HERE!
********************************************************************
 SUSAN GUTHRIE, ESQ., the creator and host of The Divorce and Beyond Podcast, is nationally recognized as one of the top family law and divorce mediation attorneys in the country.  She is one of the Co-Chair's of the American Bar Association's DR Section Mediation Committee and is the Founder of Divorce in a Better Way which provides a curated selection of resources and information for those facing divorce and other life changes.  Susan also provides legal coaching and divorce mediation services to select clients around the world through an online platform.  Find out more at www.divorceinabetterway.com.
****************************************************************************
For Divorce Professionals:  As one of the country's leading experts in online mediation, Susan is now sharing her expertise and knowledge and offering her ONLINE MEDIATION TRAINING PROGRAM which will show you how to implement an online platform into to your existing practice in just two short one-hour online sessions!  Increase your potential client base, convenience and income by learning the ethical and practical considerations to know when mediating online!  Find out more at www.learntomediateonline.com and mention you are a listener of the Divorce and Beyond Podcast to get $50 off the cost of the 1:1 training!  
***************************************************************************
THANK YOU TO OUR SPONSOR: 
As the Experts in Remote Alcohol Monitoring Technology, Soberlink combines a breathalyzer with wireless connectivity and is the only system with facial recognition, tamper detection, and Advanced Reporting™. The real-time system reduces litigation, fosters peace of mind, and ensures child safety.  Visit www.soberlink.com for more information and use code "BEYOND20" to receive $50 off a device!
If you would like to sponsor the show please reach out to us at  divorceandbeyondpod@gmail.com for pricing and details!!!
********************************************************************
Don't forget to check out the Divorce & Beyond Podcast website at www.divorceandbeyondpod.com where you can find all of our episodes, links to sponsors and special offers and SIGN UP FOR THE FREE NEWSLETTER and Receive a Special Welcome Video from Susan!
Remember to follow Susan Guthrie and THE DIVORCE AND BEYOND PODCAST on social media for updates and inside tips and information:
Susan Guthrie on Facebook @Susan Guthrie
Susan on Instagram @susanguthrieesq
Susan on Twitter @guthrielaw
Divorce & Beyond Podcast on Instagram @divorceandbeyond
Divorce & Beyond on Twitter @DivorceBeyond
If you want to see the video version of the podcast episodes they are available on The Divorce & Beyond YouTube Channel!  Make sure to LIKE and SUBSCRIBE so you don't miss a single episode!
Finally, we'd really appreciate it if you would  give us a 5 Star Rating and tell us what you like about the show in a review - your feedback really matters to us!  You can also get in touch with Susan at divorceandbeyondpod@gmail.com.
****************************************************************************
DISCLAIMER:  THE COMMENTARY AND OPINIONS AVAILABLE ON THIS PODCAST ARE FOR INFORMATIONAL AND ENTERTAINMENT PURPOSES ONLY AND NOT FOR THE PURPOSE OF PROVIDING LEGAL ADVICE.  YOU SHOULD CONTACT AN ATTORNEY IN YOUR STATE TO OBTAIN LEGAL ADVICE AND COUNSEL.
Share
|
Download