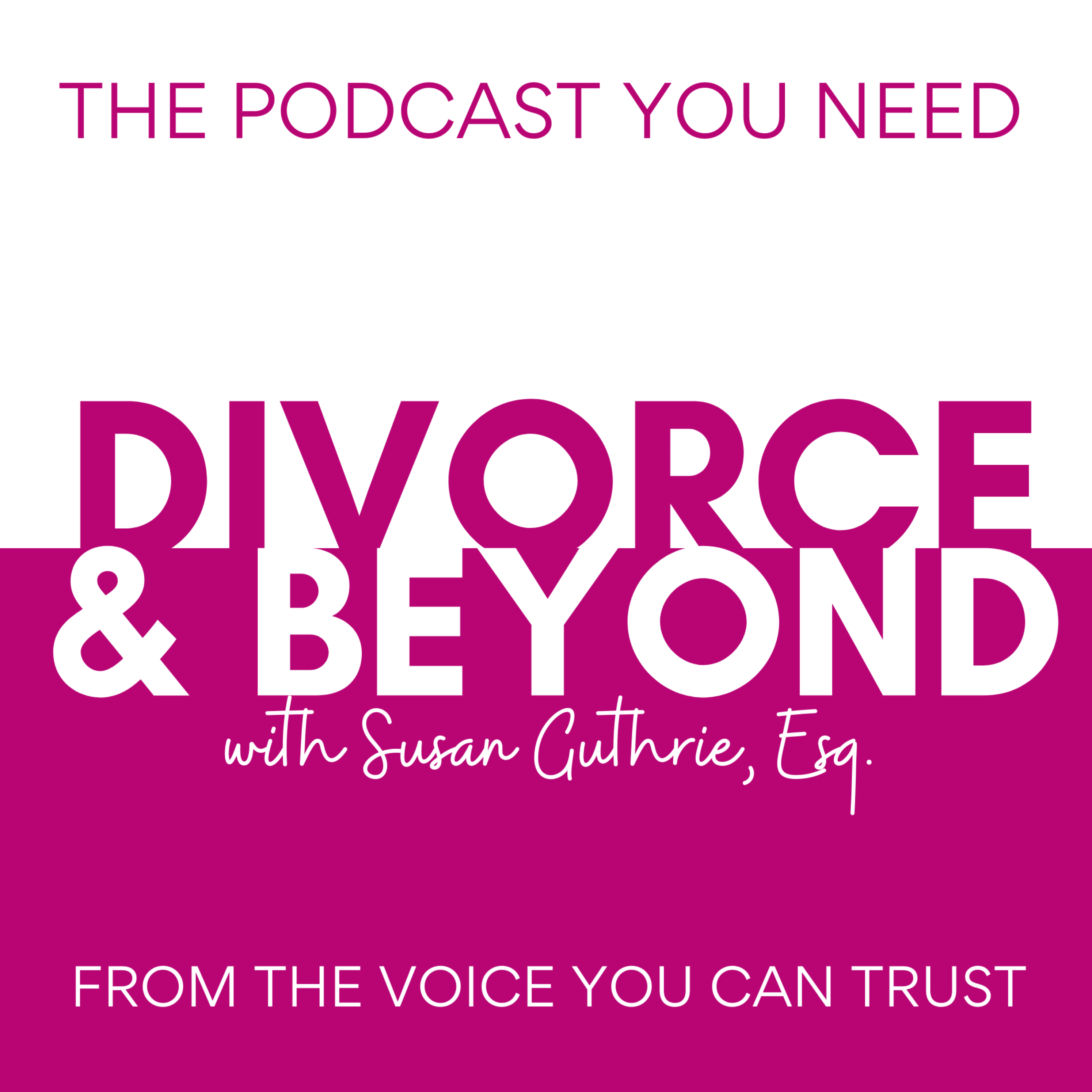 Nationally recognized family law attorney, mediator and award-winning podcaster, Susan Guthrie is at it again! After guiding countless numbers of people through the perilous world of divorce—and speaking to a podcast audience of over 4 million listeners—she's bringing you the "The Divorce & Beyond Podcast" to help you thrive in your life BEYOND divorce!
Episodes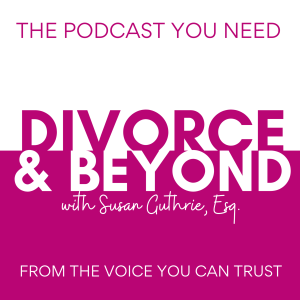 Monday Oct 11, 2021
Monday Oct 11, 2021
October is Domestic Violence Awareness Month and this week host Susan Guthrie speaks with Attorney Uswah Khan who has helped scores of victims of abuse obtain restraining orders in order protect themselves, and their children, from suffering further at the hands of their abusers.
On average, nearly 20 people per minute are physically abused by an intimate partner in the United States. During one year, this equates to more than 10 million women and men. Restraining orders offer one of the few tools that a victim has to try to protect themselves from ongoing abuse but getting a restraining order can be scary, confusing and complicated.  To make matters worse, many victims cannot afford to retain an attorney to help them navigate the court process making it even more difficult to apply for relief.  Attorney Uswah Khan has spent the past few years representing and assisting victims of domestic violence as the staff attorney at The Center for Family Justice in Connecticut.  In this episode, Uswah demystifies the process of obtaining a restraining order and walks you through the steps so that you are empowered to get the protection that you, and your children, need.  This episode truly will save lives!
If you or someone you know is a victim of domestic or intimate partner violence please contact The National Domestic Violence Hotline at 1-800-799-SAFE (7233) or Text "START" to 88788
For more information on the Family Justice Center Alliance, which develops and supports Family Justice Centers that help survivors and their children find the services they need in ONE place visit:  https://www.familyjusticecenter.org
About this week's special guest:
Attorney Uswah Khan has been practicing family law in the State of CT for over 18 years.  Most recently, she served as staff attorney at a Family Justice Center assisting victims of domestic violence.  For the past 9 years, she has run her own practice engaging in private divorce mediations and a family law litigation.  Additionally, she was a Hearing Officer for Special Education,  for the Connecticut State Department of Education.   She received her B.A. from Columbia University, Barnard College, a J.D. from Pace University School of Law, and an MBA from the University of Connecticut School of Business.   She is also admitted to the U.S. District Court, District of Connecticut in 2005, and to the United States Supreme Court in 2018.
**********************
MEET OUR CREATOR AND HOST:
SUSAN GUTHRIE®, ESQ., the creator and host of The Divorce and Beyond® Podcast, is nationally recognized as one of the top family law and divorce mediation attorneys in the country.  Susan is a member of the Executive Council of the American Bar Association Section of Dispute Resolution and is the Founder of Divorce in a Better Way® which provides a curated selection of resources and information for those facing divorce and other life changes. 
Internationally renowned as one of the leading experts in online mediation, Susan created her Learn to Mediate Online® program and has trained more than 18,000 professionals in how to transition their practice online.  Susan recently partnered with legal and mediation legend, Forrest "Woody" Mosten to create the Mosten Guthrie Academy which provides gold standard, fully online training for mediation and collaborative professionals at all stages of their career.  
*****************************************************************************
THANK YOU TO OUR SPONSOR:
Fayr is the ONLY co-parenting app that Susan recommends because Fayr is everything you need to co-parent in one app.  Fayr's fresh, easy to use interface allows co-parents to effortlessly communicate, create a shared calendar, keep track of expenses, prepare legal documents and more.  
Most importantly, it allows you to experience co-parenting in a totally new way: simply, inexpensively, transparently, and fairly.
Subscribe at BEFAYR.com and then download FAYR from the APP STORE or GOOGLE PLAY
Go to FAYR.com for more details.  Use the discount code "SUSANG18" to receive 20% off!
***************************************************************************************************G
Get Kate Anthony's Ultimate Divorce Survival Program!  (use CODE "SUSAN" and get $50 off!!!)
THE DIVORCE SURVIVAL PROGRAM WILL HELP YOU:
Process the emotional fallout of your divorce so you don't go into mediation bitter or resentful
Understand the difference between litigation, mediation and Collaborative Divorce – and identify which is right for you
Tell your husband you want a divorce in a way that doesn't keep you stuck in a circular conversation for the next three months
Tell your kids you're getting a divorce in a way that won't completely break them
Understand how your divorce will impact your friends and family — and what conversations are appropriate to have with each
Create appropriate and healthy boundaries with your ex
Learn about dating after divorce and how that will affect you, your kids, and yes, your ex
and more! 
All in a self-paced, self-guided program, housed on a password-protected e-learning platform for your privacy and security.
Get more information and JOIN here:  https://kateanthony.com/getting-divorced/  Don't forget to use Code "SUSAN" to get $50 off!
***************************************
JOIN US IN THE DIVORCE & BEYOND MEMBERS ONLY COMMUNITY!
D & B Members Only will receive a number of benefits including:
Ad and Interruption Free Podcast Archive
BONUS Members Only Podcast Episodes monthly
Downloadable Worksheets, Spreadsheets and Other Forms 
Access to the "Ask Susan Anything" Forum where you can ask your questions and learn from the answers to others.
*****************************************************************************
SPONSORSHIP OPPORTUNITIES AVAILABLE!
If you would like to sponsor the show please reach out to us at  divorceandbeyondpod@gmail.com for pricing and details!!!
*********************************************************************
Remember to follow Susan Guthrie and THE DIVORCE AND BEYOND PODCAST on social media for updates and inside tips and information:
Susan Guthrie on Facebook @susanguthrieesq
Susan on Instagram @susanguthrieesq
Susan on Twitter @guthrielaw
If you want to see the video version of the podcast episodes they are available on The Divorce & Beyond YouTube Channel!  Make sure to LIKE and SUBSCRIBE so you don't miss a single episode!
Finally, we'd really appreciate it if you would  give us a 5 Star Rating and tell us what you like about the show in a review - your feedback really matters to us! 
You can get in touch with Susan at divorceandbeyondpod@gmail.com. 
Don't forget to visit the webpage www.divorceandbeyondpod.com and sign up for the free NEWSLETTER to receive a special welcome video from Susan and more!!
*****************************************************************************
DISCLAIMER:  THE COMMENTARY AND OPINIONS AVAILABLE ON THIS PODCAST ARE FOR INFORMATIONAL AND ENTERTAINMENT PURPOSES ONLY AND NOT FOR THE PURPOSE OF PROVIDING LEGAL ADVICE.  YOU SHOULD CONTACT AN ATTORNEY IN YOUR STATE TO OBTAIN LEGAL ADVICE WITH RESPECT TO ANY PARTICULAR ISSUE OR PROBLEM