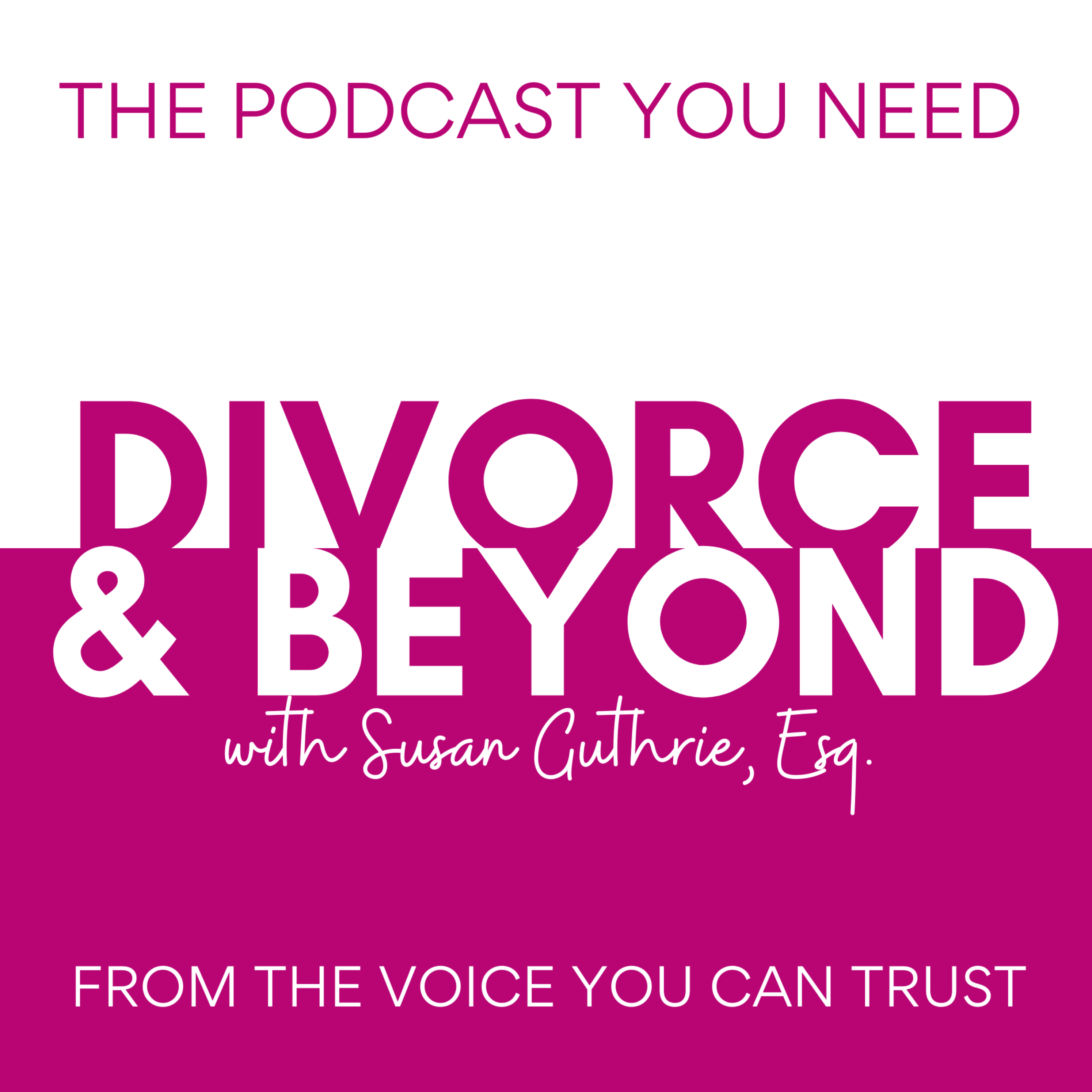 Nationally recognized family law attorney, mediator and award-winning podcaster, Susan Guthrie is at it again! After guiding countless numbers of people through the perilous world of divorce—and speaking to a podcast audience of over 4 million listeners—she's bringing you the "The Divorce & Beyond Podcast" to help you thrive in your life BEYOND divorce!
Episodes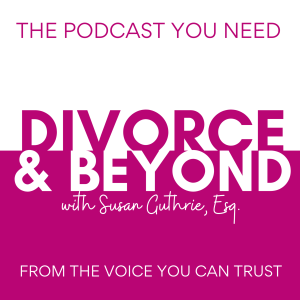 Monday May 01, 2023
Monday May 01, 2023
This week on Divorce & Beyond, Susan Guthrie, Esq., welcomes back Top Forensic Accountant Tracy Coenen to share the ways people hide money in a divorce. You won't want to miss this one! 
Tracy Coenen returns to talk about the five sneaky ways your spouse may be hiding money in a divorce. Tracy is a leading forensic accountant and has been investigating fraud for more than 25 years. In this episode, she divulges the five techniques people use to conceal finances to avoid splitting assets, paying support, or dividing possessions. 
Topics and Golden Nuggets include:
How to determine if a spouse is or is not depositing their full paycheck into the joint bank account 

When a spouse is withdrawing cash often or one who exhibits a change in behavior of cash withdrawals

What you need to know about buying gift cards to cover up spending

The

secret

credit card
****************************************
About this week's special guests: Tracy Coenen
Tracy has been investigating fraud for more than 25 years, but she didn't always want to be a forensic accountant. With a dream of one day being a prison warden, Tracy went to Marquette University in Milwaukee, WI to get a criminology degree. A class on financial crime investigations reminded her how much she loved Encyclopedia Brown books as a kid. She continued her criminology degree, but added accounting and economics courses so she could sit for the CPA exam… and here Tracy is, finding money in cases of corporate fraud, high net worth divorce, and other financial shenanigans.

Fraud Coach: http://fraudcoach.com/beyond
Find Me The Money: Take Control, Uncover the Truth, and Win the Money You Deserve In Your Divorce https://amzn.to/3A105ep
Take the assessment: Is there financial fraud in your marriage? https://www.fraudcoach.com/a/2147522699/Epr7xfEb 
The Divorce Money Guide: https://www.fraudcoach.com/a/2147518094/Epr7xfEb 
Win Your Divorce:  https://www.fraudcoach.com/a/2147528573/Epr7xfEb 
Win Your Divorce All Access Pass: https://www.fraudcoach.com/a/2147528572/Epr7xfEb

Check out Tracy's previous episode: How to Spot the Red Flags of Financial Abuse in Divorce with Top Forensic Accountant, Tracy Coenen
Download a free copy of Susan's newest e-book: Building the Practice of Your Dreams. You'll enjoy one full month of tips for building a successful practice! Access the e-book today! 
*****************************************
Your divorce, your way. 
Say hello to an easier, kinder, and less expensive divorce. 
They can handle almost every divorce without a court for thousands less than hiring a lawyer. 
Easy, quick online divorce process 

We review, file, and serve for you 

Expert legal and financial help as you go 
Get more information, resources, and support at hellodivorce.com/beyond and receive $100 off your service with the code BEYOND!  Visit hellodivorce.com/beyond for $100 OFF!
___________
ALYSSA DINEEN

Are you new to online dating, or considering it for the first time since your separation or divorce? 
If it feels overwhelming or daunting, you're not alone. Alyssa Dineen was in the same position as you after her divorce, and after her own trial and error on the apps, she started Style My Profile to share what really worked with others in the same boat. In fact, Alyssa's episode from last year, " Reinvention After Divorce: Make the Rest of Your Life the BEST of Your Life" is one of Divorce & Beyond's top 10 episodes of all time!  She knows what she is talking about! 
Her most popular offering by far is Profile In A Day, which you can find on her website at www.stylemyprofilenyc.com. 
With Profile in a Day, Alyssa and her team will: 
revamp your look, 

write you all new bios that are eye-catching and actually sound like you, and 

get you high-quality photos in that specific, expert-approved, dating app style. 
Her clients say time and time again that their new photos and profile are the reason why they met their new partner. 
Go to www.stylemyprofilenyc.com or follow Alyssa on Instagram at @alyssadineen and be sure to let her know you heard about her on Divorce & Beyond! 
*********************************************************************
SPONSORSHIP OPPORTUNITIES ARE AVAILABLE!  https://divorcebeyond.com/Sponsorship-Info
*******************************************************************
MEET OUR CREATOR AND HOST:
SUSAN GUTHRIE®, ESQ., the creator and host of The Divorce and Beyond® Podcast, is nationally recognized as one of the top family law and divorce mediation attorneys in the country.  Susan is the Vice Chair of the American Bar Association Section of Dispute Resolution and is a sought-after keynote speaker, business and practice consultant, coach and trainer. You can find out more about Susan and her services here:  https://neon.page/susanguthrie
Internationally renowned as one of the leading experts in online mediation, Susan created her Learn to Mediate Online® program and has trained more than 25,000 professionals in how to transition their practice online.  Susan recently partnered with legal and mediation legend, Forrest "Woody" Mosten to create the Mosten Guthrie Academy which provides gold-standard, fully online training for mediation and collaborative professionals at all stages of their careers.  
Follow Susan Guthrie and THE DIVORCE AND BEYOND PODCAST on social media for updates and inside tips and information:
Susan on LinkedIn: https://www.linkedin.com/in/susaneguthrie/
Susan on Instagram @susanguthrieesq
*********************************************************************
We'd really appreciate it if you would give us a 5 Star Rating and tell us what you like about the show in a review - your feedback really matters to us! 
You can get in touch with Susan at divorceandbeyondpod@gmail.com. 
Don't forget to visit the webpage www.divorceandbeyondpod.com and sign up for the free NEWSLETTER to receive a special welcome video from Susan and more!!
*********************************************************************
DISCLAIMER:  THE COMMENTARY AND OPINIONS AVAILABLE ON THIS PODCAST ARE FOR INFORMATIONAL AND ENTERTAINMENT PURPOSES ONLY AND NOT FOR THE PURPOSE OF PROVIDING LEGAL ADVICE.  YOU SHOULD CONTACT AN ATTORNEY IN YOUR STATE TO OBTAIN LEGAL ADVICE WITH RESPECT TO ANY PARTICULAR ISSUE OR PROBLEM.