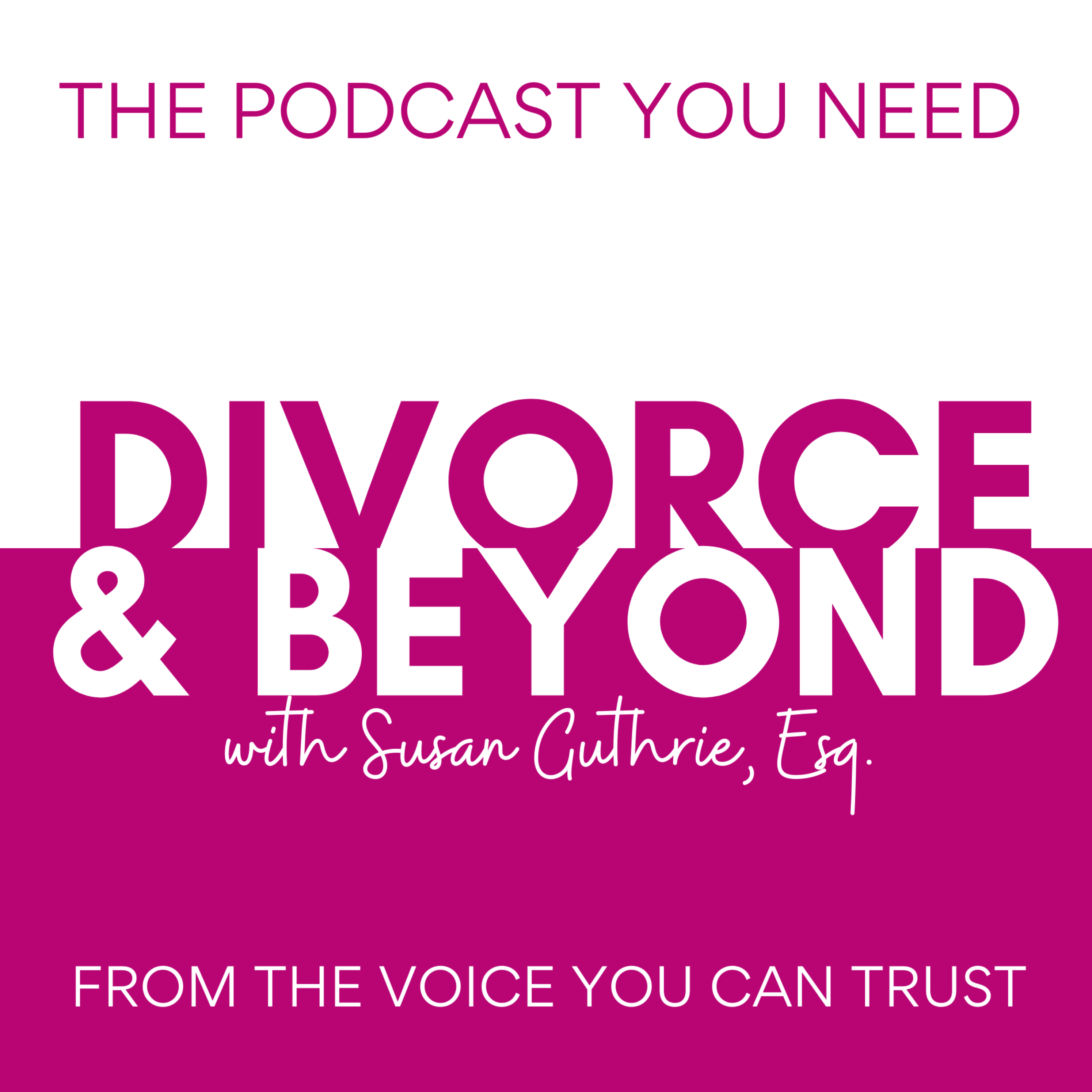 Nationally recognized family law attorney, mediator and award-winning podcaster, Susan Guthrie is at it again! After guiding countless numbers of people through the perilous world of divorce—and speaking to a podcast audience of over 4 million listeners—she's bringing you the "The Divorce & Beyond Podcast" to help you thrive in your life BEYOND divorce!
Episodes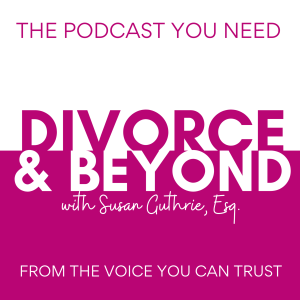 Monday Jul 18, 2022
Monday Jul 18, 2022
On this week's episode, Host, Susan Guthrie and Special Guest, Tracy Coenen, CPA, CFF, MAFF, one of the leading forensic accountants in the country, review the essential red flags you need to look for if you suspect financial abuse or infidelity in your divorce!
According to the National Endowment for Financial Education, nearly one-third of U.S. couples filing for divorce engage in financial infidelity. Financial fraud in divorce commonly involves one spouse hiding or misrepresenting assets to tweak the divorce settlement in his or her favor.  This is the world that this week's guest, Tracy Coenen lives in.  Tracy is a CPA (Certified Public Accountant), CFF (Certified ForensicL and a MAFF (Master Analyst in Financial Forensics) and her entire career is based on uncovering fraud and financial deception in both divorce and business matters.  
Although financial abuse is common, it can be very difficult to prove, especially when you don't know what to look for.  In this episode, Tracy shares her top RED FLAGS to look for to see if you can spot financial abuse in your relationship.  
Tracy also has created the first ever financial program available to the public that will help people to analyze the martital finances to uncover the clues and evidence of financial abuse in a cost-effective manner.  Not everyone can afford the tens of thousands of dollars that it may cost to hire a forensic accountant like Tracy, so her Divorce Money Guide is the gamechanger you have been looking for!
Take Tracy's FREE Quiz:  TAKE THE FREE DIVORCE FINANCIAL ASSESSMENT
Take Tracy's FREE Financial Fraud Worshop: https://www.divorcemoneyguide.com/workshop#two-step
About this week's special guest: Tracy Coenen
Tracy Coenen is known as a no nonsense forensic accountant who delivers the "real deal" to her clients. Let's face it: When your money is on the line, there is zero time to dance around an issue. Her passion lies in helping people find answers. Answers to questions like "Where did our money go?"

After years of watching those who couldn't justify the cost of a forensic accountant lose thousands of dollars in their divorces, Tracy knew she had to create a solution. That's why she put her heart into creating the Divorce Money Guide. 
Tracy has worked as a forensic account for more than 25 years, doing fraud investigations for people in divorce and companies whose employees have stolen from them. She is a CPA (Certified Public Accountant), CFF (Certified in Financial Forensics), and MAFF (Master Analyst in Financial Forensics). She testifies as an expert witness around the country.
Follow the Divorce Money Guide on Instagram at @divorcemoneyguide
Watch the video version of the episode on The Divorce & Beyond Podcast YouTube Channel here: https://youtu.be/_y9_A91R0Mc
Don't forget to Like and SUBSCRIBE!!
******************************************************************************************************
THANK YOU TO OUR SPONSOR:
It's common to experience anxiety about your finances when it comes to divorce. To manage that anxiety, My Divorce Solution created The Divorce Financial Portrait, the ultimate divorce tool to avoid common financial pitfalls. Too often, spouses act prematurely or enter into a settlement agreement without knowing the financial impact.  Financial knowledge is essential when determining alimony, child support, and the division of assets and liabilities. And it makes a difficult situation better for everyone—especially for children.   Head on over to their website -mydivorcesolution.com to get more information. If you are thinking about divorce or in the middle of it, obtain your "Divorce Financial Portrait™" to make smart and confident financial decisions.
Learn more at MyDivorceSolution.com. and don't forget to tell them that you heard about it on the Divorce & Beyond Podcast!
Listen to the Founders of My Divorce Solution on the show in a special Two-Part Episode!
Part One: Tackling the Top 5 Financial Roadblocks of Divorce with Karen Chellew & Catherine Shanahan of My Divorce Solution
Part Two: Tackling the Top 5 Financial Roadblocks of Divorce with Karen Chellew & Catherine Shanahan of My Divorce Solution
*******************************************************************
MEET OUR CREATOR AND HOST:
SUSAN GUTHRIE®, ESQ., the creator and host of The Divorce and Beyond® Podcast, is nationally recognized as one of the top family law and divorce mediation attorneys in the country.  Susan is a member of the Executive Council of the American Bar Association Section of Dispute Resolution and is the Founder of Divorce in a Better Way® which provides a curated selection of resources and information for those facing divorce and other life changes. 
Internationally renowned as one of the leading experts in online mediation, Susan created her Learn to Mediate Online® program and has trained more than 18,000 professionals in how to transition their practice online.  Susan recently partnered with legal and mediation legend, Forrest "Woody" Mosten to create the Mosten Guthrie Academy which provides gold standard, fully online training for mediation and collaborative professionals at all stages of their career.  
*****************************************************************************
SPONSORSHIP OPPORTUNITIES AVAILABLE!
If you would like to sponsor the show please reach out to us at  divorceandbeyondpod@gmail.com for pricing and details!!!
*********************************************************************
Remember to follow Susan Guthrie and THE DIVORCE AND BEYOND PODCAST on social media for updates and inside tips and information:
Susan Guthrie on Facebook @susanguthrieesq
Susan on Instagram @susanguthrieesq
Susan on Twitter @guthrielaw
If you want to see the video version of the podcast episodes they are available on The Divorce & Beyond YouTube Channel!  Make sure to LIKE and SUBSCRIBE so you don't miss a single episode!
Finally, we'd really appreciate it if you would  give us a 5 Star Rating and tell us what you like about the show in a review - your feedback really matters to us! 
You can get in touch with Susan at divorceandbeyondpod@gmail.com. 
Don't forget to visit the webpage www.divorceandbeyondpod.com and sign up for the free NEWSLETTER to receive a special welcome video from Susan and more!!
*****************************************************************************
DISCLAIMER:  THE COMMENTARY AND OPINIONS AVAILABLE ON THIS PODCAST ARE FOR INFORMATIONAL AND ENTERTAINMENT PURPOSES ONLY AND NOT FOR THE PURPOSE OF PROVIDING LEGAL ADVICE.  YOU SHOULD CONTACT AN ATTORNEY IN YOUR STATE TO OBTAIN LEGAL ADVICE WITH RESPECT TO ANY PARTICULAR ISSUE OR PROBLEM