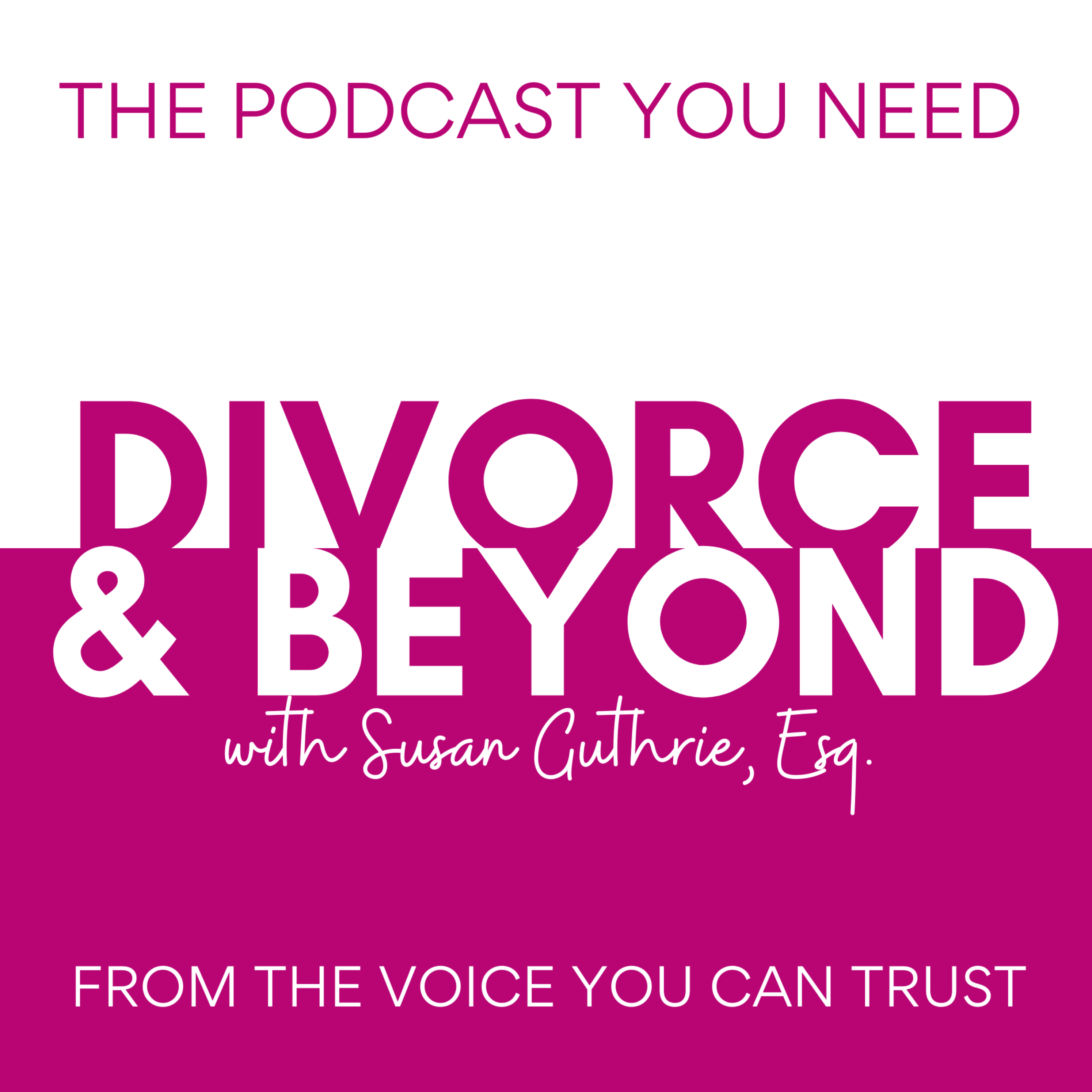 Nationally recognized family law attorney, mediator and award-winning podcaster, Susan Guthrie is at it again! After guiding countless numbers of people through the perilous world of divorce—and speaking to a podcast audience of over 4 million listeners—she's bringing you the "The Divorce & Beyond Podcast" to help you thrive in your life BEYOND divorce!
Episodes
Thursday Feb 25, 2021
Thursday Feb 25, 2021
In this special two-part episode Susan Guthrie speaks with the Founders of My Divorce Solution, Karen Chellew and Catherine Shanahan, who identify the top 5 financial roadblocks in divorce and give you the actionable steps and information that you need to plow right through them to financial success in your case!
In  Part Two, Catherine and Karen build upon the steps they outlined in Part One, so if you have not yet listened to the first episode, we highly encourage you to do so.  You can listen here:
To bring the episode home, you will learn:
How to identify the many OPTIONS that you have financially in a divorce.
The ways you can curate your settlement to help you in your new future.
Why knowing all the options is so critical to being able to effectively negotiate.
How COMPROMISE is the key to reaching the settlement that works for you!
When divorce is on the horizon, the fear around finances often stems from the unknown.  This episode is antidote to that fear so be sure to listen to Part One and Part Two today!
More information about Karen Chellew, Catherine Shanahan and My Divorce Solution:
Catherine Shanahan, CDFA 
After 25 years in the financial industry, having raised five children and endured her own experience with divorce, Catherine became a Certified Divorce Financial Analyst (CDFA), trained Mediator and Daily Money Manager(PDMM). Catherine is collaboratively trained and was a member of the Bucks County Collaborative Law Group. She is a member of the  American Association of Daily Money Managers (AADMM) the Institute for Divorce Financial Analysts, and the Association of Divorce Financial Planners (ADFP). Catherine is fully dedicated to helping clients understand and navigate all aspects of divorce including planning a secure financial future post-divorce. 

Karen Chellew, Legal Liaison  
For over 30 years, Karen has worked in the legal field as a paralegal and business manager. During her career, she served as an affiliated member of the Pennsylvania Bar Association and President Elect of the ALA (Association of Legal Administrators). Karen now serves clients and the professional team in her role as legal liaison. She is also a certified QDRO Administrator, Founder and President of Sisters U Foundation, and an Auditor of East Rockhill Township. As the mom of three children and one granddaughter, Karen is extremely passionate about helping women in all that she does.   
My Divorce Solution
Through their professional and personal experiences, Karen Chellew and Catherine Shanahan have created a unique and comprehensive process that greets divorce in a whole new way – a way that empowers those who experience this major life transition. Our mission is simple: to help people move through the divorce process with financial clarity and confidence so they can make the rest of their lives the best of their lives.
The MDS Financial Portrait™ is a compilation of data and financial records utilizing the family's key and supporting documentation.  The MDS Financial Portrait provides a clear neutral snapshot of the family's marital and non-marital estate for purposes of determining alimony, child support, and the division of assets and liabilities.  This comprehensive Portrait can then be used by divorce professionals as verification of marital/non-marital assets, and the blueprint when considering various scenarios, alternatives and the resulting implications of any financial decisions.
Our services, specialties and certifications help individuals and couples develop a transparent and comprehensive financial plan that will optimize the outcome of their divorce.  We meet with couples in our virtual office so we can assist you no matter where you live!
Get more information at:  www.mydivorcesolution.com
Follow My Divorce Solution on Instagram:  @mydivorcesolution
***GET THE MY DIVORCE SOLUTION DIVORCE U ONLINE PROGRAM*** 
FREE FOR LISTENERS OF DIVORCE & BEYOND THROUGH MARCH 27, 2021 WITH CODE "DIVORCEANDBEYOND"
**********************
SUSAN GUTHRIE, ESQ., the creator and host of The Divorce and Beyond Podcast, is nationally recognized as one of the top family law and divorce mediation attorneys in the country.  She is one of the Co-Chair's of the American Bar Association's DR Section Mediation Committee and is the Founder of Divorce in a Better Way which provides a curated selection of resources and information for those facing divorce and other life changes.  Susan has created a website of curated resources for those facing divorce.  Find out more at www.divorceinabetterway.com.
*****************************************************************************
*********************************************
THANK YOU TO OUR SPONSOR!
dtour.life is an easy to navigate system that finally brings much needed technology to an inefficient system. Spouses and family law professionals can now collect the endless data, manage the piles of documents, explore various settlements, detail budgets and most importantly, collaborate with the entire team with a single click. And we built this from the ground up with industry best practices and the most advanced security and encryption technology available.  Be sure to check it out today!
SPECIAL OFFER:  Sign up for the FREE TRIAL here:  https://www.dtour.life/sign-up and then use special code "SUSAN20" to receive 20% off the cost of a subscription!
*********************************************
 THE DIVORCE & BEYOND MEMBERS ONLY COMMUNITY IS LIVE!!
Subscribe now for only $10 per month and take your Divorce & Beyond experience BEYOND!!
D & B Members Only will receive a number of benefits including:
Ad and Interruption Free Podcast Archive
BONUS Members Only Podcast Episodes monthly
Downloadable Worksheets, Spreadsheets and Other Forms 
Access to the "Ask Susan Anything" Forum where you can ask your questions and learn from the answers to others.
*****************************************************************************
SPONSORSHIP OPPORTUNITIES AVAILABLE!
If you would like to sponsor the show please reach out to us at  divorceandbeyondpod@gmail.com for pricing and details!!!
*********************************************************************
Remember to follow Susan Guthrie and THE DIVORCE AND BEYOND PODCAST on social media for updates and inside tips and information:
Susan Guthrie on Facebook @susanguthrieesq
Susan on Instagram @susanguthrieesq
Susan on Twitter @guthrielaw
Divorce & Beyond Podcast on Instagram @divorceandbeyond
Divorce & Beyond Podcast on Twitter @DivorceBeyond
If you want to see the video version of the podcast episodes they are available on The Divorce & Beyond YouTube Channel!  Make sure to LIKE and SUBSCRIBE so you don't miss a single episode!
Finally, we'd really appreciate it if you would  give us a 5 Star Rating and tell us what you like about the show in a review - your feedback really matters to us! 
You can get in touch with Susan at divorceandbeyondpod@gmail.com. 
Don't forget to visit the webpage www.divorceandbeyondpod.com and sign up for the free NEWSLETTER to receive a special welcome video from Susan and more!!
*****************************************************************************
DISCLAIMER:  THE COMMENTARY AND OPINIONS AVAILABLE ON THIS PODCAST ARE FOR INFORMATIONAL AND ENTERTAINMENT PURPOSES ONLY AND NOT FOR THE PURPOSE OF PROVIDING LEGAL ADVICE.  YOU SHOULD CONTACT AN ATTORNEY IN YOUR STATE TO OBTAIN LEGAL ADVICE WITH RESPECT TO ANY PARTICULAR ISSUE OR PROBLEM