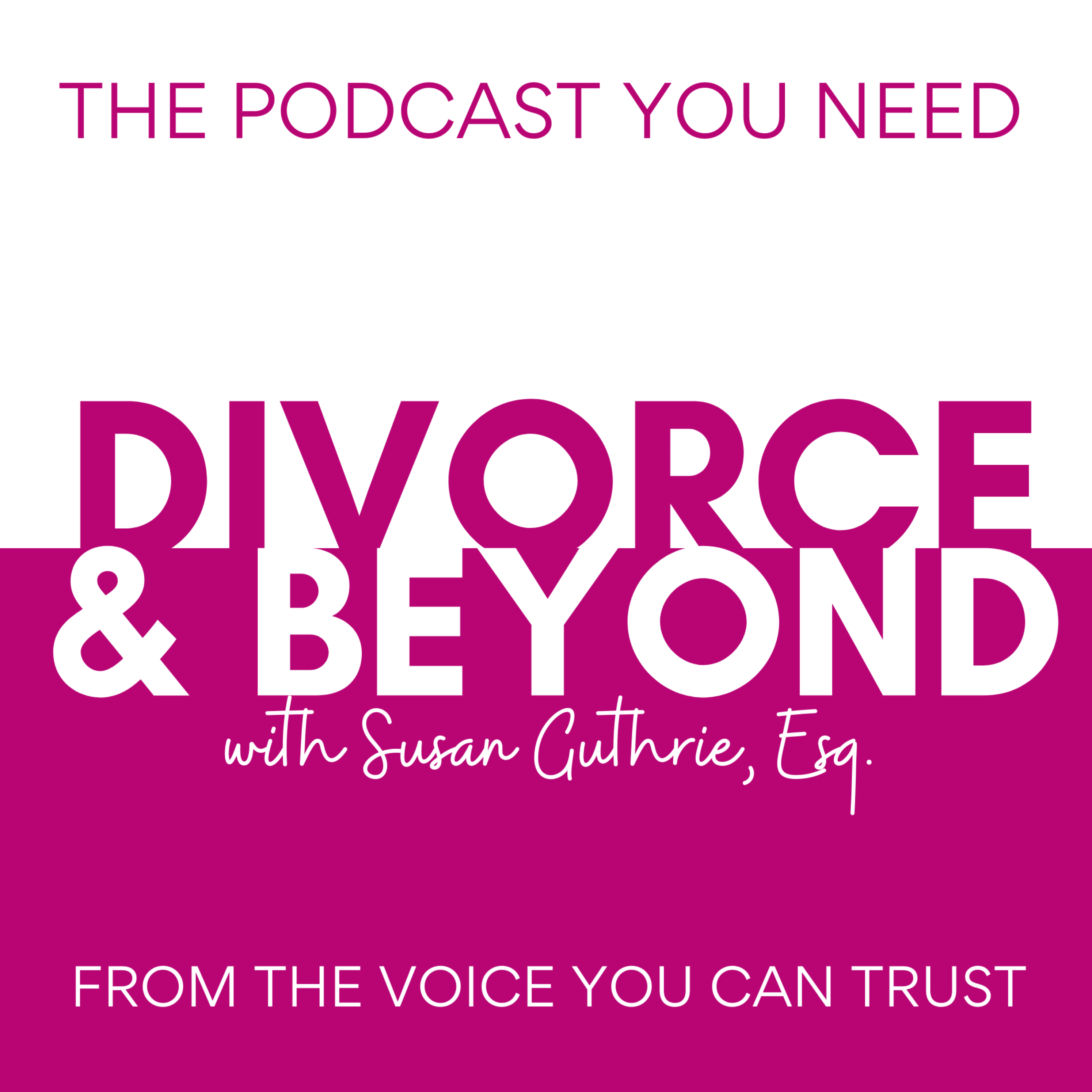 Nationally recognized family law attorney, mediator and award-winning podcaster, Susan Guthrie is at it again! After guiding countless numbers of people through the perilous world of divorce—and speaking to a podcast audience of over 4 million listeners—she's bringing you the "The Divorce & Beyond Podcast" to help you thrive in your life BEYOND divorce!
Episodes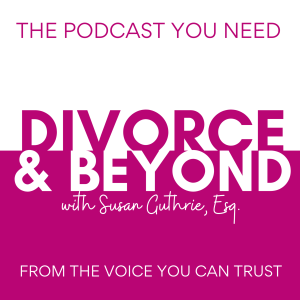 Monday Nov 08, 2021
Monday Nov 08, 2021
On this week's episode, Host Susan Guthrie is joined by top family law attorney, Holly Davis, to discuss the fascinating celebrity divorce of Ben and Julianna Zobrist, which has been playing out for months in the media with allegations of fraud.  Susan and Holly unpack the claims and bring a dose of reality into the conversation to help you to understand the role of fraud in divorce.
Former Chicago Cubs pitcher, Ben Zobrist has been very vocal in his allegations and claims of fraud in his divorce proceeding but is any of it true and if it is, what effect does it actually have on the divorce?  Top family law attorney, Holly Davis discussed the facts of the case and what the legal effect of Ben's position is when it comes to a final judgment from the court.  It is not unusual for a disgruntled spouse to cast aspersions on their ex, but is it just legal positioning or will it actually affect the outcome and sway the judge in court? Find out in this fascinating episode!
Some of the topics we discuss:
Judges are supposed to be neutral, but will facts like this tend to push them to one party's side? 
How can an allegation of fraud play out in a divorce case? Does it become a separate case, or do the two legal cases become combined?
How would a finding of fraud manifest in a final divorce decree? 
How commonly does fraud come up in divorce cases? 
Does having an affair increase the risk of being accused of fraud in a divorce proceeding?
Can Zobrist make any other claims, like "mental anguish"? 
More information About This Week's Special Guest:  Holly Davis
Holly R. Davis is a founding partner of Kirker Davis LLP. An accomplished and nationally-recognized family law trial attorney with over ten years' experience, her legal practice focuses on high asset divorce, business and professional divorce, custody matters, and complex litigation.
With a strong professional reputation for her litigation and courtroom skills, Holly has successfully handled cases ranging from multi-million–and even billion dollar—estates, to divorces involving family businesses and young professionals. Her core business philosophy is based on fidelity to the practice of law and a commitment to client service. It's a perspective which has yielded significant success, particularly in her time as founding partner at one of the most well known personal injury & family law firms in Austin. The success of their business practices, based on creative and innovative approaches to the profession, have changed the way family law firms operate in Central Texas, an impact which will last for years to come. Also noteworthy: Holly amassed this record of professional accomplishment all before the age of 35, with the support of her family.
Contact Holly Davis:
W: https://www.kirkerdavis.com
Twitter:  https://www.twitter.com/kirkerdavis
GET A COPY OF HOLLY'S FREE E-BOOK HERE:  https://www.kirkerdavis.com/ebook/
**********************
MEET THE CREATOR AND HOST OF DIVORCE & BEYOND®
SUSAN GUTHRIE®, ESQ. is nationally recognized as one of the top family law and divorce mediation attorneys in the country.  Susan is a member of the Executive Council of the American Bar Association Section of Dispute Resolution and is the Founder of Divorce in a Better Way® which provides a curated selection of resources and information for those facing divorce and other life changes. 
Internationally renowned as one of the leading experts in online mediation, Susan created her Learn to Mediate Online® program and has trained more than 18,000 professionals in how to transition their practice online.  Susan recently partnered with legal and mediation legend, Forrest "Woody" Mosten to create the Mosten Guthrie Academy which provides gold standard, fully online training for mediation and collaborative professionals at all stages of their career.  
*****************************************************************************
THANK YOU TO OUR SPONSOR!
dtour.life is an easy to navigate system that finally brings much needed technology to an inefficient system. Spouses and family law professionals can now collect the endless data, manage the piles of documents, explore various settlements, detail budgets and most importantly, collaborate with the entire team with a single click. And we built this from the ground up with industry best practices and the most advanced security and encryption technology available.  Be sure to check it out today!
SPECIAL OFFER:  Sign up for the FREE TRIAL here:  https://www.dtour.life/sign-up and then use special code "SUSAN20" to receive 20% off the cost of a subscription!
***************************************************************************************************
Get Kate Anthony's Ultimate Divorce Survival Program!  (use CODE "SUSAN" and get $50 off!!!)
THE DIVORCE SURVIVAL PROGRAM WILL HELP YOU:
Process the emotional fallout of your divorce so you don't go into mediation bitter or resentful
Understand the difference between litigation, mediation and Collaborative Divorce – and identify which is right for you
Tell your husband you want a divorce in a way that doesn't keep you stuck in a circular conversation for the next three months
Tell your kids you're getting a divorce in a way that won't completely break them
Understand how your divorce will impact your friends and family — and what conversations are appropriate to have with each
Create appropriate and healthy boundaries with your ex
Learn about dating after divorce and how that will affect you, your kids, and yes, your ex and more! 
All in a self-paced, self-guided program, housed on a password-protected e-learning platform for your privacy and security.
Get more information and JOIN here:  https://kateanthony.com/getting-divorced/  Don't forget to use Code "SUSAN" to get $50 off!
*********************************************
 THE DIVORCE & BEYOND MEMBERS ONLY COMMUNITY IS LIVE!!
Subscribe now for only $10 per month and take your Divorce & Beyond experience BEYOND!!
D & B Members Only will receive a number of benefits including:
Ad and Interruption Free Podcast Archive
BONUS Members Only Podcast Episodes monthly
Downloadable Worksheets, Spreadsheets and Other Forms 
Access to the "Ask Susan Anything" Forum where you can ask your questions and learn from the answers to others.
*****************************************************************************
CHECK OUT THE NEW RESOURCE PAGE ON THE WEBSITE WITH DIVORCE & BEYOND RECOMMENDED READING!  
Remember, knowledge is power and we have the books that will help educate you and support you in all areas of divorce including finance, parenting, healing, conflict resolution and MORE!  Check it out now on the website:  www.divorceandbeyondpod.com/beyond-reading
SPONSORSHIP OPPORTUNITIES AVAILABLE!
If you would like to sponsor the show please reach out to us at  divorceandbeyondpod@gmail.com for pricing and details!!!
*********************************************************************
Remember to follow Susan Guthrie and THE DIVORCE AND BEYOND PODCAST on social media for updates and inside tips and information:
Susan Guthrie on Facebook @susanguthrieesq
Susan on Instagram @susanguthrieesq
Susan on Twitter @guthrielaw
If you want to see the video version of the podcast episodes they are available on The Divorce & Beyond YouTube Channel!  Make sure to LIKE and SUBSCRIBE so you don't miss a single episode!
Finally, we'd really appreciate it if you would  give us a 5 Star Rating and tell us what you like about the show in a review - your feedback really matters to us! 
You can get in touch with Susan at divorceandbeyondpod@gmail.com. 
Don't forget to visit the webpage www.divorceandbeyondpod.com and sign up for the free NEWSLETTER to receive a special welcome video from Susan and more!!
*****************************************************************************
DISCLAIMER:  THE COMMENTARY AND OPINIONS AVAILABLE ON THIS PODCAST ARE FOR INFORMATIONAL AND ENTERTAINMENT PURPOSES ONLY AND NOT FOR THE PURPOSE OF PROVIDING LEGAL ADVICE.  YOU SHOULD CONTACT AN ATTORNEY IN YOUR STATE TO OBTAIN LEGAL ADVICE WITH RESPECT TO ANY PARTICULAR ISSUE OR PROBLEM