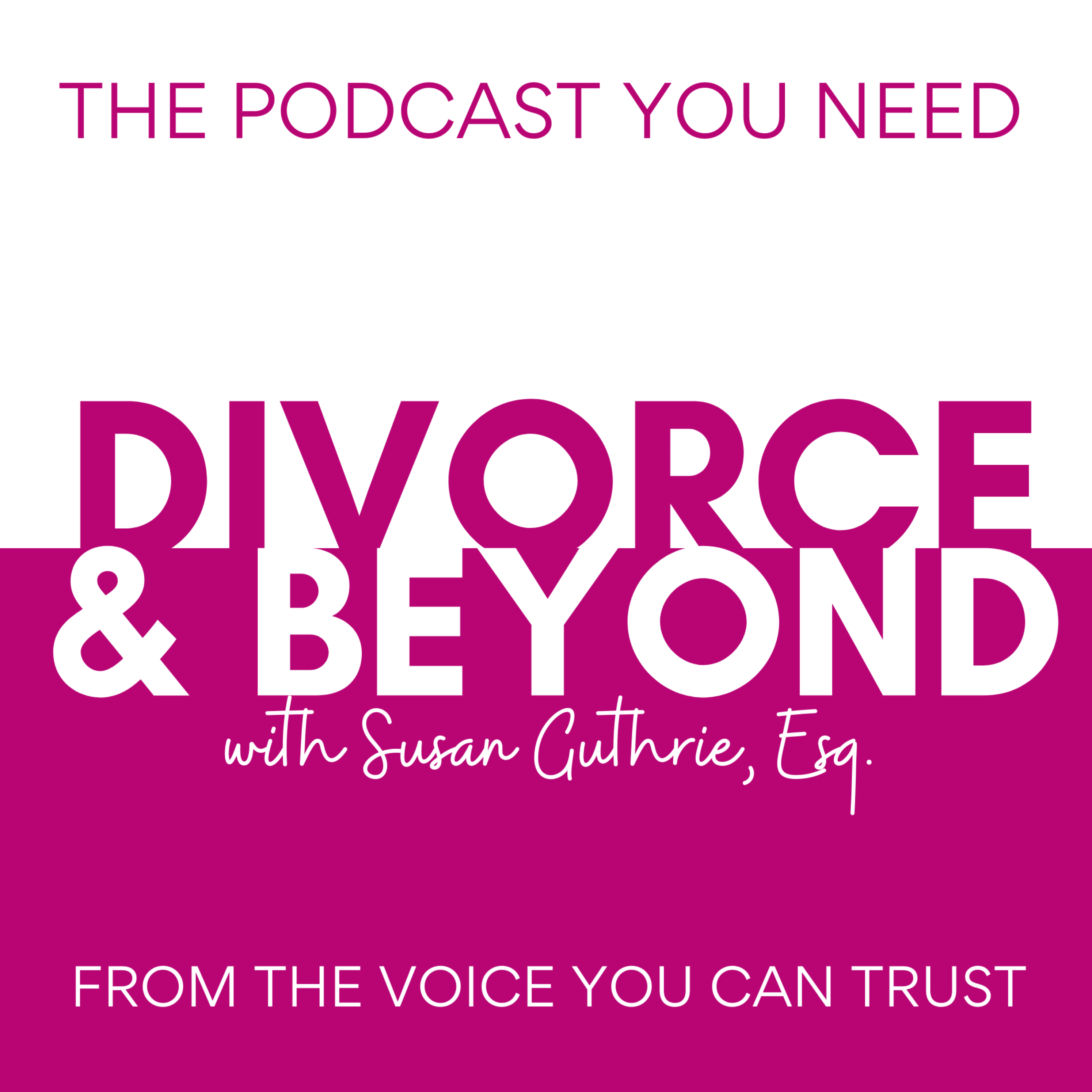 Nationally recognized family law attorney, mediator and award-winning podcaster, Susan Guthrie is at it again! After guiding countless numbers of people through the perilous world of divorce—and speaking to a podcast audience of over 4 million listeners—she's bringing you the "The Divorce & Beyond Podcast" to help you thrive in your life BEYOND divorce!
Episodes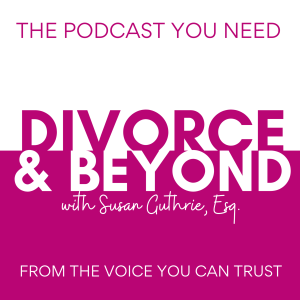 Friday Apr 08, 2022
Friday Apr 08, 2022
April is officially recognized as Month of the Military Child.  There are more than 1.6 million military children who face many challenges and unique experiences as a result of their parents' service.  In fact, the entire family is faced with challenges when a member serves in the military so we are re-releasing this wonderful episode from the archive with Kristina Kaiser to help shed light on the sacrifices that families and children make to support our military.  For more information on the Month of the Military Child visit:  https://www.defense.gov/Spotlights/Month-of-the-Military-Child/
We often remember to honor those who serve, and rightly so, but the family members, especially the spouses of our active military members also make sacrifices in the name of our country and deserve our thanks as well.  In honor of Military Family Appreciation Month, Kristina Kaiser, herself the former wife for almost 30 years of a Marine officer, gives an insider view into the many ways that our military families give of themselves, often to their detriment, while a family member is in active service.  Facing many moves and relocations, job limitations, unpaid volunteer work expectancies, co-parenting alone and more, the spouses and children of military personnel also can be affected by the military life.  Beyond that, divorce can be extra complicated when an active or former member of the military is involved.  The pensions, benefits and more that are one of the highlights of military careers are limited in some ways in being divided during the divorce process and the non-military spouse may end up receiving less than the might have if they were not dealing with military benefits.  Whether you are a member of the military, a military family member or one of those who owe them our thanks, this episode is a wonderful reminder of all they sacrifice for their country and why those thanks are deserved!
IMPORTANT NOTE:  This episode is meant to honor our military families and to give a glimpse of the hardships and sacrifices that they make for out country.  We mention some of the issues that can arise in a military divorce but if you are divorcing and military benefits are at issue, it is strongly advised that you seek counsel from an attorney in your area who is well-versed in military benefit in divorce.  
Charities mentioned in the episode: 
If you would like to donate to one of the charities mentioned here are the links:
Charities Supporting Military Members and their Families:
More Information About This Week's Special Guest: 
Kristina Kaiser Gehrki has more than 20 years of professional experience in communications and education and serves on the board of the USA Safe Patient Network. Her advocacy work to reduce medical errors and prescription drug harms began after the avoidable death of her teenage daughter, Natalie. Kristina has provided FDA testimony, authored several publications and an accredited akathisia course, and is a presenter at national and international conferences focused on communicating crisis and risk. 
Kristina previously worked for several nonprofits, corporate headquarters, and school districts. She developed marketing curriculum for the Virginia Commonwealth and was recognized for exemplary teaching and leadership as a scholar-in-residence and national fellow by the Association for Career and Technical Education. Kristina holds a bachelor's in journalism, a master's in strategic communication, and multiple teaching certifications.
SUSAN GUTHRIE, ESQ., the creator and host of The Divorce and Beyond Podcast, is nationally recognized as one of the top family law and divorce mediation attorneys in the country.  She is one of the Co-Chair's of the American Bar Association's DR Section Mediation Committee and is the Founder of Divorce in a Better Way which provides a curated selection of resources and information for those facing divorce and other life changes.  Susan has created a website of curated resources for those facing divorce.  Find out more at www.divorceinabetterway.com.
*****************************************************************************
THANK YOU TO OUR SPONSOR!
dtour.life is an easy to navigate system that finally brings much needed technology to an inefficient system. Spouses and family law professionals can now collect the endless data, manage the piles of documents, explore various settlements, detail budgets and most importantly, collaborate with the entire team with a single click. And we built this from the ground up with industry best practices and the most advanced security and encryption technology available.  Be sure to check it out today!
SPECIAL OFFER:  Sign up for the FREE TRIAL here:  https://www.dtour.life/sign-up and then use special code "SUSAN20" to receive 20% off the cost of a subscription!
 FAYR, the BEST Co-Parenting App on the Market!   What makes FAYR different?  At FAYR it's not just about efficiency and ease (though they love those).  They also help you create a better co-parenting experience by providing tools for: constructive communication, argument diffusion, and emotional support.  For information on our FAYR, the ONLY co-parenting app recommended by Susan Guthrie and The Divorce and Beyond Podcast,  visit their website at www.fayr.com.  Don't forget to use the code "SUSANG18" for 20% off!!
*****************************************************************************
SPONSORSHIP OPPORTUNITIES AVAILABLE!
If you would like to sponsor the show please reach out to us at  divorceandbeyondpod@gmail.com for pricing and details!!!
*********************************************************************
Remember to follow Susan Guthrie and THE DIVORCE AND BEYOND PODCAST on social media for updates and inside tips and information:
Susan Guthrie on Facebook
Susan on Instagram
Susan on Twitter
Divorce & Beyond Podcast on Instagram
Divorce & Beyond Podcast on Twitter
If you want to see the video version of the podcast episodes they are available on The Divorce & Beyond YouTube Channel!  Make sure to LIKE and SUBSCRIBE so you don't miss a single episode!
Finally, we'd really appreciate it if you would  give us a 5 Star Rating and tell us what you like about the show in a review - your feedback really matters to us! 
You can also get in touch with Susan at divorceandbeyondpod@gmail.com. She loves to hear from listeners and you might hear your comment or question on an upcoming episode!
Don't forget to visit the webpage www.divorceandbeyondpod.com and sign up for the free NEWSLETTER to receive a special welcome video from Susan and more!!
*****************************************************************************
DISCLAIMER:  THE COMMENTARY AND OPINIONS AVAILABLE ON THIS PODCAST ARE FOR INFORMATIONAL AND ENTERTAINMENT PURPOSES ONLY AND NOT FOR THE PURPOSE OF PROVIDING LEGAL ADVICE.  YOU SHOULD CONTACT AN ATTORNEY IN YOUR STATE TO OBTAIN LEGAL ADVICE WITH RESPECT TO ANY PARTICULAR ISSUE OR PROBLEM.