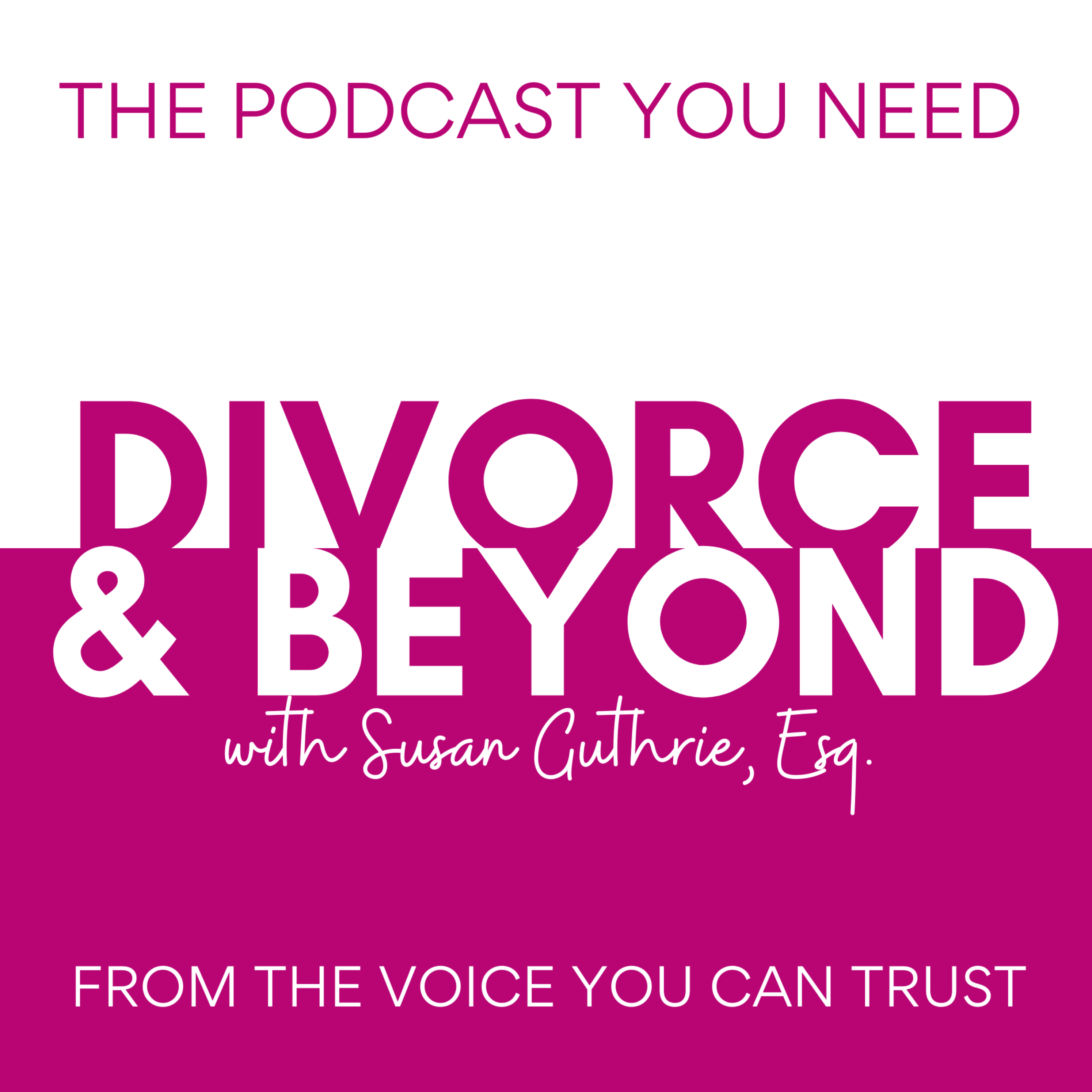 Nationally recognized family law attorney, mediator and award-winning podcaster, Susan Guthrie is at it again! After guiding countless numbers of people through the perilous world of divorce—and speaking to a podcast audience of over 4 million listeners—she's bringing you the "The Divorce & Beyond Podcast" to help you thrive in your life BEYOND divorce!
Episodes
Monday Jan 25, 2021
Monday Jan 25, 2021
In this very special episode, Susan Guthrie speaks with the leading high conflict divorce expert in the world, Attorney, Mediator and Therapist, Bill Eddy, who shares the fundamentals of his BIFF Method for managing communication with a high conflict ex!
Whether you are divorcing a narcissist or are embroiled in any difficult relationship, a hallmark of a high conflict case is the flood of hostile calls, emails and texts that are repeatedly sent by one or both of the parties.  This barrage often flows over into social media and into conversations with others.  The constant cycle of conflict is crazy-making and seemingly impossible to control but that was until Bill Eddy and his BIFF method arrived!  With the release of the third book in the BIFF series, "BIFF for Co-Parent Comunication," Bill Eddy helps you to regain a sense of control and peace that will benefit both your life and that of your children.  The BIFF method will help you to craft responses to the hostile communications from your ex that will defuse the conflict and remove you from the cycle.  Simply put, being Brief, Informative, Friendly and Firm (BIFF) is your key to freedom and there is simply no better guide out of the darkness of a high conflict relationship than Bill Eddy!
In this episode Bill shares:
The simple logic of being brief, informative, friendly and firm and why it works.
How YOU decide what kind of response you will receive from your ex.
Why you need to absolutely avoid the 3 A's.
A simple substitute for saying "I'm sorry . . ."
Why Bill says you should get Miranda Rights before you go on social media.
AND SO MUCH MORE!
This episode is absolute GOLD for anyone experiencing difficulty in communicating with a volatile ex so listen today and start taking your life back one BIFF at a time!
Get your copy of "BIFF for Co-Parents: Your Guide to Difficult Coparent Texts, Emails and Social Media Posts" here:  https://amzn.to/3omR1bz
More about this week's very special guest: 
Bill Eddy, LCSW, Esq.
Co-Founder | Chief Innovation Officer
San Diego, California
Bill Eddy is a lawyer, therapist, mediator, best-selling author, co-founder, and Chief Innovation Officer of the High Conflict Institute. He pioneered the High Conflict Personality Theory (HCP Theory) and has become an international expert on managing disputes involving high conflict personalities and personality disorders. He provides training to lawyers, judges, mediators, managers, human resource professionals, businesspersons, healthcare administrators, college administrators, homeowners' association managers, ombudspersons, law enforcement, therapists and others. He has been a speaker and trainer in over 30 U.S. states and 10 countries.
Visit the High Conflict Institute to find out more about Bill, the Institute's wealth of resources for managing high conflict relationships and more of Bill's books!  https://www.highconflictinstitute.com/
**********************
SUSAN GUTHRIE, ESQ., the creator and host of The Divorce and Beyond Podcast, is nationally recognized as one of the top family law and divorce mediation attorneys in the country.  She is one of the Co-Chair's of the American Bar Association's DR Section Mediation Committee and is the Founder of Divorce in a Better Way which provides a curated selection of resources and information for those facing divorce and other life changes.  Susan has created a website of curated resources for those facing divorce.  Find out more at www.divorceinabetterway.com.
*****************************************************************************
*********************************************
THANK YOU TO OUR SPONSOR!
dtour.life is an easy to navigate system that finally brings much needed technology to an inefficient system. Spouses and family law professionals can now collect the endless data, manage the piles of documents, explore various settlements, detail budgets and most importantly, collaborate with the entire team with a single click. And we built this from the ground up with industry best practices and the most advanced security and encryption technology available.  Be sure to check it out today!
SPECIAL OFFER:  Sign up for the FREE TRIAL here:  https://www.dtour.life/sign-up and then use special code "SUSAN20" to receive 20% off the cost of a subscription!
***************************************
SIGN UP NOW FOR EARLY ACCESS TO THE DIVORCE & BEYOND MEMBERS ONLY COMMUNITY!
Those who register for early access will be able to lock in membership at only $5 per month and one lucky early access member will receive a FREE year of membership!
D & B Members Only will receive a number of benefits including:
Ad and Interruption Free Podcast Archive
BONUS Members Only Podcast Episodes monthly
Downloadable Worksheets, Spreadsheets and Other Forms 
Access to the "Ask Susan Anything" Forum where you can ask your questions and learn from the answers to others.
AND MUCH MORE - SIGN UP FOR YOUR EARLY ACCESS NOW!
https://lp.constantcontactpages.com/su/3MfSy98/earlyaccess
*****************************************************************************
SPONSORSHIP OPPORTUNITIES AVAILABLE!
If you would like to sponsor the show please reach out to us at  divorceandbeyondpod@gmail.com for pricing and details!!!
*********************************************************************
Remember to follow Susan Guthrie and THE DIVORCE AND BEYOND PODCAST on social media for updates and inside tips and information:
Susan Guthrie on Facebook @susanguthrieesq
Susan on Instagram @susanguthrieesq
Susan on Twitter @guthrielaw
Divorce & Beyond Podcast on Instagram @divorceandbeyond
Divorce & Beyond Podcast on Twitter @DivorceBeyond
If you want to see the video version of the podcast episodes they are available on The Divorce & Beyond YouTube Channel!  Make sure to LIKE and SUBSCRIBE so you don't miss a single episode!
Finally, we'd really appreciate it if you would  give us a 5 Star Rating and tell us what you like about the show in a review - your feedback really matters to us! 
You can get in touch with Susan at divorceandbeyondpod@gmail.com. 
Don't forget to visit the webpage www.divorceandbeyondpod.com and sign up for the free NEWSLETTER to receive a special welcome video from Susan and more!!
*****************************************************************************
DISCLAIMER:  THE COMMENTARY AND OPINIONS AVAILABLE ON THIS PODCAST ARE FOR INFORMATIONAL AND ENTERTAINMENT PURPOSES ONLY AND NOT FOR THE PURPOSE OF PROVIDING LEGAL ADVICE.  YOU SHOULD CONTACT AN ATTORNEY IN YOUR STATE TO OBTAIN LEGAL ADVICE WITH RESPECT TO ANY PARTICULAR ISSUE OR PROBLEM