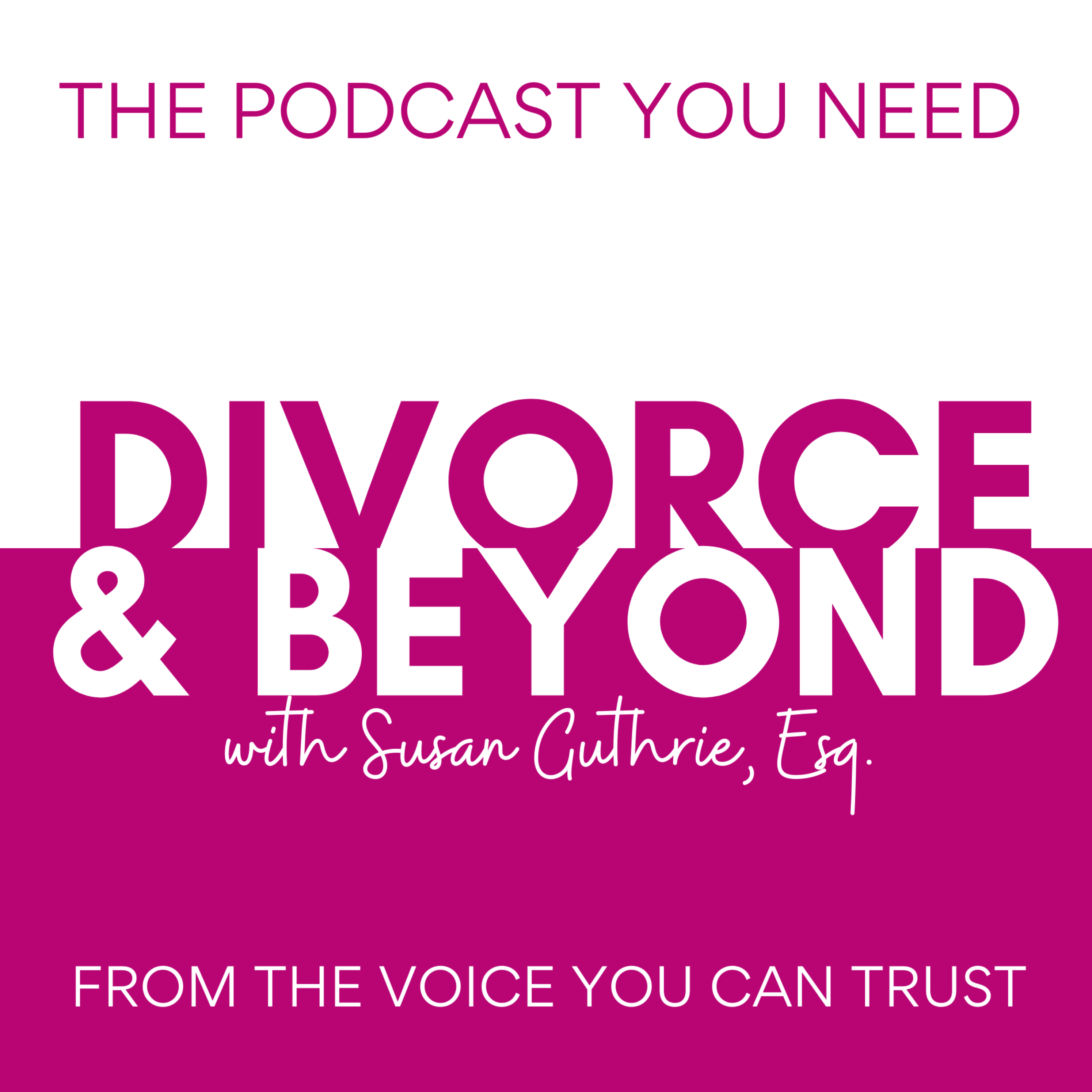 Nationally recognized family law attorney, mediator and award-winning podcaster, Susan Guthrie is at it again! After guiding countless numbers of people through the perilous world of divorce—and speaking to a podcast audience of over 4 million listeners—she's bringing you the "The Divorce & Beyond Podcast" to help you thrive in your life BEYOND divorce!
Episodes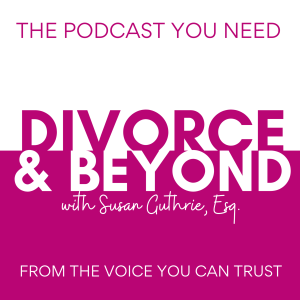 Monday May 30, 2022
Monday May 30, 2022
This week on the podcast, Susan is joined by America's Most Trusted Psychologist, Dr. Elizabeth Lombardo, who shares her expertise in helping you silence that inner critic so that you can get out the Red Zone of stress and to thrive in your Divorce and BEYOND!
Would it surprise you to know that well-known celebrities and athletes like superstar, Shaquille O'Neill, suffer from self-doubt? That they have a very loud and negative inner critic just as you do?  Well they do (they are human after all) and Dr. Elizabeth Lombardo is their go-to psychologist who helps them to flip that inner critic to a positive voice to find success.  In fact, Shaq calls her his "Head Coach for Happiness" and although happiness may seem a far reach right now, Dr. E has tips to help you find your way too.
Dr. E is a frequent guest on your favorite morning shows (Think Good Morning America, Today and The Doctors) and a sought after keynote and motivational speaker for Fortune 500 businesses like Coca-Cola and  Westinghouse so we are thrilled that she was able to take the time to join us on the show this week to share her wisdom with you because ultimately, don't we all just want a Head Coach for Happiness?!
Take Dr. E's Free Red Zone Quiz and find out if you are seeing RED!  https://www.truesuccess.co/quiz
About this week's special guest:
Dr. Elizabeth Lombardo is the authority on how to crush your inner critic so that you can live a life of purpose, fulfillment and True Success™.
She's America's most trusted celebrity psychologist with over 100 national media interviews including The Today Show, Good Morning America, Dr. Oz, Fox Business News, The Wall Street Journal, Forbes, and countless others.
Considered Shaquille O'Neal's "Head Coach for Happiness" Dr. Elizabeth Lombardo is on a mission to help you recognize your REAL self worth, so you can live the life you've always dreamed of.
Dr. E has personally helped celebrities and high performing executives, entrepreneurs and athletes crush their inner critic and access untapped, practically limitless, reserves of potential.
Through her inspiring writings, on-line training, passionate keynote speeches and private one-on-one work, Dr. E is on a mission to change the global conversation around ICS (Inner Critic Syndrome) FOR GOOD… so we can all live happier, fuller and more connected lives.
Get the Book:  Get Out of the Red Zone: Transform Your Stress and Optimize True Success™ 
Link:  https://amzn.to/3Gw6H6H
Connect With Dr. E Personally:
Visit Dr. E's Website:  www.elizabethlombardo.com
**********************
THANK YOU TO OUR SPONSOR:
Thriving in divorce and beyond means not having to worry about the safety of your children when it comes to co-parenting. With alcohol abuse on the rise, many co-parents are turning to the system committed to providing proof, protection, and peace of mind. Soberlink's alcohol monitoring system is the most convenient, reliable, and reasonable way for a parent to provide evidence that they are not drinking during parenting time. Soberlink's real-time alerts, facial recognition, and tamper detection ensure the integrity of each test, so you can be confident your kids are with a sober parent. With Soberlink, judges rest assured that your child is safe, attorneys get court-admissible evidence of sobriety, and both parents have empowerment and peace of mind. Pull back the curtain on the mysteries of parenting time and trust The Experts in Remote Alcohol Monitoring Technology™ to keep you informed and your kids safe and secure. To download the addiction and children resource page that I developed with Soberlink, visit www.Soberlink.com/Susan  
*******************************************************************
MEET OUR CREATOR AND HOST:
SUSAN GUTHRIE®, ESQ., the creator and host of The Divorce and Beyond® Podcast, is nationally recognized as one of the top family law and divorce mediation attorneys in the country.  Susan is a member of the Executive Council of the American Bar Association Section of Dispute Resolution and is the Founder of Divorce in a Better Way® which provides a curated selection of resources and information for those facing divorce and other life changes. 
Internationally renowned as one of the leading experts in online mediation, Susan created her Learn to Mediate Online® program and has trained more than 18,000 professionals in how to transition their practice online.  Susan recently partnered with legal and mediation legend, Forrest "Woody" Mosten to create the Mosten Guthrie Academy which provides gold standard, fully online training for mediation and collaborative professionals at all stages of their career.  
*****************************************************************************
SPONSORSHIP OPPORTUNITIES AVAILABLE!
If you would like to sponsor the show please reach out to us at  divorceandbeyondpod@gmail.com for pricing and details!!!
*********************************************************************
Remember to follow Susan Guthrie and THE DIVORCE AND BEYOND PODCAST on social media for updates and inside tips and information:
Susan Guthrie on Facebook @susanguthrieesq
Susan on Instagram @susanguthrieesq
Susan on Twitter @guthrielaw
If you want to see the video version of the podcast episodes they are available on The Divorce & Beyond YouTube Channel!  Make sure to LIKE and SUBSCRIBE so you don't miss a single episode!
Finally, we'd really appreciate it if you would  give us a 5 Star Rating and tell us what you like about the show in a review - your feedback really matters to us! 
You can get in touch with Susan at divorceandbeyondpod@gmail.com. 
Don't forget to visit the webpage www.divorceandbeyondpod.com and sign up for the free NEWSLETTER to receive a special welcome video from Susan and more!!
*****************************************************************************
DISCLAIMER:  THE COMMENTARY AND OPINIONS AVAILABLE ON THIS PODCAST ARE FOR INFORMATIONAL AND ENTERTAINMENT PURPOSES ONLY AND NOT FOR THE PURPOSE OF PROVIDING LEGAL ADVICE.  YOU SHOULD CONTACT AN ATTORNEY IN YOUR STATE TO OBTAIN LEGAL ADVICE WITH RESPECT TO ANY PARTICULAR ISSUE OR PROBLEM
Comments
(1)
To leave or reply to comments, please download free Podbean or