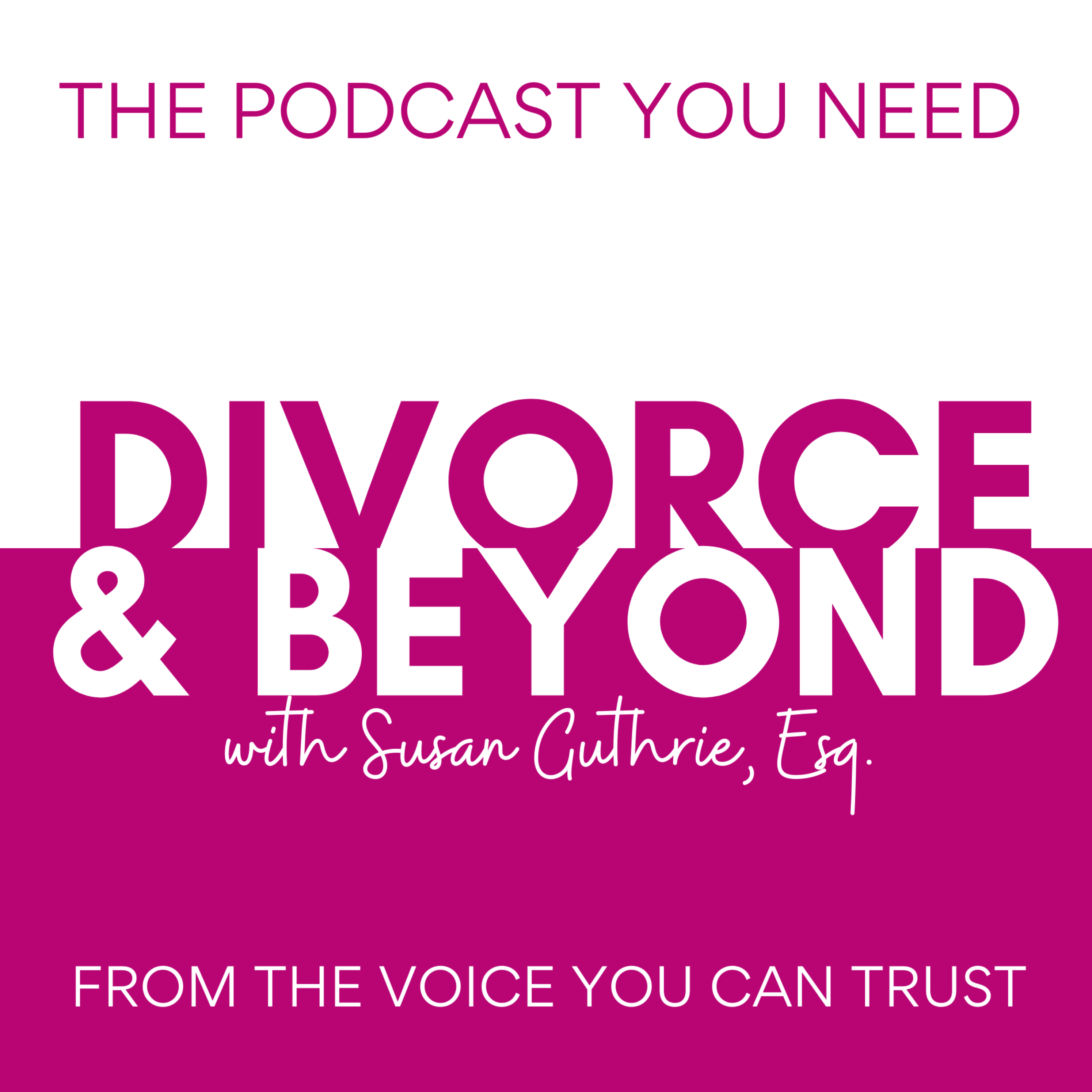 Nationally recognized family law attorney, mediator and award-winning podcaster, Susan Guthrie is at it again! After guiding countless numbers of people through the perilous world of divorce—and speaking to a podcast audience of over 4 million listeners—she's bringing you the "The Divorce & Beyond Podcast" to help you thrive in your life BEYOND divorce!
Episodes
Monday Nov 16, 2020
Monday Nov 16, 2020
On this episode, America's Favorite Parenting Expert, Christina McGhee returns to talk with Susan Guthrie about the many ways that co-parents can make the holidays happier and less stressful for their kids as we enter this 2020 Holiday season!
So often the "happiest time of year" can actually be one of the most stressful and scary.  Throw in divorce, separation and a pandemic, and the 2020 holiday season presents even more issues for the children whose parents may be struggling right now.  Thankfully, leading Parenting Expert, Christina McGhee, joins Susan again to give some practical and actionable advice and tips for managing the holidays in two households!  
Some topics Christina covers in this episode:
How to prepare to talk about the holidays with your co-parent
Learn what is most important to kids about the holidays
How to handle presents over the holidays
What to do about extended family and their expectations
How to take the pressure off the kids at their holiday events
And much, much more!
Here are some additional articles from Christina that might be of assistance:
Handling Holiday Hassles With An Ex Who Hates You
https://divorceandchildren.com/2017/12/handling-holiday-hassles-with-an-ex-who-hates-you/
Gift Giving Tips for Divorced Parents
https://divorceandchildren.com/2016/12/gift-giving-tips-for-divorced-parents/
Radical Acceptance: How parents dealing with divorce or separation can stop being miserable during the holidays
https://divorceandchildren.com/2018/12/how-parents-dealing-with-divorce-or-separation-can-stop-being-miserable-during-the-holidays/
6 Things Children of Divorce Want From Their Parents This Holiday Season
https://divorceandchildren.com/2014/12/children-and-divorce-holiday-tips/
10 Tips for Handling the Holidays When You Are Divorced
https://divorceandchildren.com/2008/12/10-tips-for-handling-the-holidays-when-you-are-divorced/
***SPECIAL SERIES OF EPISODES on DIVORCE AND PARENTING!  Susan is thrilled to have Christina McGhee returning monthly to touch on several of the hot topics in parenting and divorce!  We will be discussing how to co-parent with a high conflict ex, how to handle the holidays and MUCH MORE so stay tuned.  CHRISTINA WILL ALSO ANSWER MORE QUESTIONS SENT IN BY LISTENERS SO SEND AN EMAIL TO divorceandbeyodpod@gmail.com  or by DM to @divorceandbeyond on Instagram with your question and hear the answer on a future episode!***
For More Information on This Week's Special Guest:  Christina McGhee  is a speaker and divorce parenting expert who believes divorce doesn't have to equal devastation for families. While splitting up is undeniably hard, with the right kind of information and support, she thinks parents can be children's absolute best resource as life changes.  

As a coach with 20+ years of experience, Christina is dedicated to providing parents with the tools and practical support they need to get it right for their kids. She is also the author of the highly acclaimed book, Parenting Apart: How separated and divorced parents can raise happy and secure kids.


As a child of divorce and as a bonus mom (aka step-mom), Christina gets plenty of opportunities to practice what she preaches.  Together she and her husband have four "adultish" children (2 bonus, 2 bio), an ever-growing community of rescue dogs/cats, and an obscene number of chickens.

You can find out more about her at divorceandchildren.com
*** Christina's Special Gift for Listeners:  Talking to Kids About Divorce:  How to Handle Hard Conversations can be accessed here: https://divorceandchildren.com/just-for-you***
The film Split: A Divorce Survival Guide for Kids (and their Parents) can be viewed here:  https://www.brunofilms.com/split. 
Split is a deeply personal film made in collaboration with children aged 6-12, exploring the often frightening and always life altering separation of their parents.
Split gives us the children's perspective on divorce... no adults, no experts… just kids speaking the powerful truth of what is on their minds and in their hearts. Their wisdom, candor, and humor will give courage to other children, and encourage parents to make better choices as they move through divorce.
*******************************************************************************************************
SUSAN GUTHRIE, ESQ., the creator and host of The Divorce and Beyond Podcast, is nationally recognized as one of the top family law and divorce mediation attorneys in the country.  She is one of the Co-Chair's of the American Bar Association's DR Section Mediation Committee and is the Founder of Divorce in a Better Way which provides a curated selection of resources and information for those facing divorce and other life changes.  Susan has created a website of curated resources for those facing divorce.  Find out more at www.divorceinabetterway.com.
*****************************************************************
THANK YOU TO OUR SPONSORS!!
As the Experts in Remote Alcohol Monitoring Technology, Soberlink combines a breathalyzer with wireless connectivity and is the only system with facial recognition, tamper detection, and Advanced Reporting™. The real-time system reduces litigation, fosters peace of mind, and ensures child safety. 
SPECIAL OFFER:  For a limited time, get an exclusive $50 off your device by emailing info@soberlink.com and mentioning Divorce and Beyond.
**************************************************************************
 FAYR, the BEST Co-Parenting App on the Market!   What makes FAYR different?  At FAYR it's not just about efficiency and ease (though they love those).  They also help you create a better co-parenting experience by providing tools for: constructive communication, argument diffusion, and emotional support.  For information on our FAYR, the ONLY co-parenting app recommended by Susan Guthrie and The Divorce and Beyond Podcast,  visit their website at www.fayr.com.  Don't forget to use the code "SUSANG18" for 20% off!!
*****************************************************************************
SPONSORSHIP OPPORTUNITIES AVAILABLE!
If you would like to sponsor the show please reach out to us at  divorceandbeyondpod@gmail.com for pricing and details!!!
*********************************************************************
Remember to follow Susan Guthrie and THE DIVORCE AND BEYOND PODCAST on social media for updates and inside tips and information:
Susan Guthrie on Facebook
Susan on Instagram
Susan on Twitter
Divorce & Beyond Podcast on Instagram
Divorce & Beyond Podcast on Twitter
If you want to see the video version of the podcast episodes they are available on The Divorce & Beyond YouTube Channel!  Make sure to LIKE and SUBSCRIBE so you don't miss a single episode!
Finally, we'd really appreciate it if you would  give us a 5 Star Rating and tell us what you like about the show in a review - your feedback really matters to us! 
You can get in touch with Susan at divorceandbeyondpod@gmail.com. 
Don't forget to visit the webpage www.divorceandbeyondpod.com and sign up for the free NEWSLETTER to receive a special welcome video from Susan and more!!
*****************************************************************************
DISCLAIMER:  THE COMMENTARY AND OPINIONS AVAILABLE ON THIS PODCAST ARE FOR INFORMATIONAL AND ENTERTAINMENT PURPOSES ONLY AND NOT FOR THE PURPOSE OF PROVIDING LEGAL ADVICE.  YOU SHOULD CONTACT AN ATTORNEY IN YOUR STATE TO OBTAIN LEGAL ADVICE WITH RESPECT TO ANY PARTICULAR ISSUE OR PROBLEM