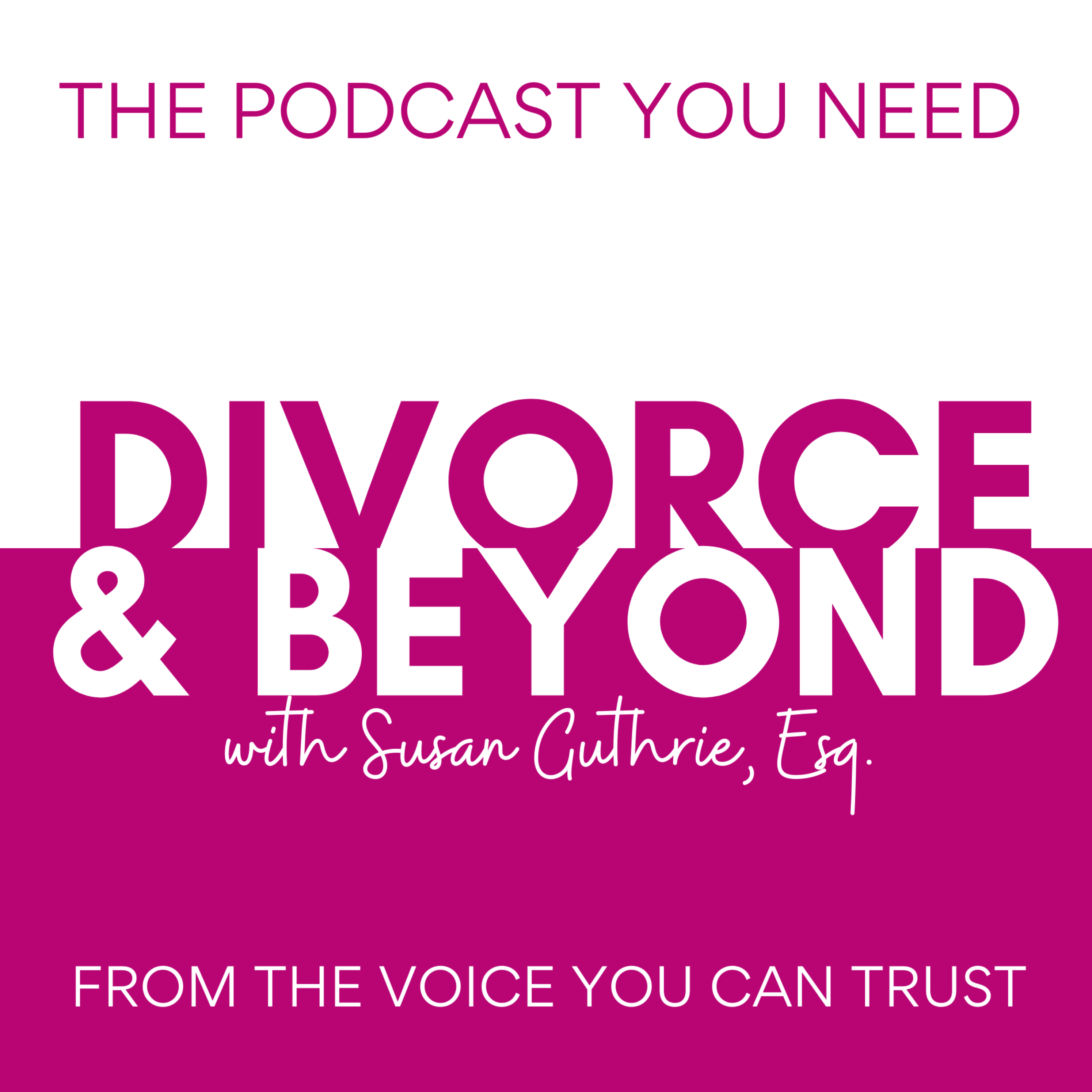 Nationally recognized family law attorney, mediator and award-winning podcaster, Susan Guthrie is at it again! After guiding countless numbers of people through the perilous world of divorce—and speaking to a podcast audience of over 4 million listeners—she's bringing you the "The Divorce & Beyond Podcast" to help you thrive in your life BEYOND divorce!
Episodes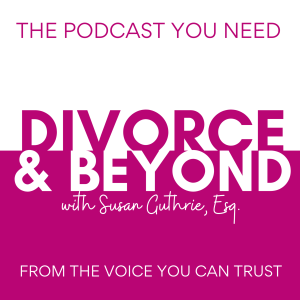 Monday Nov 13, 2023
Monday Nov 13, 2023
This week on Divorce & Beyond with Susan Guthrie, we're bringing back an episode from the archives that featured invaluable insights from Christina McGhee, America's Favorite Parenting Expert.  In this episode, Christina shares her wisdom on how co-parents can create a holiday season that's less stressful and more joyful for their children.
This topic is especially relevant during the holiday season. As the festive lights twinkle and the world seems to sparkle with the holiday spirit, we know this season can also bring a mix of emotions and stress for co-parents.
Whether it's your first holiday after a separation or you've been navigating this season for years, Christina's practical and actionable advice is a gift that keeps on giving. She covers everything from how to communicate with your co-parent about the holidays to managing gifts and family expectations and ensuring your children feel the joy of the season.

So, settle in and revisit these essential strategies and tips with Christina in this special Replay episode.
****************************************
About this week's special guest: Christina McGhee
Christina McGhee, MSW is an internationally recognized divorce parenting expert, speaker, and author. While splitting up is undeniably hard, Christina believes divorce doesn't have to equal devastation for families. She feels with the right kind of information and support, parents have the ability to be a child's absolute best resource when families change. 
Throughout her career, she has educated both parents and professionals on how to minimize the impact of divorce on children. In her book, PARENTING APART: How separated and divorced parents can raise happy and secure kids,  Christina offers parents useful strategies for dealing with the "real-life" everyday challenges of coparenting.
One of her core beliefs is that divorce doesn't make you a bad parent, it makes you a parent going through a bad time.  Because she is passionate about helping parents get through that bad time, Christina also maintains an active coaching practice that allows her to work with Moms and Dads all over the world.
Most recently, Christina launched an online program, Coparenting with Purpose. Designed to provide moms and dads with an easy, convenient way to access critical information, it's filled with practical tools and solutions for managing the most common coparenting problems.  LISTENERS OF DIVORCE & BEYOND GET $100 OFF THE PROGRAM FEE WITH CODE "SUSAN" - Access here: https://divorceandchildren.com/purpose 
Additionally, she has contributed to several other media projects as a featured expert, a content consultant, and a writer/producer. Currently, she serves as a consulting producer and subject matter expert for the documentaries SPLIT: A film for kids and their parents and Split UP: The Teen Years, two compelling films that let kids know they're not alone and normalize the many feelings and experiences children and teens encounter when parents part.
Over the years, she has been featured on television, radio, podcasts, and in print around the US and abroad. A few places you may have seen her are TODAY Parents, the BBC, The Times, and Parents Magazine.
Married for over twenty-seven years, Christina and her husband live outside of Houston, Texas. As a mom of four (two bonus and two bio) children, she has acquired extensive on-the-job training as a chauffeur, negotiator, short-order cook, scheduler extraordinaire, and finder of all things lost. To find out more,  check her out at divorceandchildren.com
Access Christina's Co-Parent Resource Guide: http://www.divorceandchildren.com/
Christina on Facebook: https://www.facebook.com/divorceandchildren
Christina on Instagram: https://www.instagram.com/divorceandchildren/
Christina on LinkedIn: https://www.linkedin.com/in/christinamcghee
*****************************************

Episodes and Resources mentioned in this episode:

The Divorce & Beyond website is a great place to visit if you want more support and information as you move through your divorce and beyond.  We have links to all the latest episodes, show notes, and the most recent episode. Plus, you can sign up for the weekly newsletter, freebies, and downloadable resources.  Visit DivorceandBeyondPod.com today! 
*****************************************
Your divorce, your way. 
Say hello to an easier, kinder, and less expensive divorce. 
They can handle almost every divorce without a court for thousands less than hiring a lawyer. 
Easy, quick online divorce process 

We review, file, and serve for you 

Expert legal and financial help as you go 
Get more information, resources, and support at hellodivorce.com/beyond and receive $100 off your service with the code BEYOND!  Visit hellodivorce.com/beyond for $100 OFF!
________________________
THE ULTIMATE HIGH CONFLICT DIVORCE SUMMIT
Don't miss The Ultimate High Conflict Divorce Summit, hosted by the esteemed Karen McMahon of Journey Beyond Divorce! There's a wonderful lineup of many experts and educators for the event, including some of our favorite Divorce and Beyond guests, including Kate Anthony, Beth McCormack, and Bill Eddy, among many others.  I'll also be speaking; my topic is Strategic Harmony: A Blueprint for Negotiating with High-Conflict Personalities and Protecting Your Well-Being. Join us for this free event from Monday, November 13th through Friday, November 17th.  
Claim your free seat for The Ultimate High Conflict Divorce Summit today. 
*********************************************************************
SPONSORSHIP OPPORTUNITIES ARE AVAILABLE!  https://divorcebeyond.com/Sponsorship-Info
*******************************************************************
MEET OUR CREATOR AND HOST:
SUSAN GUTHRIE®, ESQ., the creator and host of The Divorce and Beyond® Podcast, is nationally recognized as one of the top family law and divorce mediation attorneys in the country.  Susan is the Vice Chair of the American Bar Association Section of Dispute Resolution and is a sought-after keynote speaker, business and practice consultant, coach and trainer. You can find out more about Susan and her services here:  https://neon.page/susanguthrie
Internationally renowned as one of the leading experts in online mediation, Susan created her Learn to Mediate Online® program and has trained more than 25,000 professionals in how to transition their practice online.  Susan recently partnered with legal and mediation legend, Forrest "Woody" Mosten to create the Mosten Guthrie Academy which provides gold-standard, fully online training for mediation and collaborative professionals at all stages of their careers.  
Follow Susan Guthrie and THE DIVORCE AND BEYOND PODCAST on social media for updates and inside tips and information:
Susan on LinkedIn: https://www.linkedin.com/in/susaneguthrie/
Susan on Instagram @susanguthrieesq
*********************************************************************
We'd really appreciate it if you would give us a 5 Star Rating and tell us what you like about the show in a review - your feedback really matters to us! 
You can get in touch with Susan at divorceandbeyondpod@gmail.com. 
Don't forget to visit the webpage www.divorceandbeyondpod.com and sign up for the free NEWSLETTER to receive a special welcome video from Susan and more!!
*********************************************************************
DISCLAIMER:  THE COMMENTARY AND OPINIONS AVAILABLE ON THIS PODCAST ARE FOR INFORMATIONAL AND ENTERTAINMENT PURPOSES ONLY AND NOT FOR THE PURPOSE OF PROVIDING LEGAL ADVICE.  YOU SHOULD CONTACT AN ATTORNEY IN YOUR STATE TO OBTAIN LEGAL ADVICE WITH RESPECT TO ANY PARTICULAR ISSUE OR PROBLEM.