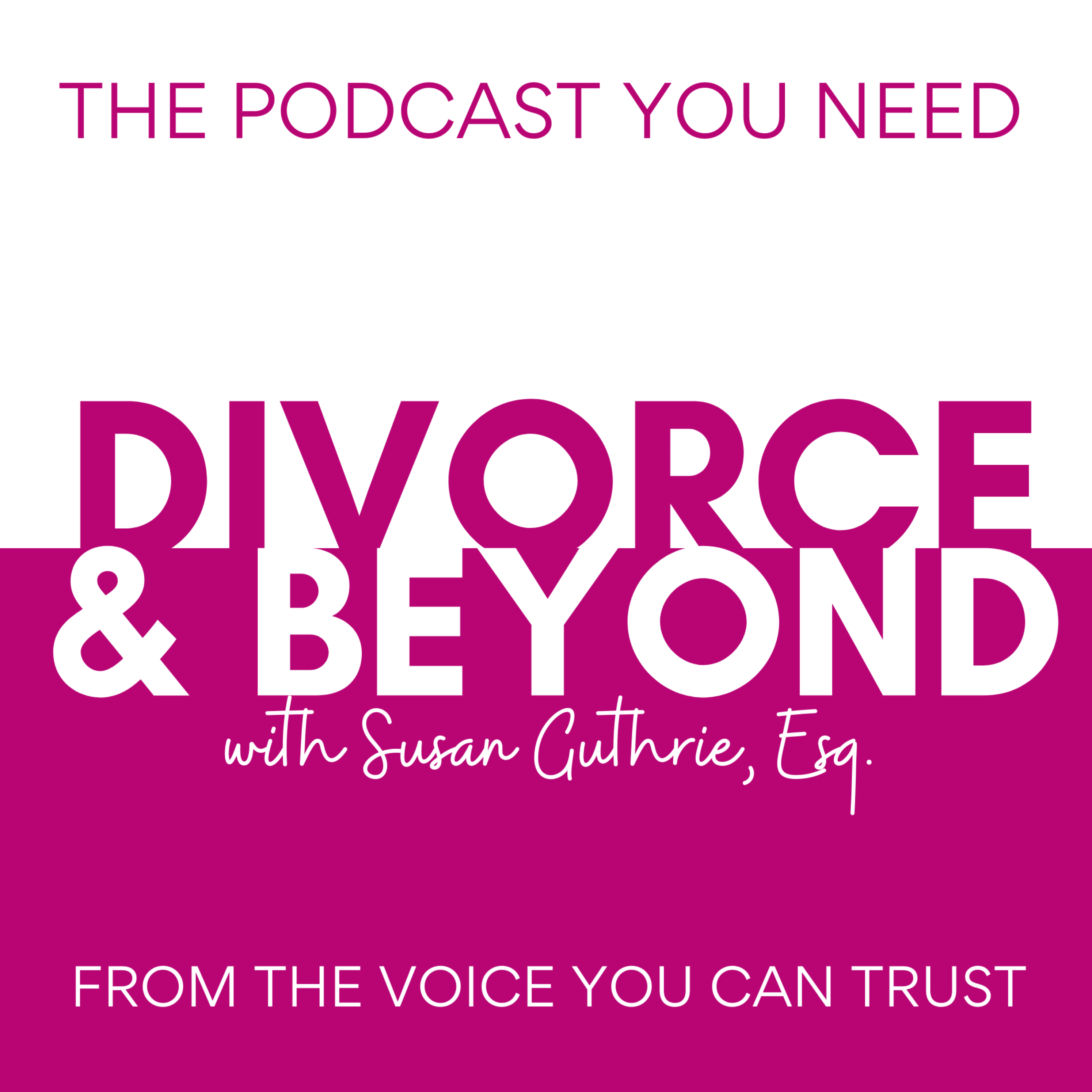 Nationally recognized family law attorney, mediator and award-winning podcaster, Susan Guthrie is at it again! After guiding countless numbers of people through the perilous world of divorce—and speaking to a podcast audience of over 4 million listeners—she's bringing you the "The Divorce & Beyond Podcast" to help you thrive in your life BEYOND divorce!
Episodes
Monday Dec 07, 2020
Monday Dec 07, 2020
In this episode Susan Guthrie speaks with the creator of The Heart Hackers Club, Amy Chan, about the science and psychology of a broken heart and how to heal faster with some simple exercises and information.
She's not called the Chief Heart Hacker for nothing!  Amy Chan is a nationally renowned expert on the science of healing broken hearts and just released her instant best-seller, Breakup Bootcamp: The Science of Rewiring Your Heart.  We have all been there after a break up.  That seemingly never-ending time of emotional pain and loss where we feel that we will never recover.  Well guess what?  There are psychological and biological reasons that we feel that way and Amy knows them all and shares them with us.  Not only that, Amy has her tried and true exercises for helping you to recover more easily and faster as you hack your brain and help to rewire those circuits of pain.  
In this episode you will learn:
Why losing a significant other can feel like a physical pain.
Why you need to feel the feels in order to recover from the heartbreak.
The reasons why your ex is like a "drug dealer."
How "thinking traps" and cognitive distortions" keeps us lost in loss.
Why "bash the ex" sessions with friends and family can be counter-productive.
AND MOST IMPORTANTLY, Amy shares three of her signature exercises to help you work through the pain, rewire your brain and emerge healthy, happy and ready for love again.  In the audio podcast Amy will walk you through how to "Reframe Your Story" in order to separate fact from fiction.  Then, in a special extended version of the YouTube video of the show, Amy takes you through her "Pie Exercise" and the "Stop Sign Exercise."  These exercises are your path to recovery so don't miss them.  You can access the YouTube video version here:  https://youtu.be/n7uNWQmfYi4
Just last week, Amy debuted her book, Breakup Bootcamp: The Science of Rewiring Your Heart on Good Morning America.  Be sure to check out her interview here:  https://www.youtube.com/watch?v=USVezvcQ1YU
Get your copy here:  https://amzn.to/2VMUDaF or at bookshop.org.
More Information about This Week's Special Guest:  Amy Chan is the Founder of Renew Breakup Bootcamp, a retreat that takes a scientific and spiritual approach to healing the heart. She is also the Editor-in-Chief of Heart Hackers Club - an online magazine that focuses on the psychology behind love, lust and desire. The Observer calls her  "A relationship expert whose work is like that of a scientific Carrie Bradshaw" and her company has been featured across national media including Good Morning America, Vogue, Glamour, Nightline and the front page of The New York Times. Her book, Breakup Bootcamp - The Science of Rewiring Your Heart, published by Harper Collins, was released on December 1, 2020.
Follow Amy on social media:  
Instagram Handle: www.instagram.com/missamychan / www.instagram.com/renewyourheart
LinkedIn URL: https://www.linkedin.com/in/missamychan/

Twitter Handle: www.twitter.com/missamychan
 
Facebook: www.facebook.com/renewyourheart
**********************
SUSAN GUTHRIE, ESQ., the creator and host of The Divorce and Beyond Podcast, is nationally recognized as one of the top family law and divorce mediation attorneys in the country.  She is one of the Co-Chair's of the American Bar Association's DR Section Mediation Committee and is the Founder of Divorce in a Better Way which provides a curated selection of resources and information for those facing divorce and other life changes.  Susan has created a website of curated resources for those facing divorce.  Find out more at www.divorceinabetterway.com.
*****************************************************************************
*********************************************
THANK YOU TO OUR SPONSOR!
dtour.life is an easy to navigate system that finally brings much needed technology to an inefficient system. Spouses and family law professionals can now collect the endless data, manage the piles of documents, explore various settlements, detail budgets and most importantly, collaborate with the entire team with a single click. And we built this from the ground up with industry best practices and the most advanced security and encryption technology available.  Be sure to check it out today!
SPECIAL OFFER:  Sign up for the FREE TRIAL here:  https://www.dtour.life/sign-up and then use special code "SUSAN20" to receive 20% off the cost of a subscription!
 FAYR, the BEST Co-Parenting App on the Market!   What makes FAYR different?  At FAYR it's not just about efficiency and ease (though they love those).  They also help you create a better co-parenting experience by providing tools for: constructive communication, argument diffusion, and emotional support.  For information on our FAYR, the ONLY co-parenting app recommended by Susan Guthrie and The Divorce and Beyond Podcast,  visit their website at www.fayr.com.  Don't forget to use the code "SUSANG18" for 20% off!!
*****************************************************************************
SPONSORSHIP OPPORTUNITIES AVAILABLE!
If you would like to sponsor the show please reach out to us at  divorceandbeyondpod@gmail.com for pricing and details!!!
*********************************************************************
Remember to follow Susan Guthrie and THE DIVORCE AND BEYOND PODCAST on social media for updates and inside tips and information:
Susan Guthrie on Facebook
Susan on Instagram
Susan on Twitter
Divorce & Beyond Podcast on Instagram
Divorce & Beyond Podcast on Twitter
If you want to see the video version of the podcast episodes they are available on The Divorce & Beyond YouTube Channel!  Make sure to LIKE and SUBSCRIBE so you don't miss a single episode!
Finally, we'd really appreciate it if you would  give us a 5 Star Rating and tell us what you like about the show in a review - your feedback really matters to us! 
You can also get in touch with Susan at divorceandbeyondpod@gmail.com. She loves to hear from listeners and you might hear your comment or question on an upcoming episode!
Don't forget to visit the webpage www.divorceandbeyondpod.com and sign up for the free NEWSLETTER to receive a special welcome video from Susan and more!!
*****************************************************************************
DISCLAIMER:  THE COMMENTARY AND OPINIONS AVAILABLE ON THIS PODCAST ARE FOR INFORMATIONAL AND ENTERTAINMENT PURPOSES ONLY AND NOT FOR THE PURPOSE OF PROVIDING LEGAL ADVICE.  YOU SHOULD CONTACT AN ATTORNEY IN YOUR STATE TO OBTAIN LEGAL ADVICE WITH RESPECT TO ANY PARTICULAR ISSUE OR PROBLEM.