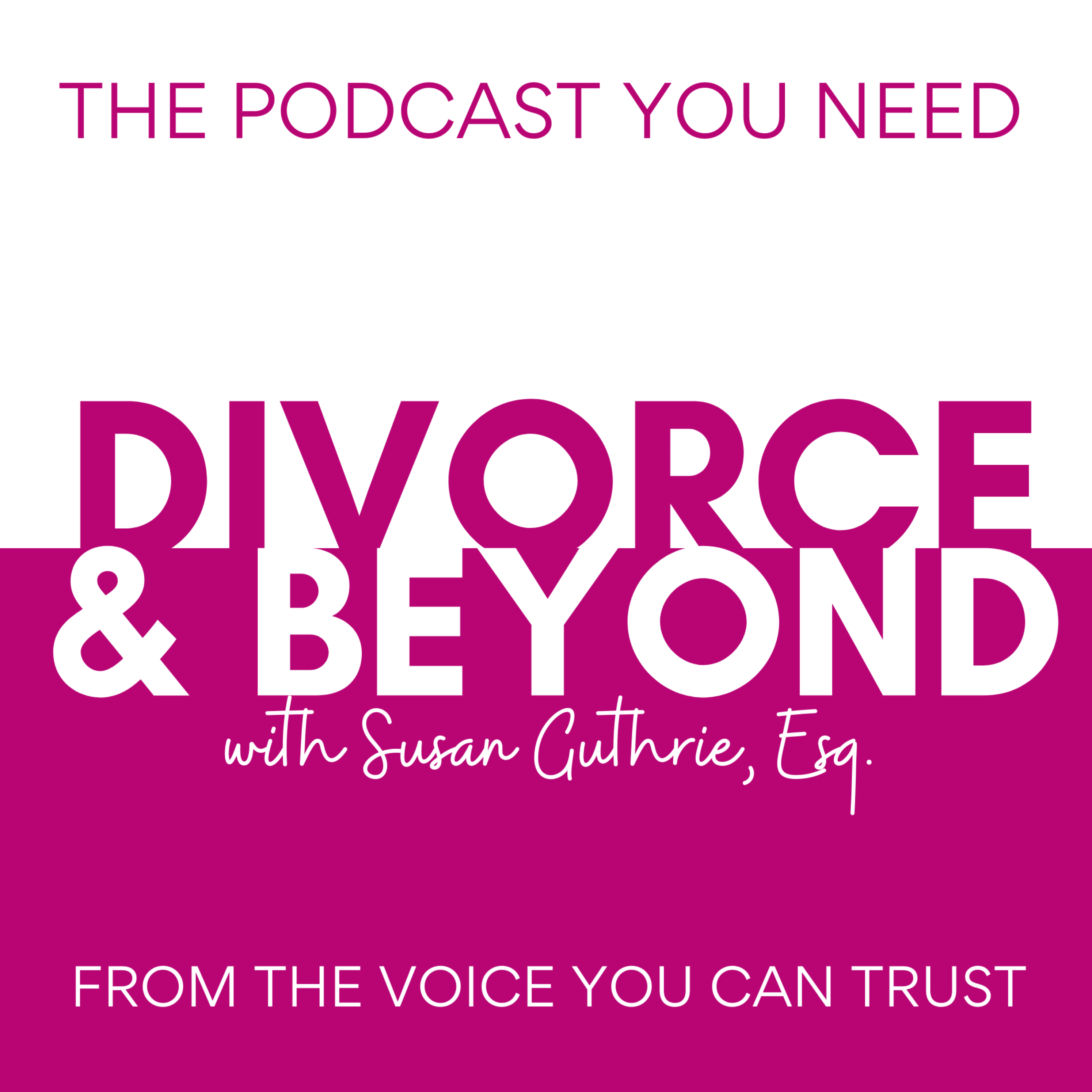 Nationally recognized family law attorney, mediator and award-winning podcaster, Susan Guthrie is at it again! After guiding countless numbers of people through the perilous world of divorce—and speaking to a podcast audience of over 4 million listeners—she's bringing you the "The Divorce & Beyond Podcast" to help you thrive in your life BEYOND divorce!
Episodes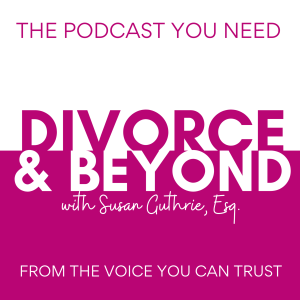 Monday Nov 14, 2022
Monday Nov 14, 2022
Susan Guthrie, Esq., welcomes former teacher turned mediator Claudia Brown Coulter to share insider knowledge on how your child's teachers can be one of their biggest support systems during divorce and beyond!
You may not realize it, but your child's teachers and school faculty can tell when something is going on at home. Maybe they see a behavior shift or grades start to suffer. Oftentimes, during divorce, parents don't make the school aware of this major life change. They are leaving a helpful resource untapped.

Today, Susan invites Claudia to talk about the school resources available to children and parents during times of big (or little) stress. In this episode, Susan and Claudia discuss how to talk to your child's school about your divorce, how to form an allyship between you and your child's teacher, and other ways schools can support both children and parents through divorce. This is such an important episode, we hope you tune in. 
Claudia Brown Coulter was a teacher in public education for 21 years. The transition to mediation was a natural one as colleagues and administrators kept coming to her to help them settle disputes between themselves and with their parents.
Some topics that Claudia and Susan discuss:
School is a safe place for children because there is predictability in their day and therefore it is often where they act out or express their emotions

What kind of information is helpful to share with the school when opening up about an ongoing divorce or separation

Teachers are your child's ally, they will be compassionate and understanding

Some ways parents and schools can support your children

Bonus topic! Holiday gift ideas for teachers
About this week's special guest: Claudia Brown Coulter
Claudia was a teacher in public education for 21 years. The transition to mediation was a natural one as colleagues and administrators kept coming to her to help them settle disputes between themselves and with parents. So she decided to make it official and enrolled at Pepperdine Law where she learned the art and science of mediation. She loves mediating online, especially since it means clients don't have to sit in the same room with their ex or battle LA traffic. It's a win-win.
Connect with Claudia:
https://www.facebook.com/Brownie-Culture-100942371388718
https://www.instagram.com/brownieculture/
Also mentioned in this episode:
Book a Strategy Session with Susan! 
If you want to see the video version of the podcast episodes they are available on The Divorce & Beyond YouTube Channel!  Make sure to LIKE and SUBSCRIBE so you don't miss a single episode!
THANK YOU TO OUR SPONSOR: Divide & Thrive Divorce Planner
Divorce is hard. Divide & Thrive makes planning for one EASY.
The #1 regret I hear from people who've gone through a divorce is that they didn't PREPARE in advance. There is no do-over in divorce, so planning early in the process is a GAME CHANGER.
Divide & Thrive's divorce planner takes the guesswork out of what to do. Their planner has helped THOUSANDS of people throughout the U.S. AND Canada save TIME and MONEY during divorce, and have PEACE OF MIND.
Their PROGRAM guides you through HOW to set divorce goals, tackle your BUDGET with easy-to-use financial planning tools, STREAMLINES your essential document collection, and SIMPLIFIES asset cataloging. 
Recommended by divorce attorneys, mediators, AND financial advisors, the easy-to-use planner helps you address the emotional AND business sides of divorce, and create your best next chapter.
Check out www.divideandthrive.net for reviews and a peek inside the planner. Use the code SUSAN22 for 20% off!
*********************************************************************
SPONSORSHIP OPPORTUNITIES ARE AVAILABLE!  https://divorcebeyond.com/Sponsorship-Info
*******************************************************************
MEET OUR CREATOR AND HOST:
SUSAN GUTHRIE®, ESQ., the creator and host of The Divorce and Beyond® Podcast, is nationally recognized as one of the top family law and divorce mediation attorneys in the country.  Susan is the Vice Chair of the American Bar Association Section of Dispute Resolution and is a sought-after keynote speaker, business and practice consultant, coach and trainer. You can find out more about Susan and her services here:  https://neon.page/susanguthrie
Internationally renowned as one of the leading experts in online mediation, Susan created her Learn to Mediate Online® program and has trained more than 25,000 professionals in how to transition their practice online.  Susan recently partnered with legal and mediation legend, Forrest "Woody" Mosten to create the Mosten Guthrie Academy which provides gold standard, fully online training for mediation and collaborative professionals at all stages of their career.  
Follow Susan Guthrie and THE DIVORCE AND BEYOND PODCAST on social media for updates and inside tips and information:
Susan on LinkedIn: https://www.linkedin.com/in/susaneguthrie/
Susan on Instagram @susanguthrieesq
*********************************************************************
We'd really appreciate it if you would give us a 5 Star Rating and tell us what you like about the show in a review - your feedback really matters to us! 
You can get in touch with Susan at divorceandbeyondpod@gmail.com. 
Don't forget to visit the webpage www.divorceandbeyondpod.com and sign up for the free NEWSLETTER to receive a special welcome video from Susan and more!!
*********************************************************************
DISCLAIMER:  THE COMMENTARY AND OPINIONS AVAILABLE ON THIS PODCAST ARE FOR INFORMATIONAL AND ENTERTAINMENT PURPOSES ONLY AND NOT FOR THE PURPOSE OF PROVIDING LEGAL ADVICE.  YOU SHOULD CONTACT AN ATTORNEY IN YOUR STATE TO OBTAIN LEGAL ADVICE WITH RESPECT TO ANY PARTICULAR ISSUE OR PROBLEM.