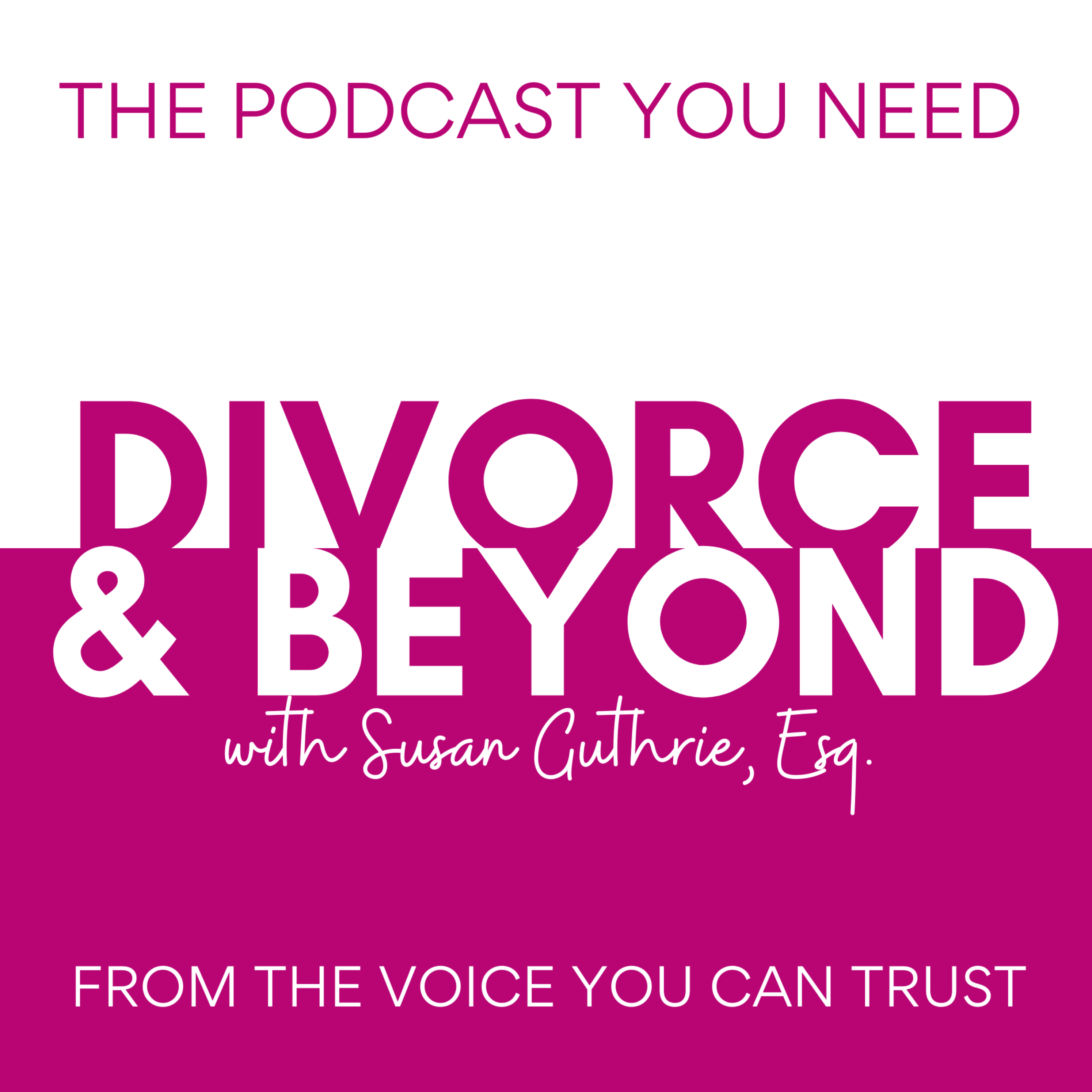 Nationally recognized family law attorney, mediator and award-winning podcaster, Susan Guthrie is at it again! After guiding countless numbers of people through the perilous world of divorce—and speaking to a podcast audience of over 4 million listeners—she's bringing you the "The Divorce & Beyond Podcast" to help you thrive in your life BEYOND divorce!
Episodes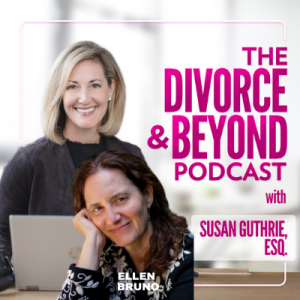 Monday Dec 14, 2020
Monday Dec 14, 2020
In this episode, Susan Guthrie speaks with Ellen Bruno, award-winning documentarian and the filmmaker behind the deeply impactful film, SPLIT: A Film for Kids of Divorce (and Their Parents)
The first time Susan saw the film SPLIT, even after 30 years as a divorce professional, she had to blink back tears.  The film shares the children's perspective on divorce... no adults, no experts… just kids speaking the powerful truth of what is on their minds and in their hearts. Their wisdom, candor, and humor gives courage to other children, and encourages parents to make better choices as they move through divorce.  Hear filmmaker Ellen Bruno's personal insights on the making of the film and the powerful impact that it has had on not only parents and children experiencing divorce, but for society in general and the divorce community in particular.  Ellen also shares her current project, SPLIT: The Sequel, in which she revisits the children in the original film as the enter their late teens and early adulthood.  Their look back on their experiences and their thoughts on what happened over the years and how the divorce continued to impact their lives is even more impactful than in the original film.  Their message is important and you do not want to miss it s make sure to listen to this episode today!
You can find out more about SPLIT: The Film here:  splitfilm.org
Here is a link to the Trailer for SPLIT:  http://splitfilm.org/watch_trailer.html
GO FUND ME CAMPAIGN! Susan Guthrie, Creator of The Divorce & Beyond Podcast, is honored to support Ellen Bruno Films in the journey to release SPLIT: The Sequel!  Please consider making any size donation.  All donors will receive a special link to an EXCLUSIVE trailer for SPLIT: The Sequel!
Split A Film About Divorce for Kids and Their Parents , created by documentarian Ellen Bruno , has helped countless children whose families are impacted by divorce to express their feelings and find community at a difficult time in their lives.  Ellen has now continued the conversation with the children in the film, who were all about 5-6 at the time, and has now revisited them in their teens to hear their continued experience with divorce, co-parenting, blended families and more.   

Divorce is not a finite time in children's lives and  Split: The Sequel continues their voice and shares their experience so that parents, children and families can continue to benefit from those who have lived it!

The editing and production of the film is in the works and the fund received will allow the project to proceed so that the film can debut in 2021!  The Split Experience is a vital resource for all families facing the divorce process and an invaluable support for parents AND kids.  

Your support is invaluable in helping parents and professionals bring the childrens' voices into the process and the world!
VISIT THE GO FUND ME PAGE:  gf.me/u/y8z5wi
*************************************************************************************
More about this week's Special Guest: Ellen Bruno is an award winning documentary filmmaker based in San Francisco. With a background in international relief work, Ellen's films have focused on issues at the forefront of human rights, including sex trafficking in Burma, political prisoners in Tibet, the social alienation of people with leprosy, and genocide in Cambodia.
Ellen earned an MA in Film at Stanford University. She is a recipient of Guggenheim and Rockefeller Fellowships, a Goldie Award for Outstanding Artists, an Alpert Award for the Arts, an Anonymous Was A Woman Award for the Arts, and was an Artist-in-Residence at the Yerba Buena Center for the Arts.
Ellen serves on the board of the International Buddhist Film Festival, the Pacific Pioneer Fund, and Ethical Traveler.
*****************************************************************
SUSAN GUTHRIE, ESQ., the creator and host of The Divorce and Beyond Podcast, is nationally recognized as one of the top family law and divorce mediation attorneys in the country.  She is one of the Co-Chair's of the American Bar Association's DR Section Mediation Committee and is the Founder of Divorce in a Better Way which provides a curated selection of resources and information for those facing divorce and other life changes.  Susan has created a website of curated resources for those facing divorce.  Find out more at www.divorceinabetterway.com.
*****************************************************************
THANK YOU TO OUR SPONSOR!!
As the Experts in Remote Alcohol Monitoring Technology, Soberlink combines a breathalyzer with wireless connectivity and is the only system with facial recognition, tamper detection, and Advanced Reporting™. The real-time system reduces litigation, fosters peace of mind, and ensures child safety. 
SPECIAL OFFER:  For a limited time, get an exclusive $50 off your device by emailing info@soberlink.com and mentioning Divorce and Beyond.
*****************************************************************************
SPONSORSHIP OPPORTUNITIES AVAILABLE!
If you would like to sponsor the show please reach out to us at  divorceandbeyondpod@gmail.com for pricing and details!!!
*********************************************************************
Remember to follow Susan Guthrie and THE DIVORCE AND BEYOND PODCAST on social media for updates and inside tips and information:
Susan Guthrie on Facebook
Susan on Instagram
Susan on Twitter
Divorce & Beyond Podcast on Instagram
Divorce & Beyond Podcast on Twitter
If you want to see the video version of the podcast episodes they are available on The Divorce & Beyond YouTube Channel!  Make sure to LIKE and SUBSCRIBE so you don't miss a single episode!
Finally, we'd really appreciate it if you would  give us a 5 Star Rating and tell us what you like about the show in a review - your feedback really matters to us! 
You can get in touch with Susan at divorceandbeyondpod@gmail.com. 
Don't forget to visit the webpage www.divorceandbeyondpod.com and sign up for the free NEWSLETTER to receive a special welcome video from Susan and more!!
*****************************************************************************
DISCLAIMER:  THE COMMENTARY AND OPINIONS AVAILABLE ON THIS PODCAST ARE FOR INFORMATIONAL AND ENTERTAINMENT PURPOSES ONLY AND NOT FOR THE PURPOSE OF PROVIDING LEGAL ADVICE.  YOU SHOULD CONTACT AN ATTORNEY IN YOUR STATE TO OBTAIN LEGAL ADVICE WITH RESPECT TO ANY PARTICULAR ISSUE OR PROBLEM