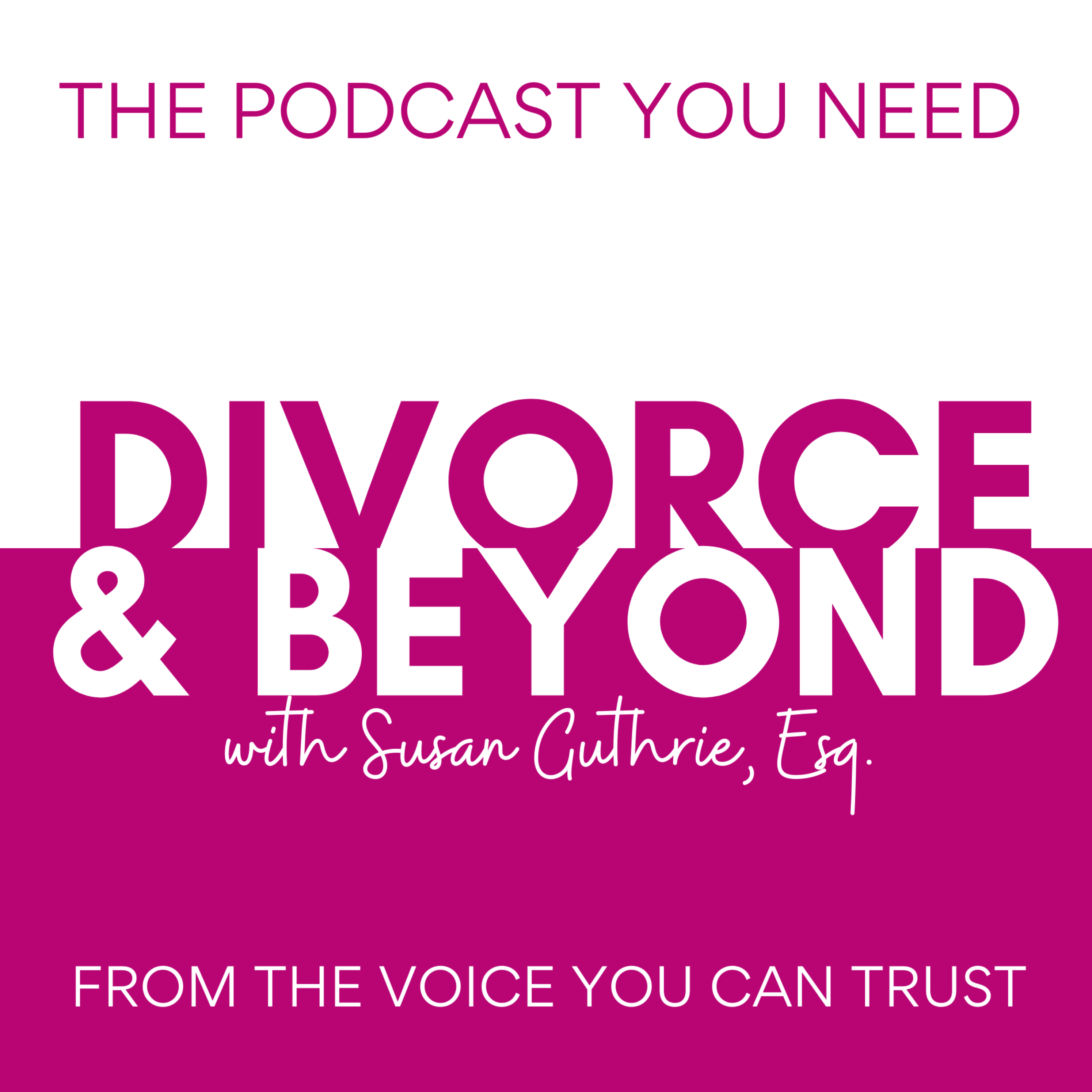 Nationally recognized family law attorney, mediator and award-winning podcaster, Susan Guthrie is at it again! After guiding countless numbers of people through the perilous world of divorce—and speaking to a podcast audience of over 4 million listeners—she's bringing you the "The Divorce & Beyond Podcast" to help you thrive in your life BEYOND divorce!
Episodes
Monday Mar 02, 2020
Monday Mar 02, 2020
In this episode of the Divorce & Beyond Podcast, Susan Guthrie, nationally recognized as one of the top family law attorneys and mediators in the country, speaks with Kate Anthony of The Divorce Survival Guide Podcast and Creator of the Should I Stay or Should I Go Program on just how you know if your relationship has run it's course or if if can be fixed.
Truly one of the most difficult questions that we might have to answer in our lives is should we stay in our marriage that doesn't seem to be working, or should we go and find happiness elsewhere?  In fact, many people will linger in the limbo of this unanswered question for months and even years, without being able to move forward to either repair the relationship or find the strength to end it.  Kate Anthony is the leading expert on helping you to answer the question of whether to stay or go and she helps people all over the world with her innovative online program and her one-on-one coaching.  In this special episode, taped in person in California, Kate shares:
What you need to consider if your relationship is in limbo and you are living "like roommates."
What the most common weak spots are in a marriage and what you can do to fix them (hint: communication is key!)
How failing to address the issues that lie between you and your spouse can lead to the worst divorce possible.
What to do if your spouse is asking you to go to therapy and what to do if you are asking but they won't go!
Why trying everything you can to work on the relationship is so important even if those efforts fail. (Kate says that all the work she and her husband did to try and fix their marriage didn't work but did lead to them having a great divorce!)
How to have the conversation with your spouse if you do decide "it's time to go."
AND MORE!
MORE ABOUT TODAY'S GUEST:  Kate Anthony is the host of the critically acclaimed podcast The Divorce Survival Guide Podcast and the creator of the groundbreaking online coaching program, Should I Stay or Should I Go? which helps women make the most difficult decision of their lives using coaching tools, relationship education, geeky neuroscience, community support, and deep self-work.

Kate empowers women to find their strength, passion, and confidence even in the most disempowering of circumstances and helps them move forward with concrete plans set on a solid foundation, putting their children at the center (not in the middle) of all their decisions.

In addition to her online programs, Kate works privately with clients all over the world.

Kate lives in Los Angeles with her teenage son (whom she lovingly co-parents with her ex-husband), their two dogs, and a handful of fish.
You can find out more about Kate and her services and programs at www.kateanthony.com where you can also access her FREE "Should You Stay or Should You Go Quiz" for immediate results in your inbox!  It's the perfect complement to the information in the episode!
********************************************************************
SUSAN GUTHRIE, ESQ., the creator and host of The Divorce and Beyond Podcast, is nationally recognized as one of the top family law and divorce mediation attorneys in the country.  She is one of the Co-Chair's of the American Bar Association's DR Section Mediation Committee and is the Founder of Divorce in a Better Way which provides a curated selection of resources and information for those facing divorce and other life changes.  Susan also provides legal coaching and divorce mediation services to select clients around the world through an online platform.  Find out more at www.divorceinabetterway.com.
*****************************************************************************
THIS WEEK'S SPONSOR INFORMATION:
LEARN TO MEDIATE ONLINE:  As one of the leading online mediation experts in the country, Susan Guthrie has created a simple and efficient online training program that allows mediation professionals to quickly and easily add an online platform to their practice!  The two hour online program covers the basics of conducting mediations through an online platform like Zoom, and reviews the ethical and practical considerations that arise in this format.  You even receive a copy of, and the right to use, Susan's Online Mediation Guidelines and Ground Rules to make your online mediations even easier for mediator and clients alike!  Learn more at www.learntomediateonline.com or reach out to Susan directly at susan@learntomediateonline.com.  Listeners of The Divorce & Beyond Podcast receive $50 off the cost of the one-on-one training so be sure to mention that you heard about it here!
*****************************************************************************
SPONSORSHIP OPPORTUNITIES AVAILABLE!
If you would like to sponsor the show please reach out to us at  divorceandbeyondpod@gmail.com for pricing and details!!!
*********************************************************************
Remember to follow Susan Guthrie and THE DIVORCE AND BEYOND PODCAST on social media for updates and inside tips and information:
Susan Guthrie on Facebook
Susan on Instagram
Susan on Twitter
Divorce & Beyond Podcast on Instagram
Divorce & Beyond Podcast on Twitter
If you want to see the video version of the podcast episodes they are available on The Divorce & Beyond YouTube Channel!  Make sure to LIKE and SUBSCRIBE so you don't miss a single episode!
Finally, we'd really appreciate it if you would  give us a 5 Star Rating and tell us what you like about the show in a review - your feedback really matters to us! 
You can also get in touch with Susan at divorceandbeyondpod@gmail.com. 
Don't forget to visit the webpage www.divorceandbeyondpod.com and sign up for the free NEWSLETTER to receive a special welcome video from Susan and more!!
*****************************************************************************
DISCLAIMER:  THE COMMENTARY AND OPINIONS AVAILABLE ON THIS PODCAST ARE FOR INFORMATIONAL AND ENTERTAINMENT PURPOSES ONLY AND NOT FOR THE PURPOSE OF PROVIDING LEGAL ADVICE.  YOU SHOULD CONTACT AN ATTORNEY IN YOUR STATE TO OBTAIN LEGAL ADVICE WITH RESPECT TO ANY PARTICULAR ISSUE OR PROBLEM.