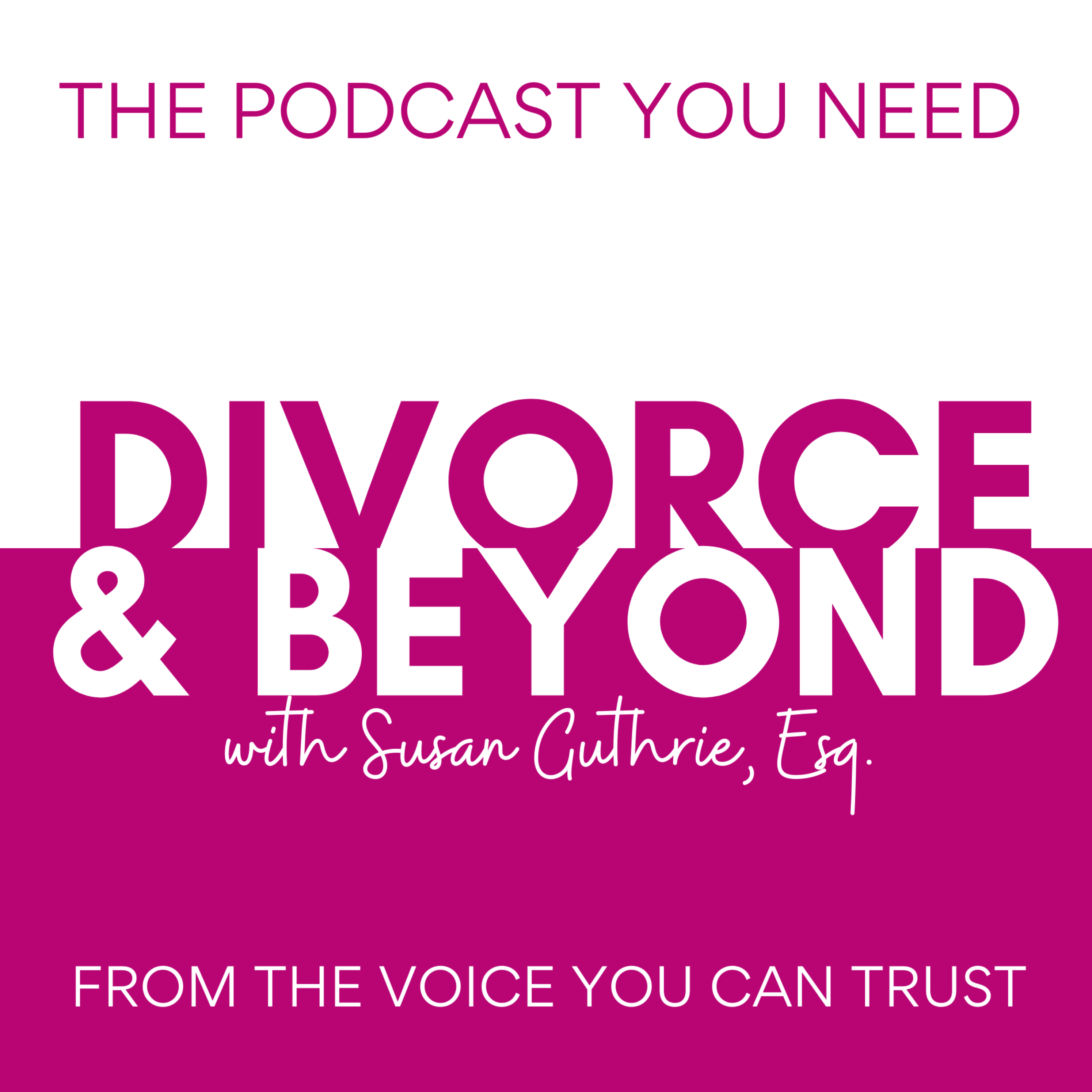 Nationally recognized family law attorney, mediator and award-winning podcaster, Susan Guthrie is at it again! After guiding countless numbers of people through the perilous world of divorce—and speaking to a podcast audience of over 4 million listeners—she's bringing you the "The Divorce & Beyond Podcast" to help you thrive in your life BEYOND divorce!
Episodes
Monday May 03, 2021
Monday May 03, 2021
On this week's episode of The Divorce & Beyond Podcast, Susan Guthrie gets together with friend and colleague, Top Attorney, Mediator and Best-Selling Author, Gabrielle Hartley, to get her top tips for getting your divorce moving and DONE!
It's hard enough to go through a divorce but that difficulty is compounded when your divorce drags on and on.  Why is it taking so long?  This is a common lament from those stuck in the never-ending limbo of their divorce.  Susan is joined by Gabrielle Hartley, known in the divorce world as "The Closer," who helps couples get through their divorce in a speedy fashion with her "Blitz Mediation Method!"  Gabrielle shares her top tips to held you identify what is holding you back from the finish line, and how you can move that needle forward to BE DONE!  She even shares the one magic word that can get you past impasse when your spouse is being unreasonable.  This is THE EPISODE for you if you want to know "why your divorce is taking so long?!"
More information about Gabrielle:  
Gabrielle Hartley, Esq., is a leading online mediator and family law attorney known for keeping 99% of her cases at the settlement table.  
She is the author of Better Apart; The Radically Positive Way to Separate which received a glowing recommendation from Gwyneth Paltrow and People Magazine.
Before opening her full-service online mediation and professional training center, Gabrielle clerked in matrimonial court in NYC where she resolved HUNDREDS of high conflict divorces.
She is a sought-after expert in the positive divorce space in media outlets such as The New York Times, The New York Post, U.S. News and World Report, has been interviewed on dozens of podcasts and is a regular guest on NBC Mass Appeal.  Gabrielle serves on many committees within the ABA Dispute Resolution Section including serving as Vice Chair of Membership Marketing, co-chair of the ABA Mediation Access to Justice Week 2020, and co-chair of the DR Just Resolutions Mediation Edition.  She is also on the Western MA Mediation and Collaborative Dispute Resolution Steering Committee. 
 Gabrielle trains divorce professionals in the Better Apart Method Online.  In addition to offering training for professionals, she maintains a private mediation practice and is of counsel to Lisa Zeiderman's law firm in Westchester and NYC.  *** For Divorce Professionals who would like to uplevel their practice and take Gabrielle's training, contact her at gabrielle@gabriellehartley.com and mention "Divorce & Beyond" to receive 10% off the cost! ***
You can find out more about Gabrielle on her website at www.gabriellehartley.com.
Follow Gabrielle on Instagram @gabriellehartleyesq and be sure to check out her Better Apart Blog at www.gabriellehartley.com/betterapartblog
**********************
SUSAN GUTHRIE, ESQ., the creator and host of The Divorce and Beyond Podcast, is nationally recognized as one of the top family law and divorce mediation attorneys in the country.  She is one of the Co-Chair's of the American Bar Association's DR Section Mediation Committee and is the Founder of Divorce in a Better Way which provides a curated selection of resources and information for those facing divorce and other life changes.  Susan has created a website of curated resources for those facing divorce.  Find out more at www.divorceinabetterway.com.
*****************************************************************************
*********************************************
THANK YOU TO OUR SPONSOR!
dtour.life is an easy to navigate system that finally brings much needed technology to an inefficient system. Spouses and family law professionals can now collect the endless data, manage the piles of documents, explore various settlements, detail budgets and most importantly, collaborate with the entire team with a single click. And we built this from the ground up with industry best practices and the most advanced security and encryption technology available.  Be sure to check it out today!
SPECIAL OFFER:  Sign up for the FREE TRIAL here:  https://www.dtour.life/sign-up and then use special code "SUSAN20" to receive 20% off the cost of a subscription!
 FAYR, the BEST Co-Parenting App on the Market!   What makes FAYR different?  At FAYR it's not just about efficiency and ease (though they love those).  They also help you create a better co-parenting experience by providing tools for: constructive communication, argument diffusion, and emotional support.  For information on our FAYR, the ONLY co-parenting app recommended by Susan Guthrie and The Divorce and Beyond Podcast,  visit their website at www.fayr.com.  Don't forget to use the code "SUSANG18" for 20% off!!
*****************************************************************************
SPONSORSHIP OPPORTUNITIES AVAILABLE!
If you would like to sponsor the show please reach out to us at  divorceandbeyondpod@gmail.com for pricing and details!!!
*********************************************************************
Remember to follow Susan Guthrie and THE DIVORCE AND BEYOND PODCAST on social media for updates and inside tips and information:
Susan Guthrie on Facebook
Susan on Instagram
Susan on Twitter
Divorce & Beyond Podcast on Instagram
Divorce & Beyond Podcast on Twitter
If you want to see the video version of the podcast episodes they are available on The Divorce & Beyond YouTube Channel!  Make sure to LIKE and SUBSCRIBE so you don't miss a single episode!
Finally, we'd really appreciate it if you would  give us a 5 Star Rating and tell us what you like about the show in a review - your feedback really matters to us! 
You can also get in touch with Susan at divorceandbeyondpod@gmail.com. She loves to hear from listeners and you might hear your comment or question on an upcoming episode!
Don't forget to visit the webpage www.divorceandbeyondpod.com and sign up for the free NEWSLETTER to receive a special welcome video from Susan and more!!
*****************************************************************************
DISCLAIMER:  THE COMMENTARY AND OPINIONS AVAILABLE ON THIS PODCAST ARE FOR INFORMATIONAL AND ENTERTAINMENT PURPOSES ONLY AND NOT FOR THE PURPOSE OF PROVIDING LEGAL ADVICE.  YOU SHOULD CONTACT AN ATTORNEY IN YOUR STATE TO OBTAIN LEGAL ADVICE WITH RESPECT TO ANY PARTICULAR ISSUE OR PROBLEM.