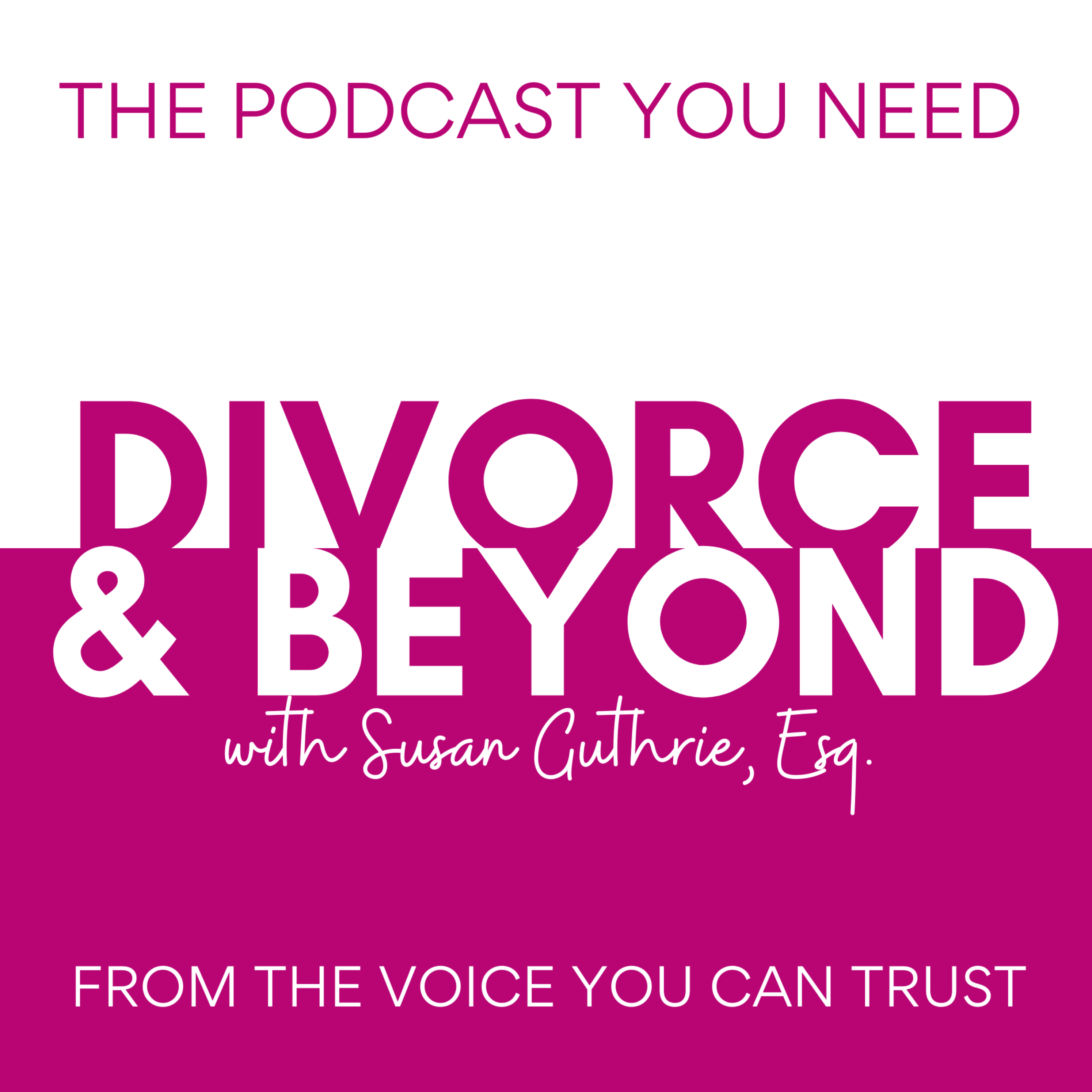 Nationally recognized family law attorney, mediator and award-winning podcaster, Susan Guthrie is at it again! After guiding countless numbers of people through the perilous world of divorce—and speaking to a podcast audience of over 4 million listeners—she's bringing you the "The Divorce & Beyond Podcast" to help you thrive in your life BEYOND divorce!
Episodes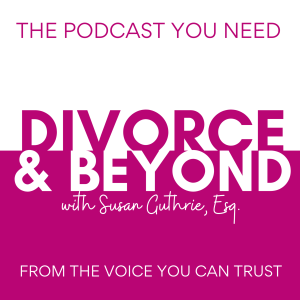 Monday Oct 03, 2022
Monday Oct 03, 2022
On this week's episode, Host, Susan Guthrie, welcomes Holly Hughes, an Intuitive Healer, to discuss tips for taking your self-care to the next level when facing divorce or any significant struggle! 
Most people going through divorce feel numb or devastated. It's also not uncommon to lose sight of who you are or were as your marriage comes to an end. While there are many answers to help you heal, sometimes the answer is in the form of self-care. 
Holly Hughes joins Susan Guthrie for an enlightening conversation about self-care and how it starts with being aware of your own needs.  You can't take care of anyone else (your children, for example) if you aren't taking care of yourself first. 
In this episode, Holly and Susan take a deep dive into many forms of self-care. Self-care does not need to be an insurmountable task - it can look like coloring, listening to music, or dancing, - simply take small steps in your day to make yourself feel better.  
Holly Hughes is an intuitive energy healer, speaker, and author of the book, "Real Not Perfect: How to Become Your Happy Authentic Self."
 Conversation Golden Nuggets include: 
When you create a pattern of self-care, those who love you and see the benefit, for you and for them, will encourage it

Experiencing a moment of joy may help you define what is hurting and needs healing

Part of self-care includes putting your phone down!

Start your day with kindness

to yourself 

Sometimes, self-care requires you to say, "No," to certain people or things in your life

Crying is good. Wallowing, however, is not.
Self-care can be simple and yet still have a lasting impact. Listen to this episode to hear how to take small steps towards radical self-care, today!
About this week's special guests: Holly Hughes
Holly is an award-winning author, speaker, and intuitive healer who infuses her unique personal style, intuitive gifts, and personal healing stories to guide clients through a step-by-step process to help them claim their voice, passions, and self-worth. She helps heal your broken heart so the pain from your past stops limiting your future.
Get a Holly's Book: Real, Not Perfect: How to Become Your Happy Authentic Self
Holly on LinkedIn: https://www.linkedin.com/in/holly-hughes-b759a9136/
Holly on Instagram: https://www.instagram.com/holly_hughes_intuitive/
Also mentioned in this episode:

Moms Moving On Method - Apply Today for Michelle Dempsey-Multack's Training for Divorce Coaches Program
Did You Know That it is NEVER Too Late to Mediate Your Divorce? Insights from Leading Attorney and Mediator Claire Samuels
If you want to see the video version of the podcast episodes they are available on The Divorce & Beyond YouTube Channel!  Make sure to LIKE and SUBSCRIBE so you don't miss a single episode!
THANK YOU TO OUR SPONSOR:
Soberlink has teamed up with divorce and family law experts to bring you the information you didn't know that can provide peace of mind during the holidays.
For those of you who still haven't heard about Soberlink, it is the solution for you if you are going through a divorce and custody case involving alcohol. Whether you are falsely accused of alcohol use or are concerned about your child's safety because of your other parents' alcohol use, Soberlink can help.
Soberlink works hard to keep children safe. Offering a remote alcohol monitoring system that is the gold standard because of its technology. It includes a high-tech breathalyzer device with facial recognition that allows you to receive real-time updates from monitored co-parents anytime, anywhere allowing for swift intervention for improved child safety.  They have helped hundreds of thousands of people document proof of sobriety in real-time for peace of mind in child custody cases. 
Don't miss out on Soberlink's Free Guide for the upcoming Holiday Season.
Request your free guide today at www.soberlink.com/susan
*******************************************************************
MEET OUR CREATOR AND HOST:
SUSAN GUTHRIE®, ESQ., the creator and host of The Divorce and Beyond® Podcast, is nationally recognized as one of the top family law and divorce mediation attorneys in the country.  Susan is a member of the Executive Council of the American Bar Association Section of Dispute Resolution and is the Founder of Divorce in a Better Way® which provides a curated selection of resources and information for those facing divorce and other life changes. 
Internationally renowned as one of the leading experts in online mediation, Susan created her Learn to Mediate Online® program and has trained more than 18,000 professionals in how to transition their practice online.  Susan recently partnered with legal and mediation legend, Forrest "Woody" Mosten to create the Mosten Guthrie Academy which provides gold standard, fully online training for mediation and collaborative professionals at all stages of their career.  
Follow Susan Guthrie and THE DIVORCE AND BEYOND PODCAST on social media for updates and inside tips and information:
Susan Guthrie on Facebook @susanguthrieesq
Susan on Instagram @susanguthrieesq
Susan on Twitter @guthrielaw
*********************************************************************
SPONSORSHIP OPPORTUNITIES ARE AVAILABLE!
If you would like to sponsor the show please reach out to us at  divorceandbeyondpod@gmail.com for pricing and details!!!
*********************************************************************
We'd really appreciate it if you would give us a 5 Star Rating and tell us what you like about the show in a review - your feedback really matters to us! 
You can get in touch with Susan at divorceandbeyondpod@gmail.com. 
Don't forget to visit the webpage www.divorceandbeyondpod.com and sign up for the free NEWSLETTER to receive a special welcome video from Susan and more!!
*********************************************************************
DISCLAIMER:  THE COMMENTARY AND OPINIONS AVAILABLE ON THIS PODCAST ARE FOR INFORMATIONAL AND ENTERTAINMENT PURPOSES ONLY AND NOT FOR THE PURPOSE OF PROVIDING LEGAL ADVICE.  YOU SHOULD CONTACT AN ATTORNEY IN YOUR STATE TO OBTAIN LEGAL ADVICE WITH RESPECT TO ANY PARTICULAR ISSUE OR PROBLEM