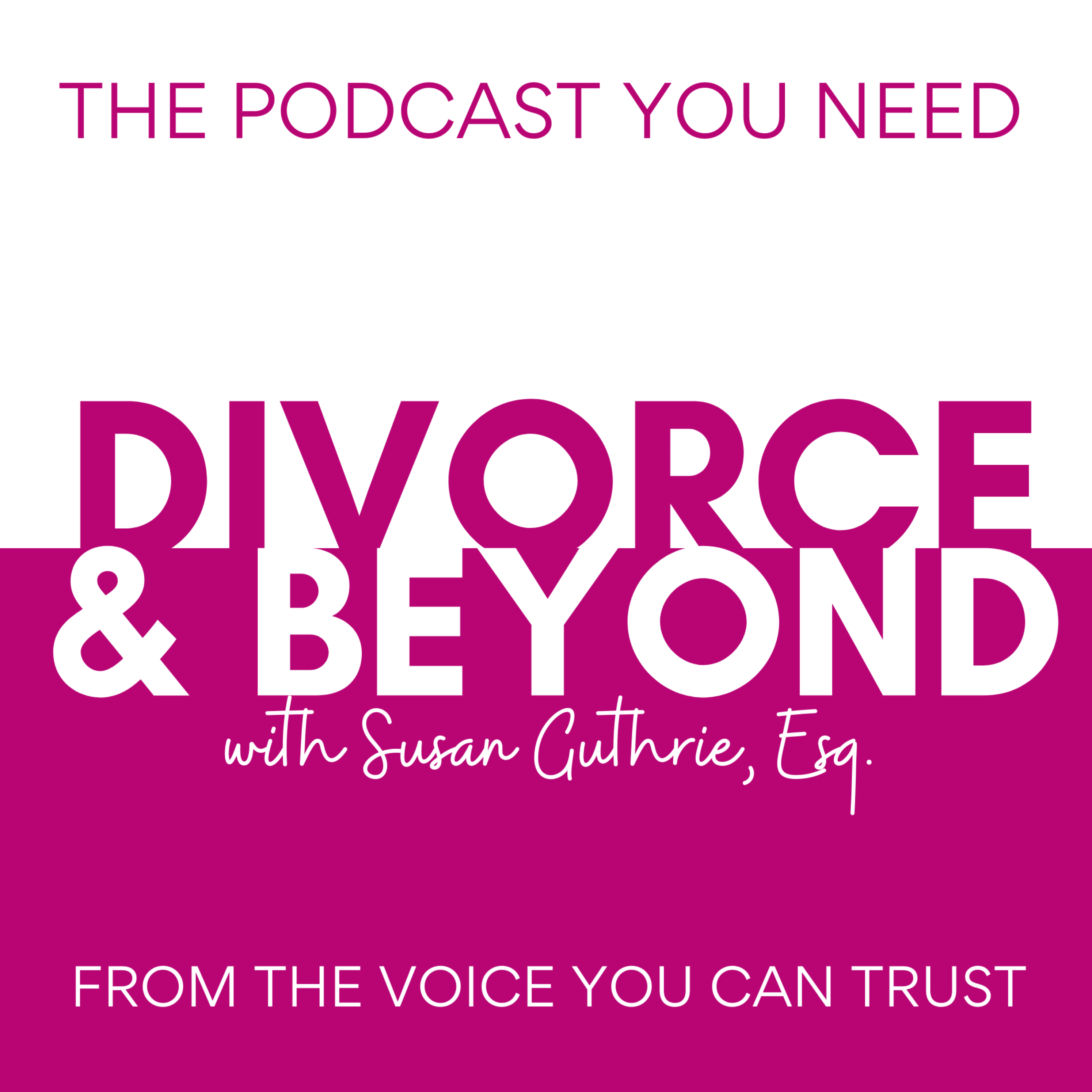 Nationally recognized family law attorney, mediator and award-winning podcaster, Susan Guthrie is at it again! After guiding countless numbers of people through the perilous world of divorce—and speaking to a podcast audience of over 4 million listeners—she's bringing you the "The Divorce & Beyond Podcast" to help you thrive in your life BEYOND divorce!
Episodes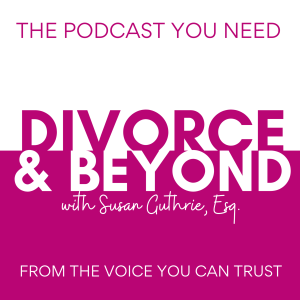 Monday Feb 15, 2021
Monday Feb 15, 2021
In this  episode, Susan Guthrie speaks with podcast host, coach and author, Karen Millon, about the universal human experience of trauma, both large and small, and the need to heal so we can live our best lives.
"Trauma is one of the biggest equalizers" says Karen Millon, this week's guest on the podcast.  Everyone, no matter how blessed they are, suffers from traumas in life.  There are small "t" traumas and Large "T" traumas, but they all add up and they all require healing in order for us to lead happy and healthy lives.  It probably comes as no surprise that divorce qualifies as a Large "T" trauma and couple that with the other traumas encountered in any well-lived life, it becomes imperative to find help to heal.  That's where Karen steps in as an expert in the variety of healing modalities available to us.  As a Healing Coach she can help you on your healing journey and where additional expert help is needed, Karen can help match you with the right modality and provider.
In this episode Karen walks you through:
How much of our trauma starts in childhood, no matter how "perfect" that childhood was.
The reality of trauma responses and how they manifest in our lives.
What the first key step is in healing.
Different healing therapies such as EMDR, somatic experiencing and more.
Why you have to go back to a trauma to break free from it.
How her journey to healing, and that of her first husband, helped them to have "An Amazing Divorce" which led to her new book.
It truly is never to early to start healing so tune in to this episode today and start your journey!
************************************************
More Information About This Week's Special Guest: 
Karen Millon is a Colombian-born and Canadian-raised entrepreneur and personal development advocate. Ms. Millon holds a degree in Business Administration from the University of Western Ontario. And while business is her professional venue, her passion is healing and wellness. Healing was the cornerstone of her Amazing Divorce, a book that she wrote and is coming out in the fall of 2020 so when Millon realized that the subject of healing in general wasn't garnering as much national discussion as other, more niche forms of trauma and recovery, she funneled her business skills into a high-level media platform devoted to the subject of recovering from any and all forms of trauma. Her brand and her business operate as a liaison between healing and trauma experts and the uninitiated. Millon's HEALIN podcast features weekly dialogues with professional therapists, nutritionists and other well-being professionals. Visit www.healin.net for more information on Karen Millon's Healin. 
Contact Karen:
Website 

www.healin.net

Social Media Handles 

Instagram @healinwithkaren  
Listen to Karen's Podcast: Healin
GET KAREN'S BOOK!
An Amazing Divorce: What You Can Do for Yourself, Each Other and For the Children to Achieve it by Karen Millon 
**********************
SUSAN GUTHRIE, ESQ., the creator and host of The Divorce and Beyond Podcast, is nationally recognized as one of the top family law and divorce mediation attorneys in the country.  She is one of the Co-Chair's of the American Bar Association's DR Section Mediation Committee and is the Founder of Divorce in a Better Way which provides a curated selection of resources and information for those facing divorce and other life changes.  Susan has created a website of curated resources for those facing divorce.  Find out more at www.divorceinabetterway.com.  Susan is also the Co-Founder, along with legal legend, Forrest "Woody" Mosten of the Mosten Guthrie Academy for Mediation and Collaborative Law Training and her Learn to Mediate Online Training(TM) Program has helped more than 17,000 professionals to transition their dispute resolution practice online!
*****************************************************************************
THANK YOU TO OUR SPONSOR!!
As the Experts in Remote Alcohol Monitoring Technology, Soberlink combines a breathalyzer with wireless connectivity and is the only system with facial recognition, tamper detection, and Advanced Reporting™. The real-time system reduces litigation, fosters peace of mind, and ensures child safety. 
SPECIAL OFFER:  For a limited time, get an exclusive $50 off your device by emailing info@soberlink.com and mentioning Divorce and Beyond.
*********************************************
 THE DIVORCE & BEYOND MEMBERS ONLY COMMUNITY IS LIVE!!
Subscribe now for only $10 per month and take your Divorce & Beyond experience BEYOND!!
D & B Members Only will receive a number of benefits including:
Ad and Interruption Free Podcast Archive
BONUS Members Only Podcast Episodes monthly
Downloadable Worksheets, Spreadsheets and Other Forms 
Access to the "Ask Susan Anything" Forum where you can ask your questions and learn from the answers to others.
*****************************************************************************
SPONSORSHIP OPPORTUNITIES AVAILABLE!
If you would like to sponsor the show please reach out to us at  divorceandbeyondpod@gmail.com for pricing and details!!!
*********************************************************************
Remember to follow Susan Guthrie and THE DIVORCE AND BEYOND PODCAST on social media for updates and inside tips and information:
Susan Guthrie on Facebook @susanguthrieesq
Susan on Instagram @susanguthrieesq
Susan on Twitter @guthrielaw
Divorce & Beyond Podcast on Instagram @divorceandbeyond
Divorce & Beyond Podcast on Twitter @DivorceBeyond
If you want to see the video version of the podcast episodes they are available on The Divorce & Beyond YouTube Channel!  Make sure to LIKE and SUBSCRIBE so you don't miss a single episode!
Finally, we'd really appreciate it if you would  give us a 5 Star Rating and tell us what you like about the show in a review - your feedback really matters to us! 
You can get in touch with Susan at divorceandbeyondpod@gmail.com. 
Don't forget to visit the webpage www.divorceandbeyondpod.com and sign up for the free NEWSLETTER to receive a special welcome video from Susan and more!!
*****************************************************************************
DISCLAIMER:  THE COMMENTARY AND OPINIONS AVAILABLE ON THIS PODCAST ARE FOR INFORMATIONAL AND ENTERTAINMENT PURPOSES ONLY AND NOT FOR THE PURPOSE OF PROVIDING LEGAL ADVICE.  YOU SHOULD CONTACT AN ATTORNEY IN YOUR STATE TO OBTAIN LEGAL ADVICE WITH RESPECT TO ANY PARTICULAR ISSUE OR PROBLEM