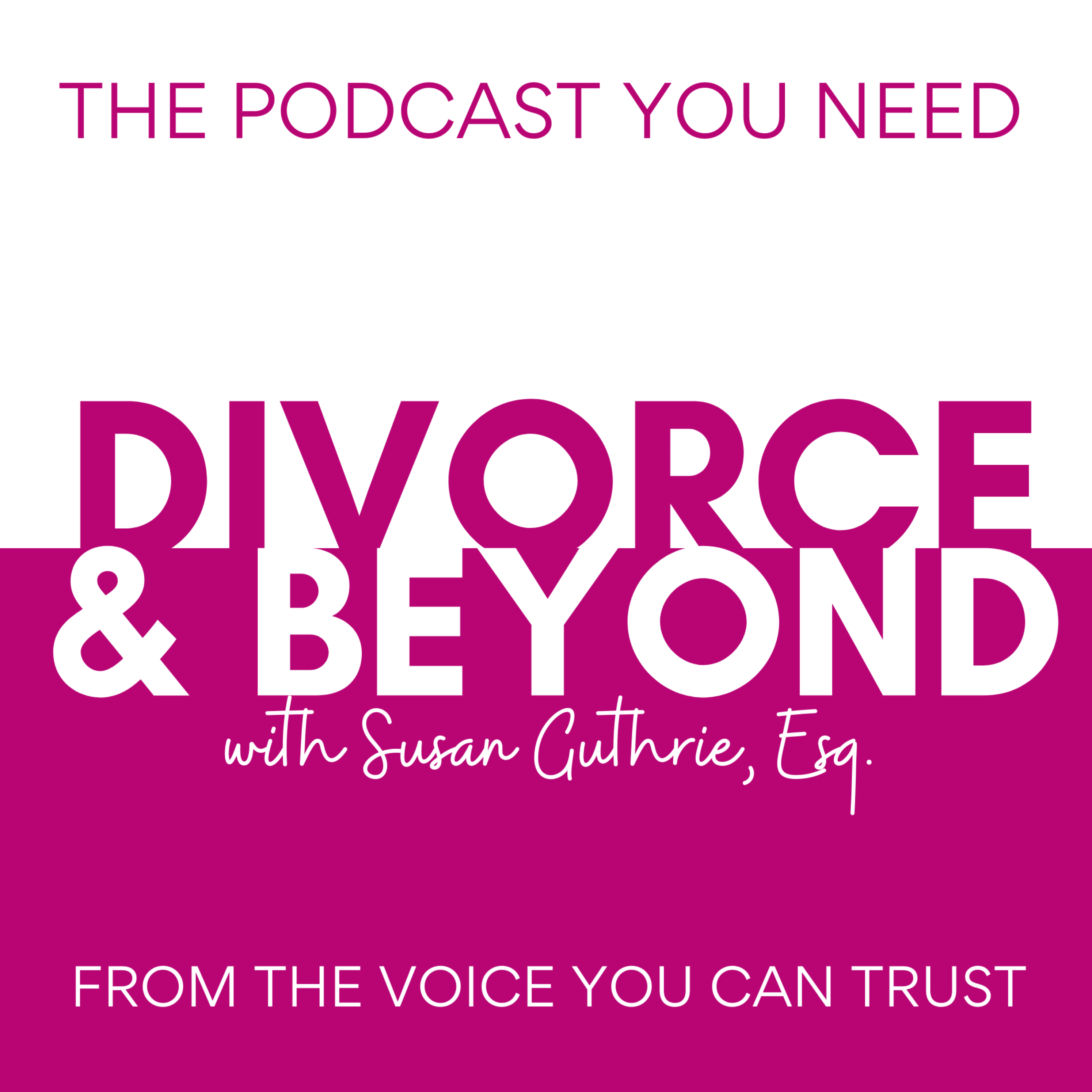 Nationally recognized family law attorney, mediator and award-winning podcaster, Susan Guthrie is at it again! After guiding countless numbers of people through the perilous world of divorce—and speaking to a podcast audience of over 4 million listeners—she's bringing you the "The Divorce & Beyond Podcast" to help you thrive in your life BEYOND divorce!
Episodes
Monday Mar 09, 2020
Monday Mar 09, 2020
In this episode, Susan Guthrie, top family law attorney and mediator, and the former host of Breaking Free: A Modern Divorce Podcast, chats with Dr. Debi Silber, the Founder of the PBT (Post-Betrayal Transformation) Institute, about the trauma caused by betrayal and how you can heal and move forward to a better future!  As Dr. Debi says "The best revenge is a life well lived" so listen to this episode today, start healing so that you can live your best life!
Betrayal - the word alone can create a lump in your stomach.  Whether it is a loved one, a friend, a colleague or even a stranger, the effects of betrayal are all-encompassing and extremely hard to move beyond.  The betrayal can impact our lives for years to come, sometime forever but Dr. Debi Silber is THE expert in helping people to move beyond betrayal to live their lives healed, renewed and with a new world view.  She has created her successful program that helps people to move through the 5 stages of betrayal to heal all aspects of their lives and to build a new foundation upon which to move into their future.  If you are ready to find out how your biggest crisis can reveal your greatest gift, listen to this episode and GET READY TO HEAL!
Some HIGHLIGHTS from this Episode:
What is betrayal and why is it so devastating?
Why does Dr. Debi say that "even though it happened to you, it's not about you?"
What are the 5 stages of betrayal and healing and where are you?
What are the three reasons that people don't heal from betrayal
Why does Dr. Debi say that failure to heal can be like and addiction?
All this and her top tips to start the healing process so LISTEN TODAY!
Dr. Debi Silber, founder of The PBT (Post Betrayal Transformation) Institute https://PBTInstitute.com  is a holistic psychologist, a health, mindset and personal development speaker, author and mentor who helps people heal from Post Betrayal Syndrome. She's the author of the Amazon #1 bestselling book: The Unshakable Woman: 4 Steps to Rebuilding Your Body, Mind and Life After a Life Crisis, and has contributed to The Dr. Oz show, FOX, CBS, The Huffington Post, Forbes, Psychology Today, Health, Shape, WebMD, and Glamour to name a few. Her recent PhD study on how we experience betrayal-what holds us back, what helps us heal and what happens to us (physically, mentally and emotionally) when the people closest to us lie, cheat and deceive made three groundbreaking discoveries. Her proven process, birthed from those discoveries, has helped thousands of people fully heal from betrayal; enabling them to thrive in their relationships, work, health and life.
You can view Dr. Debi's latest TEDx Talk, "Do You Have Post-Betrayal Syndrome?" HERE!
Dr. Debi's Free Gift:  Take the "Do You Have Post Betrayal Syndrome Quiz" and find out if you have PBS, what stage you are in, and get tips for healing by email!
********************************************************************
 SUSAN GUTHRIE, ESQ., the creator and host of The Divorce and Beyond Podcast, is nationally recognized as one of the top family law and divorce mediation attorneys in the country.  She is one of the Co-Chair's of the American Bar Association's DR Section Mediation Committee and is the Founder of Divorce in a Better Way which provides a curated selection of resources and information for those facing divorce and other life changes.  Susan also provides legal coaching and divorce mediation services to select clients around the world through an online platform.  Find out more at www.divorceinabetterway.com.
****************************************************************************
For Divorce Professionals:  As one of the country's leading experts in online mediation, Susan is now sharing her expertise and knowledge and offering her ONLINE MEDIATION TRAINING PROGRAM which will show you how to implement an online platform into to your existing practice in just two short one-hour online sessions!  Increase your potential client base, convenience and income by learning the ethical and practical considerations to know when mediating online!  Find out more at www.learntomediateonline.com and mention you are a listener of the Divorce and Beyond Podcast to get $50 off the cost of the 1:1 training!  
***************************************************************************
THIS WEEK'S SPONSOR INFORMATION: 
Gabrielle Hartley, the Creator of the Better Apart Method:  Leading divorce lawyer, coach and mediator, Gabrielle Hartley's book book "Better Apart: The Radically Positive Way to Separate" is a runaway best-seller and now she has created the Better Apart Master Class, available for download online, which provides powerful tools to help you get clear, feel better and reclaim your life!  For a limited time you will receive a mini consultation with Gabrielle herself when you sign up for the Master Class.  Listeners of the podcast receive $25 off the price of the Master Class with code "BEYOND25"!!!
FAYR, the BEST Co-Parenting App on the Market!   What makes FAYR different?  At FAYR it's not just about efficiency and ease (though they love those).  They also help you create a better co-parenting experience by providing tools for: constructive communication, argument diffusion, and emotional support.  For information on our FAYR, the ONLY co-parenting app recommended by Susan Guthrie and The Divorce and Beyond Podcast,  visit their website at www.fayr.com.  Don't forget to use the code "SUSANG18" for 20% off!!
If you would like to sponsor the show please reach out to us at  divorceandbeyondpod@gmail.com for pricing and details!!!
********************************************************************
Don't forget to check out the Divorce & Beyond Podcast website at www.divorceandbeyondpod.com where you can find all of our episodes, links to sponsors and special offers and SIGN UP FOR THE FREE NEWSLETTER and Receive a Special Welcome Video from Susan!
Remember to follow Susan Guthrie and THE DIVORCE AND BEYOND PODCAST on social media for updates and inside tips and information:
Susan Guthrie on Facebook @Susan Guthrie
Susan on Instagram @susanguthrieesq
Susan on Twitter @guthrielaw
Divorce & Beyond Podcast on Instagram @divorceandbeyond
Divorce & Beyond on Twitter @DivorceBeyond
If you want to see the video version of the podcast episodes they are available on The Divorce & Beyond YouTube Channel!  Make sure to LIKE and SUBSCRIBE so you don't miss a single episode!
Finally, we'd really appreciate it if you would  give us a 5 Star Rating and tell us what you like about the show in a review - your feedback really matters to us!  You can also get in touch with Susan at divorceandbeyondpod@gmail.com.
****************************************************************************
DISCLAIMER:  THE COMMENTARY AND OPINIONS AVAILABLE ON THIS PODCAST ARE FOR INFORMATIONAL AND ENTERTAINMENT PURPOSES ONLY AND NOT FOR THE PURPOSE OF PROVIDING LEGAL ADVICE.  YOU SHOULD CONTACT AN ATTORNEY IN YOUR STATE TO OBTAIN LEGAL ADVICE WITH RESPECT TO ANY PARTICULAR ISSUE OR PROBLEM.