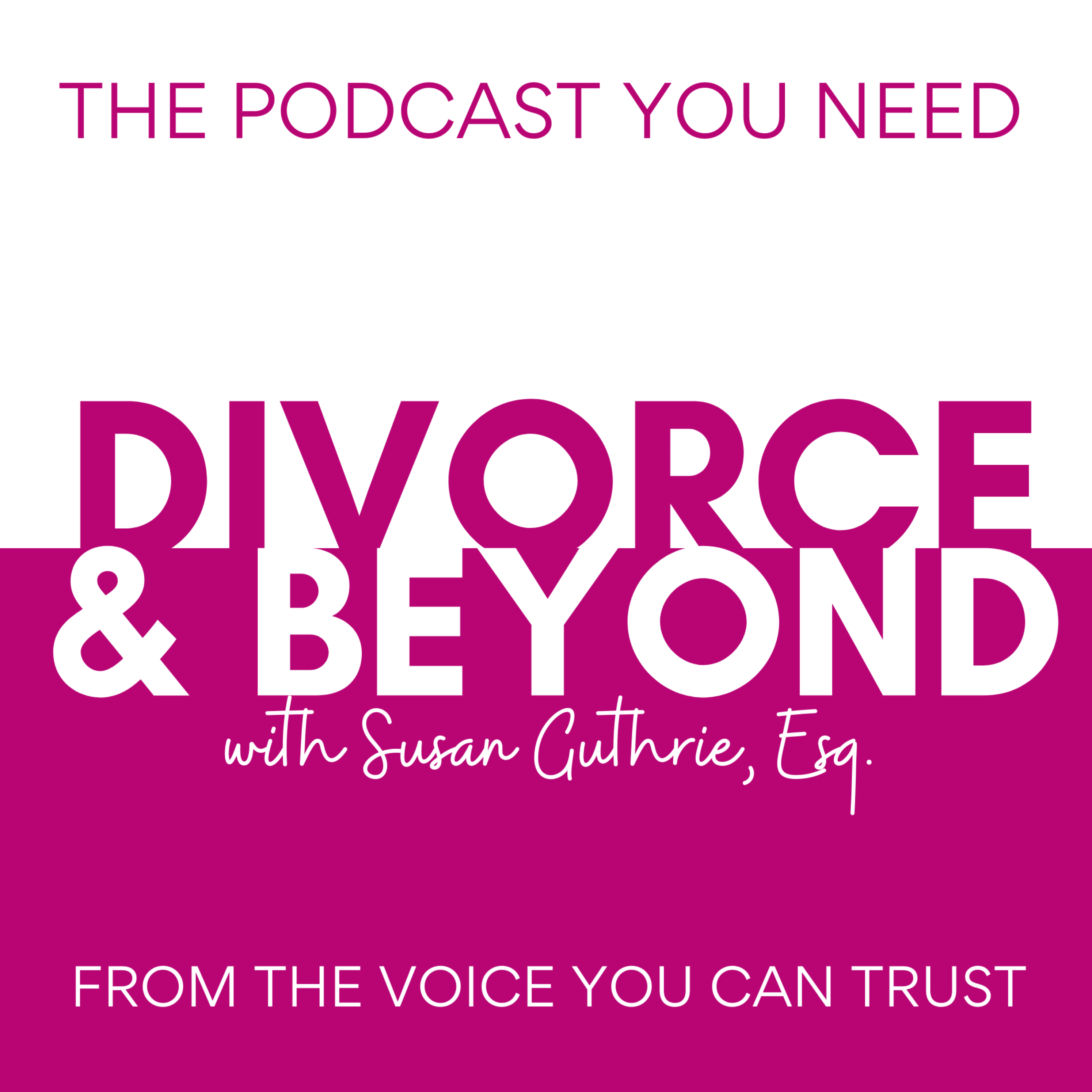 Nationally recognized family law attorney, mediator and award-winning podcaster, Susan Guthrie is at it again! After guiding countless numbers of people through the perilous world of divorce—and speaking to a podcast audience of over 4 million listeners—she's bringing you the "The Divorce & Beyond Podcast" to help you thrive in your life BEYOND divorce!
Episodes
Monday Feb 17, 2020
Monday Feb 17, 2020
In Part One of this very special Two-Part episode, Susan Guthrie, top family law attorney and mediator, and the former host of Breaking Free: A Modern Divorce Podcast, chats with Author and Coach, Lindsey Ellison about her Best-Selling Book, "Magic Words: How to Get What You Want from a Narcissist" which lays out a simple and effective program for managing your relationship with your high-conflict ex!  Lindsey has lived the nightmare herself and her formula is so important that we had to make this a special two-parter so that we could share it all in detail with you!
Divorcing a narcissist is hard but co-parenting with one after divorce can feel impossible!  Author, speaker and coach, Lindsey Ellison went through the crazy-making process herself and struggled for years to try and co-parent with her narcissistic ex until she couldn't take it anymore.  She sat down and using her impressive research skills, she plotted the path to success in dealing with and managing the narcissist in your life.  Luckily, she shared her formula, in a basic and easily digestible format in her best-selling book, "Magic Words: How to Get What You Want from a Narcissist" and she shares the details with us in these two episodes.  Her MAGIC words have worked for her and they will work for you so be sure to listen and get what you want from your narcissist!
Highlights from Part One:
Lindsey tells the story of her journey through marriage, divorce and co-parenting with a narcissist and how her Magic formula has helped her to break the conflict cycle with her ex.
Find out what Lindsey calls Kryptonite for Narcissists and how to use this information to get out of the tornado of dealing with your Narcissist.
What are the most common issues that arise when co-parenting with a Narcissist?
How does codependency mix with Narcissism and how can you get off the hamster wheel of conflict?
How do Narcissist's view their children and how does that affect the co-parenting paradigm?
About Today's Guest:
Lindsey Ellison is a relationship coach and founder of Start Over Coaching, Inc., a coaching practice dedicated to helping people navigate their divorce or break up. Lindsey also specializes in helping people break free from narcissistic abuse, and is the author of the best selling book, MAGIC Words: How to Get What You Want from a Narcissist. You can find Lindsey on her popular podcast, Unbreakable You: Breakup Without Being Broken or on her website lindseyellison.com. 
SPECIAL OFFER:  To get Lindsey's special offer for listeners of The Divorce & Beyond Podcast, "The Magic Words Downloadable Workbook" please click here! The workbook is designed to help you to go through the Mapping Their Persona exercise and the Assessing Their Fears and Insecurities exercise from Lindsey's book so be sure to download your copy today!
********************************************************************
SUSAN GUTHRIE, ESQ., the creator and host of The Divorce and Beyond Podcast, is nationally recognized as one of the top family law and divorce mediation attorneys in the country.  She is one of the Co-Chair's of the American Bar Association's DR Section Mediation Committee and is the Founder of Divorce in a Better Way which provides a curated selection of resources and information for those facing divorce and other life changes.  Susan also provides legal coaching and divorce mediation services to select clients around the world through an online platform.  Find out more at www.divorceinabetterway.com.
*****************************************************************************
THIS WEEK'S SPONSOR INFORMATION:
HELLO DIVORCE: Hello Divorce is a first-of-it's-kind DIY divorce website that allows individuals in California to complete the necessary forms for divorce as well as provides invaluable help with informative videos, articles, affordable legal advice and services all in an online platform and easy to use app!  Listeners of The Divorce & Beyond Podcast can use the discount code "DIVORCEBEYOND" to receive $50 off the cost of any service or subscription!  Find out more at www.hellodivorce.com.
LEARN TO MEDIATE ONLINE:  As one of the leading online mediation experts in the country, Susan Guthrie has created a simple and efficient online training program that allows mediation professionals to quickly and easily add an online platform to their practice!  The two hour online program covers the basics of conducting mediations through an online platform like Zoom, and reviews the ethical and practical considerations that arise in this format.  You even receive a copy of, and the right to use, Susan's Online Mediation Guidelines and Ground Rules to make your online mediations even easier for mediator and clients alike!  Learn more at www.learntomediateonline.com or reach out to Susan directly at susan@learntomediateonline.com.  Listeners of The Divorce & Beyond Podcast receive $50 off the cost of the one-on-one training so be sure to mention that you heard about it here!
*****************************************************************************
SPONSORSHIP OPPORTUNITIES AVAILABLE!
If you would like to sponsor the show please reach out to us at  divorceandbeyondpod@gmail.com for pricing and details!!!
*********************************************************************
Remember to follow Susan Guthrie and THE DIVORCE AND BEYOND PODCAST on social media for updates and inside tips and information:
Susan Guthrie on Facebook
Susan on Instagram
Susan on Twitter
Divorce & Beyond Podcast on Instagram
Divorce & Beyond Podcast on Twitter
If you want to see the video version of the podcast episodes they are available on The Divorce & Beyond YouTube Channel!  Make sure to LIKE and SUBSCRIBE so you don't miss a single episode!
Finally, we'd really appreciate it if you would  give us a 5 Star Rating and tell us what you like about the show in a review - your feedback really matters to us! 
You can also get in touch with Susan at divorceandbeyondpod@gmail.com. 
Don't forget to visit the webpage www.divorceandbeyondpod.com and sign up for the free NEWSLETTER to receive a special welcome video from Susan and more!!
*****************************************************************************
DISCLAIMER:  THE COMMENTARY AND OPINIONS AVAILABLE ON THIS PODCAST ARE FOR INFORMATIONAL AND ENTERTAINMENT PURPOSES ONLY AND NOT FOR THE PURPOSE OF PROVIDING LEGAL ADVICE.  YOU SHOULD CONTACT AN ATTORNEY IN YOUR STATE TO OBTAIN LEGAL ADVICE WITH RESPECT TO ANY PARTICULAR ISSUE OR PROBLEM.