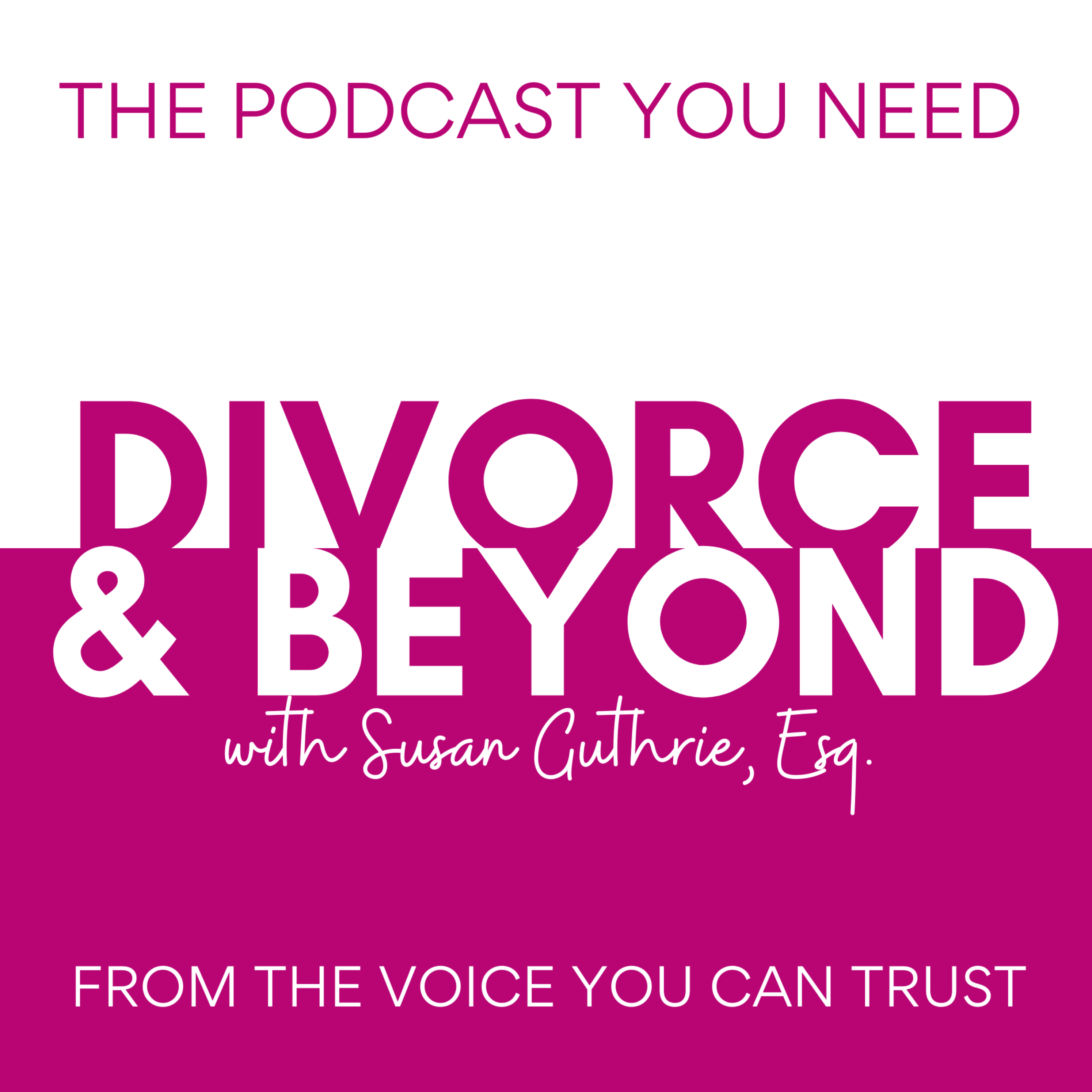 Nationally recognized family law attorney, mediator and award-winning podcaster, Susan Guthrie is at it again! After guiding countless numbers of people through the perilous world of divorce—and speaking to a podcast audience of over 4 million listeners—she's bringing you the "The Divorce & Beyond Podcast" to help you thrive in your life BEYOND divorce!
Episodes
Monday Mar 16, 2020
Monday Mar 16, 2020
In this episode, Susan Guthrie, top family law attorney and mediator, speaks with one of the country's leading divorce financial professionals, Heather Locus, CPA, CFP, CDFA (look at all those initials!), who shares essential financial factors to consider when negotiating your divorce settlement.
Getting a divorce can be one of the scariest experiences that we will ever go through, and much of that fear is worry about finances.  When you take everything that you are your spouse have and split it two ways, it's inevitable that there will be less to go around.  Heather Locus, CPA, CFP, CDFA, one of the country's leading divorce financial professionals knows the fear and uncertainty that people feel when it comes to their money and divorce and she helps people navigate those choppy waters every day.  Heather shares her insights and top tips for you to be aware of as you negotiate your divorce settlement including alimony, property division, retirement assets, taxes, health insurance and more.  If you are facing divorce, do not negotiate anything without listening to this episode first!  
Some HIGHLIGHTS from this Episode:
Find out what ostrich syndrome is and why it can be so costly.
Why is alimony the scariest word in divorce?
Why is flexibility the key to negotiating the best settlement?
How do you create your divorce bucket list?
Hear Heather's insights on focusing on the NEXT CHAPTER so you can move BEYOND!
All this and much, much more so be sure to listen today!
MORE ABOUT TODAY'S GUEST: Heather Locus, CPA, CFP, CDFA is passionate about helping people make complex decisions. As an owner of Balasa Dinverno Foltz, LLC, a national independent private wealth management firm, Heather is head of their Divorce Practice Group, and founder of their Women's Service Team, she solves problems by balancing the emotional and behavioral components of financial decisions with the tax and legal issues.
Since taking the right steps at every turn matters, Heather empowers divorcing men and women to make sound decisions throughout all the phases of divorce. Often as the first divorce professional people talk to, she helps families hire the best-fit attorneys, mediator or other professionals needed. Heather and her team assist in key decisions such as whether to settle or continue negotiations, then fully implement separating assets and managing the investments to fund a full life post-divorce. Heather uses her technical knowledge and first-hand experience to guide people through this unsettling situation to create a full life as they redefine it. She authored The Next Chapter: A Practical Roadmap for Navigating Through, and Beyond, Divorce and is a regular contributor to Forbes.com
A Forbes "America's Top Women Advisor," Heather is also a six-time "Five Star Wealth Manager" according to Chicago Magazine, was named an "Influential Women in Business" by The Business Ledger, a "Top 200 Wealth Advisor Mom" by Working Mother, and an Investment News "Woman to Watch". She has contributed to various publications such as The Wall Street Journal, Crain's Chicago Business, Family Lawyer Magazine and Divorce Magazine on topics ranging from how to protect an estate during a divorce to key financial considerations before signing a divorce settlement or prenuptial agreement. Through presentations including "The Financially Responsible Woman: Five Strategies for a Full Life" and "When I Do Becomes I Don't: Five Strategies for a Financially Responsible Divorce, Heather educates women and men on how to transition through new phases of their life with confidence and peace of mind.
You can reach Heather by email at hlocus@bdfllc.com.  The firm's website is www.bdfllc.com where you can find more information about Heather, BDF and the free resources that she mentioned on the podcast.
Heather's Free Gift:  The first three listeners who reach out to Heather by email at hlocus@bdfllc.com and put "The Divorce & Beyond Podcast" in the subject line will receive a copy of Heather's book, "The Next Chapter: A Practical Roadmap for Navigating Through, and Beyond, Divorce!"
********************************************************************
 SUSAN GUTHRIE, ESQ., the creator and host of The Divorce and Beyond Podcast, is nationally recognized as one of the top family law and divorce mediation attorneys in the country.  She is one of the Co-Chair's of the American Bar Association's DR Section Mediation Committee and is the Founder of Divorce in a Better Way which provides a curated selection of resources and information for those facing divorce and other life changes.  Susan also provides legal coaching and divorce mediation services to select clients around the world through an online platform.  Find out more at www.divorceinabetterway.com.
****************************************************************************
For Divorce Professionals:  As one of the country's leading experts in online mediation, Susan is now sharing her expertise and knowledge and offering her ONLINE MEDIATION TRAINING PROGRAM which will show you how to implement an online platform into to your existing practice in just two short one-hour online sessions!  Increase your potential client base, convenience and income by learning the ethical and practical considerations to know when mediating online!  Find out more at www.learntomediateonline.com and mention you are a listener of the Divorce and Beyond Podcast to get $50 off the cost of the 1:1 training!  
***************************************************************************
THIS WEEK'S SPONSOR INFORMATION: 
Gabrielle Hartley, the Creator of the Better Apart Method:  Leading divorce lawyer, coach and mediator, Gabrielle Hartley's book book "Better Apart: The Radically Positive Way to Separate" is a runaway best-seller and now she has created the Better Apart Master Class, available for download online, which provides powerful tools to help you get clear, feel better and reclaim your life!  For a limited time you will receive a mini consultation with Gabrielle herself when you sign up for the Master Class.  Listeners of the podcast receive $25 off the price of the Master Class with code "BEYOND25"!!!
FAYR, the BEST Co-Parenting App on the Market!   What makes FAYR different?  At FAYR it's not just about efficiency and ease (though they love those).  They also help you create a better co-parenting experience by providing tools for: constructive communication, argument diffusion, and emotional support.  For information on our FAYR, the ONLY co-parenting app recommended by Susan Guthrie and The Divorce and Beyond Podcast,  visit their website at www.fayr.com.  Don't forget to use the code "SUSANG18" for 20% off!!
LIMITED SPONSORSHIP OPPORTUNITIES ARE AVAILABLE:  If you would like to sponsor the show please reach out to us at  divorceandbeyondpod@gmail.com for pricing and details!!!
********************************************************************
Don't forget to check out the Divorce & Beyond Podcast website at www.divorceandbeyondpod.com where you can find all of our episodes, links to sponsors and special offers and SIGN UP FOR THE FREE NEWSLETTER and Receive a Special Welcome Video from Susan!
Remember to follow Susan Guthrie and THE DIVORCE AND BEYOND PODCAST on social media for updates and inside tips and information:
Susan Guthrie on Facebook @Susan Guthrie
Susan on Instagram @susanguthrieesq
Susan on Twitter @guthrielaw
Divorce & Beyond Podcast on Instagram @divorceandbeyond
Divorce & Beyond on Twitter @DivorceBeyond
If you want to see the video version of the podcast episodes they are available on The Divorce & Beyond YouTube Channel!  Make sure to LIKE and SUBSCRIBE so you don't miss a single episode!
Finally, we'd really appreciate it if you would  give us a 5 Star Rating and tell us what you like about the show in a review - your feedback really matters to us!  You can also get in touch with Susan at divorceandbeyondpod@gmail.com.
****************************************************************************
DISCLAIMER:  THE COMMENTARY AND OPINIONS AVAILABLE ON THIS PODCAST ARE FOR INFORMATIONAL AND ENTERTAINMENT PURPOSES ONLY AND NOT FOR THE PURPOSE OF PROVIDING LEGAL ADVICE.  YOU SHOULD CONTACT AN ATTORNEY IN YOUR STATE TO OBTAIN LEGAL ADVICE WITH RESPECT TO ANY PARTICULAR ISSUE OR PROBLEM.
Disclaimer:  No representation is being made that any strategy shown will or is likely to achieve results similar to those shown in this presentation. BDF does not provide legal, tax, insurance, social security or accounting advice. Clients of BDF should obtain their own independent tax, insurance and legal advice based on their particular circumstances. The information herein is provided solely to educate on a variety of topics, including wealth planning, tax considerations, insurance, estate, gift and philanthropic planning.
Past performance may not be indicative of future results.  Different types of investments involve varying degrees of risk.  Future performance of any investment or wealth management strategy, including those recommended by Balasa Dinverno Foltz LLC (BDF), may not be profitable, suitable for you, prove successful or equal historical indices.  Historical indices do not reflect the deduction of transaction, custodial or investment management fees, which would diminish results.  Any historical index performance figures are for comparison purposes only and client account holdings will not directly correspond to any such data.  BDF clients must, in writing, advise BDF of personal, financial or investment objective changes and any restrictions desired on BDF's services so that BDF may re-evaluate its previous recommendations and adjust its investment advisory services.  BDF's current written disclosure statement discussing advisory services and fees is available for review at www.BDFLLC.com or upon request.