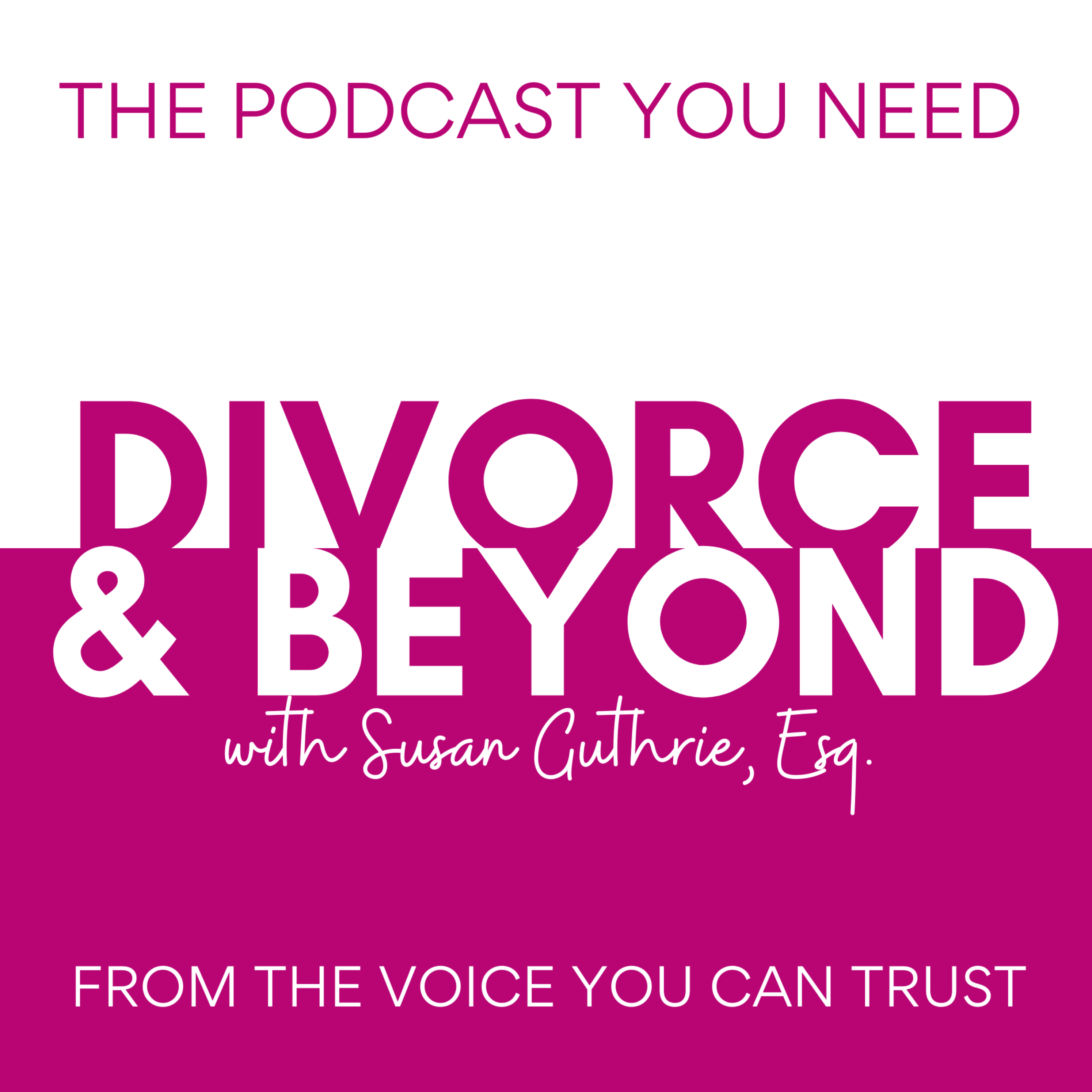 Nationally recognized family law attorney, mediator and award-winning podcaster, Susan Guthrie is at it again! After guiding countless numbers of people through the perilous world of divorce—and speaking to a podcast audience of over 4 million listeners—she's bringing you the "The Divorce & Beyond Podcast" to help you thrive in your life BEYOND divorce!
Episodes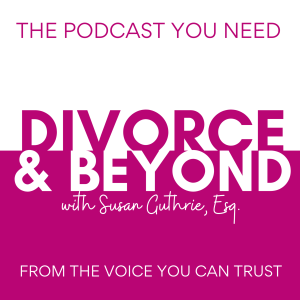 Monday May 17, 2021
Monday May 17, 2021
In this episode Susan Guthrie talks with Lili Vasileff, one of the Leading Divorce Financial Professionals in the Country and author of three books on the subject, about the reinvigorated topic of Grey Divorce, as highlighted by the recent spate of high profile billionaire divorces.  The fact is, they can afford to get divorced, but for those of more modest means, Lili points out the many financial pitfalls, and strategies to avoid or minimize them, for those divorcing later in life!
The news has been full of reports about some high profile, ultra high net worth divorces in recent months, most recently that of Bill and Melinda Gates who have been married for 27 years.  In fact, the later years or "grey divorce" is the most common age group getting divorced these days!  According to the most recent data from the U.S. Census Bureau, divorce rates were highest (about 43%) among both sexes, aged 55 to 64.  This is more than just an interesting little tidbit of information if you are in this demographic and getting divorced as the finanancial ramifications of getting divorced when you are older can have serious and long-lasting effects and mistakes made during the divorce process can be catastrophic.  As Lili and Susan say, "In divorce, there are no do-overs!"  The key take-aways are: get professional help if you can, educate yourself and take charge of your own financial destiny.  Lili is passionate about financial literacy and this episode will help you to see why - be sure to listen!
More information about This week's Special Guest, Lili Vasileff:
Lili A. Vasileff is a fee only Certified Financial Planner (CFP®), Master Analyst in Financial Forensics (MAFF™) specializing in Matrimonial Litigation, Certified Divorce Financial Analyst (CDFA®), and President of Wealth Protection Management based in Greenwich, CT. She is a trained mediator, collaborative financial specialist, and qualified litigation expert. She trains divorce professionals in the Collaborative process and presents on financial topics regularly at the New York City Bar Association.
She is a nationally recognized expert practitioner, speaker, writer, and author of three books: "Money & Divorce: The Essential Roadmap to Mastering Financial Decisions" published by the American Bar Association; and "The Ultimate Divorce Organizer, The Complete Interactive Guide to Achieving the Best Legal, Financial and Personal Divorce", and "The Divorce Planner Checklist".
Lili is the co-president of the national Association of Divorce Financial Planners (ADFP).  Her awards include the prestigious 2013 Pioneering Award for outstanding public advocacy and leadership in the field of divorce financial planning, the Women's Choice Award as a highly recommended Financial Advisor by Women for Women; CEO Today 2018 Business Woman of the Year Award; Five Star Wealth Manager Award for last 12 years, the Best Wealth Protection Manager 2019 - Northeast USA and Recognized Leader in Divorce Finance 2019 by Wealth & Money Management, and Marquis Who's Who Albert Nelson Lifetime Achievement Award.  Her website is www.wealthprotectionmanagement.com.
Follow Lili on Instagram for great tips:
https://www.instagram.com/moneyanddivorce
Contact Lili:
T:  203-622-4911
E:  lili@wealthprotectionmanagement.com
**********************
SUSAN GUTHRIE, ESQ., the creator and host of The Divorce and Beyond Podcast, is nationally recognized as one of the top family law and divorce mediation attorneys in the country.  She is one of the Co-Chair's of the American Bar Association's DR Section Mediation Committee and is the Founder of Divorce in a Better Way which provides a curated selection of resources and information for those facing divorce and other life changes.  Susan has created a website of curated resources for those facing divorce.  Find out more at www.divorceinabetterway.com.
*****************************************************************************
THANK YOU TO OUR SPONSOR!!
As the Experts in Remote Alcohol Monitoring Technology, Soberlink combines a breathalyzer with wireless connectivity and is the only system with facial recognition, tamper detection, and Advanced Reporting™. The real-time system reduces litigation, fosters peace of mind, and ensures child safety. 
SPECIAL OFFER:  For a limited time, get an exclusive $50 off your device by emailing info@soberlink.com and mentioning Divorce and Beyond.
*********************************************
 THE DIVORCE & BEYOND MEMBERS ONLY COMMUNITY IS LIVE!!
Subscribe now for only $10 per month and take your Divorce & Beyond experience BEYOND!!
D & B Members Only will receive a number of benefits including:
Ad and Interruption Free Podcast Archive
BONUS Members Only Podcast Episodes monthly
Downloadable Worksheets, Spreadsheets and Other Forms 
Access to the "Ask Susan Anything" Forum where you can ask your questions and learn from the answers to others.
*****************************************************************************
SPONSORSHIP OPPORTUNITIES AVAILABLE!
If you would like to sponsor the show please reach out to us at  divorceandbeyondpod@gmail.com for pricing and details!!!
*********************************************************************
Remember to follow Susan Guthrie and THE DIVORCE AND BEYOND PODCAST on social media for updates and inside tips and information:
Susan Guthrie on Facebook @susanguthrieesq
Susan on Instagram @susanguthrieesq
Susan on Twitter @guthrielaw
Divorce & Beyond Podcast on Instagram @divorceandbeyond
Divorce & Beyond Podcast on Twitter @DivorceBeyond
If you want to see the video version of the podcast episodes they are available on The Divorce & Beyond YouTube Channel!  Make sure to LIKE and SUBSCRIBE so you don't miss a single episode!
Finally, we'd really appreciate it if you would  give us a 5 Star Rating and tell us what you like about the show in a review - your feedback really matters to us! 
You can get in touch with Susan at divorceandbeyondpod@gmail.com. 
Don't forget to visit the webpage www.divorceandbeyondpod.com and sign up for the free NEWSLETTER to receive a special welcome video from Susan and more!!
*****************************************************************************
DISCLAIMER:  THE COMMENTARY AND OPINIONS AVAILABLE ON THIS PODCAST ARE FOR INFORMATIONAL AND ENTERTAINMENT PURPOSES ONLY AND NOT FOR THE PURPOSE OF PROVIDING LEGAL ADVICE.  YOU SHOULD CONTACT AN ATTORNEY IN YOUR STATE TO OBTAIN LEGAL ADVICE WITH RESPECT TO ANY PARTICULAR ISSUE OR PROBLEM