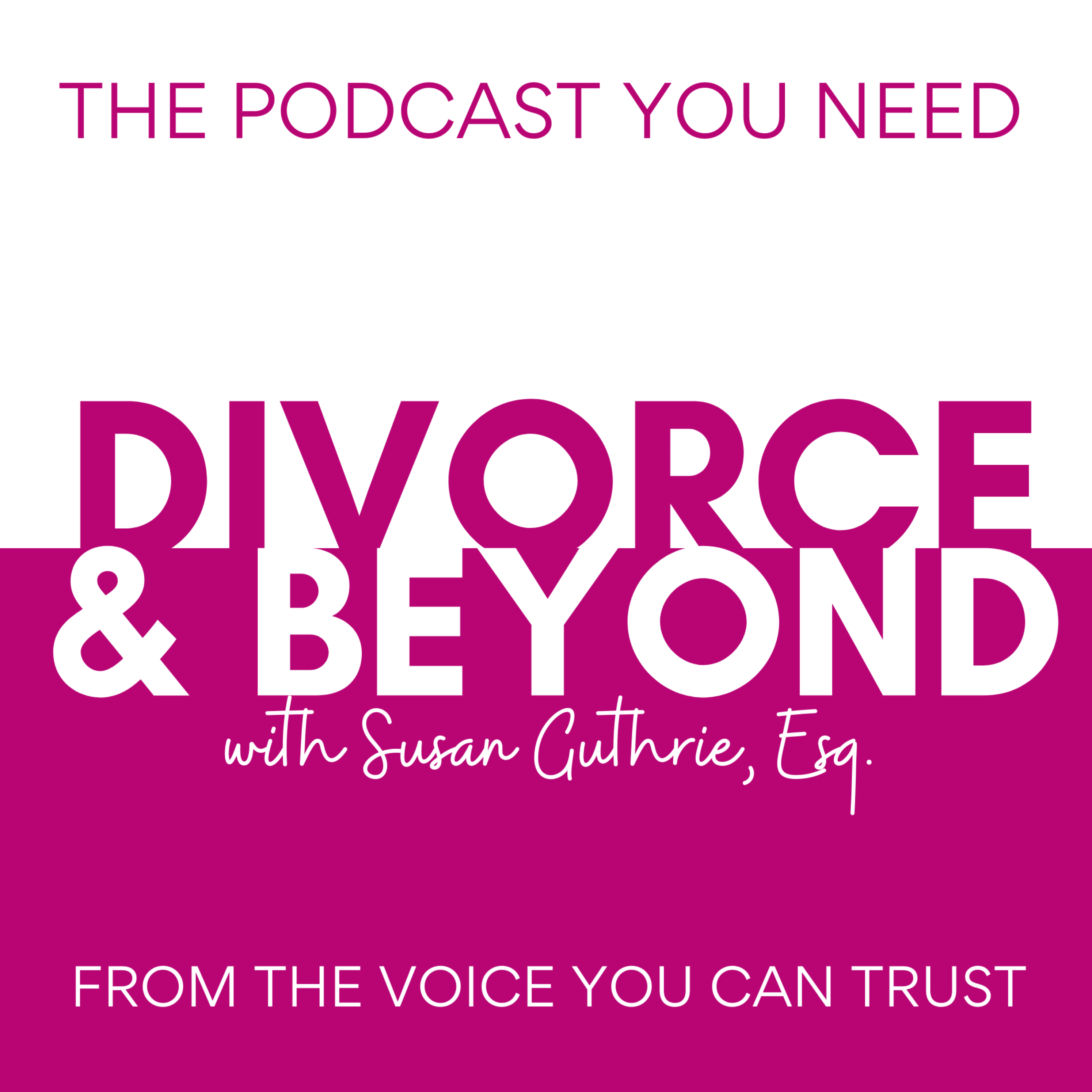 Nationally recognized family law attorney, mediator and award-winning podcaster, Susan Guthrie is at it again! After guiding countless numbers of people through the perilous world of divorce—and speaking to a podcast audience of over 4 million listeners—she's bringing you the "The Divorce & Beyond Podcast" to help you thrive in your life BEYOND divorce!
Episodes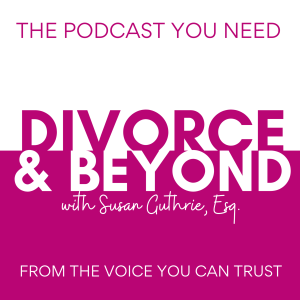 Monday Apr 11, 2022
Monday Apr 11, 2022
This week on Divorce & Beyond, Host, Susan Guthrie speaks with Best-Selling Author, Silvia Foti, whose book The Nazi's Granddaughter: How I Discovered My Grandfather Was a War Criminal caused a world-wide sensation and sparked a deeper conversation around her deeply personal journey through denial, loss of identity and eventual acceptance and decision to honor the truth.  
At first it may be hard to see where Silvia Foti's journey from the treasured granddaughter of a celebrated national hero, to the becoming the myth-busting heir to a history of deceit, anti-Semitism and Nazi collaboration intersects with the journey through divorce but trust us - it does!  After all, when we are faced with a reality that we find unacceptable, such as divorce or other unwelcome major life change, isn't it human nature to enter some period of denial?  Silvia certainly did when she discovered the truth about her grandfather's participation in atrocities during the war.   And when you have believed for years that your role in life is wife, husband, partner and/or spouse, isn't there some element of loss of identity when things drastically change during a divorce?  Silvia experienced this as well and more on her 20-year long journey to uncover and then document the truth of her history.
This is a riveting story of one woman's journey for truth and her many lessons that will help you on your way - be sure to listen today!
More About Silvia Foti:
SILVIA FOTI, author of the memoir The Nazi's Granddaughter: How I Discovered My Grandfather Was a War Criminal, is an award-winning investigative journalist in Chicago and a high school literature teacher. She holds master's degrees in journalism, education, and creative nonfiction. Silvia made a deathbed promise to her mother to write a book about her famous, WWII hero grandfather, Jonas Noreika, twenty-one years ago. Silvia's grandmother begged her not to write about her husband. "Just let history lie," she whispered. Silvia had no idea that in keeping her promise to her mother, her discoveries would bring her to a personal crisis, challenge her Catholic faith, unearth Holocaust denial, and expose an official cover-up by the Lithuanian government. Her goal in writing this story of her grandfather, known as General Storm in Lithuania, is to upend Lithuania's narrative that Lithuanians had nothing to do with killing Jews, that it was all done by German Nazis.
Contact Silvia:
Get the Book:  https://amzn.to/3Kwjfw6
Read the article in the New York Times featuring Silvia and the book:  No More Lies. My Grandfather Was a Nazi. - The New York Times
*****************************************************************************
MEET OUR CREATOR AND HOST:
SUSAN GUTHRIE®, ESQ., the creator and host of The Divorce and Beyond® Podcast, is nationally recognized as one of the top family law and divorce mediation attorneys in the country.  Susan is a member of the Executive Council of the American Bar Association Section of Dispute Resolution and is the Founder of Divorce in a Better Way® which provides a curated selection of resources and information for those facing divorce and other life changes. 
Internationally renowned as one of the leading experts in online mediation, Susan created her Learn to Mediate Online® program and has trained more than 20,000 professionals in how to transition their practice online.  Susan recently partnered with legal and mediation legend, Forrest "Woody" Mosten to create the Mosten Guthrie Academy which provides gold standard, fully online training for mediation and collaborative professionals at all stages of their career.  
******************************************************************************
Mosten Guthrie Academy Co-Parenting Specialist Training Program!  Lead Trainer: Christina McGhee (yes, THAT Christina McGhee that you love on Divorce & Beyond!)
The first of its kind, this Intensive Co-parenting Training Program is designed to do exactly that. It helps family law practitioners move beyond focusing on how time is spent between households and center their work with co-parents on the needs of children as they navigate the realities of post-divorce parenting.
Regardless of where you are on the spectrum of experience, this innovative program will help you make the shift while gaining valuable skills and tools you can start using in your practice right away.
Our next training is in May, 2022 - JOIN US! https://mostenguthrie.com/co-parenting-specialist/
*********************************************
Remember to follow Susan Guthrie and THE DIVORCE AND BEYOND PODCAST on social media for updates and inside tips and information:
Susan Guthrie on Facebook @susanguthrieesq
Susan on Instagram @susanguthrieesq @divorceandbeyond
Susan on Twitter @guthrielaw
If you want to see the video version of the podcast episodes they are available on The Divorce & Beyond YouTube Channel!  Make sure to LIKE and SUBSCRIBE so you don't miss a single episode!
Finally, we'd really appreciate it if you would  give us a 5 Star Rating and tell us what you like about the show in a review - your feedback really matters to us! Here's a link to the show on Apple Podcasts: https://podcasts.apple.com/us/podcast/the-divorce-and-beyond-podcast-with-susan-guthrie-esq/id1490881800
You can get in touch with Susan at divorceandbeyondpod@gmail.com. 
Don't forget to visit the webpage www.divorceandbeyondpod.com and sign up for the free NEWSLETTER to receive a special welcome video from Susan and more!!
********************************************************************
THANK YOU TO OUR SPONSOR:
*******************************************************************
SPONSORSHIP OPPORTUNITIES AVAILABLE!
If you would like to sponsor the show please reach out to us at  divorceandbeyondpod@gmail.com for pricing and details!!!
*********************************************************************
DISCLAIMER:  THE COMMENTARY AND OPINIONS AVAILABLE ON THIS PODCAST ARE FOR INFORMATIONAL AND ENTERTAINMENT PURPOSES ONLY AND NOT FOR THE PURPOSE OF PROVIDING LEGAL ADVICE.  YOU SHOULD CONTACT AN ATTORNEY IN YOUR STATE TO OBTAIN LEGAL ADVICE WITH RESPECT TO ANY PARTICULAR ISSUE OR PROBLEM.