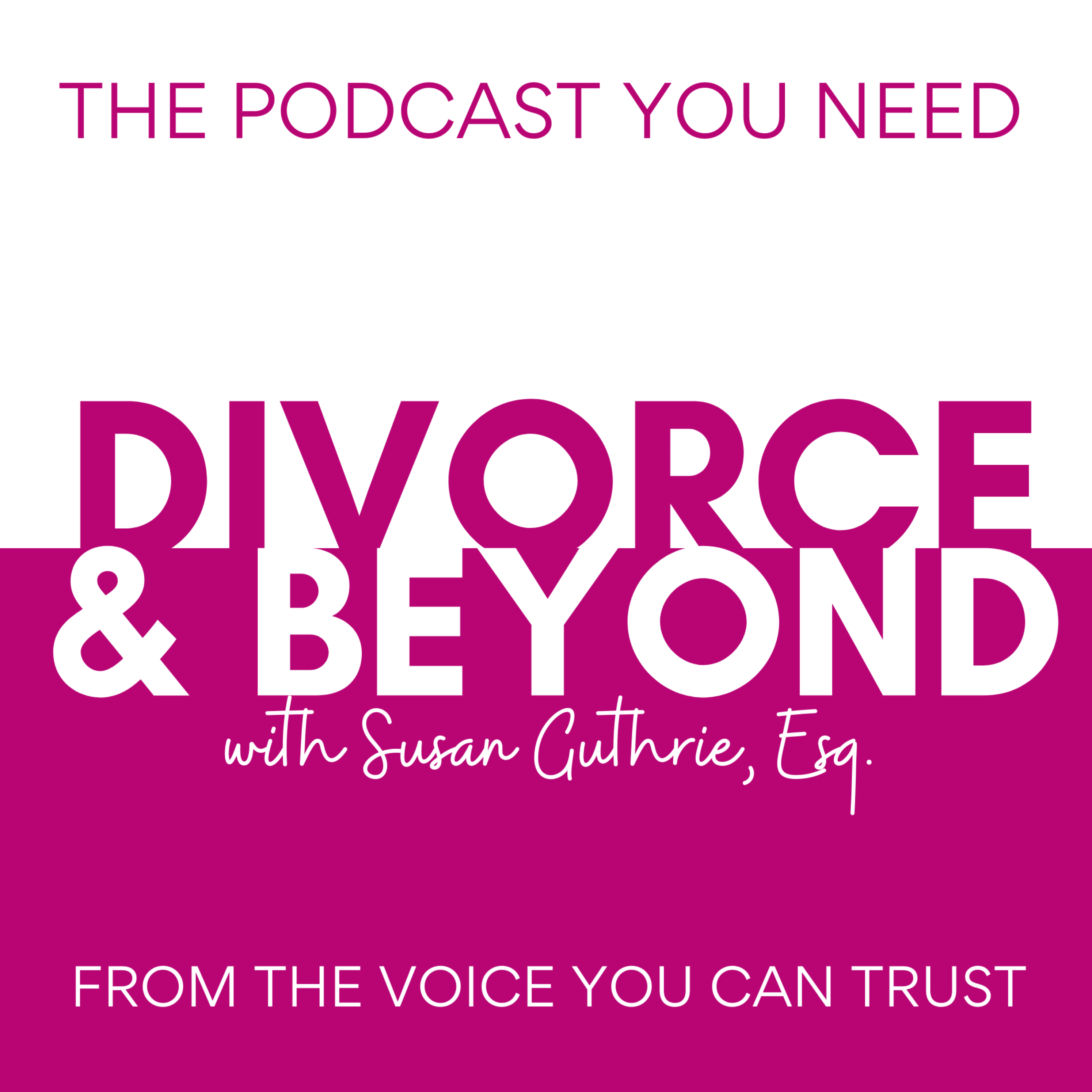 Parent Coordination Primer Part One of a Two-Part Episode with Attorney/Mediator, Carolyn Kalos on Divorce & Beyond #240
Jun 6th, 2022 by divorceandbeyond
This week and next, Susan speaks with Attorney/Mediator, Carolyn Kalos in a special two-part episode sharing everying you need to know about Parent Coordination:  What it is and How it Can Help Your High Conflict Co-Parenting!
Carolyn Kalos has been practicing in New York City, some of the busiest courts in the country for over 25 years and spend many of those years in the courtroom with some of the most difficult cases involving children.  She knows the ins and outs of the system AND it's limitations.  One thing that Carolyn knows for sure is that the court is very often not the best place to resolve issues between co-parents when it comes to disagreements about their kids.  
With her special expertise and many years of experience in the family courts as an advocate, Carolyn is passionate about helping families stay out of the system as much as possible, even high conflict cases.  She is a sought-after Parent Coordinator (PC) in New York and is seeing a large uptick in the number of judges appointing PCs and in attorneys suggesting them to clients.  But what exactly is Parent Coordination?  How does it work, how do you find a good one and how does it keep you and your family out of court?
This is a big topic, and is such an important one, that we had to make it a two-parter so listen to Part One now and tune in next Monday for the conclusion in Part Two!
About this week's special guest:
Carolyn Kalos has been a family lawyer in New York City for over 25 years allowing her to see the toll that divorce, custody disputes, and overall conflict can take on families, especially on children. She is the founding partner at FamilyFriendlyMediation, where she is an attorney, a mediator and a parenting coordinator, with a practice focused entirely on helping families in a less conflict-driven and more amicable way.  Carolyn also serves on the NextGen Board at FamilyKind, where she is a consulting Mediator & Parenting Coordinator.  She is also the Associate Director at the Center for Mediation & Training, a volunteer mediator at NYLAG (New York Legal Assistance Group), and a consultant at Apiary Life.  Carolyn has been a litigator, trial skills instructor, and adjunct professor, all in the area of family law.  Carolyn went to the University of Michigan (Go Blue!) and Emory Law School.
Find out more about Carolyn and her services:
www.familyfriendlymediation.com
Follow Carolyn on Instagram at @familyfriendlymediation
To meet with Carolyn at the special reduced fee rate for Divorce & Beyond Listeners visit: Home | Carolyn Kalos  https://www.carolynkalos.com
******************************************************************************************************
THANK YOU TO OUR SPONSOR:
Thriving in divorce and beyond means not having to worry about the safety of your children when it comes to co-parenting. With alcohol abuse on the rise, many co-parents are turning to the system committed to providing proof, protection, and peace of mind. Soberlink's alcohol monitoring system is the most convenient, reliable, and reasonable way for a parent to provide evidence that they are not drinking during parenting time. Soberlink's real-time alerts, facial recognition, and tamper detection ensure the integrity of each test, so you can be confident your kids are with a sober parent. With Soberlink, judges rest assured that your child is safe, attorneys get court-admissible evidence of sobriety, and both parents have empowerment and peace of mind. Pull back the curtain on the mysteries of parenting time and trust The Experts in Remote Alcohol Monitoring Technology™ to keep you informed and your kids safe and secure. To download the addiction and children resource page that I developed with Soberlink, visit www.Soberlink.com/Susan  
*******************************************************************
MEET OUR CREATOR AND HOST:
SUSAN GUTHRIE®, ESQ., the creator and host of The Divorce and Beyond® Podcast, is nationally recognized as one of the top family law and divorce mediation attorneys in the country.  Susan is a member of the Executive Council of the American Bar Association Section of Dispute Resolution and is the Founder of Divorce in a Better Way® which provides a curated selection of resources and information for those facing divorce and other life changes. 
Internationally renowned as one of the leading experts in online mediation, Susan created her Learn to Mediate Online® program and has trained more than 18,000 professionals in how to transition their practice online.  Susan recently partnered with legal and mediation legend, Forrest "Woody" Mosten to create the Mosten Guthrie Academy which provides gold standard, fully online training for mediation and collaborative professionals at all stages of their career.  
*****************************************************************************
SPONSORSHIP OPPORTUNITIES AVAILABLE!
If you would like to sponsor the show please reach out to us at  divorceandbeyondpod@gmail.com for pricing and details!!!
*********************************************************************
Remember to follow Susan Guthrie and THE DIVORCE AND BEYOND PODCAST on social media for updates and inside tips and information:
Susan Guthrie on Facebook @susanguthrieesq
Susan on Instagram @susanguthrieesq
Susan on Twitter @guthrielaw
If you want to see the video version of the podcast episodes they are available on The Divorce & Beyond YouTube Channel!  Make sure to LIKE and SUBSCRIBE so you don't miss a single episode!
Finally, we'd really appreciate it if you would  give us a 5 Star Rating and tell us what you like about the show in a review - your feedback really matters to us! 
You can get in touch with Susan at divorceandbeyondpod@gmail.com. 
Don't forget to visit the webpage www.divorceandbeyondpod.com and sign up for the free NEWSLETTER to receive a special welcome video from Susan and more!!
*****************************************************************************
DISCLAIMER:  THE COMMENTARY AND OPINIONS AVAILABLE ON THIS PODCAST ARE FOR INFORMATIONAL AND ENTERTAINMENT PURPOSES ONLY AND NOT FOR THE PURPOSE OF PROVIDING LEGAL ADVICE.  YOU SHOULD CONTACT AN ATTORNEY IN YOUR STATE TO OBTAIN LEGAL ADVICE WITH RESPECT TO ANY PARTICULAR ISSUE OR PROBLEM
Share
|
Download