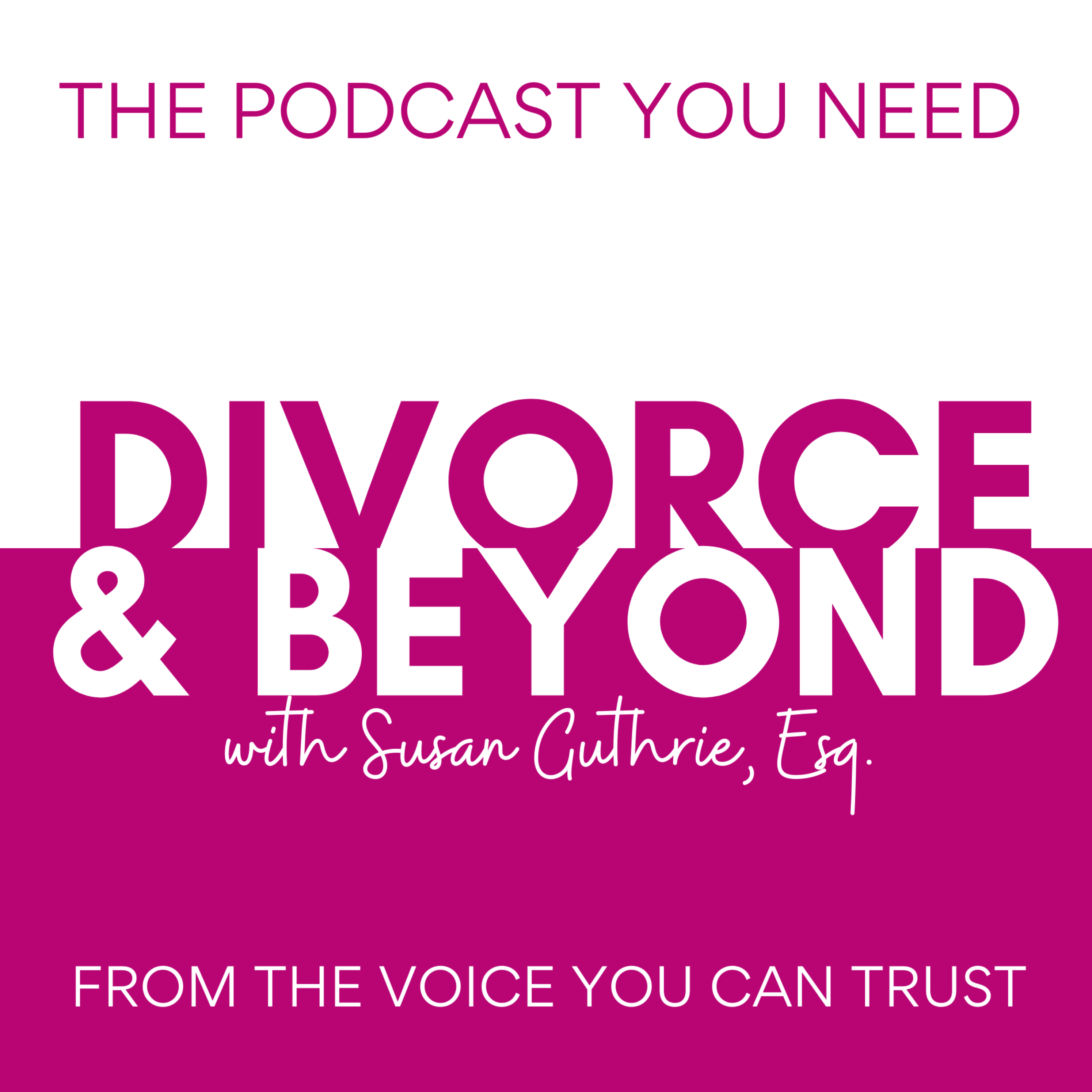 Nationally recognized family law attorney, mediator and award-winning podcaster, Susan Guthrie is at it again! After guiding countless numbers of people through the perilous world of divorce—and speaking to a podcast audience of over 4 million listeners—she's bringing you the "The Divorce & Beyond Podcast" to help you thrive in your life BEYOND divorce!
Episodes
Monday Dec 30, 2019
Monday Dec 30, 2019
In this episode, Susan Guthrie, top family law attorney, mediator and the former host of Breaking Free: A Modern Divorce Podcast, speaks with Therapist, Virginia Gilbert, MFT about her life changing book, Transcending High-Conflict Divorce:  How to Disengage from Your Ex and Find Your Power.  The trauma of high conflict divorce can end, and this episode will help you to end the cycle of abuse and reclaim your life!
Divorce is never easy to go through but a high conflict divorce can be especially destructive and difficult to recover from.  Often the cycle of trauma and abuse continues long after the divorce is final and victims suffer for years through an endless pattern of conflict with their ex.  Virginia Gilbert, MFT has been through the horror of a high conflict divorce and has experienced the aftermath herself.  She now specializes in counseling victims of high conflict personalities in recovery and helps them to reclaim their lives and move forward by ending the repetitive cycles.  Her book, Transcending High-Conflict Divorce: How to Disengage from Your Ex and Find Your Power, is a lifeline with tips and concrete advice that ACTUALLY WORK!  Tune in to this episode and get your life back!
Some highligts from this episode:
6:20  Hear about Virginia's own "apocolyptic" divorce.
12:10  What are the psychological reasons that cause high-conflict divorce?
12:30  Find out what Virginia means when she says that "Mother Theresa never marries Hitler."
19:20  What is Virginia's BINF Method for communicating with your high conflict ex?
25:50  What is "Divorce PTSD" and how does it come into play in high conflict divorces?
32:00  What is the developmental task of divorce and how can it set you free?
Virginia Gilbert, LMFT, is a psychotherapist in Los Angeles who specializes in high-conflict divorce, and sex and love addiction (which sometimes leads to high-conflict divorce!). She is also a freelance writer and some of her written work has appeared in HuffPost, Good Men Project, Addiction.com, and Covey Club.  You can find out more and contact Virginia at vgilbertmft@gmail.com or through her website:  www.virginiagilbertmft.com
To receive a FREE copy of Virginia's special gift for listeners of The Divorce & Beyond Podcast, her "Personal Growth Journey Template", send an email to Virginia at vgilbertmft@gmail.com and reference the podcast in the subject line!!!
Virginia's book, Transcending High-Conflict Divorce: How to Disengage from Your Ex and Find Your Power
can be purchased on Amazon or by clicking the image below:
********************************************************************
 SUSAN GUTHRIE, ESQ., the creator and host of The Divorce and Beyond Podcast, is nationally recognized as one of the top family law and divorce mediation attorneys in the country.  She is one of the Co-Chair's of the American Bar Association's DR Section Mediation Committee and is the Founder of Divorce in a Better Way which provides a curated selection of resources and information for those facing divorce and other life changes.  Susan also provides legal coaching and divorce mediation services to select clients around the world through an online platform.  Find out more at www.divorceinabetterway.com.
************************************************************************************
For Divorce Professionals:  As one of the country's leading experts in online mediation, Susan is now sharing her expertise and knowledge and offering her ONLINE MEDIATION TRAINING PROGRAM which will show you how to implement an online platform into to your existing practice in just two short one-hour online sessions!  Increase your potential client base, convenience and income by learning the ethical and practical considerations to know when mediating online!  Find out more at www.learntomediateonline.com and mention you are a listener of the Divorce and Beyond Podcast to get $50 off the cost of the training!  
***************************************************************************
THIS WEEK'S SPONSOR INFORMATION: 
Gabrielle Hartley, the Creator of the Better Apart Method:  Leading divorce lawyer, coach and mediator, Gabrielle Hartley's book book "Better Apart: The Radically Positive Way to Separate" is a runaway best-seller and now she has created the Better Apart Master Class, available for download online, which provides powerful tools to help you get clear, feel better and reclaim your life!  For a limited time you will receive a mini consultation with Gabrielle herself when you sign up for the Master Class.  Listeners of the podcast receive $25 off the price of the Master Class with code "BEYOND25"!!!
FAYR, the BEST Co-Parenting App on the Market!   What makes FAYR different?  At FAYR it's not just about efficiency and ease (though they love those).  They also help you create a better co-parenting experience by providing tools for: constructive communication, argument diffusion, and emotional support.  For information on our FAYR, the ONLY co-parenting app recommended by Susan Guthrie and The Divorce and Beyond Podcast,  visit their website at www.fayr.com.  Don't forget to use the code "SUSANG18" for 20% off!!
If you would like to sponsor the show please reach out to us at  divorceandbeyondpod@gmail.com for pricing and details!!!
*********************************************************************
Remember to follow Susan Guthrie and THE DIVORCE AND BEYOND PODCAST on social media for updates and inside tips and information:
Susan Guthrie on Facebook
Susan on Instagram
Susan on Twitter
Divorce & Beyond Podcast on Instagram
If you want to see the video version of the podcast episodes they are available on The Divorce & Beyond YouTube Channel!  Make sure to LIKE and SUBSCRIBE so you don't miss a single episode!
Finally, we'd really appreciate it if you would  give us a 5 Star Rating and tell us what you like about the show in a review - your feedback really matters to us!  You can also get in touch with Susan at divorceandbeyondpod@gmail.com.
*****************************************************************************
DISCLAIMER:  THE COMMENTARY AND OPINIONS AVAILABLE ON THIS PODCAST ARE FOR INFORMATIONAL AND ENTERTAINMENT PURPOSES ONLY AND NOT FOR THE PURPOSE OF PROVIDING LEGAL ADVICE.  YOU SHOULD CONTACT AN ATTORNEY IN YOUR STATE TO OBTAIN LEGAL ADVICE WITH RESPECT TO ANY PARTICULAR ISSUE OR PROBLEM.