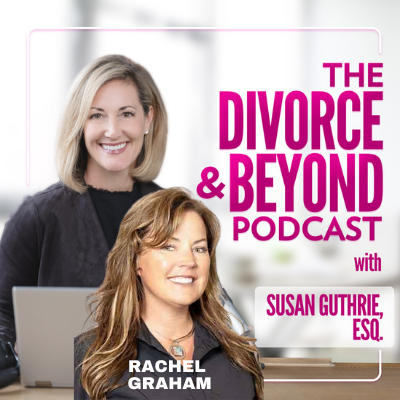 Secrets Can Make You Sick: Unlock Your Lockbox with Rachel Graham on The Divorce & Beyond Podcast with Susan Guthrie, Esq. #171
Mar 29th, 2021 by divorceandbeyond
In this episode Susan Guthrie chats with Rachel Graham, whose new TEDx is focused on helpingyou to unlock your lockbox of secrets so that you can live a better life!
Not all secrets are bad, but so often they can make us sick - literally!  When we are hiding things from those around us or even from ourselves, we can manifest that stress as anxiety, illness, depression and more which can lead to mental health issues, addiction and broken relationships.  The devestating effect of what we keep locked away, often brings more misery to our lives, and Rachel Graham knows this all too well as the Founder of Healing Springs Ranch, an in-patient addiction and recovery center.  Her experiences with patients as well as the cost of secrets in her own life, led her to create her popular TEDx talk focused on helping you to unlock your lockbox of secrets.  
Some highlights from the episode:
Why secrets often result in physical illness and mental health issues;
The intersection of shame and secrets with divorce;
How there can be many kinds of infidelity in relationships and how they all stem from secrets;
Rachel's own secret that she reveals in her TEDx;
How you can release those secrets from your own lockbox; and
MUCH MORE!
The average person has 13 secrets, 5 of which they have never told to anyone so if you are ready to start letting some of your secret's go, this is the episode for you!
WATCH RACHEL'S NEW TEDx HERE: https://www.youtube.com/watch?v=yatDKSHQRJ4
More information about This week's Special Guest:
Rachel H. Graham, the CEO and founder of Evolve and Transform is a business entrepreneur, leadership and development coach, and an empowering optimist. Having gone through her own personal journey as a family member of a loved one who struggled with unresolved trauma, mental health, and addiction, she saw the need and opportunity to educate people, business leaders, students, and professionals to remove the stigma around addiction and compulsive behaviors. While encouraging individuals to find their meaning and purpose in life through their skills and individual experiences.
As a result of this personal crisis, she co-founded and currently serves in the capacity of CEO for both Healing Springs Ranch, a residential 28-bed treatment facility for addiction, and Life Works Wellness, a start-up wellness digital platform. Much of what she learned in executive development provides a strong foundation for teaching not only addiction recovery but the overall health and wellness of every individual.
Get more information at:  https://www.healingspringsranch.com and https://www.evolveandtransform.me
Follow Rachel on social media:
https://www.facebook.com/evolveandtransform/
https://www.linkedin.com/in/rachel-graham-62629b1b/
https://www.youtube.com/channel/UCdBBV9PGBBCK_PWELt4CrbA?view_as=subscriber
https://www.instagram.com/evolve_and_transform_llc/
**********************
SUSAN GUTHRIE, ESQ., the creator and host of The Divorce and Beyond Podcast, is nationally recognized as one of the top family law and divorce mediation attorneys in the country.  She is one of the Co-Chair's of the American Bar Association's DR Section Mediation Committee and is the Founder of Divorce in a Better Way which provides a curated selection of resources and information for those facing divorce and other life changes.  Susan has created a website of curated resources for those facing divorce.  Find out more at www.divorceinabetterway.com.
*****************************************************************************
THANK YOU TO OUR SPONSOR!!
As the Experts in Remote Alcohol Monitoring Technology, Soberlink combines a breathalyzer with wireless connectivity and is the only system with facial recognition, tamper detection, and Advanced Reporting™. The real-time system reduces litigation, fosters peace of mind, and ensures child safety. 
SPECIAL OFFER:  For a limited time, get an exclusive $50 off your device by emailing info@soberlink.com and mentioning Divorce and Beyond.
*********************************************
 THE DIVORCE & BEYOND MEMBERS ONLY COMMUNITY IS LIVE!!
Subscribe now for only $10 per month and take your Divorce & Beyond experience BEYOND!!
D & B Members Only will receive a number of benefits including:
Ad and Interruption Free Podcast Archive
BONUS Members Only Podcast Episodes monthly
Downloadable Worksheets, Spreadsheets and Other Forms 
Access to the "Ask Susan Anything" Forum where you can ask your questions and learn from the answers to others.
*****************************************************************************
SPONSORSHIP OPPORTUNITIES AVAILABLE!
If you would like to sponsor the show please reach out to us at  divorceandbeyondpod@gmail.com for pricing and details!!!
*********************************************************************
Remember to follow Susan Guthrie and THE DIVORCE AND BEYOND PODCAST on social media for updates and inside tips and information:
Susan Guthrie on Facebook @susanguthrieesq
Susan on Instagram @susanguthrieesq
Susan on Twitter @guthrielaw
Divorce & Beyond Podcast on Instagram @divorceandbeyond
Divorce & Beyond Podcast on Twitter @DivorceBeyond
If you want to see the video version of the podcast episodes they are available on The Divorce & Beyond YouTube Channel!  Make sure to LIKE and SUBSCRIBE so you don't miss a single episode!
Finally, we'd really appreciate it if you would  give us a 5 Star Rating and tell us what you like about the show in a review - your feedback really matters to us! 
You can get in touch with Susan at divorceandbeyondpod@gmail.com. 
Don't forget to visit the webpage www.divorceandbeyondpod.com and sign up for the free NEWSLETTER to receive a special welcome video from Susan and more!!
*****************************************************************************
DISCLAIMER:  THE COMMENTARY AND OPINIONS AVAILABLE ON THIS PODCAST ARE FOR INFORMATIONAL AND ENTERTAINMENT PURPOSES ONLY AND NOT FOR THE PURPOSE OF PROVIDING LEGAL ADVICE.  YOU SHOULD CONTACT AN ATTORNEY IN YOUR STATE TO OBTAIN LEGAL ADVICE WITH RESPECT TO ANY PARTICULAR ISSUE OR PROBLEM
Share
|
Download