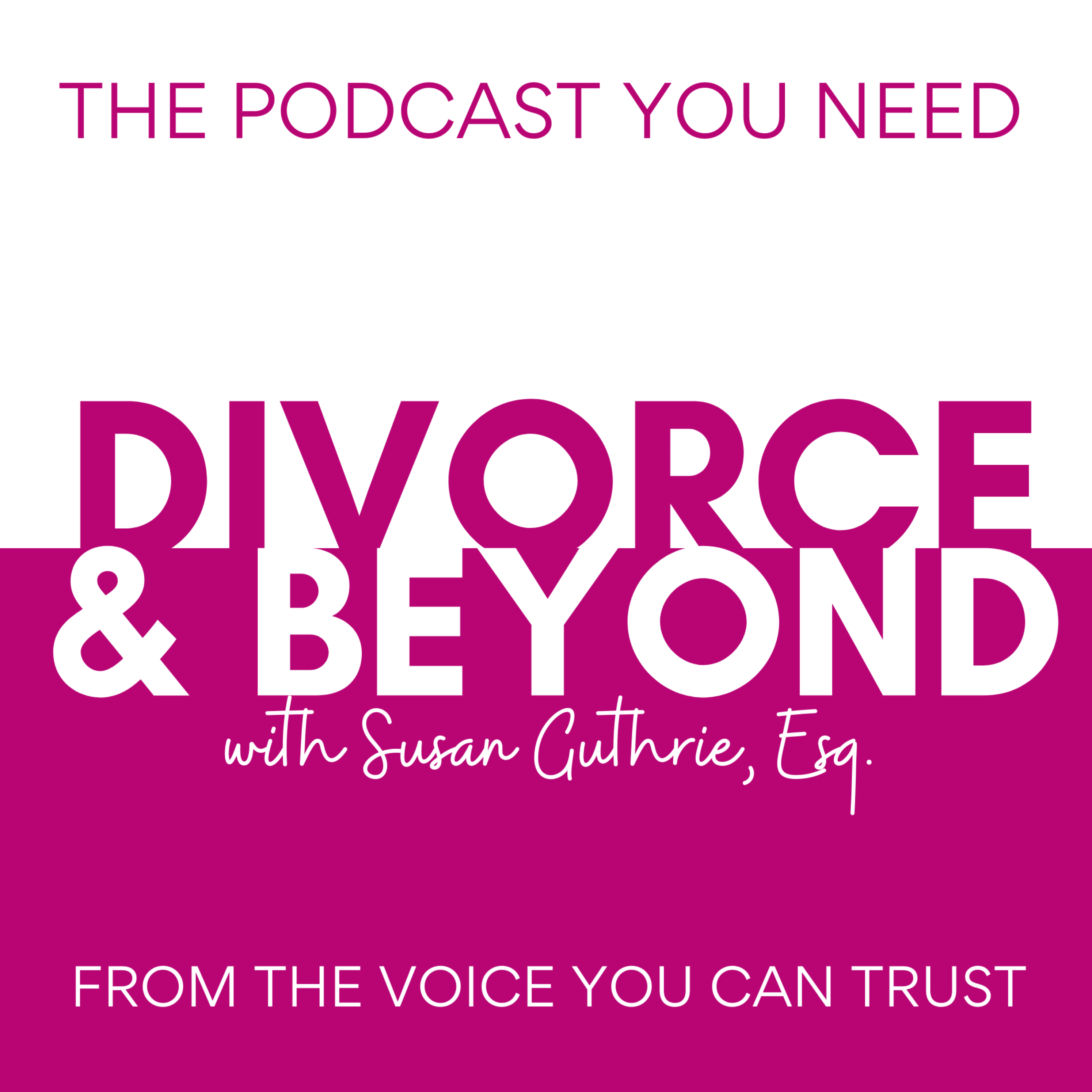 Nationally recognized family law attorney, mediator and award-winning podcaster, Susan Guthrie is at it again! After guiding countless numbers of people through the perilous world of divorce—and speaking to a podcast audience of over 4 million listeners—she's bringing you the "The Divorce & Beyond Podcast" to help you thrive in your life BEYOND divorce!
Episodes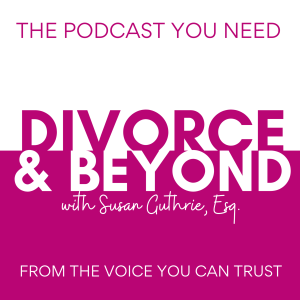 Monday Jun 07, 2021
Monday Jun 07, 2021
In Part One of this Special Two Part Episode, Susan Guthrie speaks with Laura Friedman Williams, Author of the soon to be released (June 10th) book, Available: A Memoir of Sex and Dating After a Marriage Ends which will make you laugh and make you cry and most importantly, will give you hope!
Laura Friedman Williams truly thought she had the perfect marriage of 27 years. The perfect family and the perfect life and then one night, by the glow of the light from her husband's cell phone, it all came crashing down as she faced the truth that her husband was in love with someone else.  Suddenly she faced a life that included a future that was unknown but also a rewriting of her own history of the marriage she thought she had versus the marriage she now faced.  Laura set out to redefine her life, explore her sexuality and found herself along the way and she shares it all, and I do mean all, with us in her first novel, Available, launching June 10, 2021. 
Think Carrie Bradshaw and Mr. Big divorcing after almost three decades and three kids and be prepared to laugh, cry and feel inspired.  This is THAT book.  In fact, it's so great, we are making this a Special Two-Part episode with Part Two launching on Thurday, June 10th the day the book launches!
At one point Laura asks, "is this too much?" and you will anwer, "No, it's just enough!
WANT TO WIN A .pdf copy of the book before it comes out?  Just go to Instagram, follow @divorceandbeyond and @laurafriedmanwilliams and repost or share any post about the episode tagging those accounts.  Winner to be announced on Wednesday, June 9, 2021!
More information about This week's Special Guest, Laura Friedman Williams:
Laura Friedman Williamsis a native New Yorker whose writing credits consist of countless PTA newsletters and program notes for talent shows and school auctions, as well as ghostwritten bar mitzvah speeches for many of her friends. Her wit and wisdom have not yet made it to a larger audience, but her years spent raising children and running events at her children's schools have kept her writing steady and sharp. She credits her degree in English from Washington University and the ten formative years she spent in book publishing – first in Subsidiary Rights at Warner Books (now Grand Central Publishing) and then at Henry Holt & Company, then as a book scout and finally as a literary agent – for giving her a deep love and respect for the written word. She credits the break-up of her marriage for finally giving her the subject matter about which she both needed and wanted to write. She lives in downtown Manhattan with her three children.
GET THE BOOK here: https://amzn.to/34R5qVN 
Follow Laura on social media:
Twitter: @LauraFWinNYC 
Insta: LauraFriedmanWilliams
FB: LauraFriedmanWilliams 
**********************
SUSAN GUTHRIE, ESQ., the creator and host of The Divorce and Beyond Podcast, is nationally recognized as one of the top family law and divorce mediation attorneys in the country.  She is one of the Co-Chair's of the American Bar Association's DR Section Mediation Committee and is the Founder of Divorce in a Better Way which provides a curated selection of resources and information for those facing divorce and other life changes.  Susan has created a website of curated resources for those facing divorce.  Find out more at www.divorceinabetterway.com.
*****************************************************************************
THANK YOU TO OUR SPONSOR!!
As the Experts in Remote Alcohol Monitoring Technology, Soberlink combines a breathalyzer with wireless connectivity and is the only system with facial recognition, tamper detection, and Advanced Reporting™. The real-time system reduces litigation, fosters peace of mind, and ensures child safety. 
SPECIAL OFFER:  For a limited time, get an exclusive $50 off your device by emailing info@soberlink.com and mentioning Divorce and Beyond.
*********************************************
 THE DIVORCE & BEYOND MEMBERS ONLY COMMUNITY IS LIVE!!
Subscribe now for only $10 per month and take your Divorce & Beyond experience BEYOND!!
D & B Members Only will receive a number of benefits including:
Ad and Interruption Free Podcast Archive
BONUS Members Only Podcast Episodes monthly
Downloadable Worksheets, Spreadsheets and Other Forms 
Access to the "Ask Susan Anything" Forum where you can ask your questions and learn from the answers to others.
*****************************************************************************
SPONSORSHIP OPPORTUNITIES AVAILABLE!
If you would like to sponsor the show please reach out to us at  divorceandbeyondpod@gmail.com for pricing and details!!!
*********************************************************************
Remember to follow Susan Guthrie and THE DIVORCE AND BEYOND PODCAST on social media for updates and inside tips and information:
Susan Guthrie on Facebook @susanguthrieesq
Susan on Instagram @susanguthrieesq
Susan on Twitter @guthrielaw
Divorce & Beyond Podcast on Instagram @divorceandbeyond
Divorce & Beyond Podcast on Twitter @DivorceBeyond
If you want to see the video version of the podcast episodes they are available on The Divorce & Beyond YouTube Channel!  Make sure to LIKE and SUBSCRIBE so you don't miss a single episode!
Finally, we'd really appreciate it if you would  give us a 5 Star Rating and tell us what you like about the show in a review - your feedback really matters to us! 
You can get in touch with Susan at divorceandbeyondpod@gmail.com. 
Don't forget to visit the webpage www.divorceandbeyondpod.com and sign up for the free NEWSLETTER to receive a special welcome video from Susan and more!!
*****************************************************************************
DISCLAIMER:  THE COMMENTARY AND OPINIONS AVAILABLE ON THIS PODCAST ARE FOR INFORMATIONAL AND ENTERTAINMENT PURPOSES ONLY AND NOT FOR THE PURPOSE OF PROVIDING LEGAL ADVICE.  YOU SHOULD CONTACT AN ATTORNEY IN YOUR STATE TO OBTAIN LEGAL ADVICE WITH RESPECT TO ANY PARTICULAR ISSUE OR PROBLEM