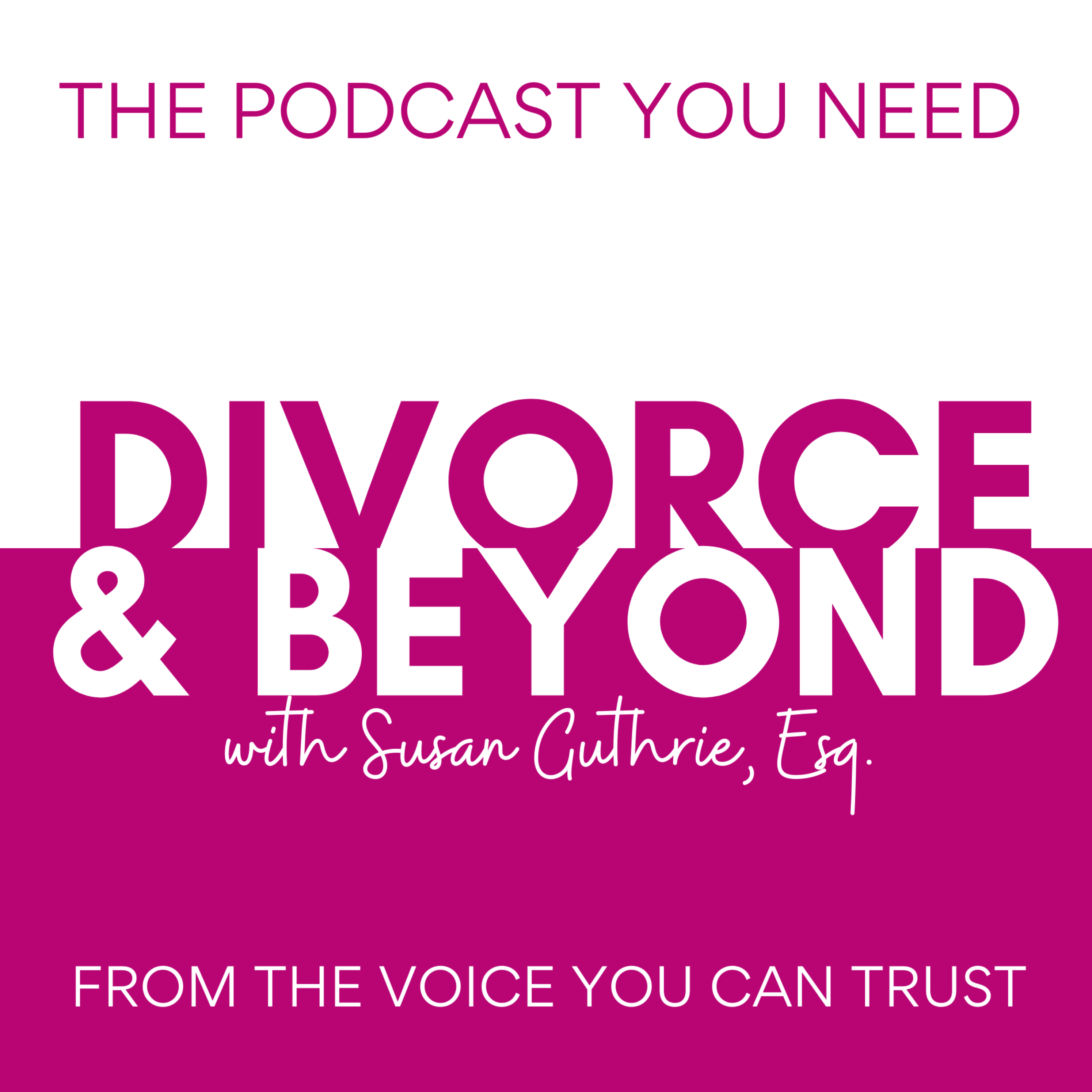 Nationally recognized family law attorney, mediator and award-winning podcaster, Susan Guthrie is at it again! After guiding countless numbers of people through the perilous world of divorce—and speaking to a podcast audience of over 4 million listeners—she's bringing you the "The Divorce & Beyond Podcast" to help you thrive in your life BEYOND divorce!
Episodes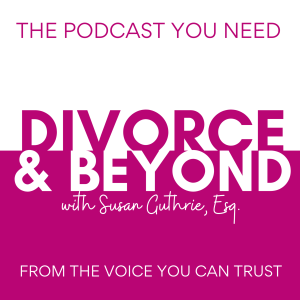 Friday Mar 11, 2022
Friday Mar 11, 2022
Susan recently had the opportunity to speak with divorce attorney to the stars, Laura Wasser on an IG Live and it was so much fun that we had to share it with you here!
Laura is the go-to divorce attorney for the famous and noteworthy in Hollywood but she is also an entrepreneur and she has several project that she has a part in that we discuss as well as her answers to some viewer questions!  
For those who are interested in her venture with friends Laurie Stein, Johnnie Raines with Next Chapter Candles, you can get your own candles at www.divorcecandles.com or www.nextchaptercandles.com and use code "NCCDIVORCEANDBEYOND" for 15% off!
You can also win one by following @nextchaptercollection on Instagram where they are holding a second giveaway contest!
For more information about Laura:
Laura Wasser is a LA-based attorney specializing in California Family Law. She attended the University of California, Berkeley and earned a law degree from Loyola Law School. She has two young sons and resides in Malibu, California.
She has been named one of the California Daily Journal's Top 100 Lawyers and Southern California's Top 50 Women Attorneys every year for the last seven years (2012-2018). In June 2008, Laura received the Harriet Buhai Center for Family Law Zephyr M. Ramsey Award. In 2011, she was the recipient of the Century City Chamber of Commerce Women of Achievement Award. In 2013 St. Martins Press published and released Laura's book "It Doesn't Have to Be That Way: How to Divorce Without Destroying Your Family or Bankrupting Yourself." She was listed as one of the Top 50 Women Lawyers in 2012 and 2013 by the Los Angeles Magazine Super Lawyers. Laura received the Brady Center Advocate Award and was honored by A Place Called Home at their 2016 Gala For The Children.
She has made it her mission to change the face of divorce by creating It's Over Easy, an online divorce platform which gives divorcing couples an accessible and affordable resource to dissolve their marriage in all 50 states. Laura believes that by simplifying the divorce process online and sharing her vast experience in family law with her audience, couples are empowered to reclaim control over their own destinies.
Websites:
*********************************************************
MEET OUR CREATOR AND HOST:
SUSAN GUTHRIE®, ESQ., the creator and host of The Divorce and Beyond® Podcast, is nationally recognized as one of the top family law and divorce mediation attorneys in the country.  Susan is a member of the Executive Council of the American Bar Association Section of Dispute Resolution and is the Founder of Divorce in a Better Way® which provides a curated selection of resources and information for those facing divorce and other life changes.  Internationally renowned as one of the leading experts in online mediation, Susan created her Learn to Mediate Online® program and has trained more than 20,000 professionals in how to transition their practice online.  Susan recently partnered with legal and mediation legend, Forrest "Woody" Mosten to create the Mosten Guthrie Academy which provides gold standard, fully online training for mediation and collaborative professionals at all stages of their career.  
*********************************************
Remember to follow Susan Guthrie and THE DIVORCE AND BEYOND PODCAST on social media for updates and inside tips and information:
Susan Guthrie on Facebook @susanguthrieesq
Susan on Instagram @susanguthrieesq @divorceandbeyond
Susan on Twitter @guthrielaw
*********************************************************************
DISCLAIMER:  THE COMMENTARY AND OPINIONS AVAILABLE ON THIS PODCAST ARE FOR INFORMATIONAL AND ENTERTAINMENT PURPOSES ONLY AND NOT FOR THE PURPOSE OF PROVIDING LEGAL ADVICE.  YOU SHOULD CONTACT AN ATTORNEY IN YOUR STATE TO OBTAIN LEGAL ADVICE WITH RESPECT TO ANY PARTICULAR ISSUE OR PROBLEM