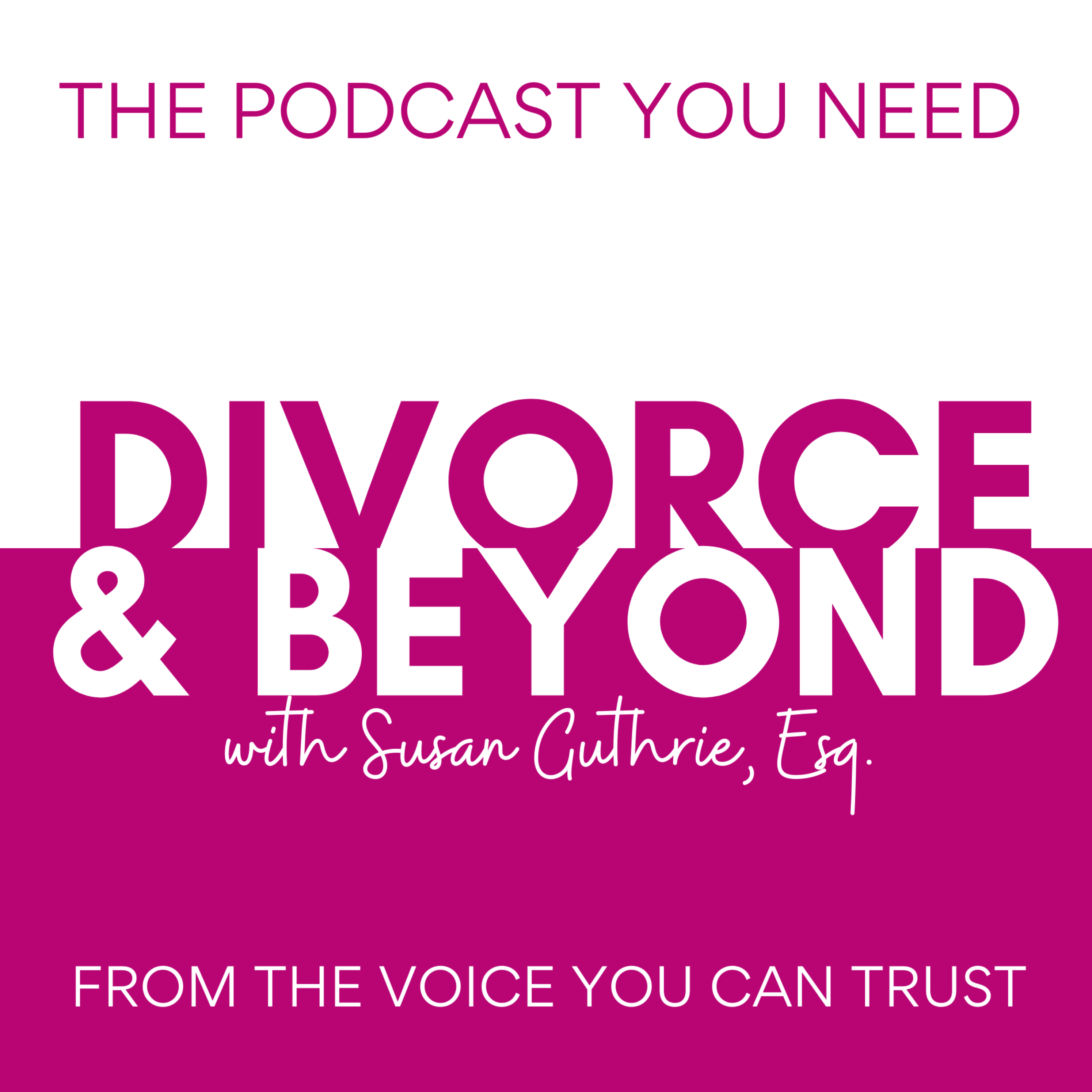 Nationally recognized family law attorney, mediator and award-winning podcaster, Susan Guthrie is at it again! After guiding countless numbers of people through the perilous world of divorce—and speaking to a podcast audience of over 4 million listeners—she's bringing you the "The Divorce & Beyond Podcast" to help you thrive in your life BEYOND divorce!
Episodes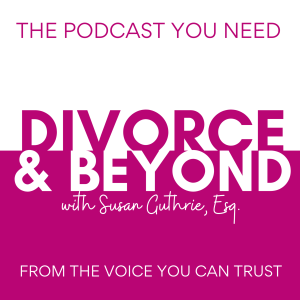 Monday Jun 27, 2022
Monday Jun 27, 2022
In this episode, Host Susan Guthrie and Top Financial Expert, Olivia Summerhill CFP, CDFA, CMC, share insights into the significance that the marital standard of living (MSOL) may have on your divorce and how it can impact your ability to maintain your lifestyle post-divorce.
"I just want to maintain my standard of living."  Divorce attorneys and financial professionals hear that a lot but what does that really mean?  What constitutes your standard of living and how does the law look at the situation when it comes to helping people continue that lifestyle in their life BEYOND? The MSOL issue most commonly arises when discussing just how much spousal support or alimony will be paid by the higher earning spouse to the other.   Many people assume that they will be entitled to receive an amount that allows them to continue that lifestyle but what about the fact that  there is only so much money to go around?  We discuss this all and more in the episode.
Olivia Summerhill, CFP, CDFA, CMC founded a financial consulting firm dedicated to helping women maintain their lifestyles and thrive post-divorce by educating and empowering them financially.   Although Olivia's niche is celebrity and ultra-high net worth clients, she works with clients in diverse financial situations through her extensive pro bono work.  Olivia knows that when it comes to money and finances, there is nothing more empowering than knowledge and she shares so many golden nuggets with listneners in this episode - it's a MUST listen!
About this week's special guest:
Olivia Summerhill is the founder of a financial consulting company called The Summerhill Firm. She helps affluent women maintain their lifestyles and thrive post-divorce by educating and empowering them financially. 
Her niche serves famous and high-profile women who need help navigating the financial complexities of divorce. Having a decade of experience in wealth management and private banking, Olivia dedicates her time to protecting women. She consults with financial advisors and works with their clients to help them avoid divorce mistakes. 
Among numerous other designations in finance, Olivia is a Certified Financial Planner, Certified Divorce Financial Analyst, Certified Divorce Specialist, and a Certified Money Coach. 
Olivia is often highlighted in Forbes, US News, MSN, and other media. She hosts a money coaching podcast called 'Divorce for Wealthy Women.' And currently, she is training for an Ironman to raise money for a non-profit that helps women take control of their finances. 
**********************
MEET OUR CREATOR AND HOST:
SUSAN GUTHRIE®, ESQ., the creator and host of The Divorce and Beyond® Podcast, is nationally recognized as one of the top family law and divorce mediation attorneys in the country.  Susan is a member of the Executive Council of the American Bar Association Section of Dispute Resolution and is the Founder of Divorce in a Better Way® which provides a curated selection of resources and information for those facing divorce and other life changes. 
Internationally renowned as one of the leading experts in online mediation, Susan created her Learn to Mediate Online® program and has trained more than 18,000 professionals in how to transition their practice online.  Susan recently partnered with legal and mediation legend, Forrest "Woody" Mosten to create the Mosten Guthrie Academy which provides gold standard, fully online training for mediation and collaborative professionals at all stages of their career.  
*****************************************************************************
SPONSORSHIP OPPORTUNITIES AVAILABLE!
If you would like to sponsor the show please reach out to us at  divorceandbeyondpod@gmail.com for pricing and details!!!
*********************************************************************
Remember to follow Susan Guthrie and THE DIVORCE AND BEYOND PODCAST on social media for updates and inside tips and information:
Susan Guthrie on Facebook @susanguthrieesq
Susan on Instagram @susanguthrieesq
Susan on Twitter @guthrielaw
If you want to see the video version of the podcast episodes they are available on The Divorce & Beyond YouTube Channel!  Make sure to LIKE and SUBSCRIBE so you don't miss a single episode!
Finally, we'd really appreciate it if you would  give us a 5 Star Rating and tell us what you like about the show in a review - your feedback really matters to us! 
You can get in touch with Susan at divorceandbeyondpod@gmail.com. 
Don't forget to visit the webpage www.divorceandbeyondpod.com and sign up for the free NEWSLETTER to receive a special welcome video from Susan and more!!
*****************************************************************************
DISCLAIMER:  THE COMMENTARY AND OPINIONS AVAILABLE ON THIS PODCAST ARE FOR INFORMATIONAL AND ENTERTAINMENT PURPOSES ONLY AND NOT FOR THE PURPOSE OF PROVIDING LEGAL ADVICE.  YOU SHOULD CONTACT AN ATTORNEY IN YOUR STATE TO OBTAIN LEGAL ADVICE WITH RESPECT TO ANY PARTICULAR ISSUE OR PROBLEM
Comments
(1)
To leave or reply to comments, please download free Podbean or