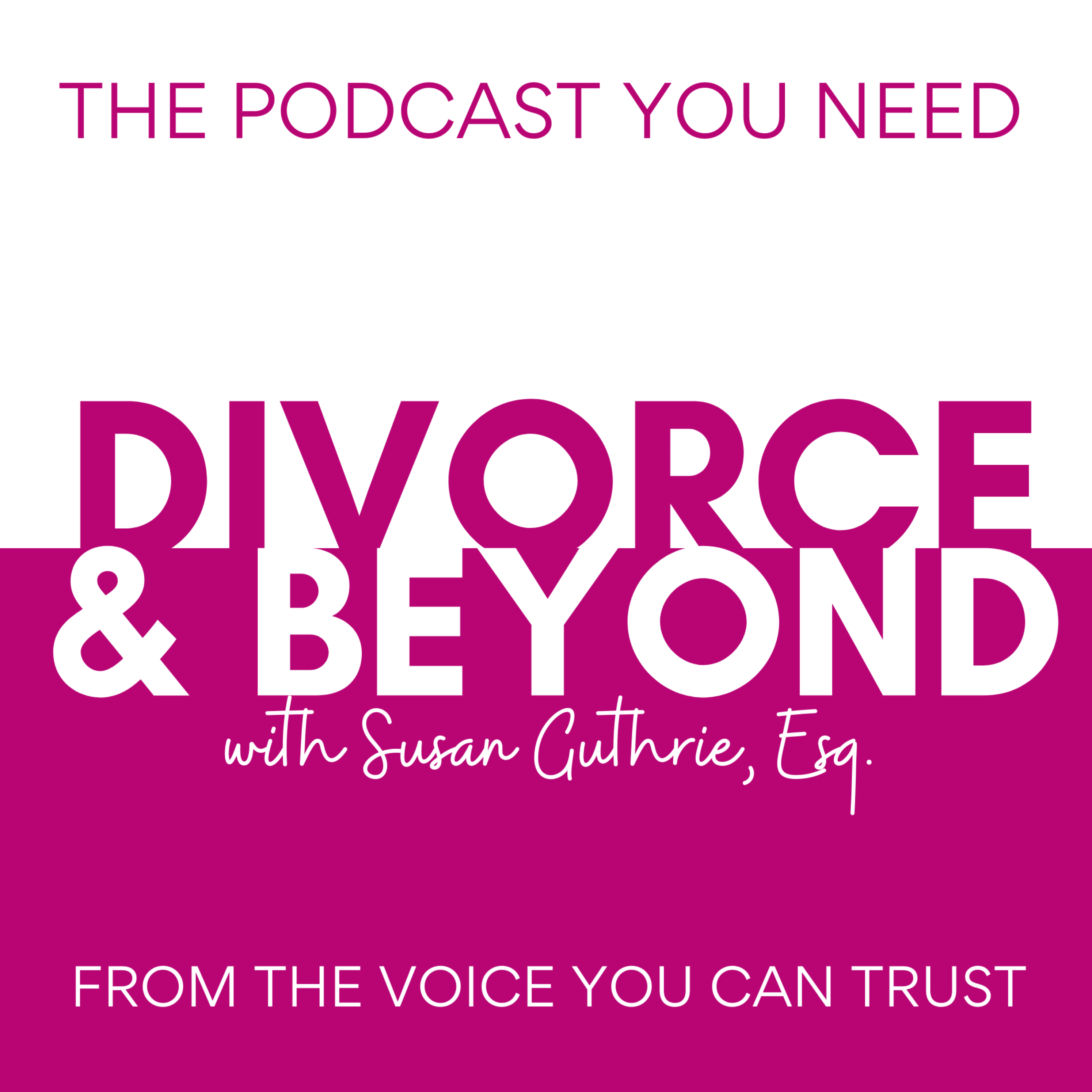 Nationally recognized family law attorney, mediator and award-winning podcaster, Susan Guthrie is at it again! After guiding countless numbers of people through the perilous world of divorce—and speaking to a podcast audience of over 4 million listeners—she's bringing you the "The Divorce & Beyond Podcast" to help you thrive in your life BEYOND divorce!
Episodes
Monday Oct 12, 2020
Monday Oct 12, 2020
In this episode, Susan Guthrie is joined by Leading Divorce Attorney and Best-Selling Author (and Susan's Work BFF!), Gabrielle Hartley, to talk about the BEST THING to happen to Divorce in ages:  Online Divorce Mediation.
With the advent of Covid, many court systems around the country (and the world) are effectively closed or operating only on an emergency basis, and in most cases, they don't consider your divorce an emergency!  This can affect divorcing couples in many ways; if they are thinking of divorce, they often can't file and even when they do, they can't get into court.  For ongoing cases, couples can't get court dates for hearings or trials so are on indefinite hold, and for those who are done but need help due to changes that have occured, as they have for so many during Covid with job loss and health issues, they also struggle to get a court date.  Even as some courts open for limited business, the backlog of cases that has been building for months, will take years, if not decades, to subside.  It's just one long, never-ending DIVORCE LIMBO!
So what is a couple to do?  One of the best (and only) options for many is online divorce mediation and it's a great option!  Both Susan and Gabrielle have been conducting mediations online with couples for years, long before Covid made the practice popular.  There are many reasons, beyond social distancing and safety, that make online mediation particularly well-suited for divorce cases.  This conversation between two of the top online divorce mediators in the country will enlighten you and show you how you can mediate online and move through your divorce and BEYOND!
Some MORE Highlights from the Episode:
Find out what the mediation process looks like online.
Hear why not having to sit in the same room with your spouse can be so helpful to the process.
Discover why online mediation is often even faster and easier than in-person mediation.
Learn about Gabrielle's innovative online mediation blitz, her Positive Divorce approach and how you can learn to be Better Apart with her book and program!
There are just so many benefits to mediating your divorce online, listen to this episode and get your life out of LIMBO!
For More Information on This Week's Special Guest:  Gabrielle Hartley Esq., is a leading divorce attorney, online mediator and creator of The Better Apart Method.  She's known for keeping 99% of her cases at the negotiation table and out of the courtroom. Her Book, Better Apart; The Radically Positive Way to Separate was given a glowing endorsement from Gwyneth Paltrow, and People Magazine.  Gabrielle is a sought after divorce expert in the media and has been quoted in the New York TImes, Psychology Today, Vice, Thrive Global, and Yoga Journal to name a few.  PLUS she's a regular guest on NBC talking about all things related to what Gabrielle terms, The Positive Divorce Movement.
Gabrielle can be reached at gabrielle@gabriellehartley.com
Find out more about Gabrielle at www.gabriellehartley.com
Follow Gabrielle on Instagram at www.instagram.com/gabriellehartleyesq
*******************************************************************************************************
SUSAN GUTHRIE, ESQ., the creator and host of The Divorce and Beyond Podcast, is nationally recognized as one of the top family law and divorce mediation attorneys in the country.  She is one of the Co-Chair's of the American Bar Association's DR Section Mediation Committee and is the Founder of Divorce in a Better Way which provides a curated selection of resources and information for those facing divorce and other life changes.  Susan has created a website of curated resources for those facing divorce.  Find out more at www.divorceinabetterway.com.
*****************************************************************
THANK YOU TO OUR SPONSOR!!
 FAYR, the BEST Co-Parenting App on the Market!   What makes FAYR different?  At FAYR it's not just about efficiency and ease (though they love those).  They also help you create a better co-parenting experience by providing tools for: constructive communication, argument diffusion, and emotional support.  For information on our FAYR, the ONLY co-parenting app recommended by Susan Guthrie and The Divorce and Beyond Podcast,  visit their website at www.fayr.com.  Don't forget to use the code "SUSANG18" for 20% off!!
*****************************************************************************
SPONSORSHIP OPPORTUNITIES AVAILABLE!
If you would like to sponsor the show please reach out to us at  divorceandbeyondpod@gmail.com for pricing and details!!!
*********************************************************************
Remember to follow Susan Guthrie and THE DIVORCE AND BEYOND PODCAST on social media for updates and inside tips and information:
Susan Guthrie on Facebook
Susan on Instagram
Susan on Twitter
Divorce & Beyond Podcast on Instagram
Divorce & Beyond Podcast on Twitter
If you want to see the video version of the podcast episodes they are available on The Divorce & Beyond YouTube Channel!  Make sure to LIKE and SUBSCRIBE so you don't miss a single episode!
Finally, we'd really appreciate it if you would  give us a 5 Star Rating and tell us what you like about the show in a review - your feedback really matters to us! 
******************************************************************************************************
I love hearing from listeners!  Please feel free to reach out if you have a question for me or for one of my experts or if you have a topic you'd like us to cover on The Divorce & Beyond Podcast!  I do this podcast for you, so let me know what you want!
You can get in touch with Susan at divorceandbeyondpod@gmail.com. 
Don't forget to visit the webpage www.divorceandbeyondpod.com and sign up for the free NEWSLETTER to receive a special welcome video from Susan and more!!
*****************************************************************************
DISCLAIMER:  THE COMMENTARY AND OPINIONS AVAILABLE ON THIS PODCAST ARE FOR INFORMATIONAL AND ENTERTAINMENT PURPOSES ONLY AND NOT FOR THE PURPOSE OF PROVIDING LEGAL ADVICE.  YOU SHOULD CONTACT AN ATTORNEY IN YOUR STATE TO OBTAIN LEGAL ADVICE WITH RESPECT TO ANY PARTICULAR ISSUE OR PROBLEM